Jeff Hotaling is no stranger to the RC Soup crew. He was our emergency fill in driver for the CRC 1000 Endurance Race back in April. While proficient in off-road, dominating at High Octane in Syracuse during the winter, his real passion is dirt oval racing. It was a pleasure to see Jeff in his element while at Victory RC Speedway last weekend. He's a sponsored oval driver, and a mult-time US Open Wheel Champion. He took some time out of his night to answer our questions.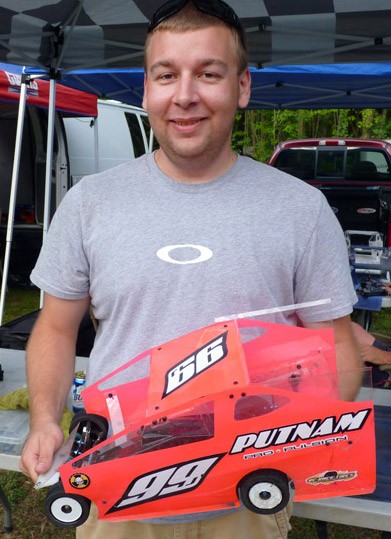 Name: Jeff Hotaling
Hometown: Fulton, NY
Sponsors: Putnam Propulsion, Thunder Power, RC4Less, ORC, Atomik Signworks
Day Job: Product Estimator @ Black Clawson
What's your most memorable moment in R/C? My first US Open Wheel Championship in 2008; Modified EDM class.
How long have you been into R/C? 10 Years
How did he get involved in RC Racing?  My father took me to Walt's Hobby and bought me a RCt10T3 RTR. I've been racing ever since.
Do you prefer Electric or Nitro? Electric, mainly because they stay together. With me running nitro, there's usually a 50/50 chance that the car doesn't vibrate apart.
Any tips for new RC racers? Work on setup and get your car handling well before you worry about having the best motors and batteries.
What is your favorite racing class? Modified EDM (Eastern Dirt Modified), because it's really fast.
Do you do any R/C besides Oval Racing? I sometimes race Off-Road short course.
What is your favorite type of soup? Tomato Soup.