Matt Stoltz, Team Driver for Kyosho, was at Motorama. He took some time to sit down with RC Soup, and answer some questions. This was his first time at the event, and he's planning to be back next year.
Matt finished 6th overall in Modified 2wd Short Course & Modified Stadium Truck.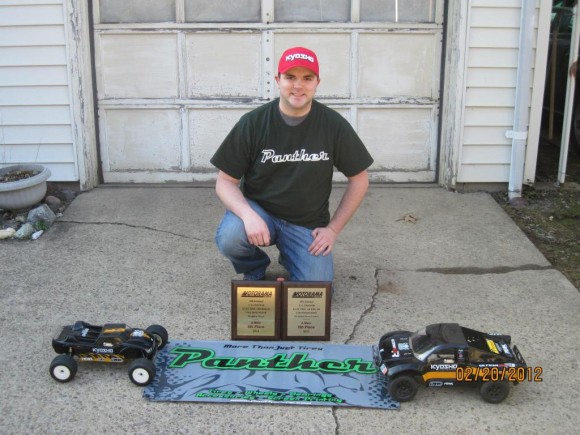 Name: Matt Stoltz
Hometown: Greensburgh, PA
Sponsors: Kyosho, Panther Racing, PT Raceway, CPE, Peak Racing, DE Racing
Day Job: Matt designs tools that cut metal
How did he get involved in RC Racing?  Picked up an R/C Car at 15 yrs old and never looked back.
Do you prefer Electric or Nitro? Electric, mainly because there is less maintenance.
Any tips for new RC racers? Just have fun. If you're not having fun, then what's the point in doing it?
What is your favorite racing class? 1/8 Electric Buggy (doesn't currently race one because the Kyosho is on back order)
Any RC besides offroad racing? RC Pulling & Monster Truck racing. (see NR/CTPA)