Yesterday we had the pleasure of attending the RC4WD King of Florida Tough Truck Challenge. This event was presented by the Florida Scale Trail Runners, and hosted by RRW at the Krawlzone.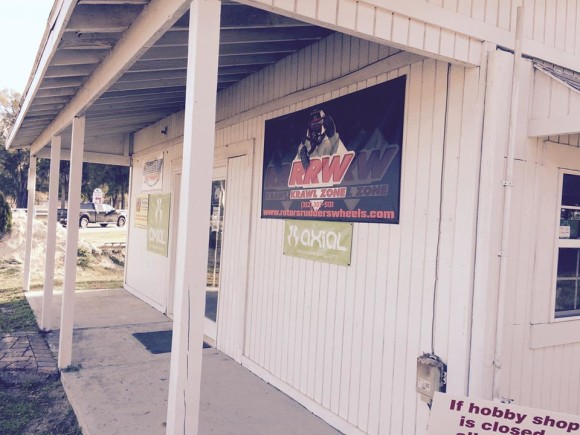 Driver's from around the country made the trek to sunny Florida for what was going to be the ultimate test of man and machine. We had folks from as far as Illinois make the trip down to see for themselves why RRW has earned the reputation as the premiere crawling facility in Florida.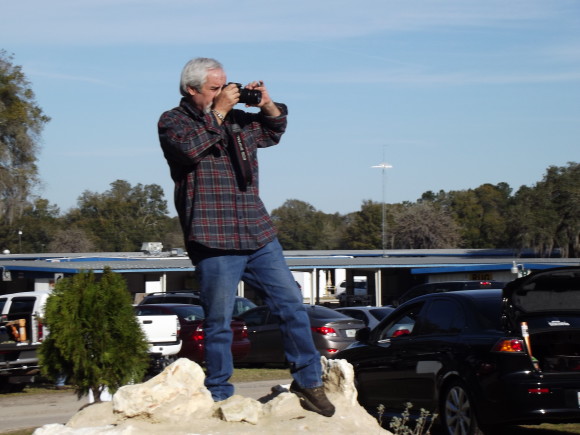 Be sure to check out RRW's Facebook page for more pictures of the event. Drivers registered early in the morning. There were two classes. Class 1/Class 2 were combined together, and then there was Class 3. Sorrca rules were used as the basic guidelines for the event, with some minor changes made to benefit the drivers. The Florida Scale Trailrunners ran the event, from course preparation, driver check-in, and being the on course judges.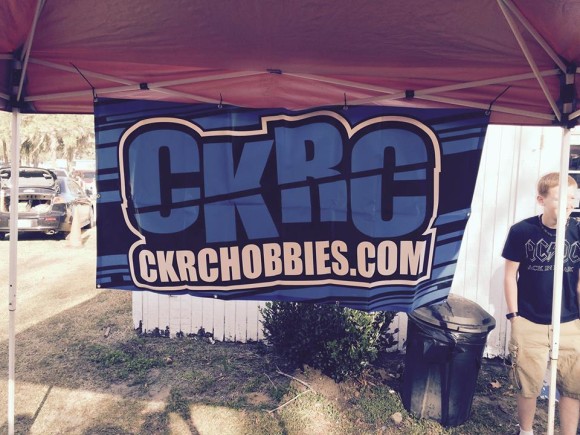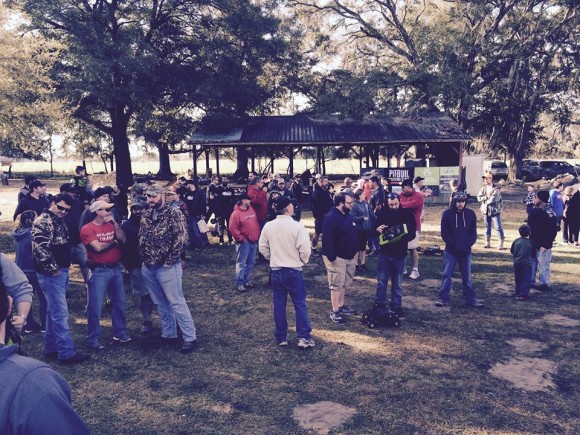 Bobby Mack from the Florida Scale Trail Runners goes over the rules for the day.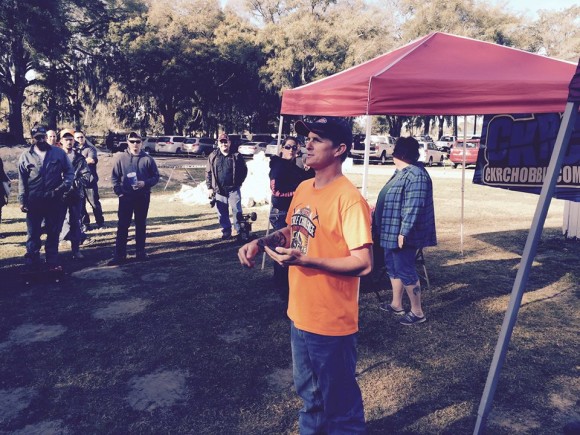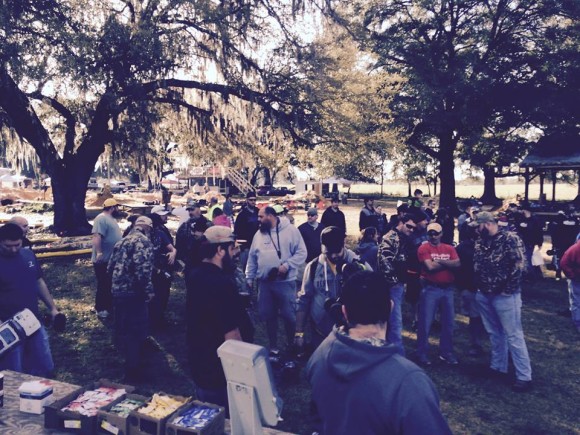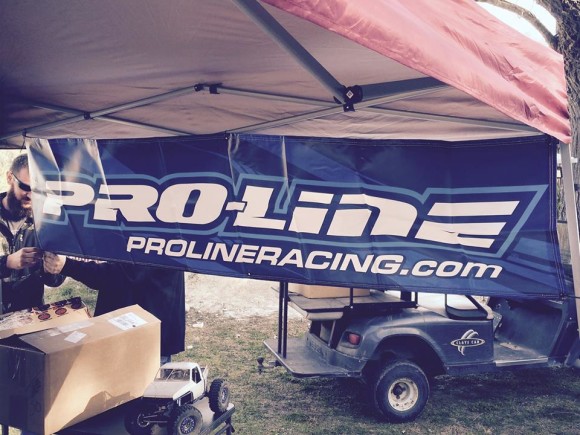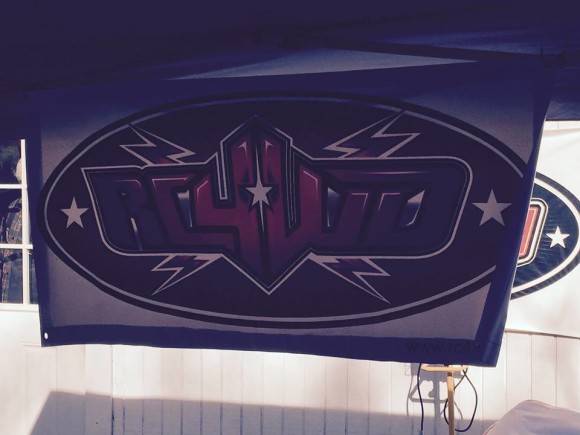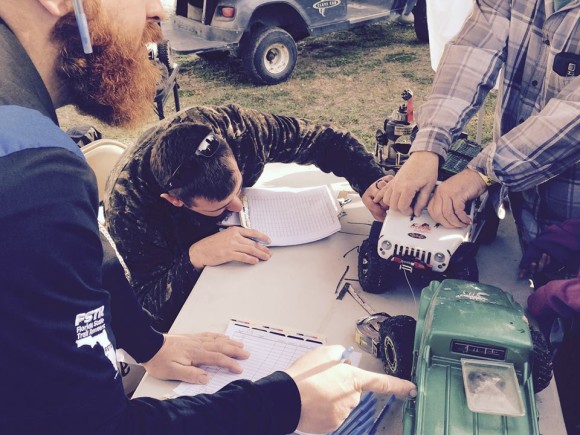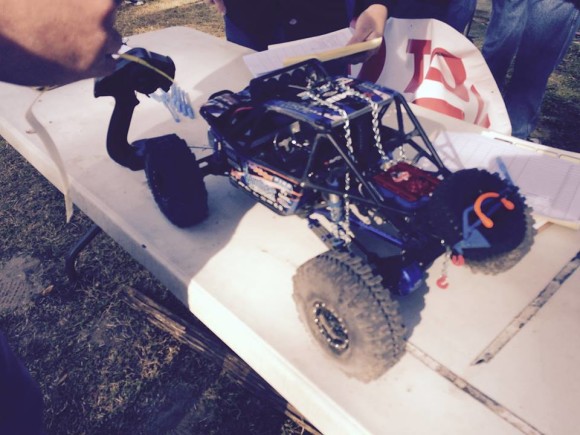 I love seeing young people joining these events. This hobby is all about family, and getting the next generation to experience all the joy that it has to offer. These kids are the future of the hobby, and I was very happy to see so many out enjoying themselves yesterday.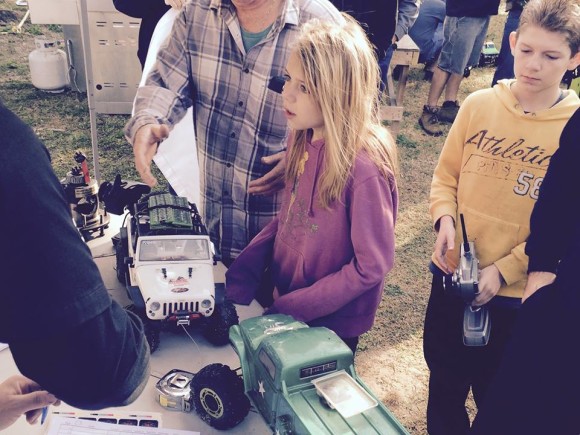 The driver's meeting was slightly interrupted by a couple of planes flying slowly overhead.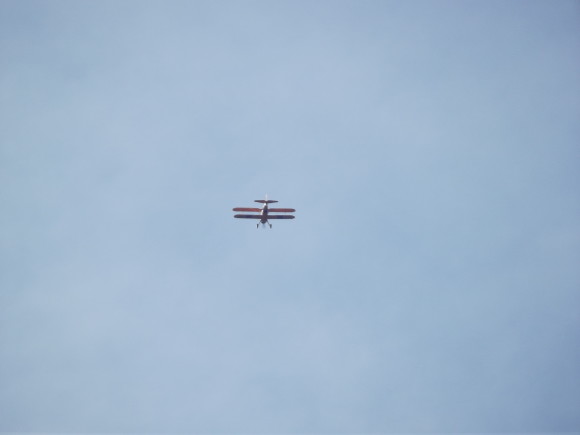 Scalerfab had a few of their products on display, as well as a few of their team drivers that were available for autographs and pictures.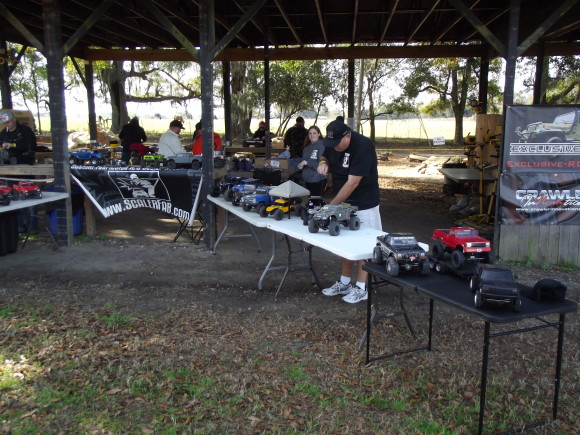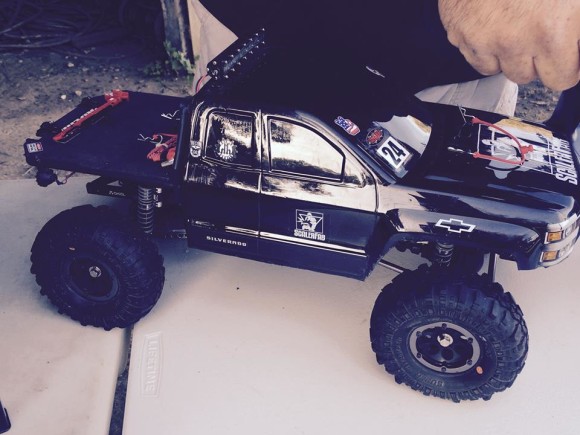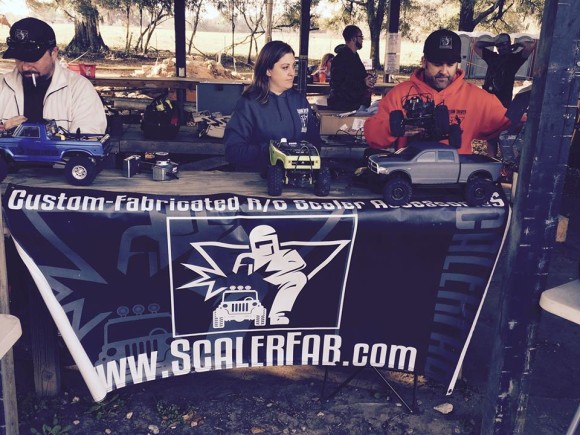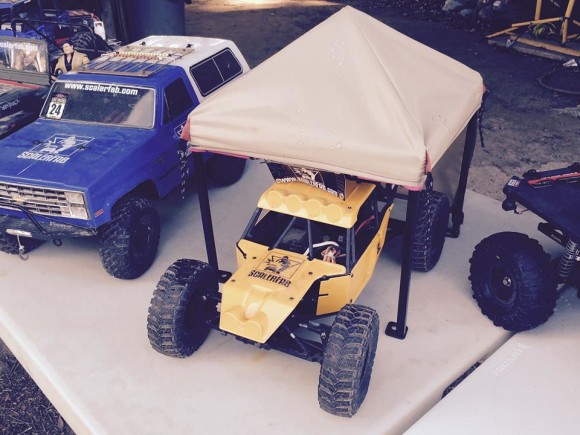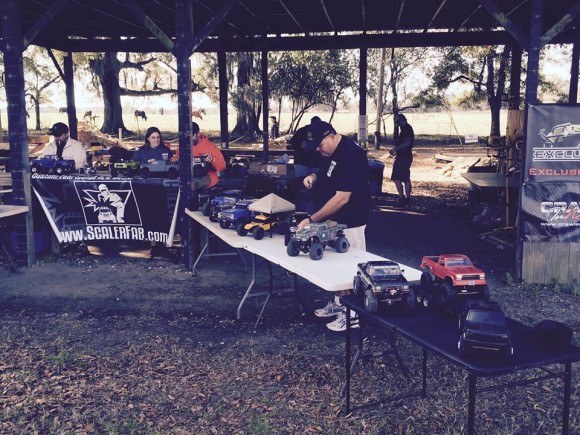 Let's talk about the competition. We started off with 5 separate events. There were 3 separate crawling sections in the Krawlzone, the Flatlander Drags section, and the Sled Pull. Quick note on the Sled Pull. Once the sled pull got underway, it became apparent that it was not working correctly. The sled itself was having an issue, so the decision was made to scratch that event entirely. The remaining 4 events would all be scored together to get us to the ultimate winner, the King of Florida. Here's how the scoring worked.
The tire height MAXIMUM:
C1- 4.19
C2- 4.80 (to accommodate the XL's)
C3- 5.80 (to accommodate the XL's)
Dont want to have to have people buying a new set of tires just to run this event.
There WILL BE a point out system. Just like SORRCA.
Max points is 80.
Progress:
-2 points
Reverse:
WILL NOT BE COUNTED
Gate Marker:
+10 points
Rollover:
+5 points
Boundary Marker:
+10 points
Vehicle Touch (Repair & Repositions):
+10 points
Course Direction (going through a gate in the reverse direction that it is intended):
+10 points
Self Recovery (winching):
+2 points
Assisted Recovery (JUDGE hand winching) FOR THIS *YOU* MUST PROVIDE A TOW STRAP NO LONGER THAN 20 INCHES:
+10 points
Dig/Rear Steer:
+5 points
Point out:
+80 points
Did not finish:
Point out +50 points minus progress
Did not start:
Point out +100 points
-A gate marker will remain "live" for the entire duration of the attempt on the course. Once any gate marker has been touched or straddled, no more penalties will be given for that gate marker. Only when a gate penalty is assessed will that gate marker be deemed "dead". No further penalties will be assessed at this point for that gate marker.
-A boundary marker will remain "live" for the entire duration of the attempt on the course.
-Points are given when a vehicle rolls over and cannot be corrected without touching. Once the vehicle has stopped it may be rolled back onto its wheels and a +5 point penalty shall be given. Vehicles that land back on their wheels without assistance are not penalized. The vehicle may at no time be lifted, slid or moved in any way other than a smooth, continuous roll to the left or right side ONLY. Any other manipulation or movement of the vehicle will be considered a "vehicle touch" penalty.
Here are some of the sights from the competition.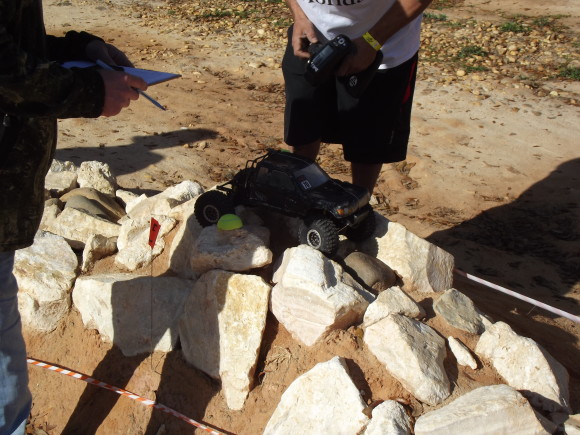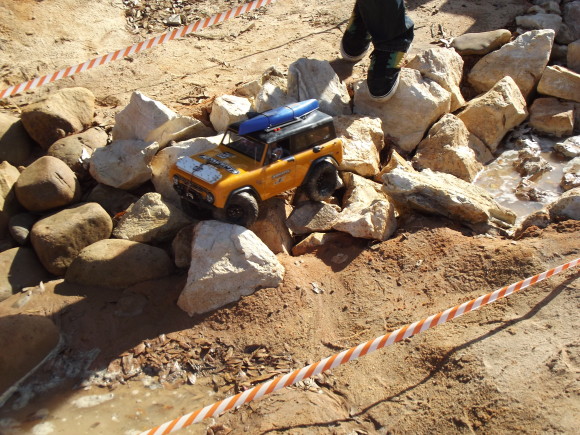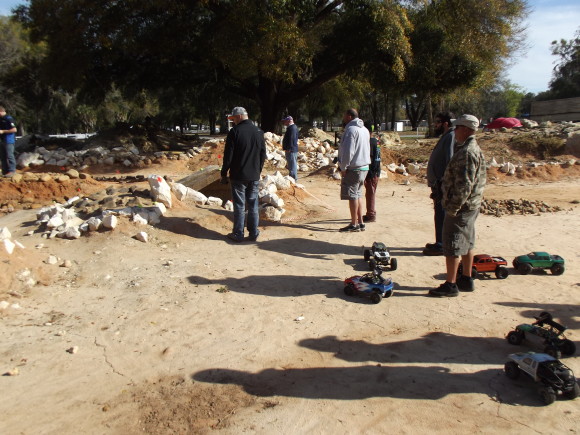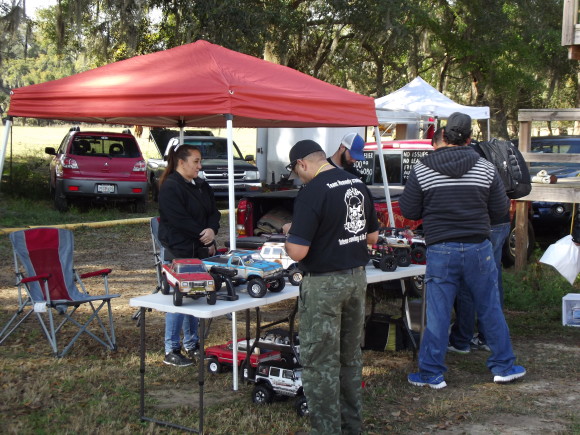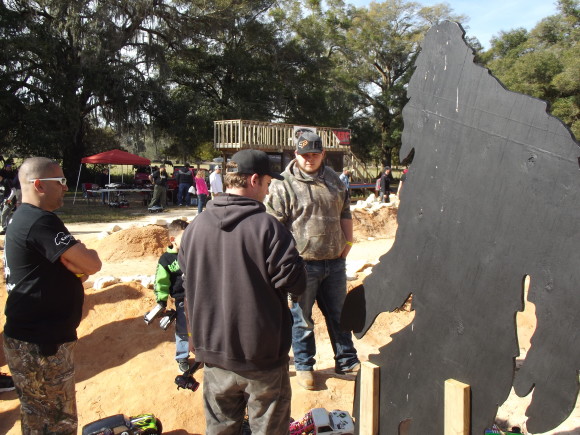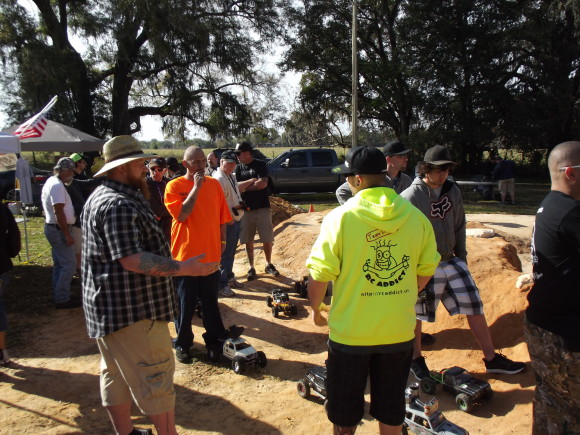 Some of the folks from SuperShafty made the trek down to Florida.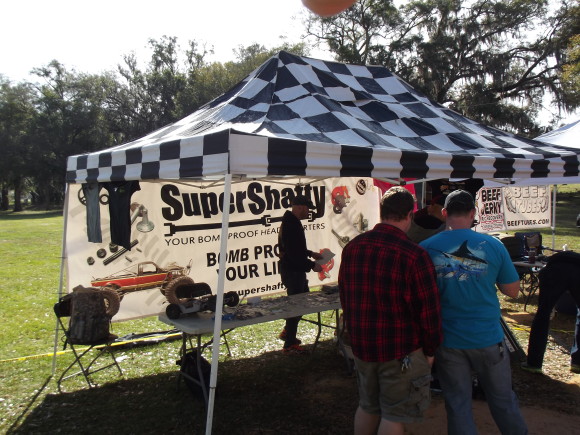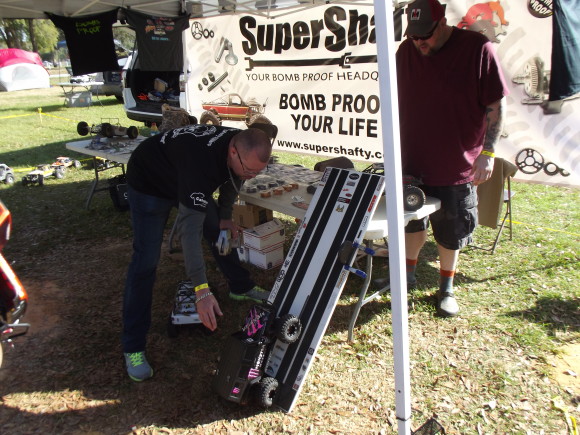 Beeftubes.com was also onsite showing their support to the Crawling community.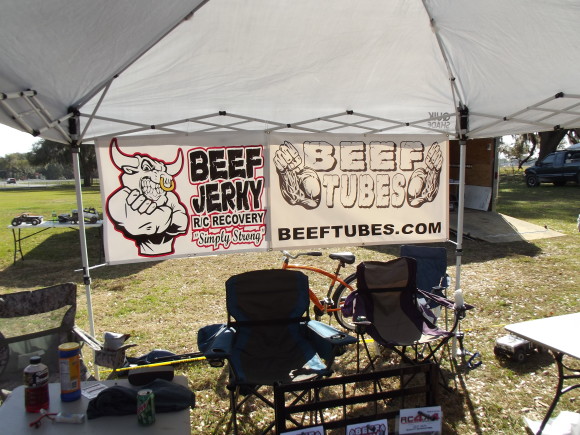 Team KNK Hardware was down once again for this event. We met them at Krawlfest. Great people with a great product.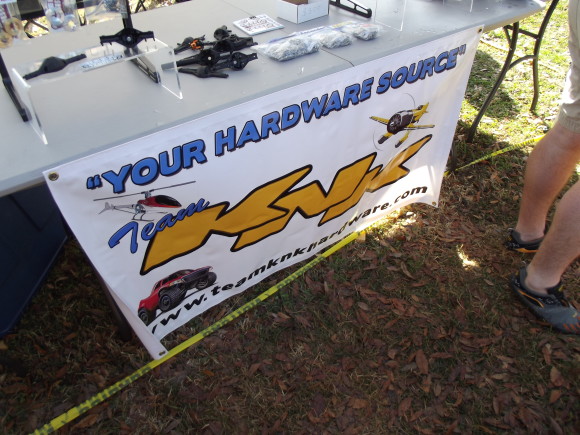 One of our younger participants navigating the rocks.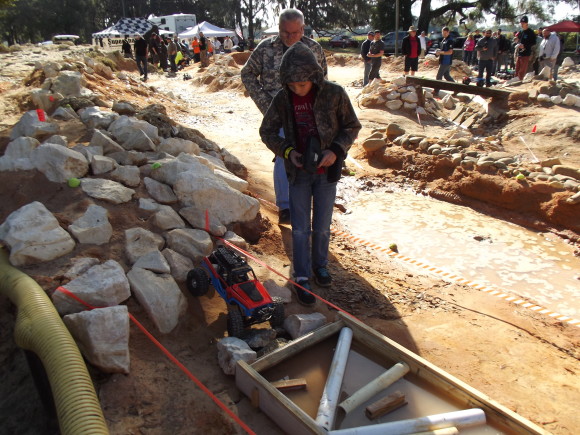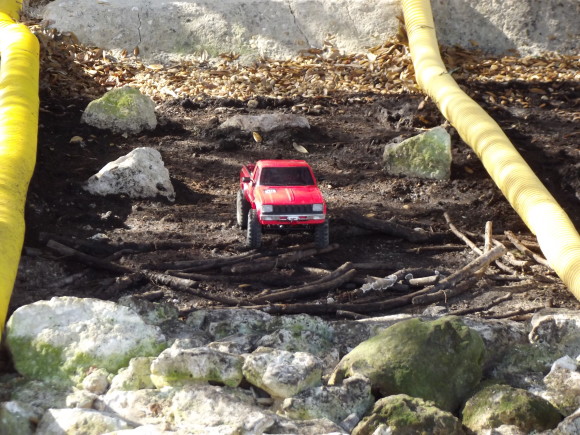 Here is part of the Flatlander  Drags portion. This was an out and back, U shaped run. The Flatlander drags is a fun section where it's more about speed than it is precision or technique of the rocks.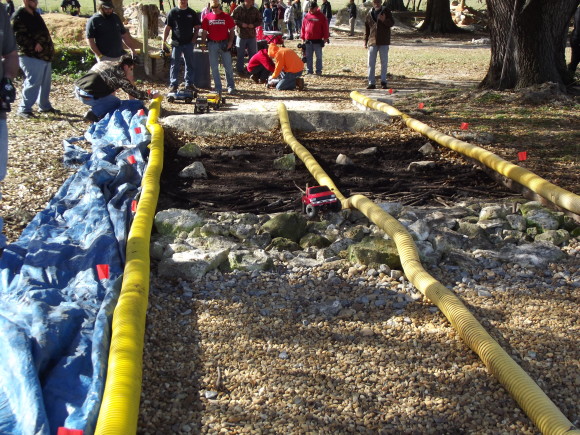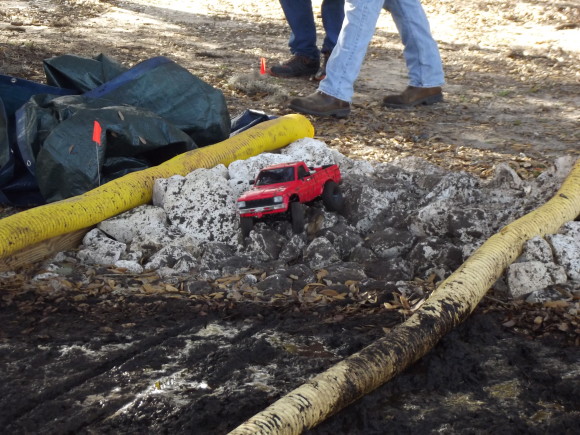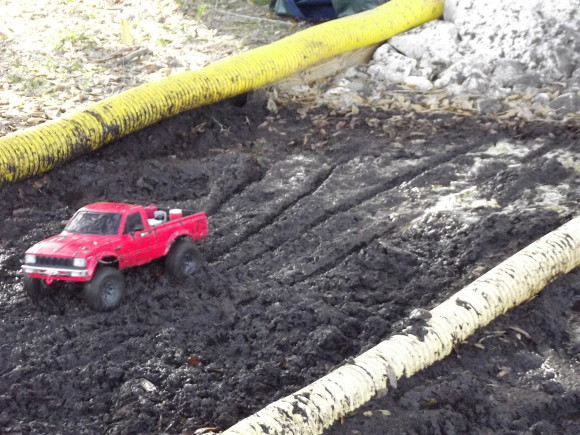 In this section, if you flipped you were done. They marked the distance and your time on your score sheet.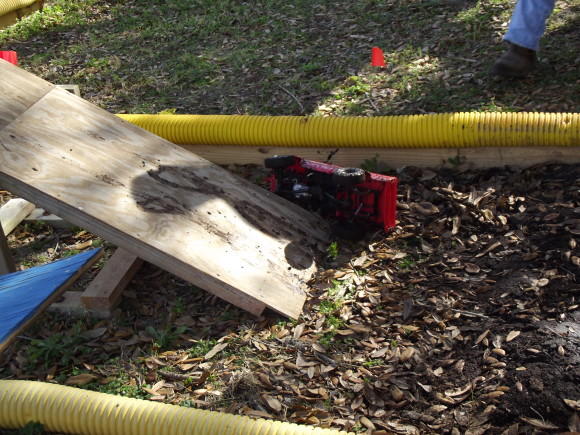 Finally got to meet the man, the myth, the legend….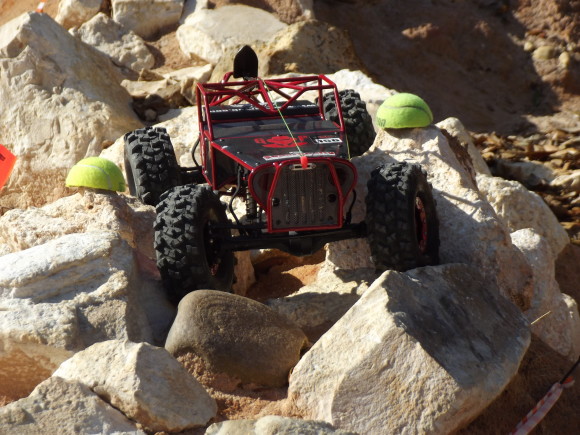 Team Scalerfab driver Mike Rowe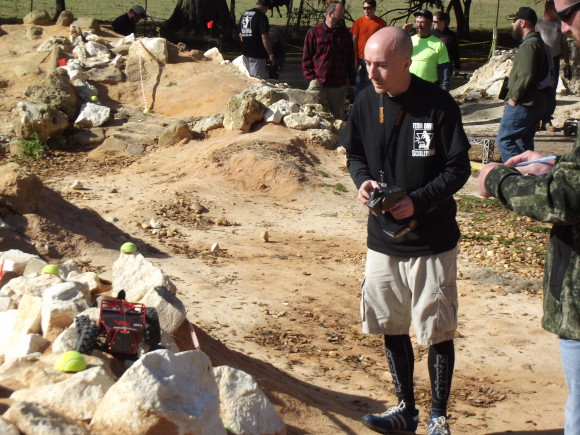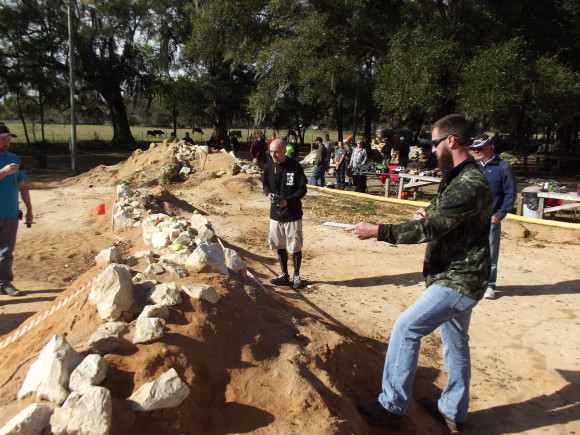 There were some amazing rigs at this event. It's clear people put a lot of effort into preparing their machines for this test.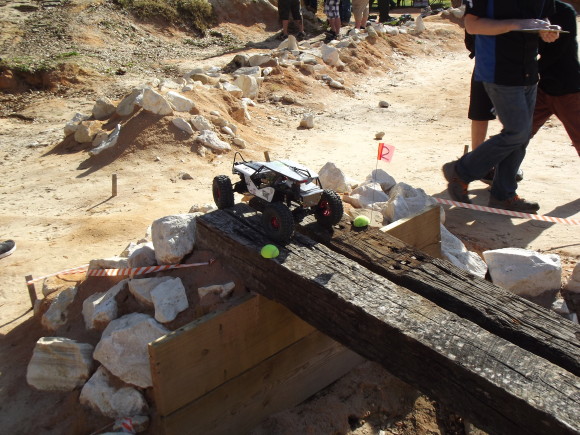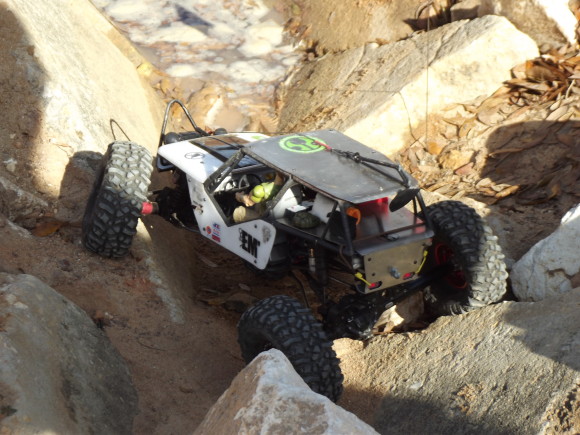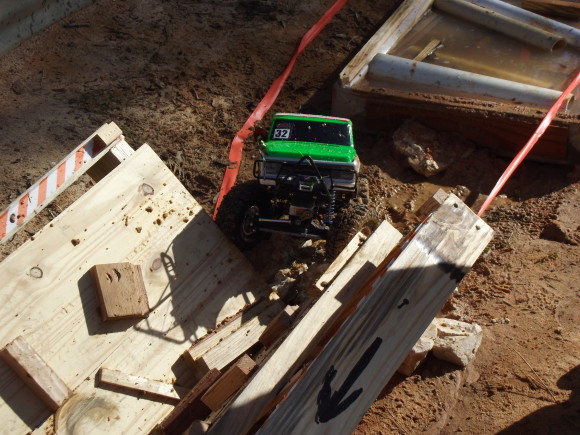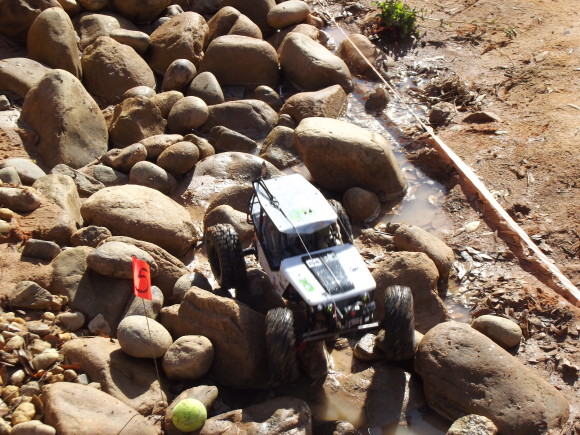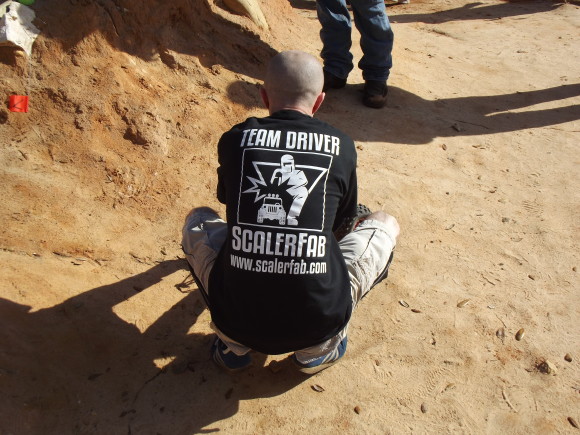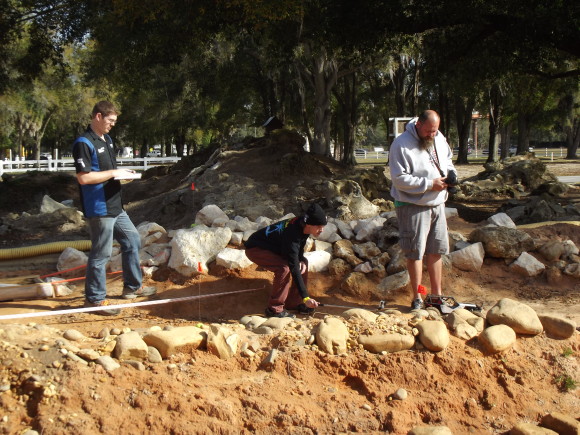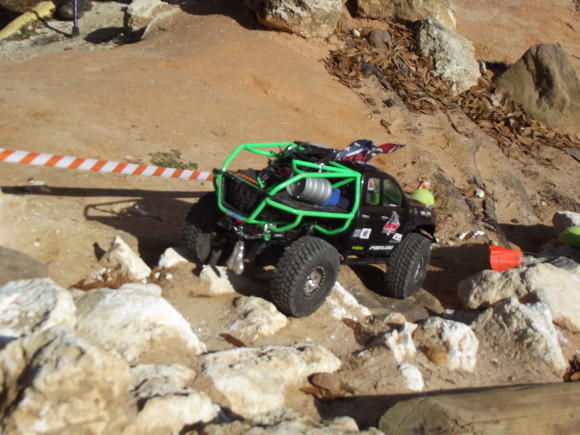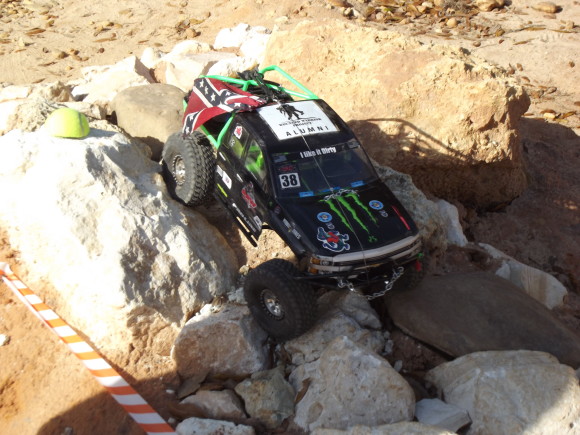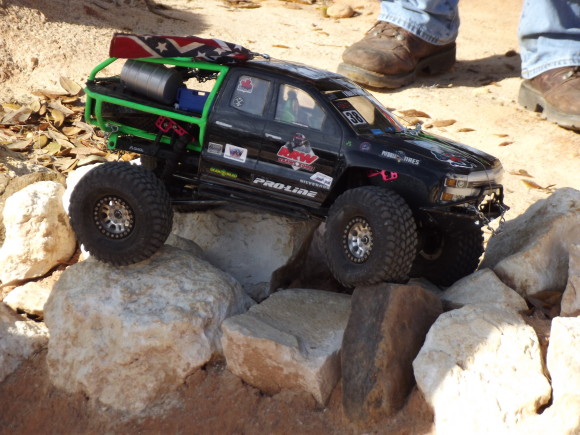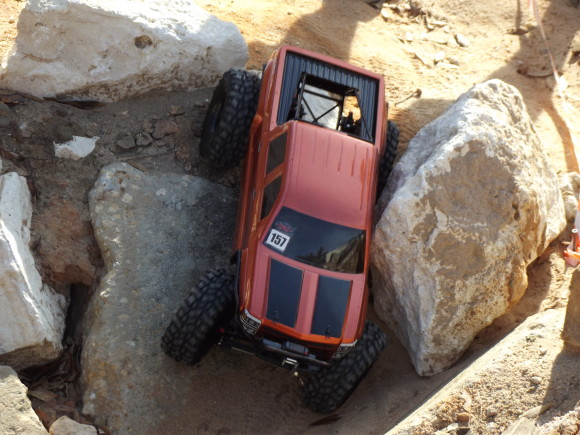 This hill proved difficult, but several people were able to conquer it.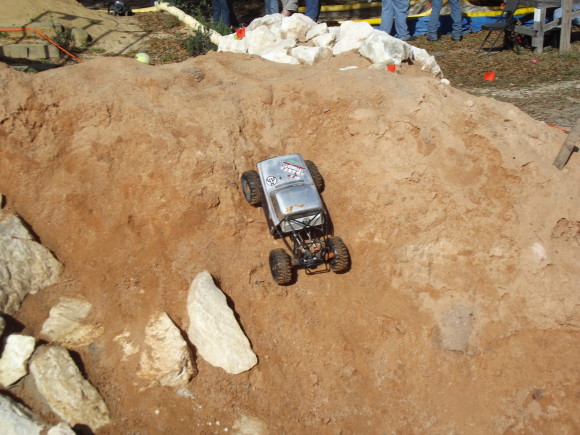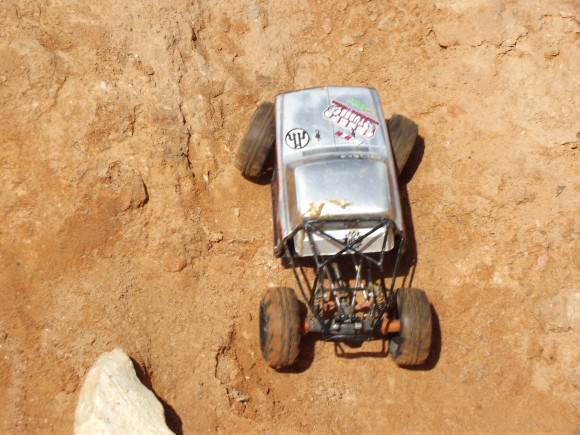 It was followed by a very elaborate suspension bridge. RRW is putting a lot of effort into the building of their crawling course.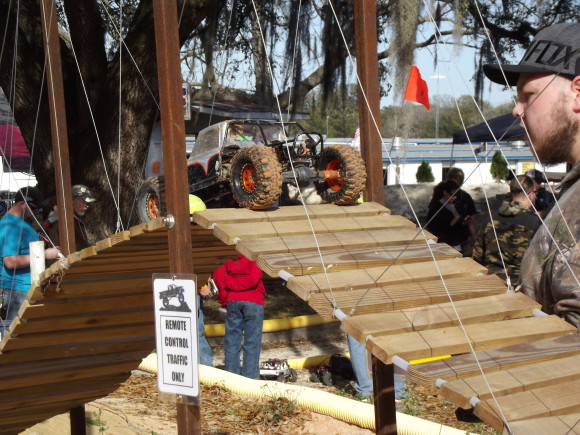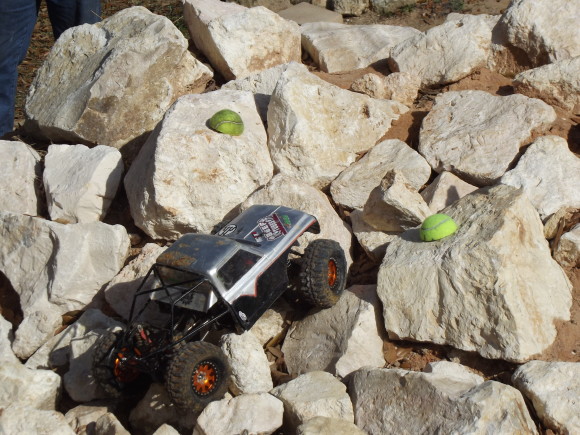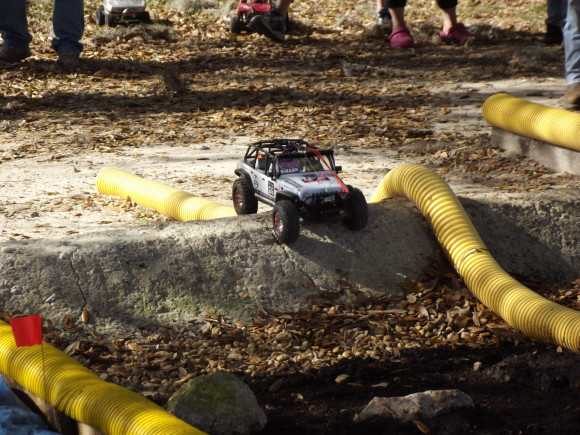 These teeters were a part of the flatlander drags. Once you went through the mud, it made the second teeter a bit more tricky to get up.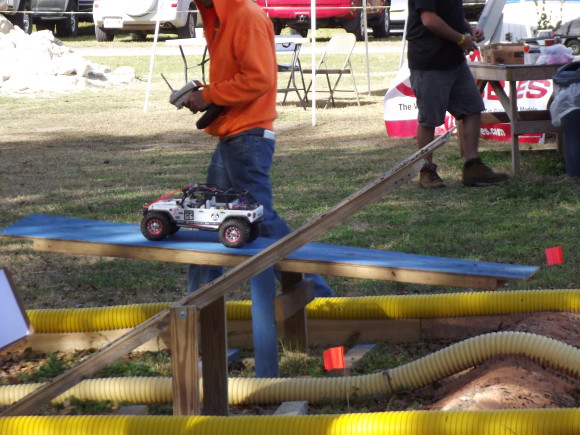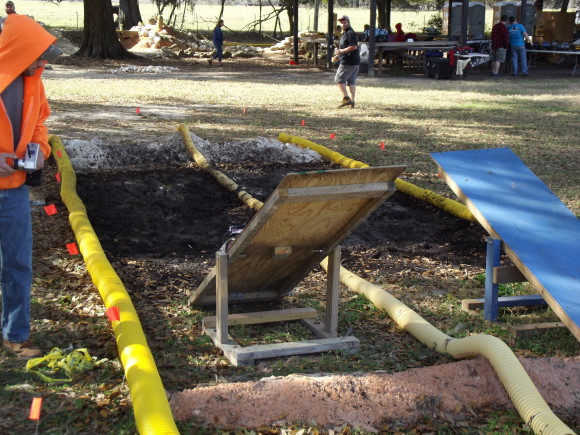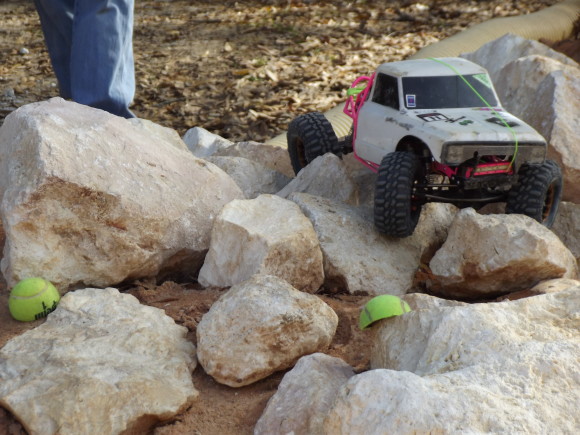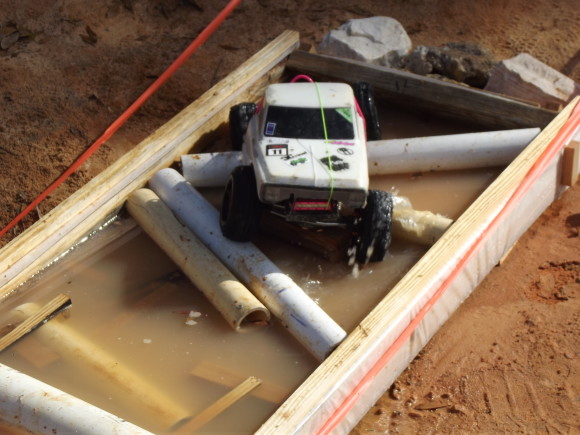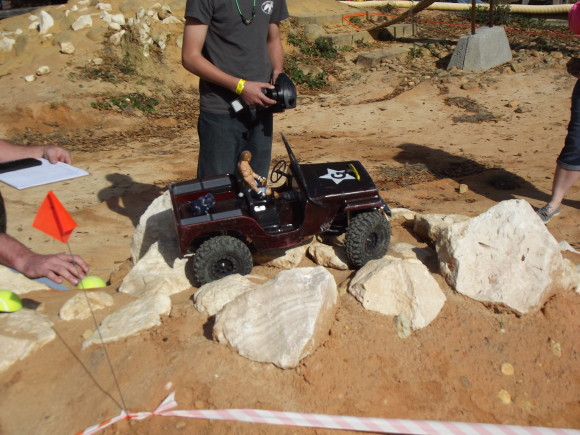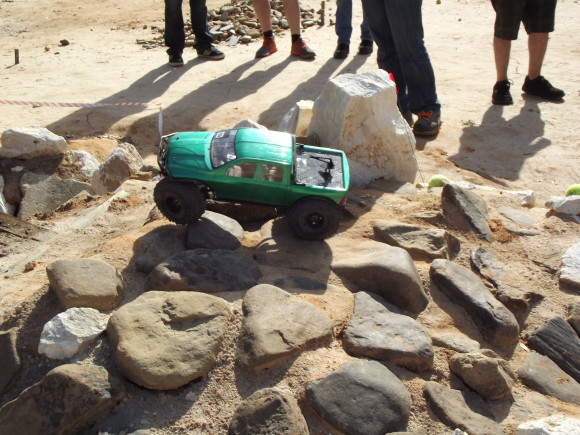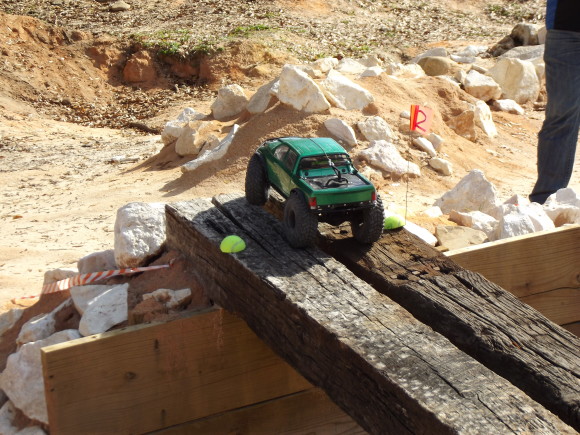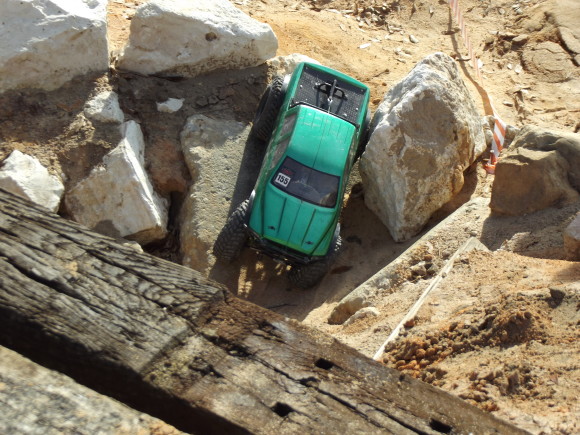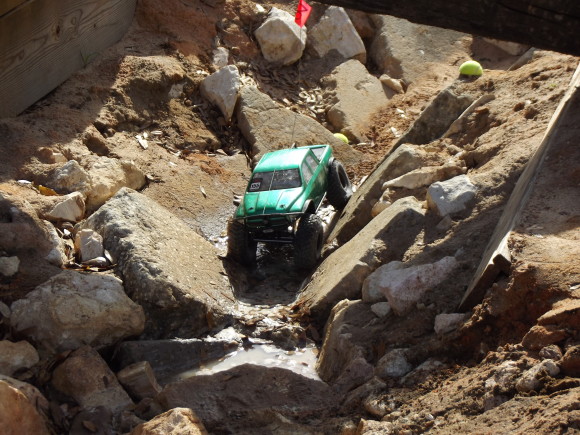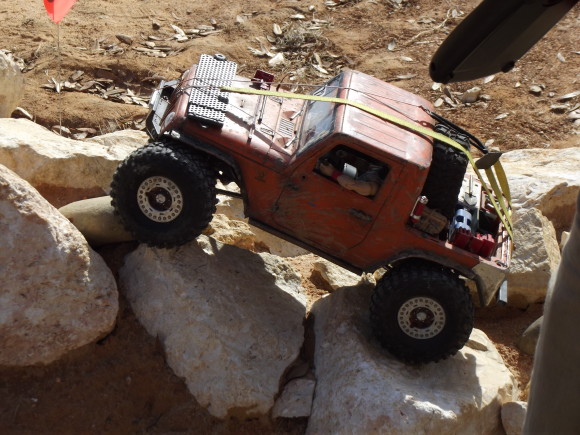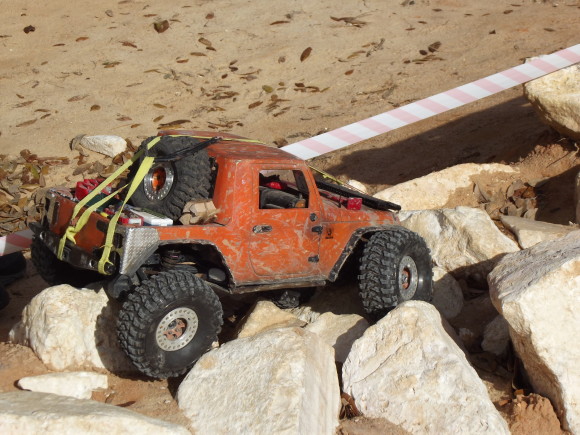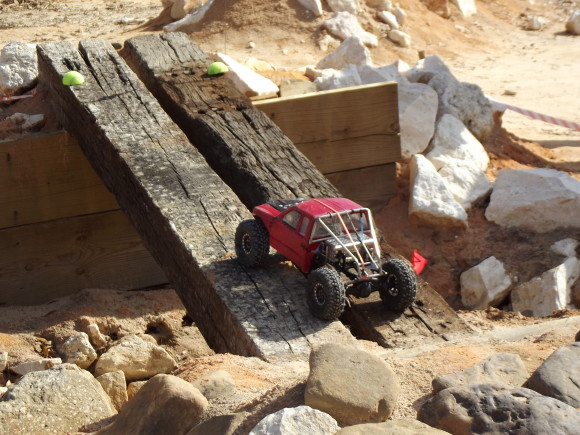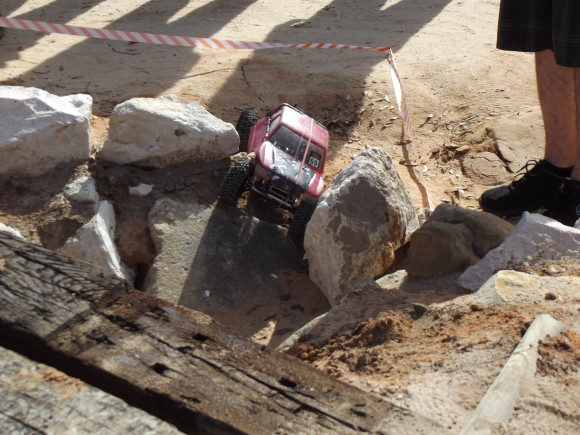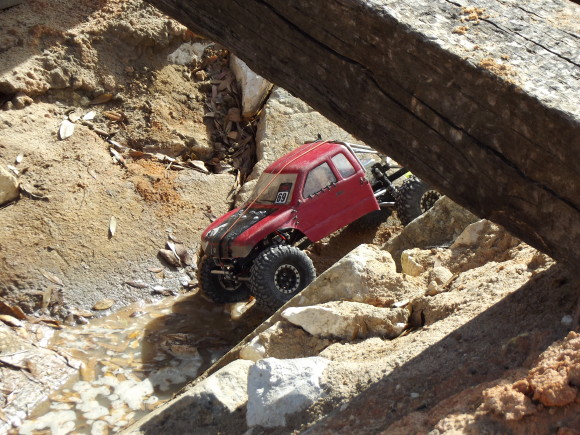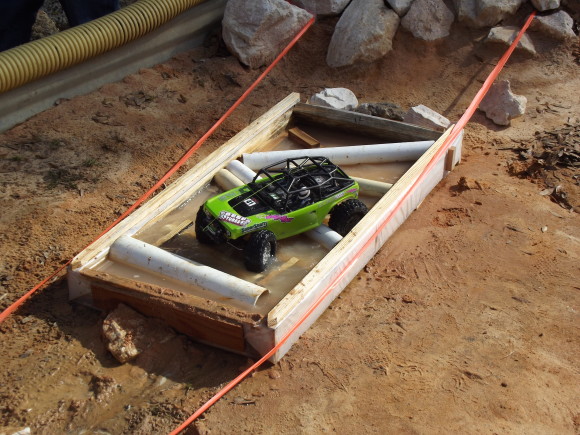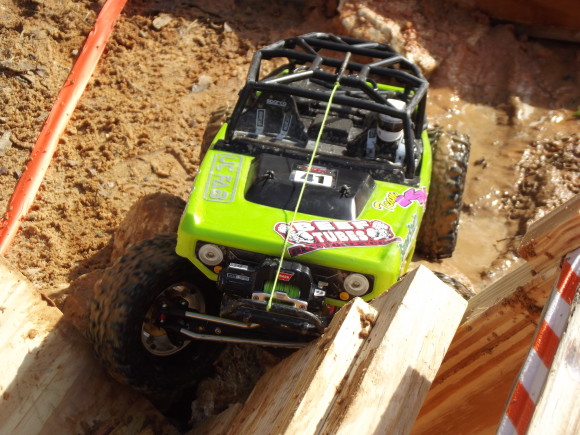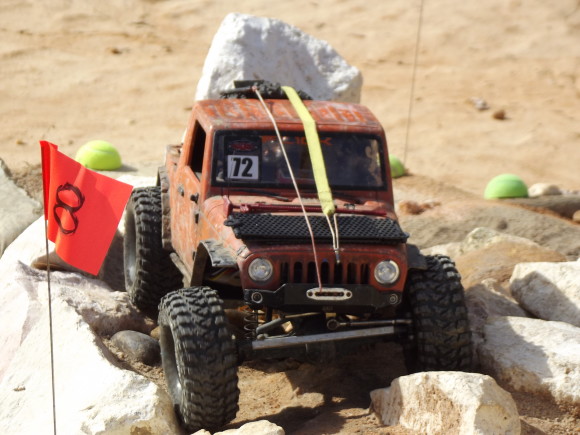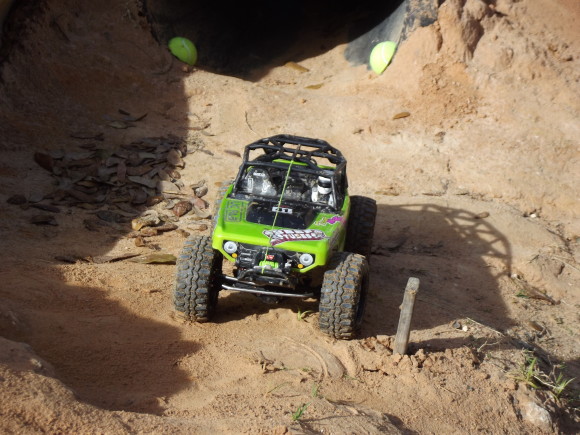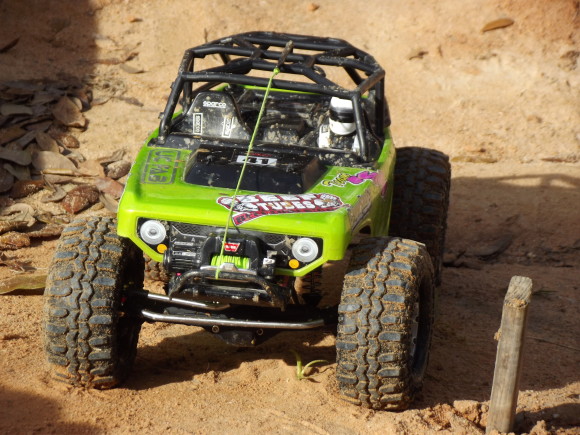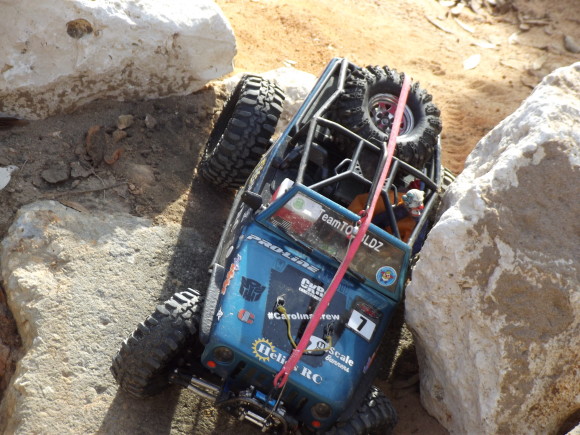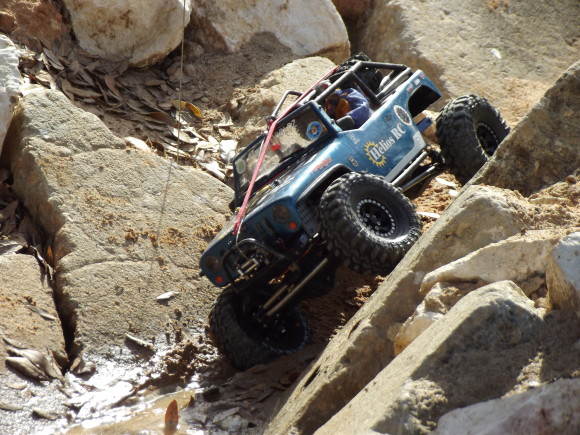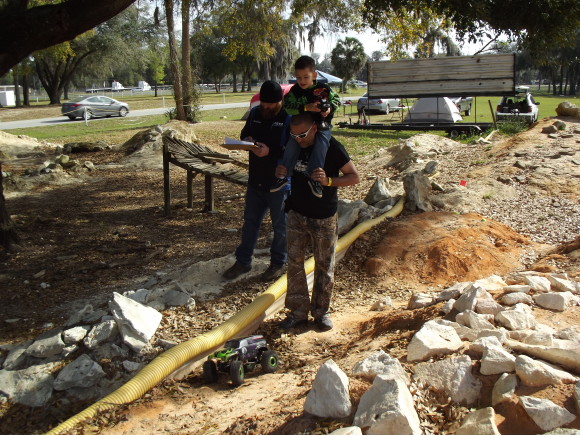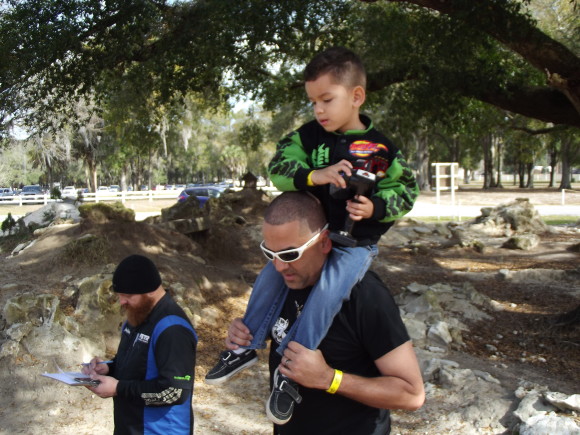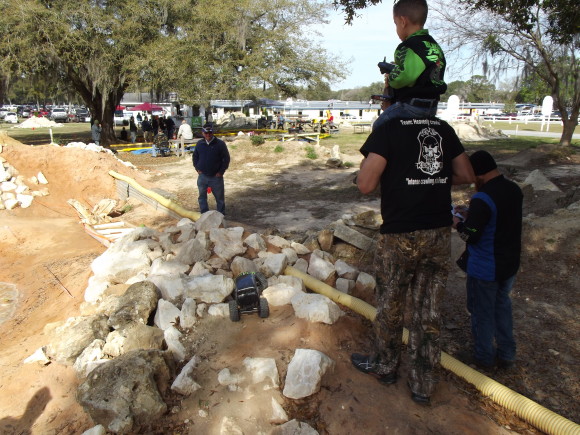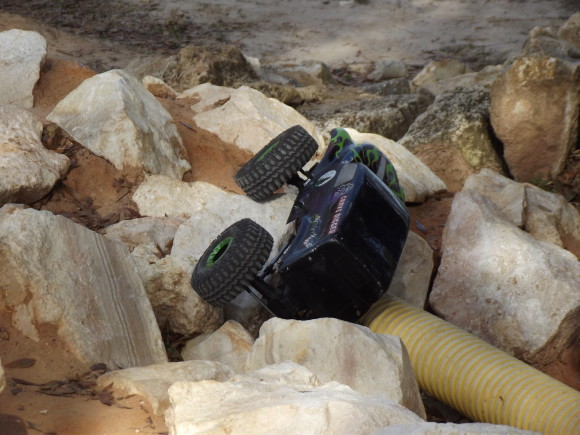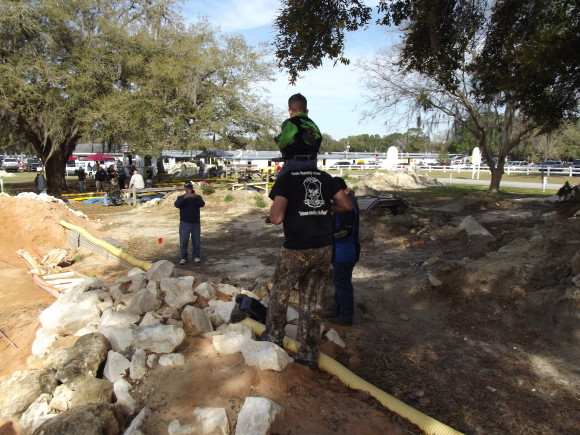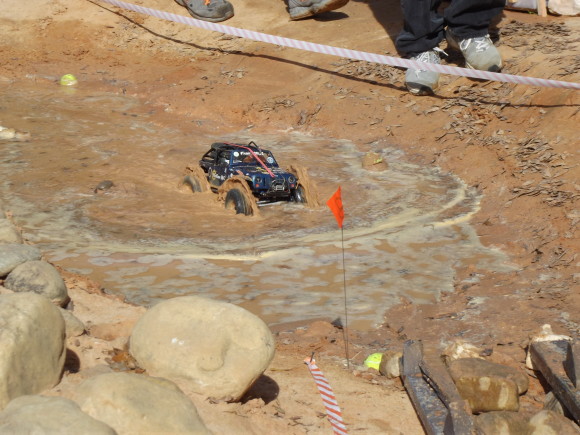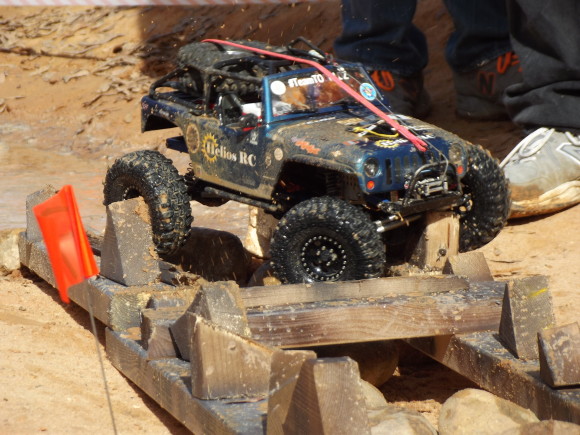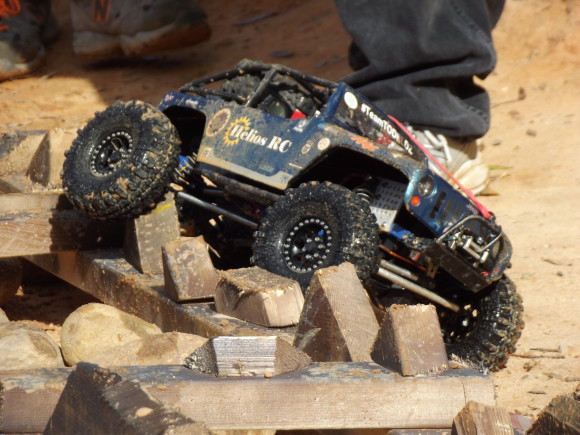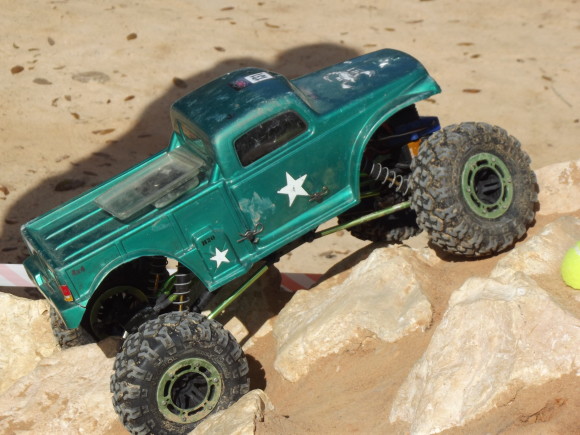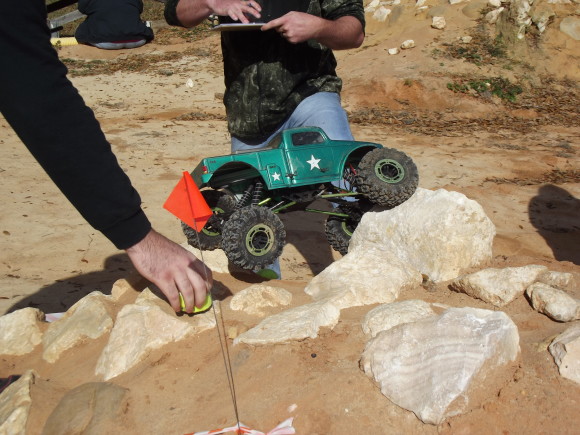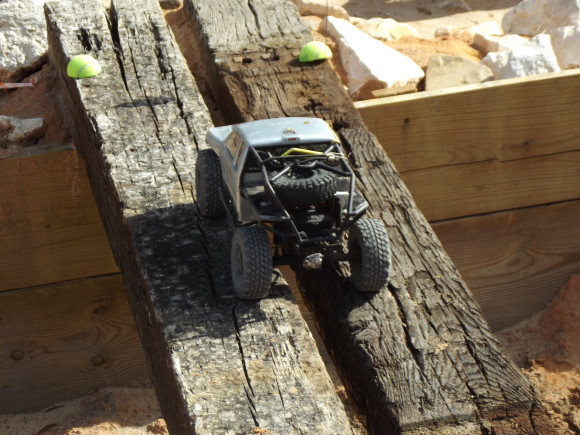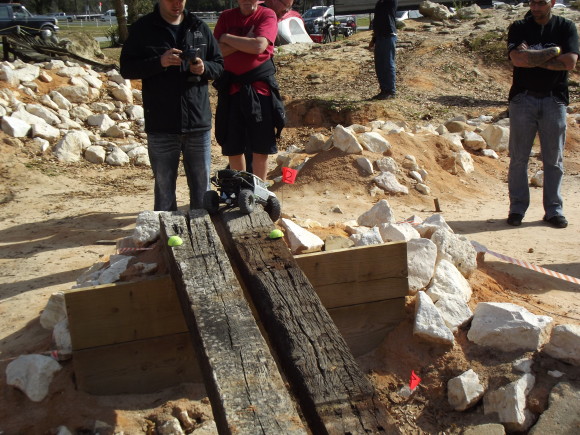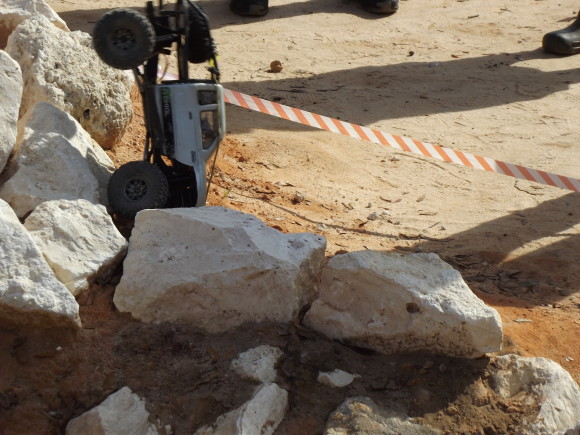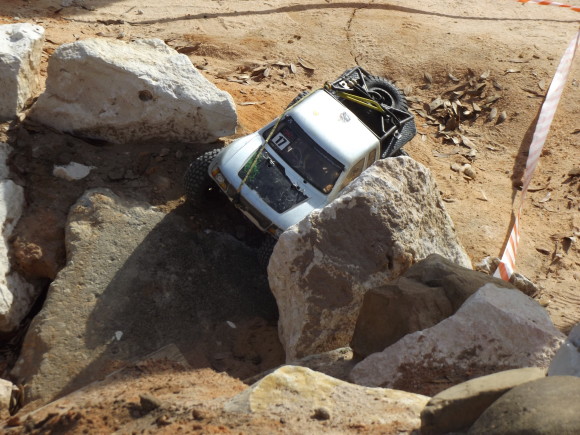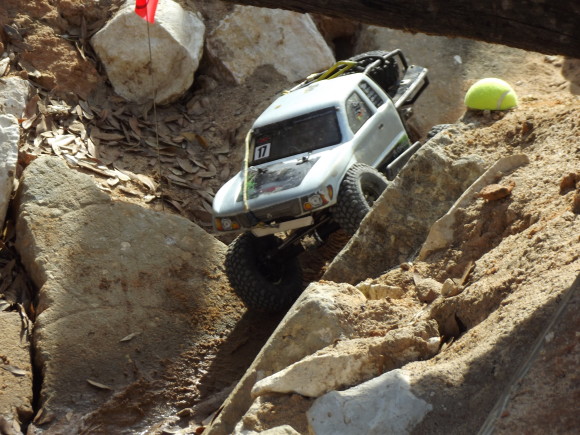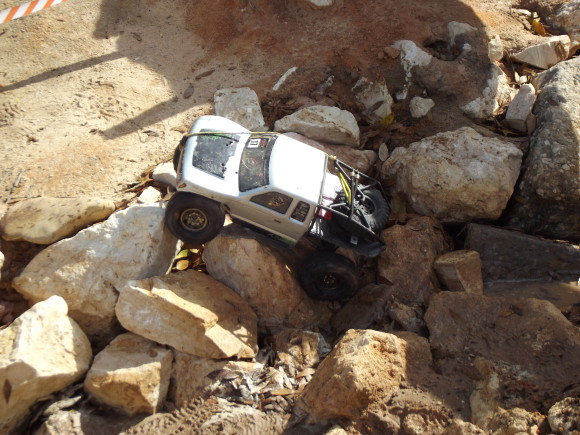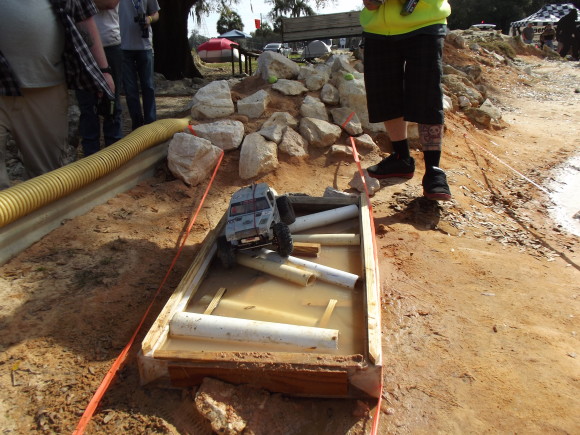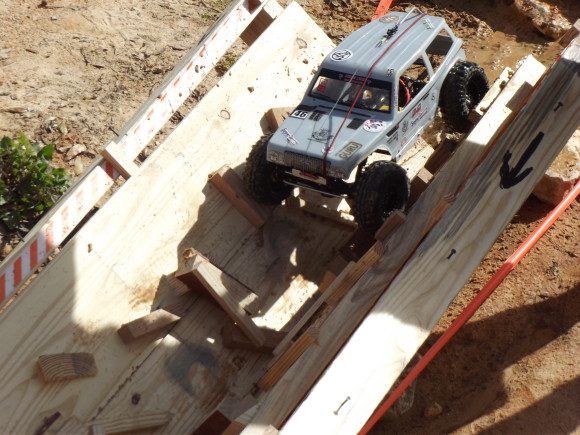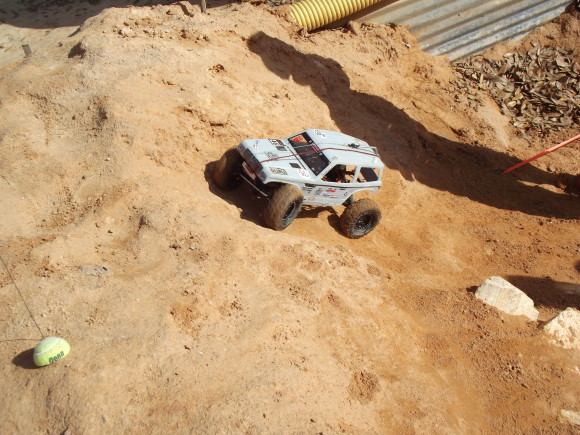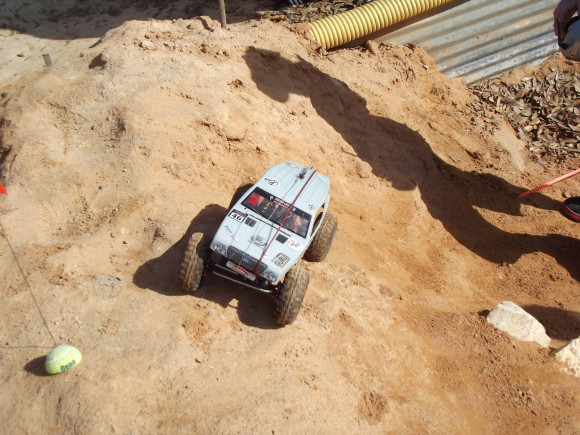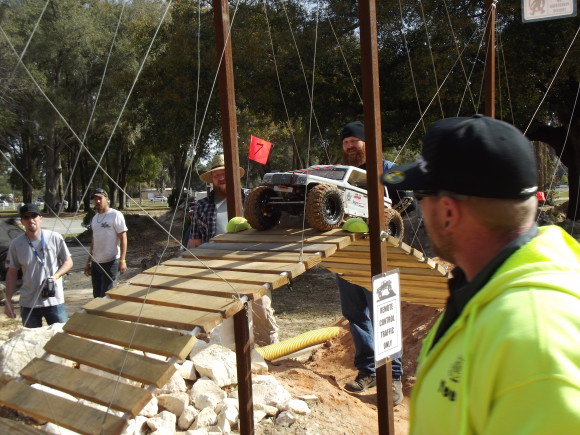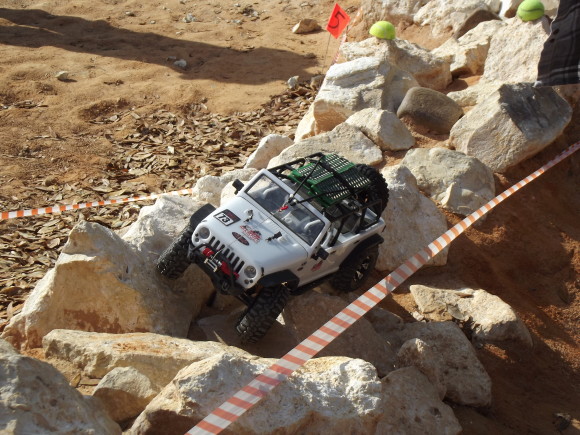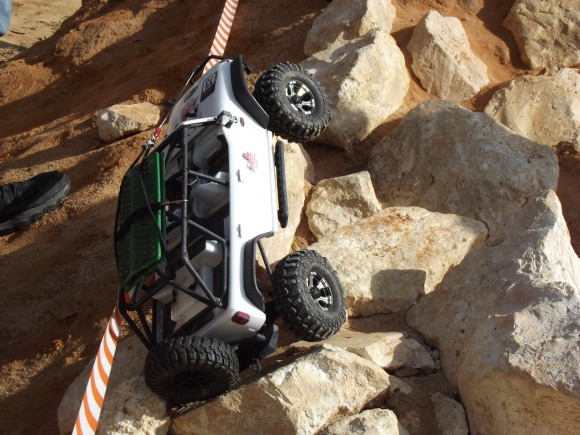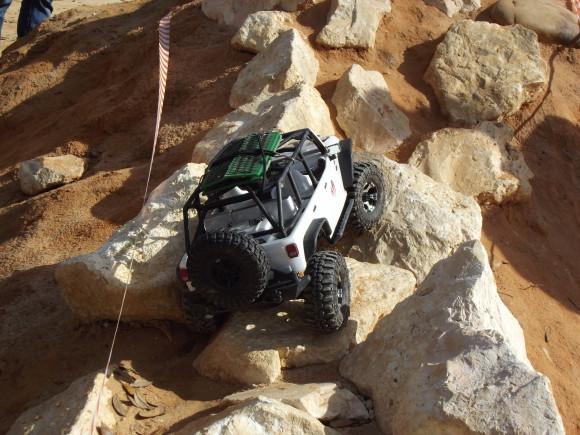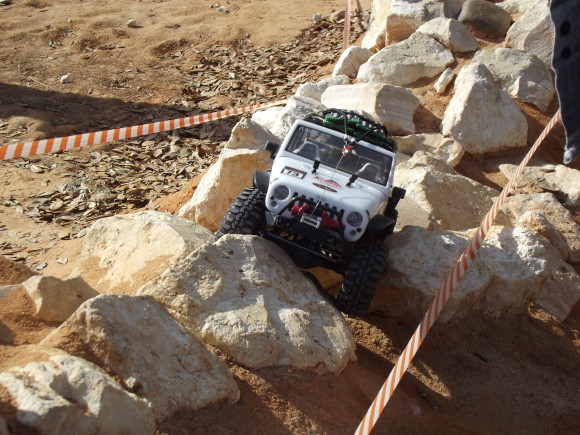 This 6×6 wasn't entered into competition, but it's too gorgeous not to include.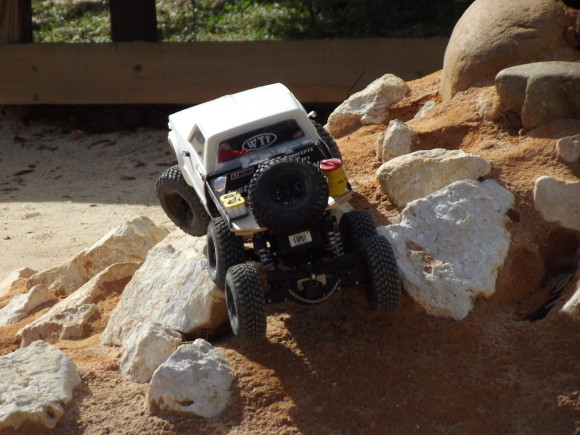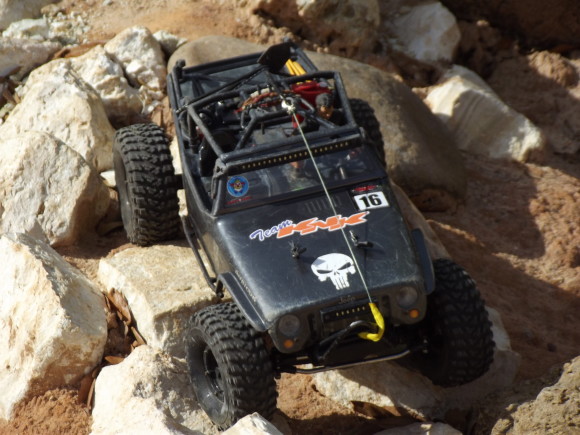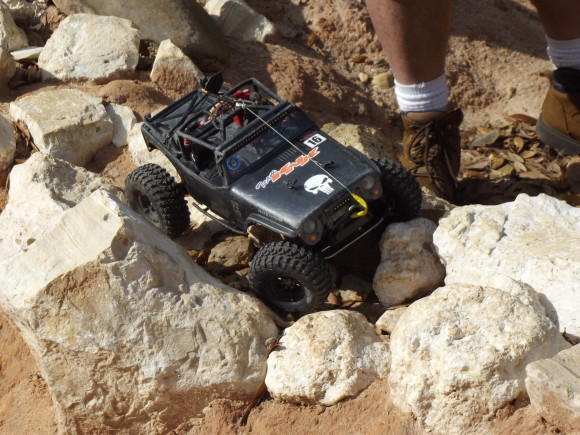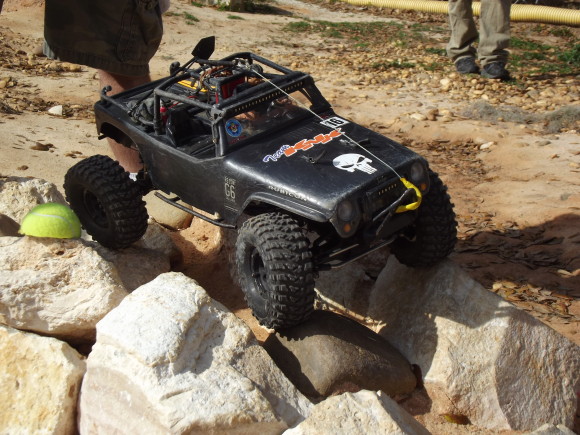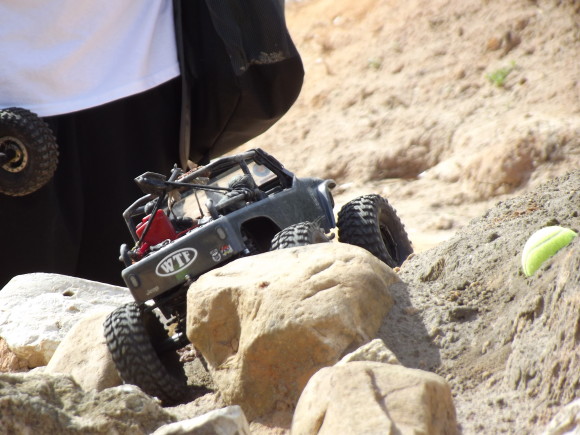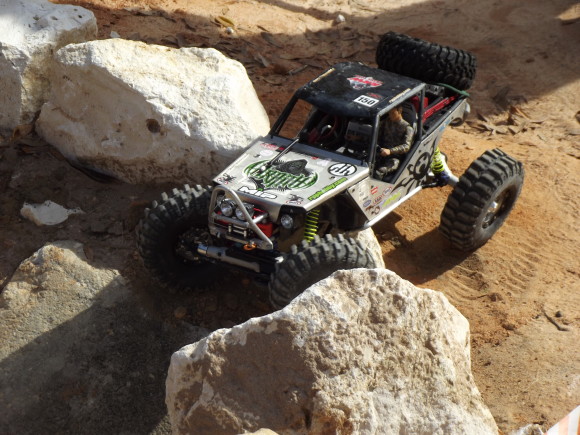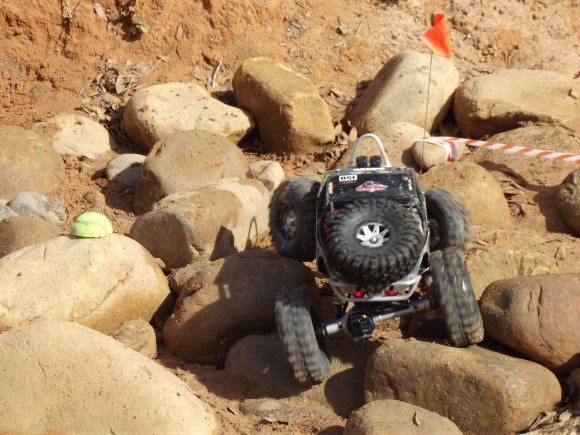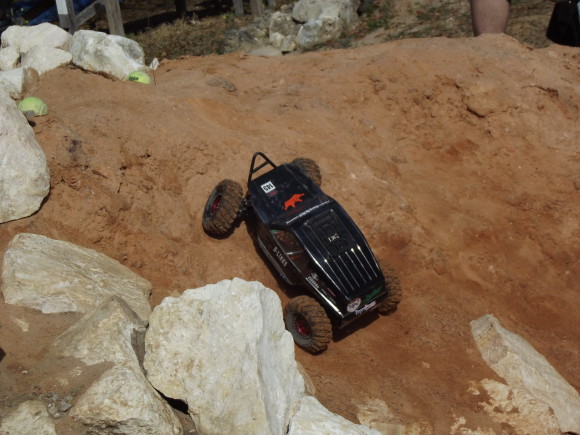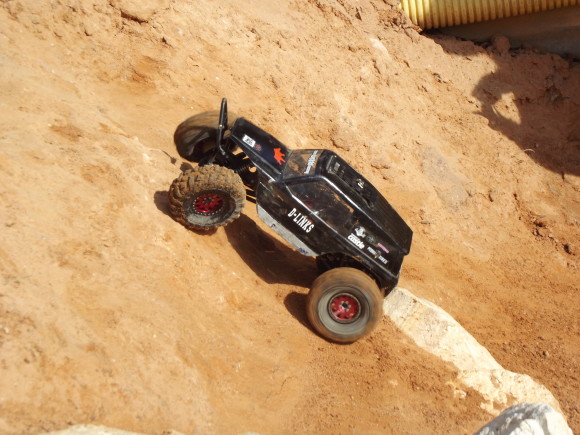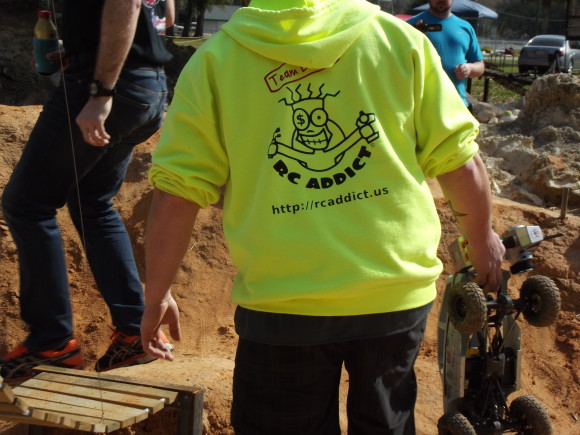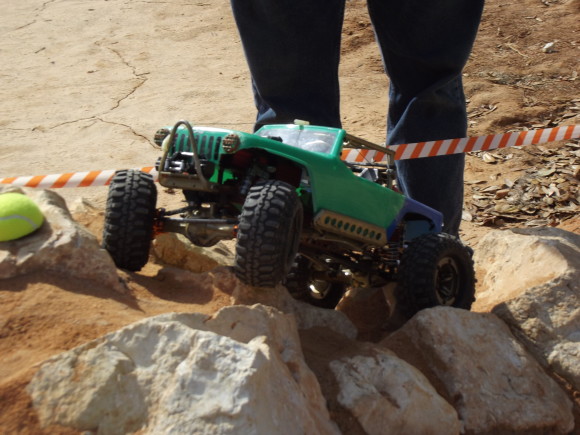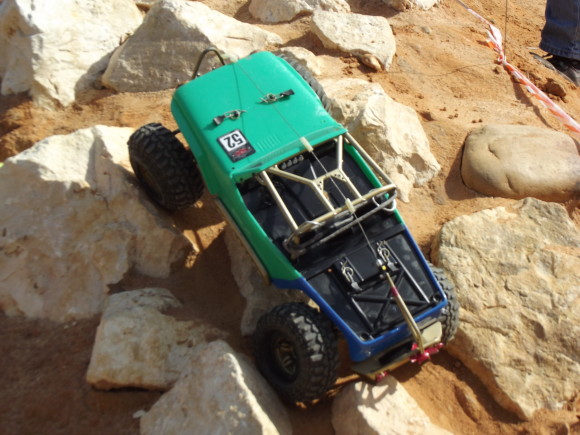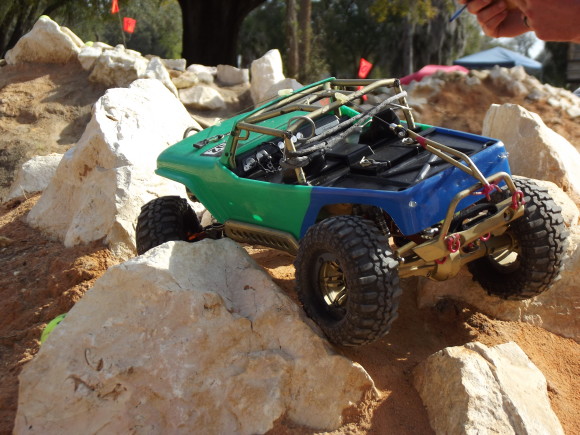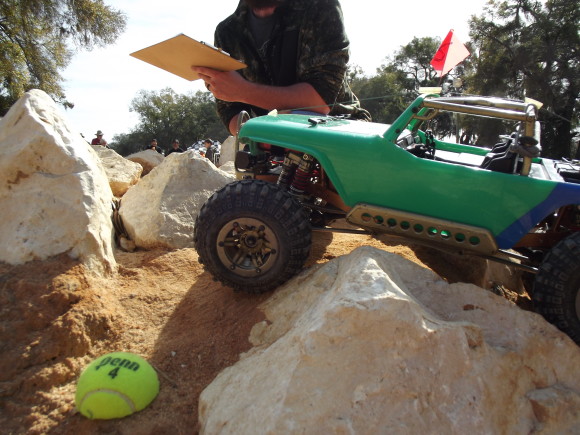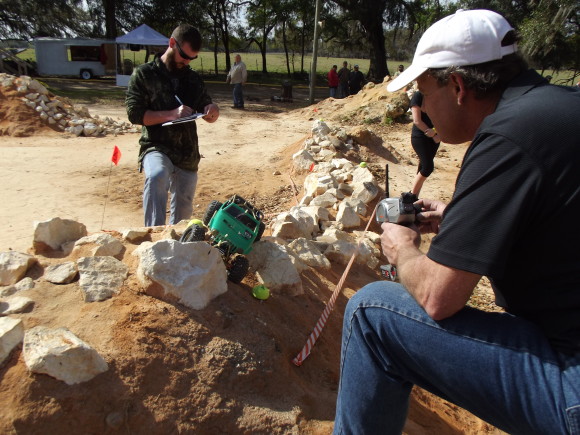 This 6×6 was entered into the competition, and would ultimately win that class!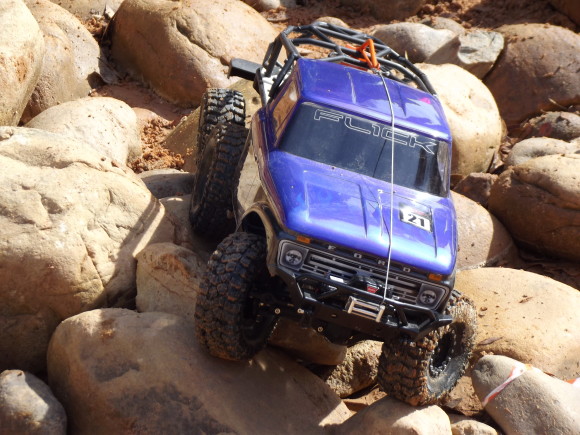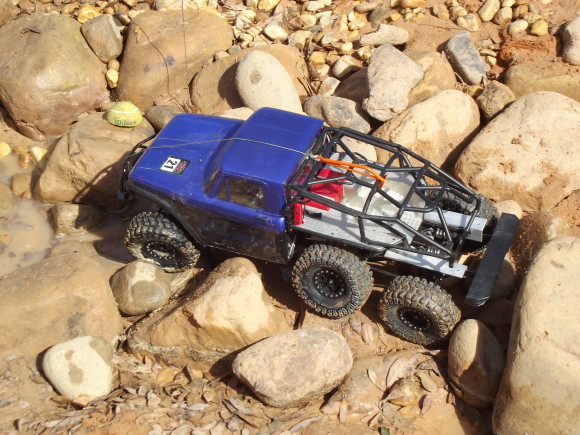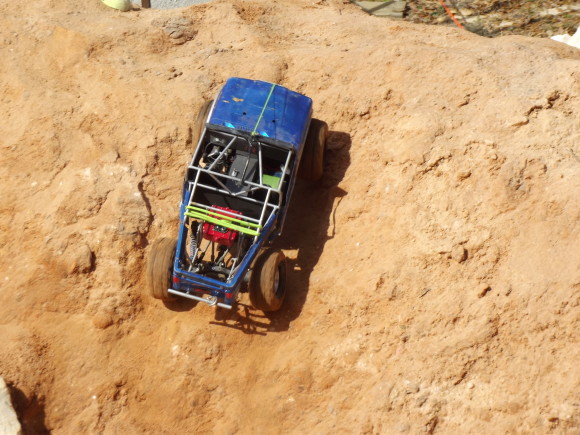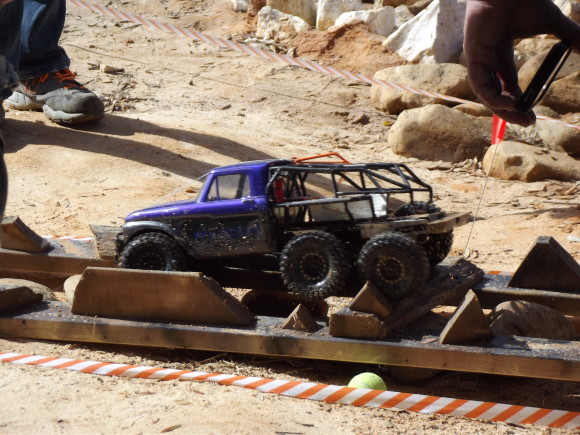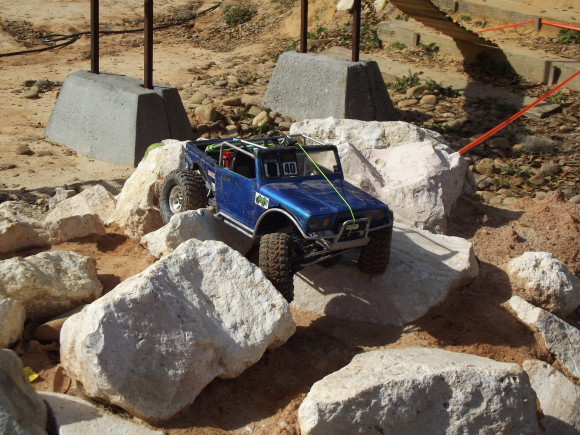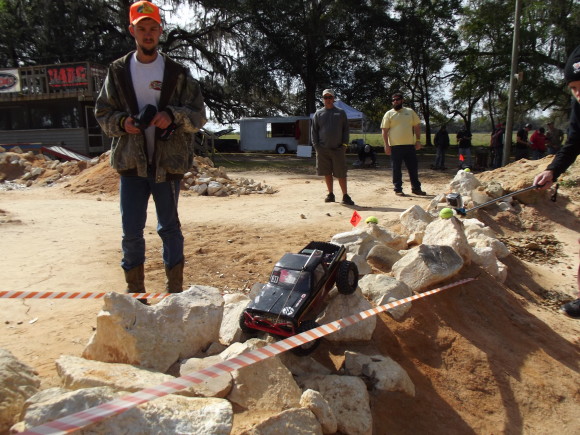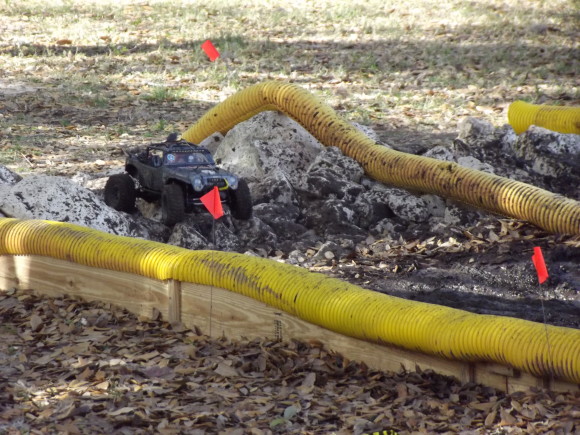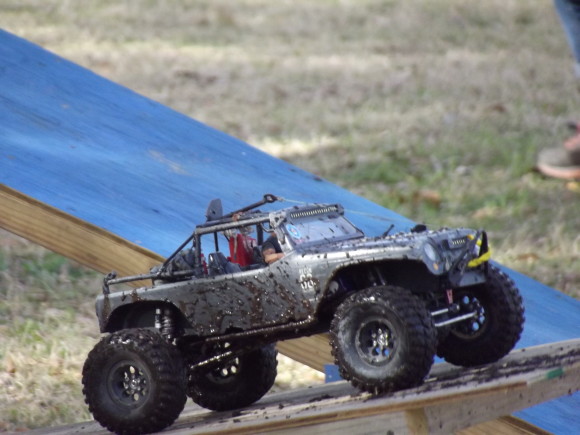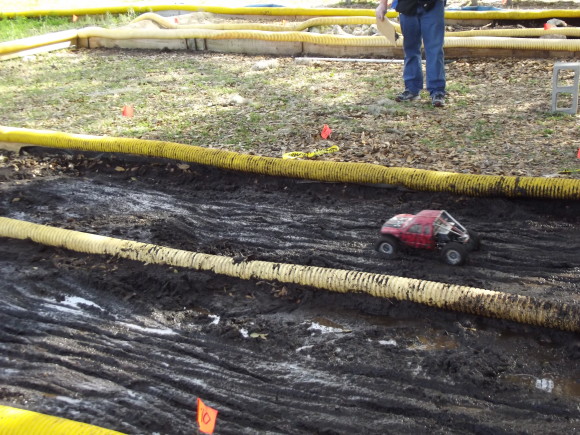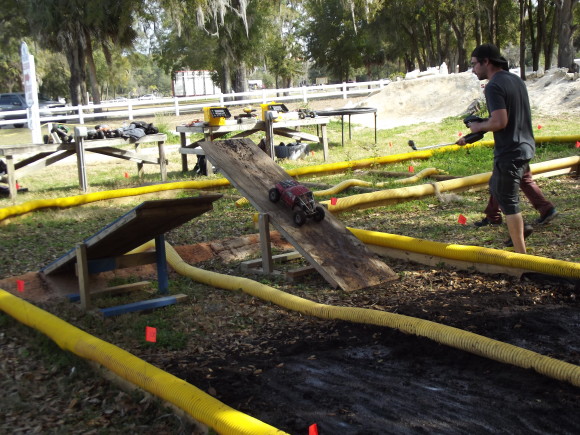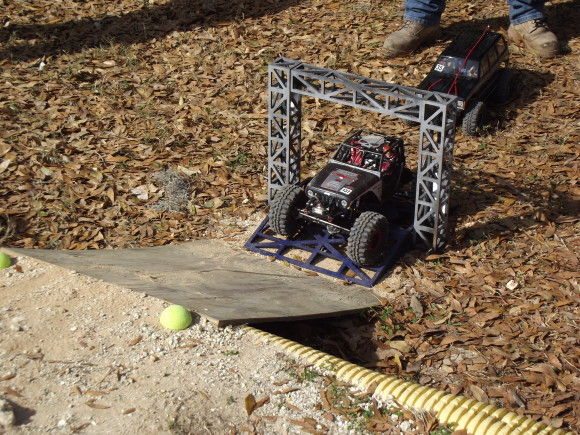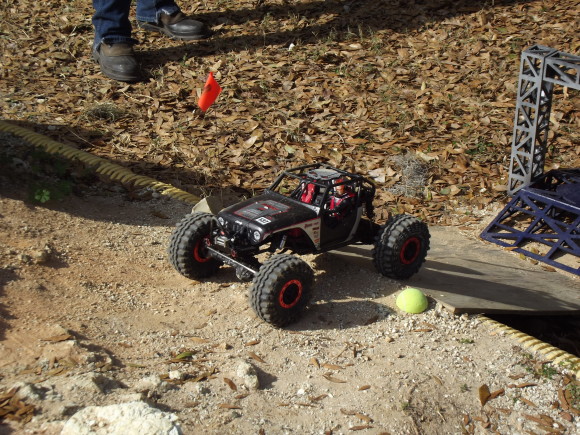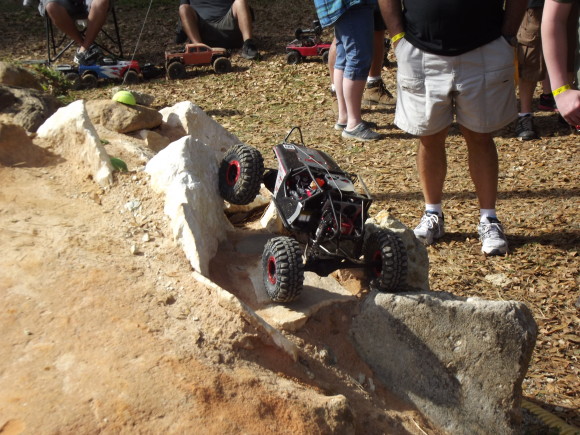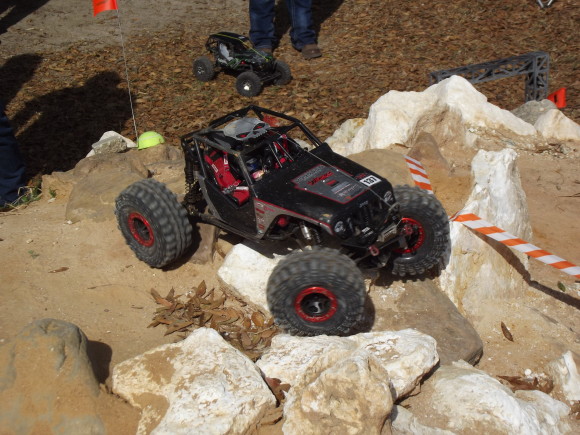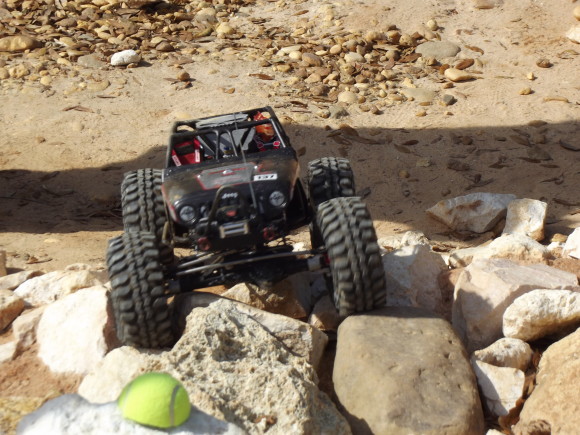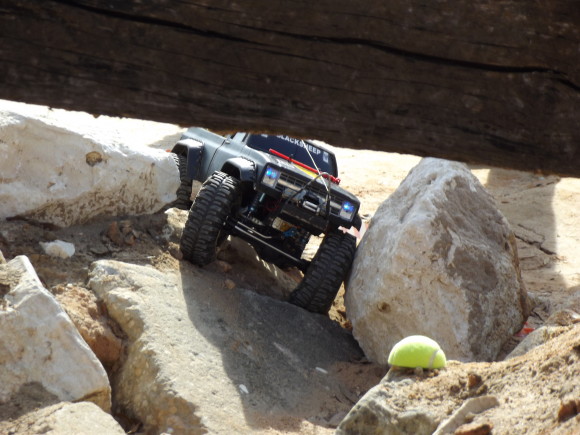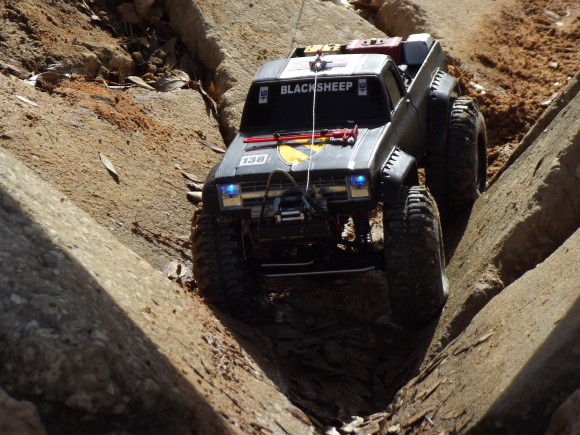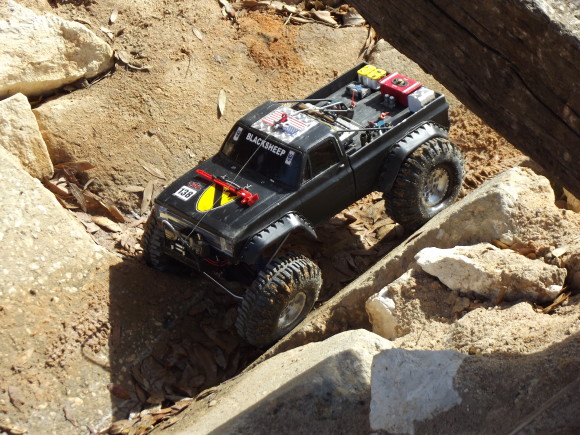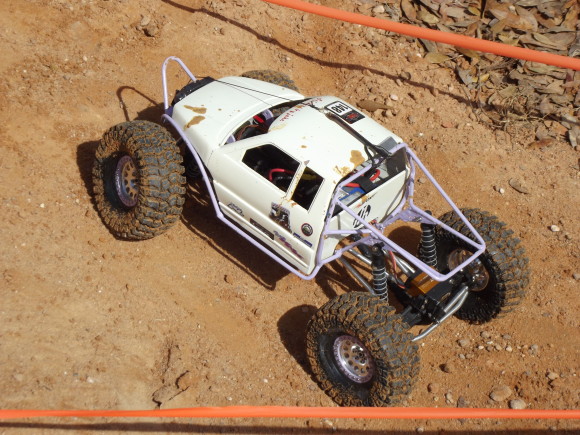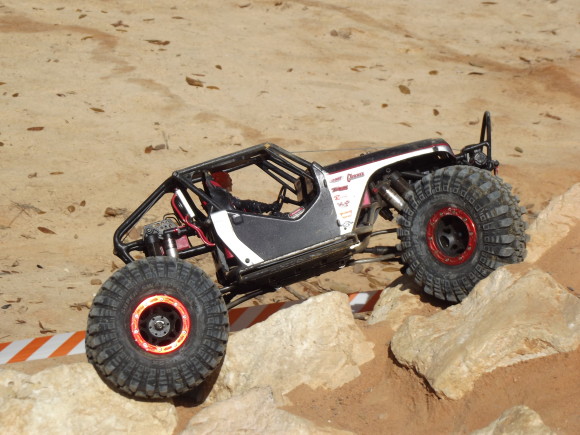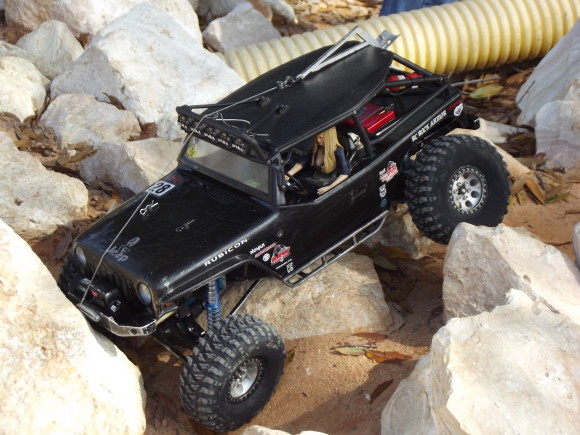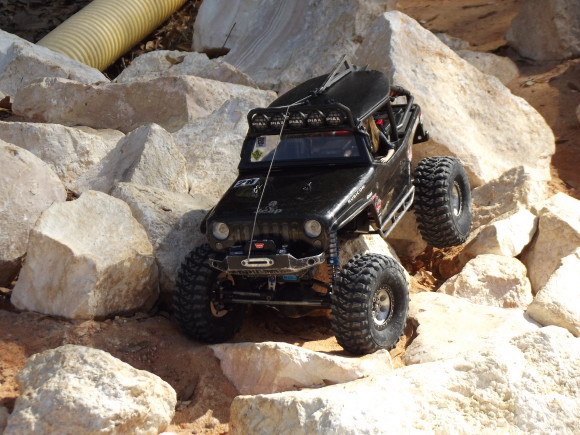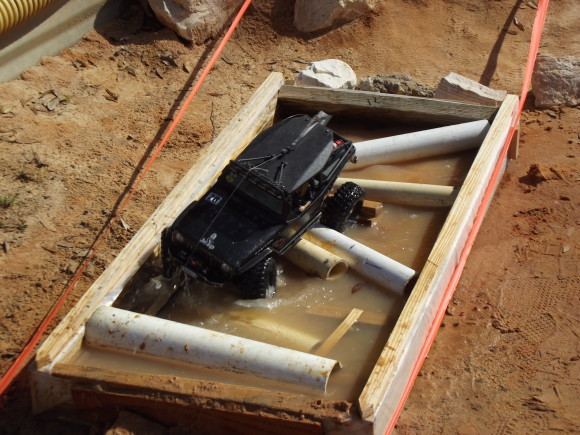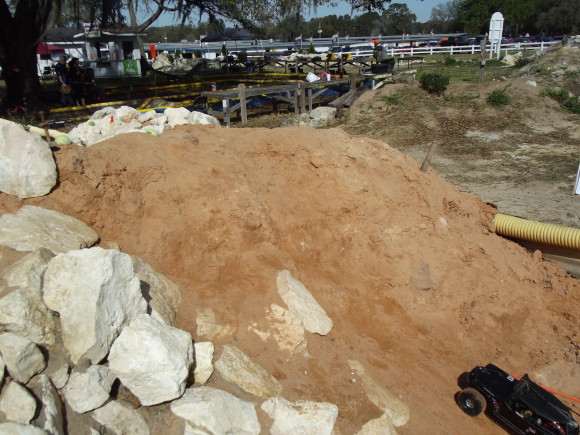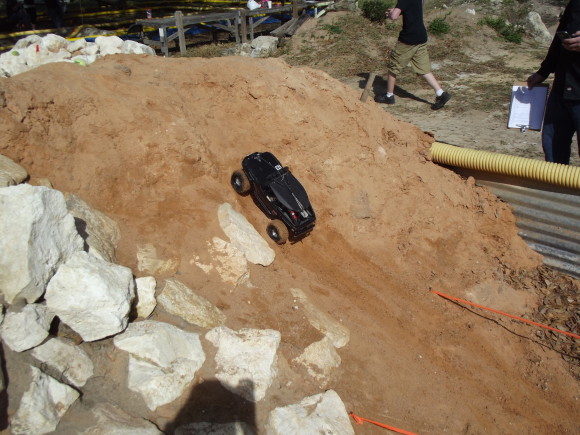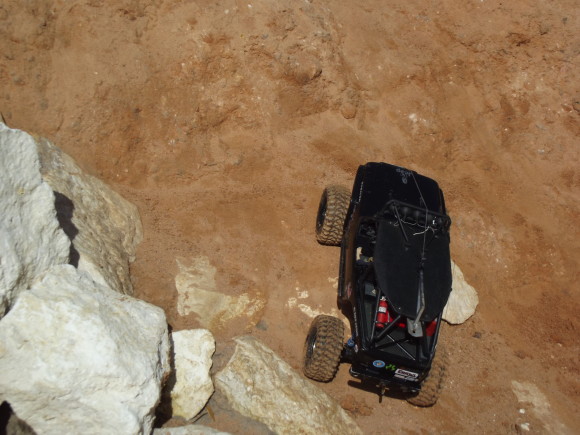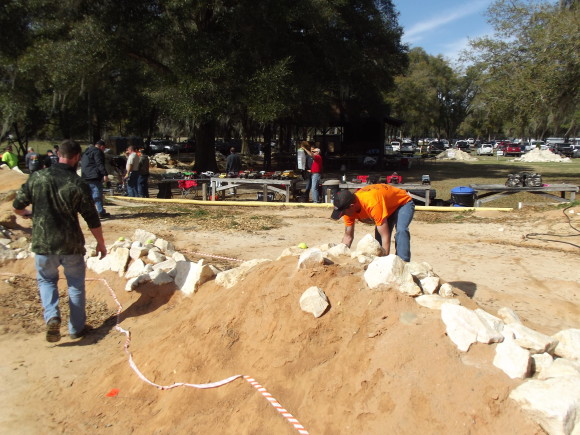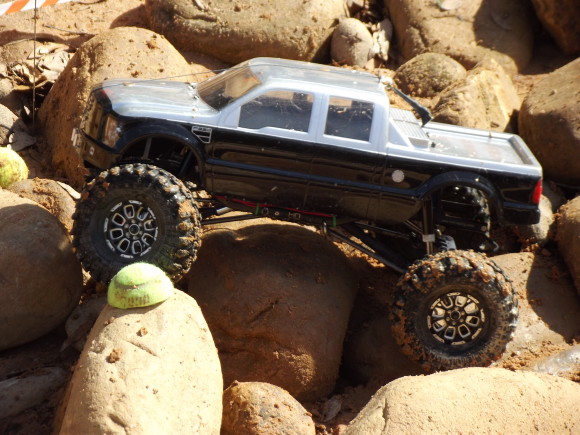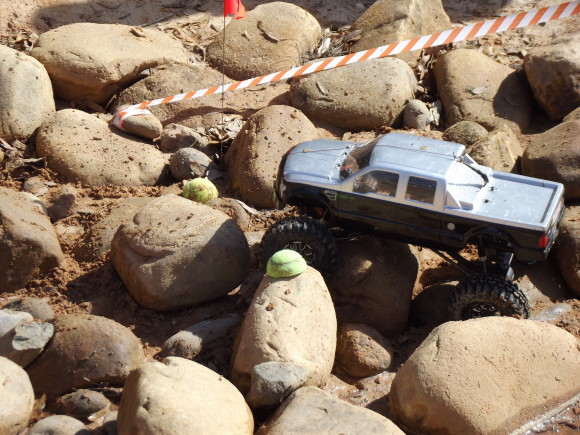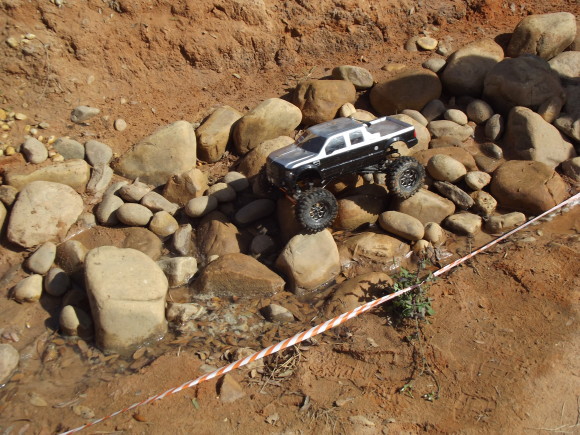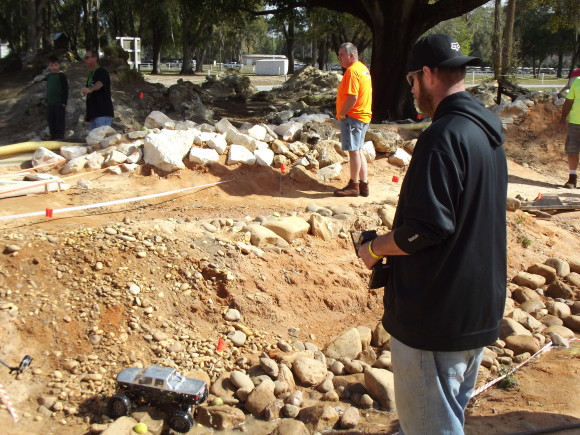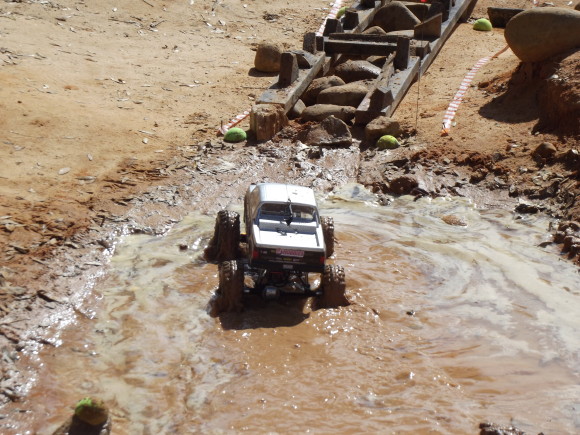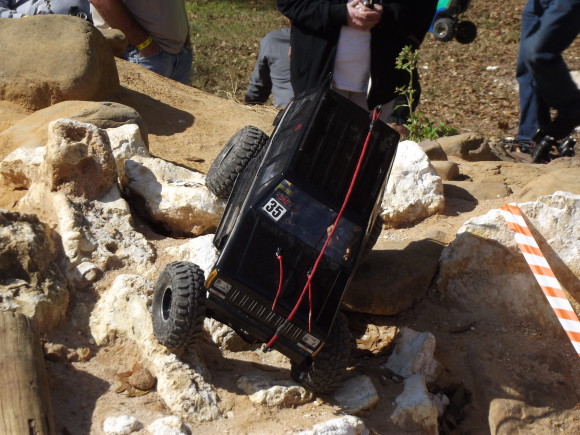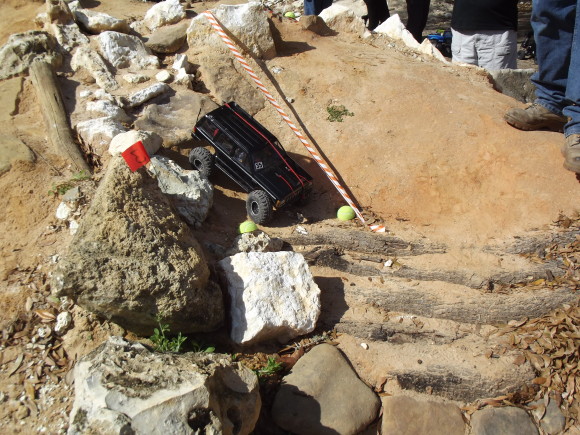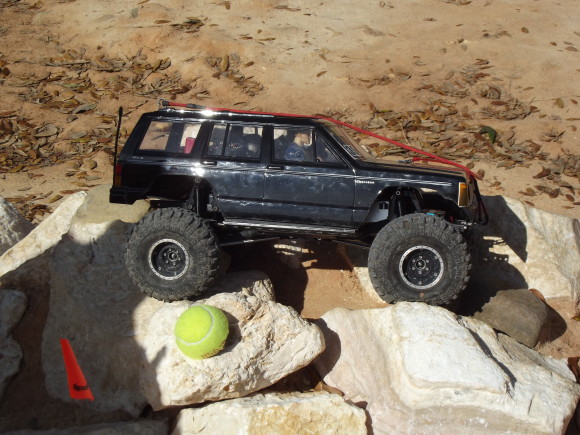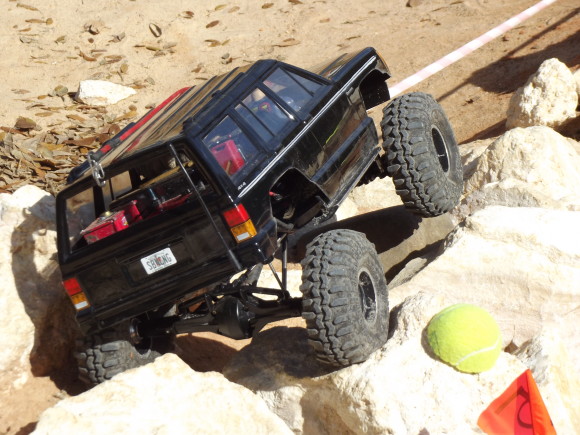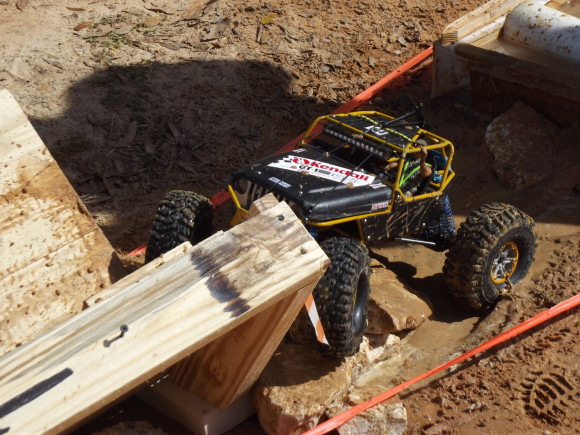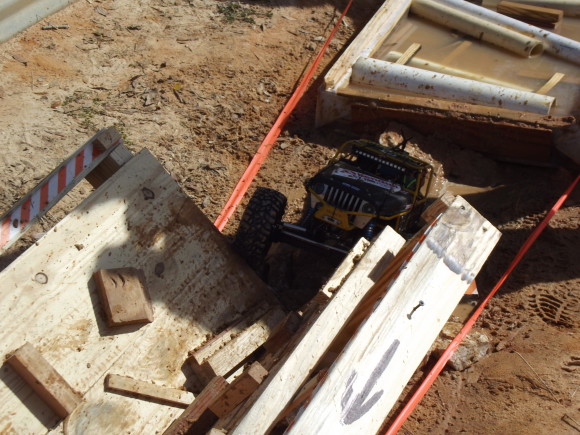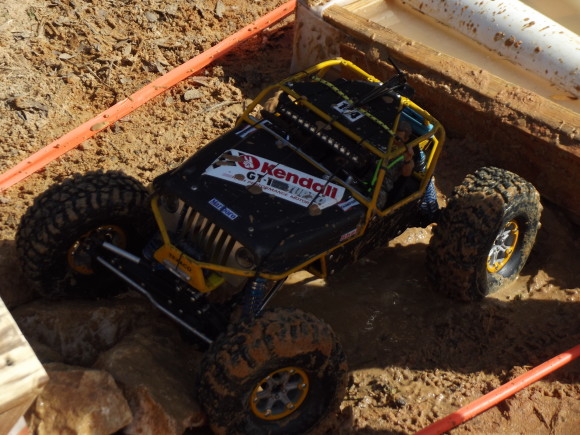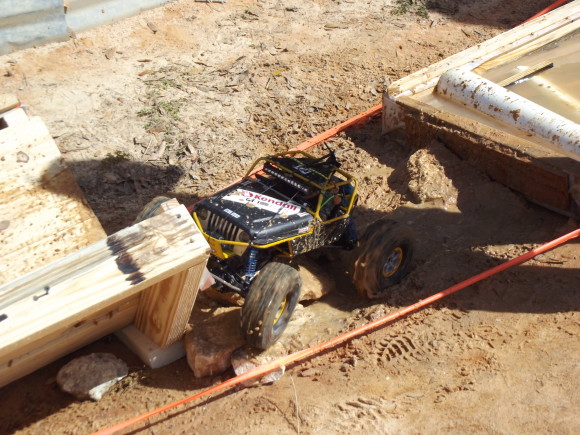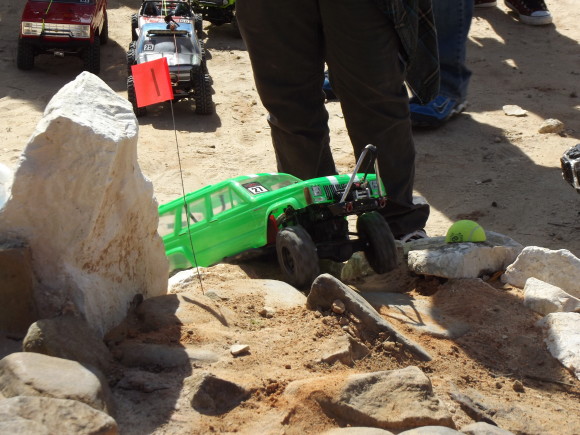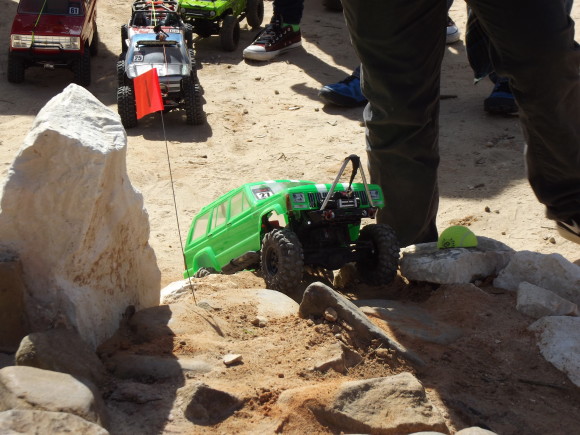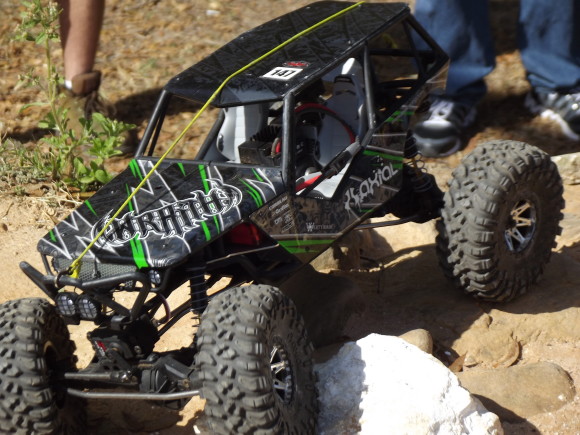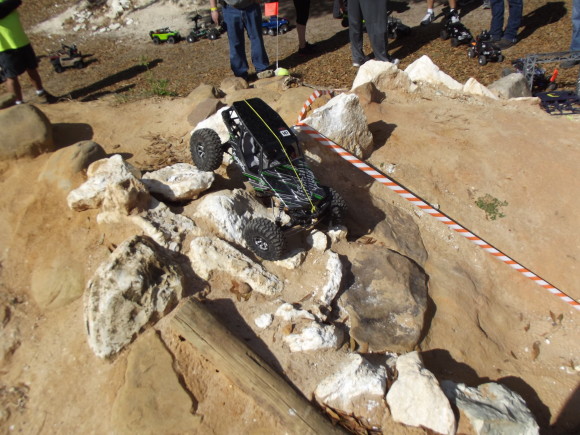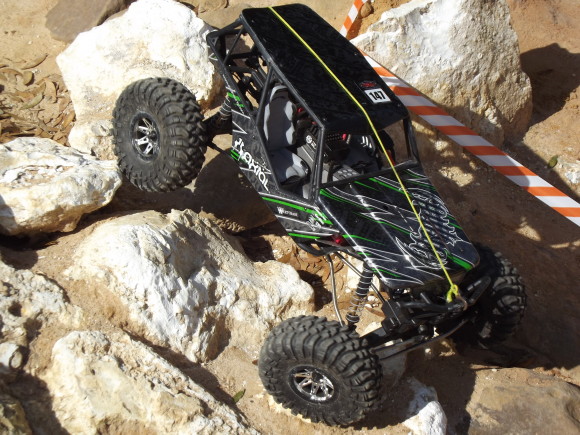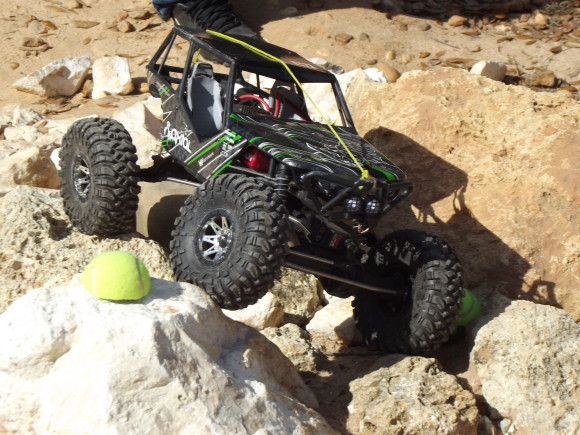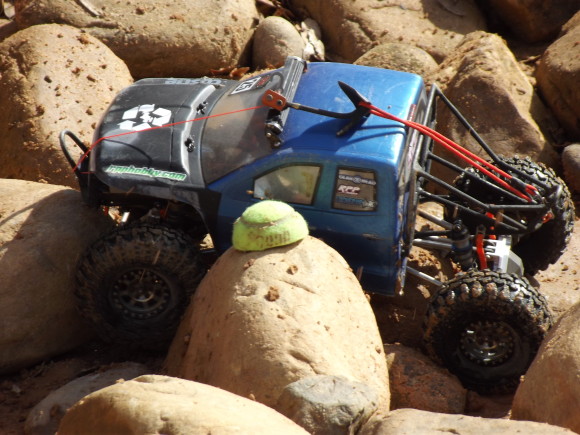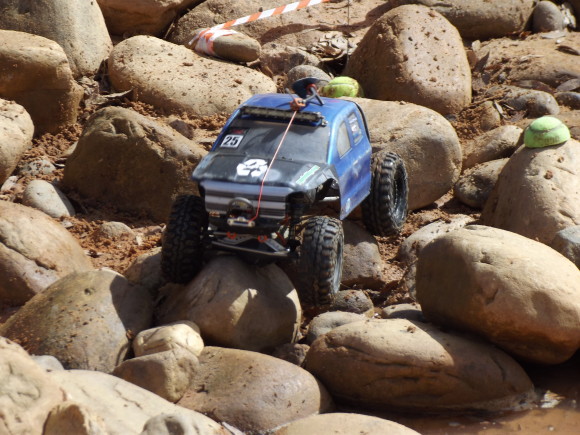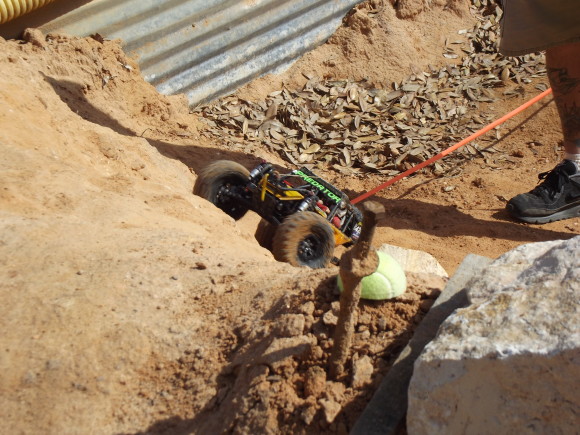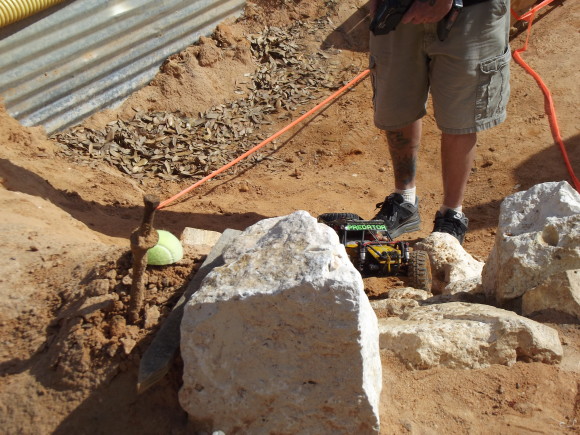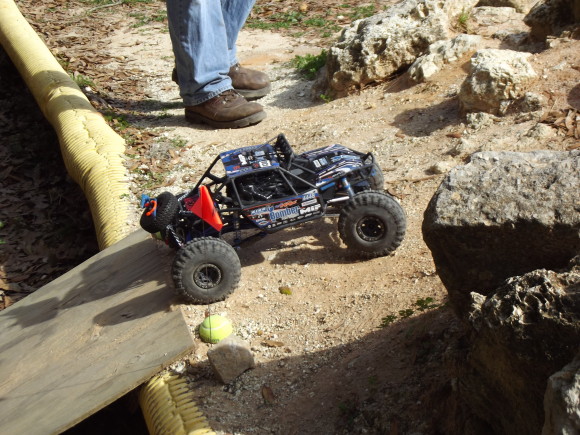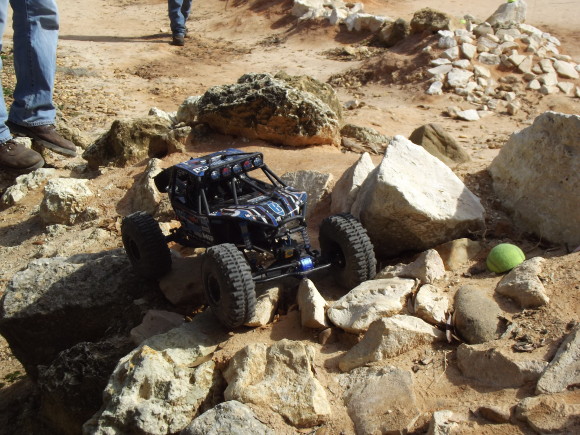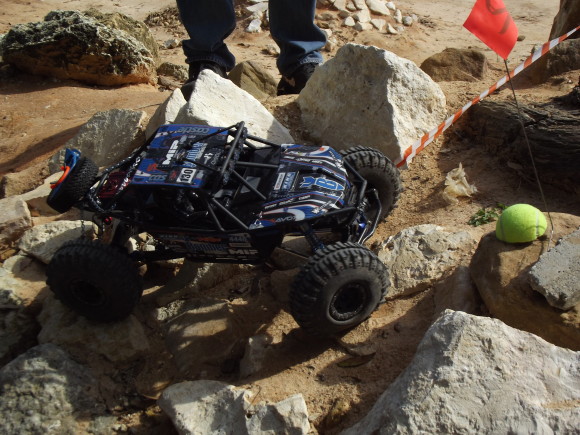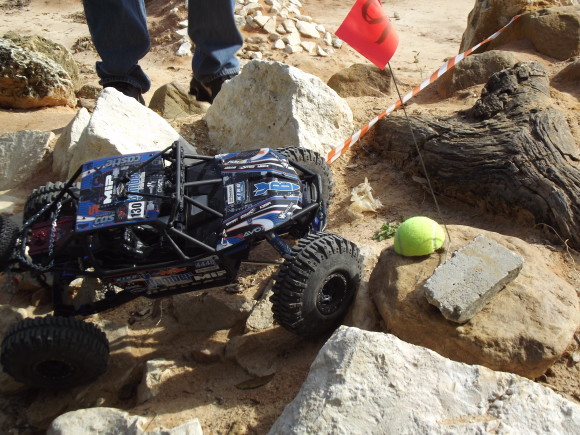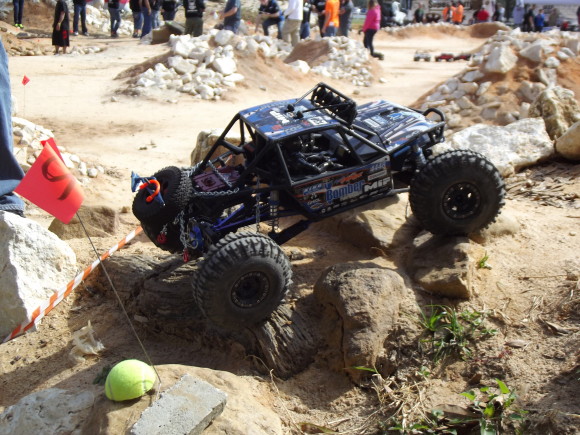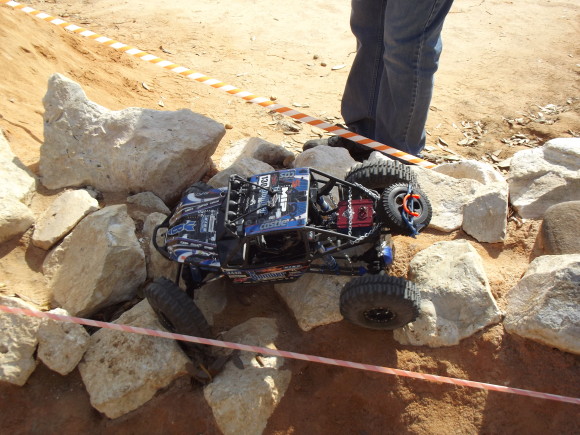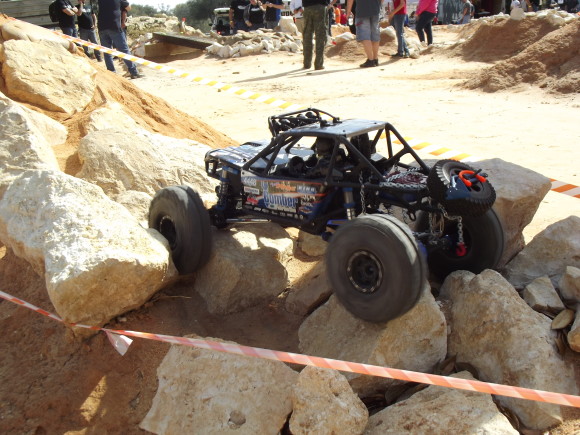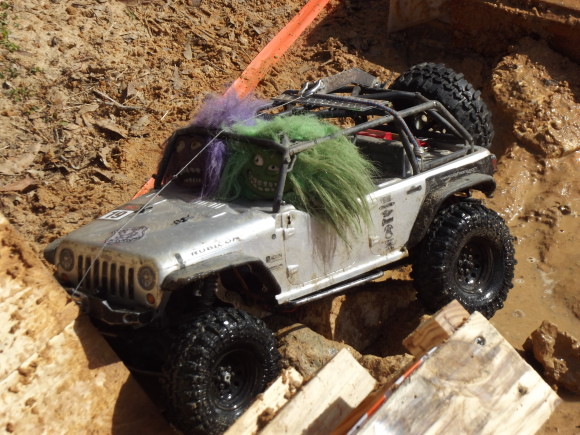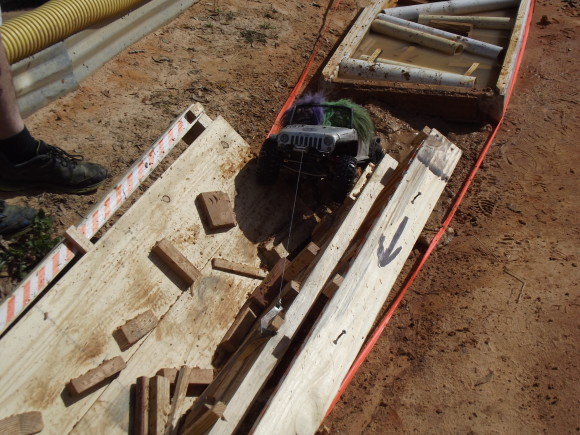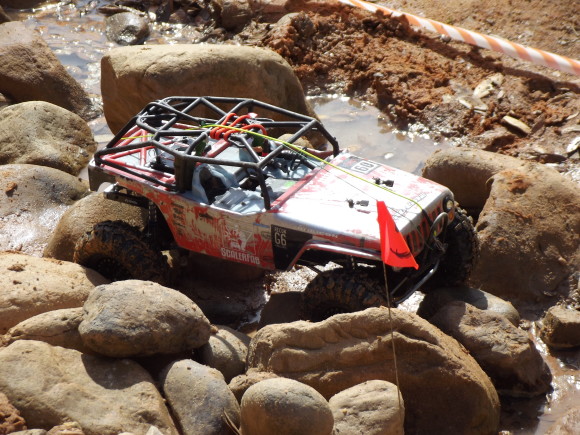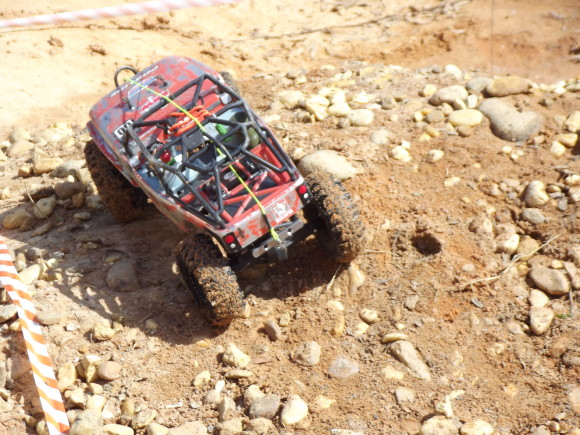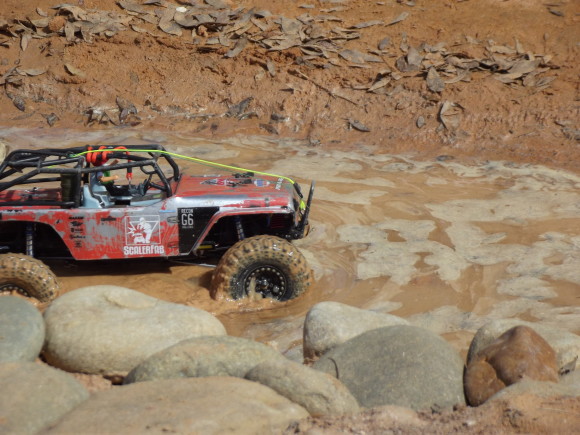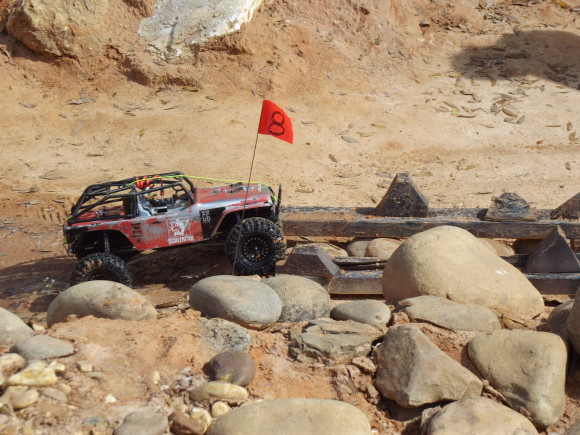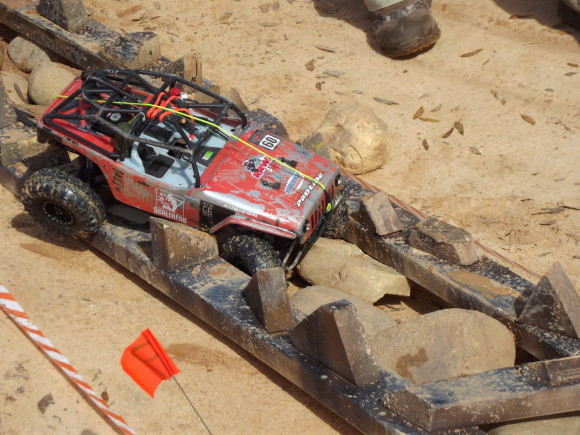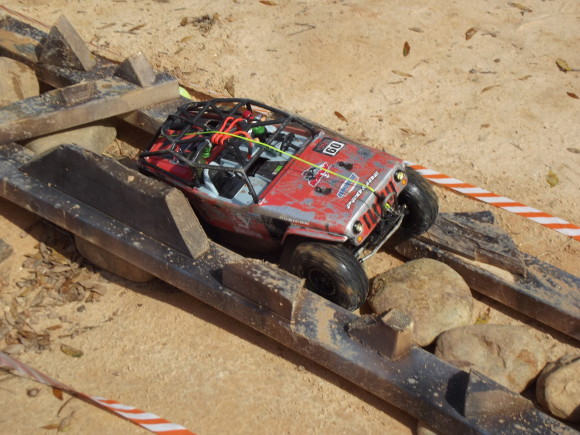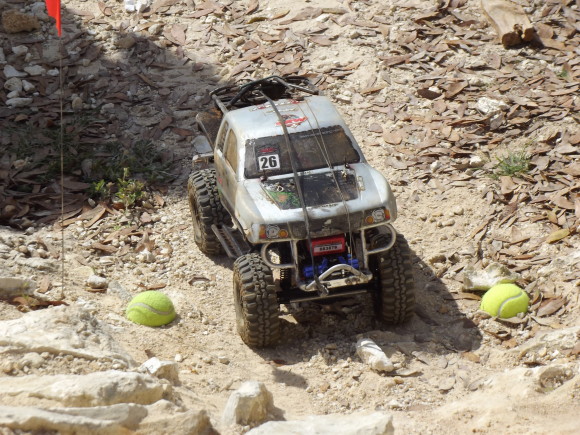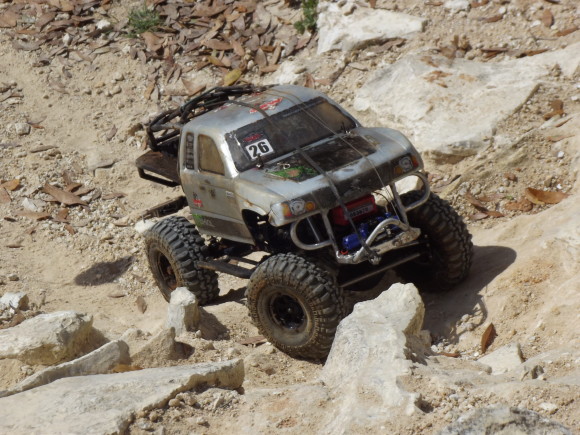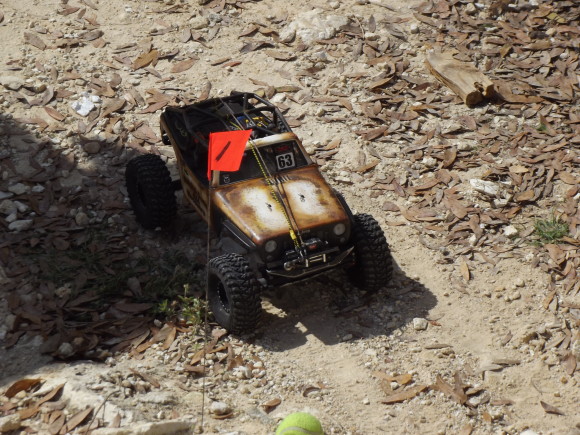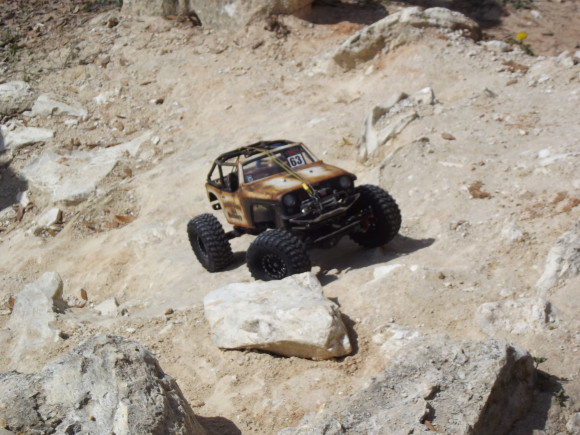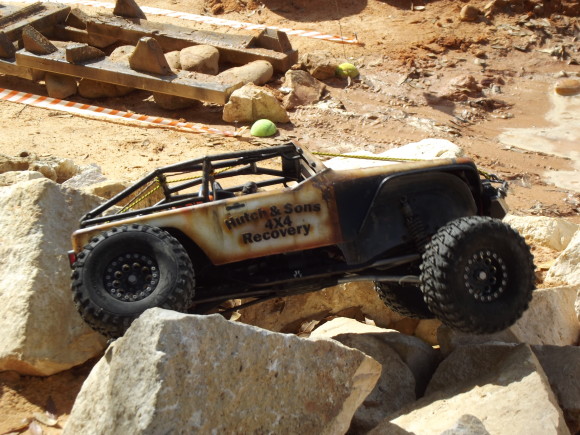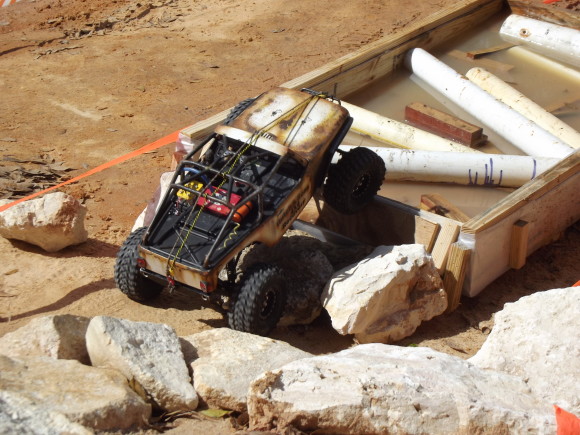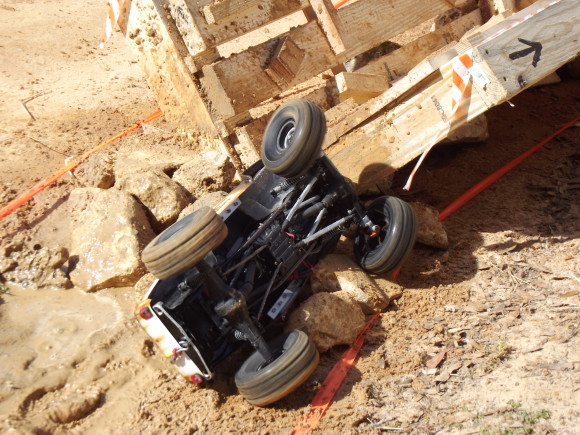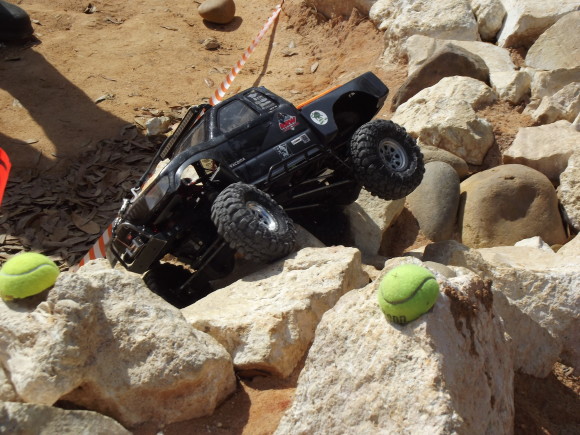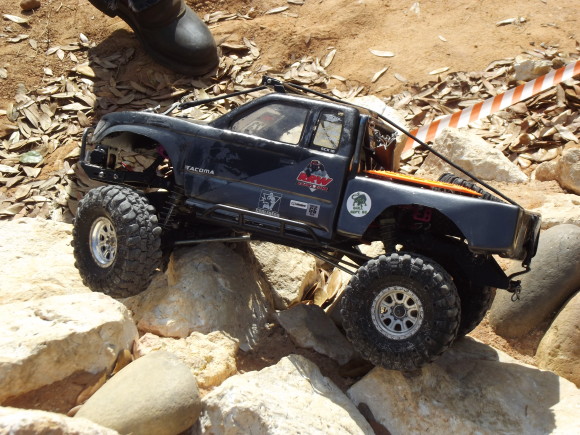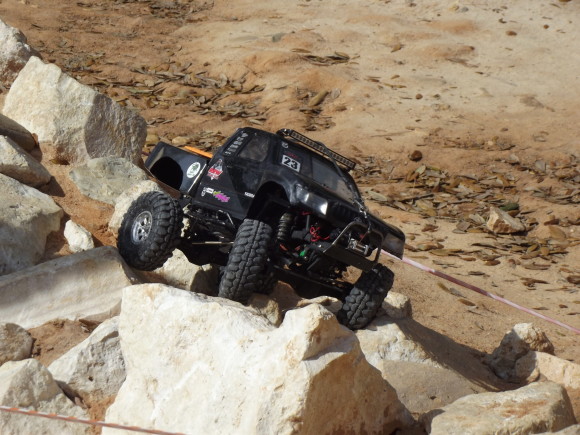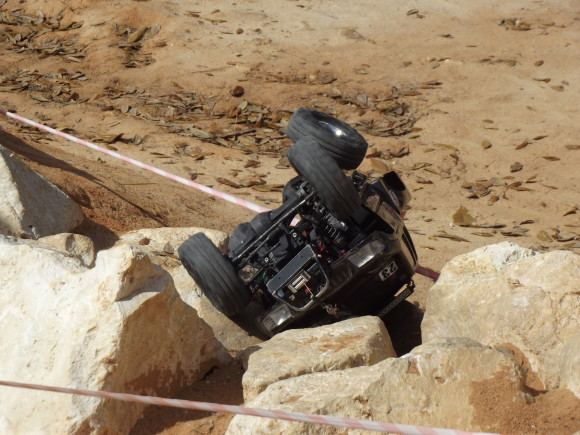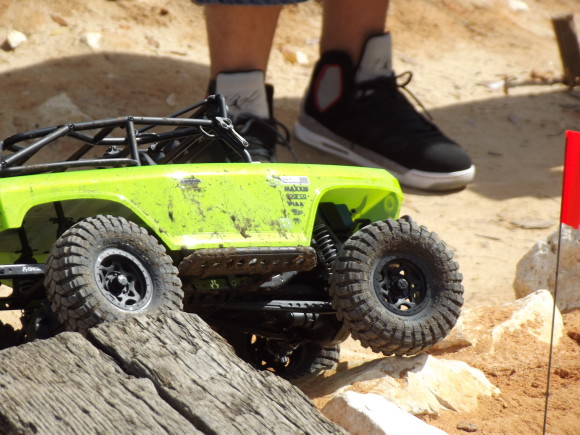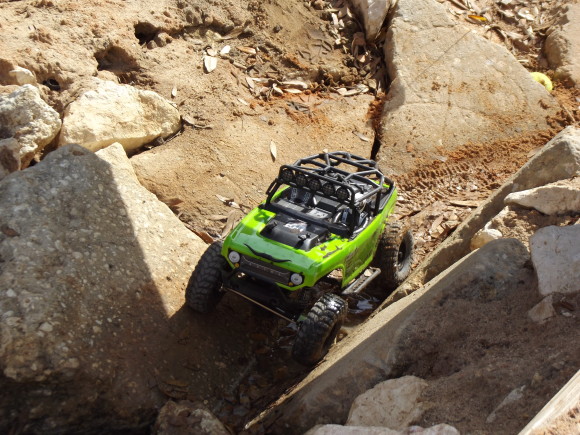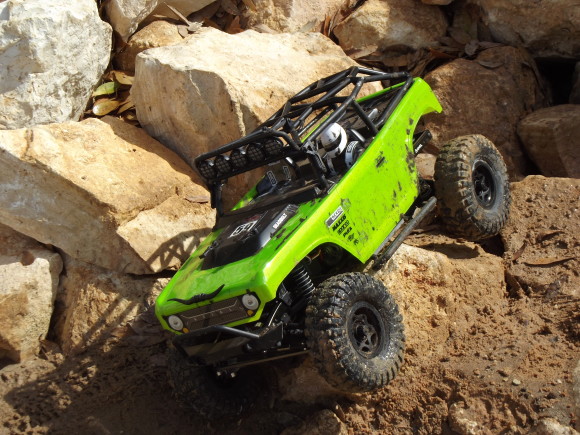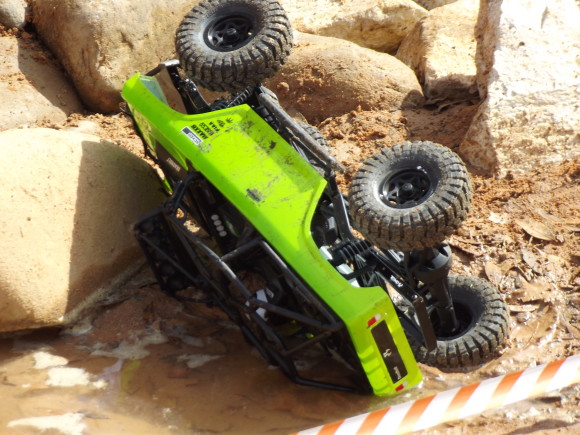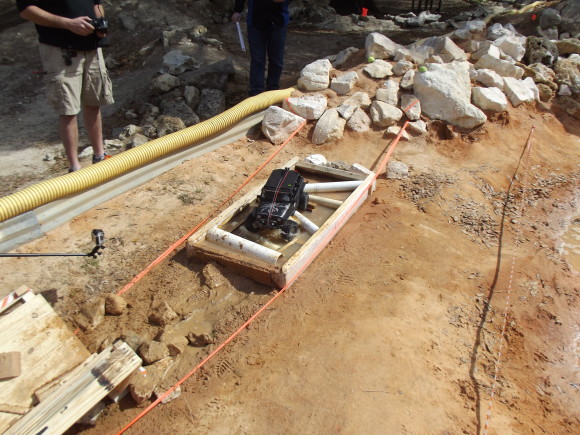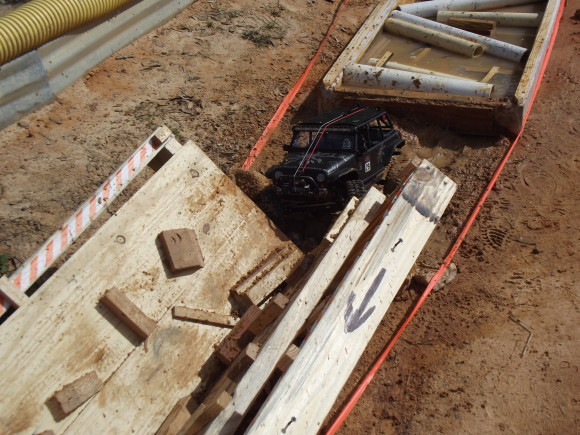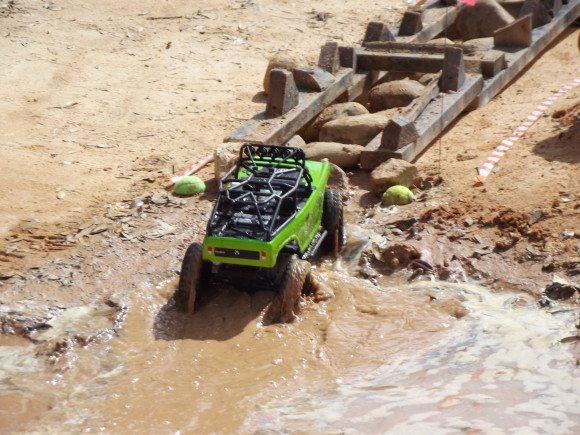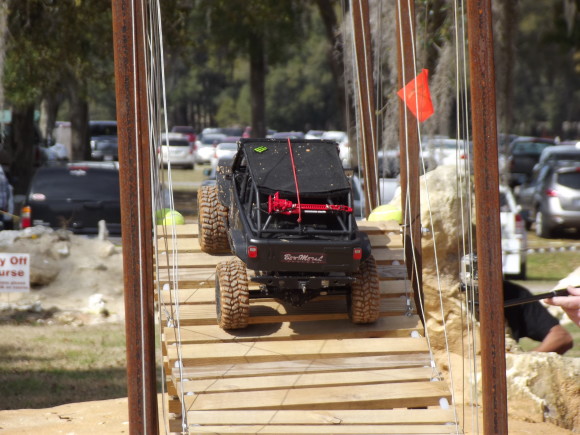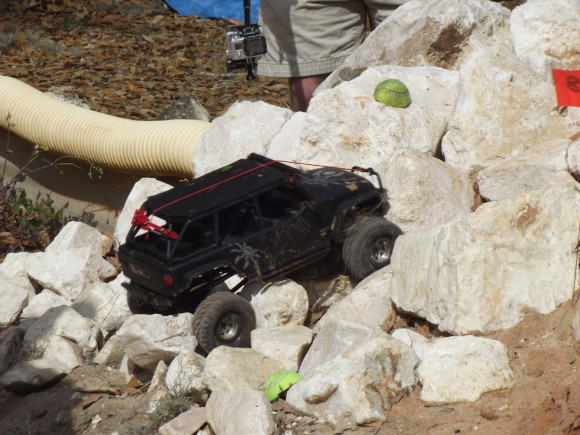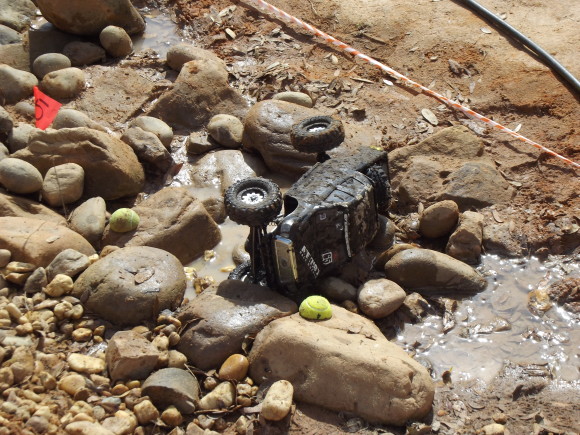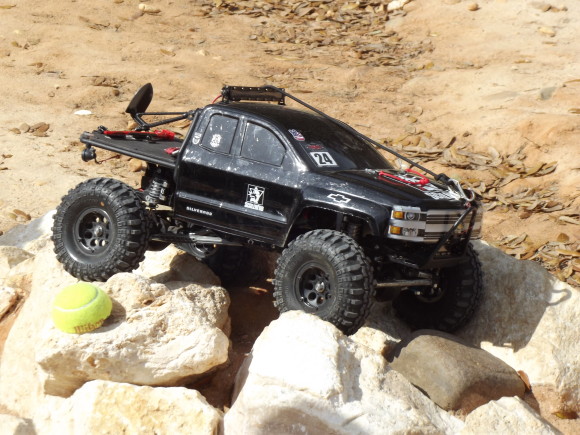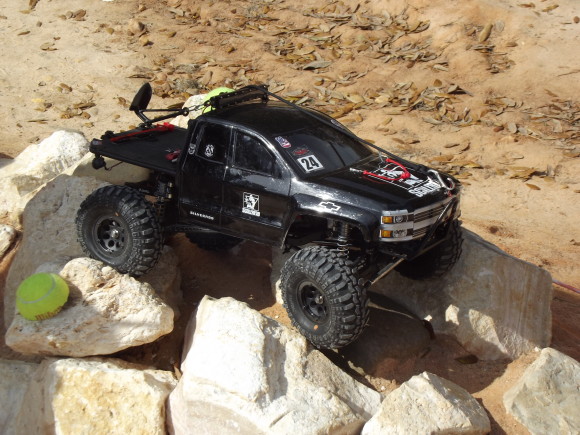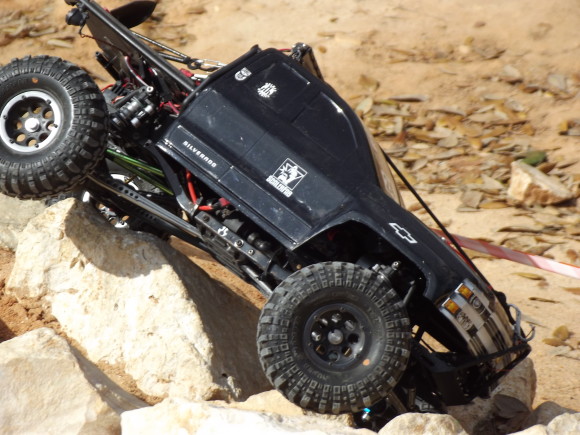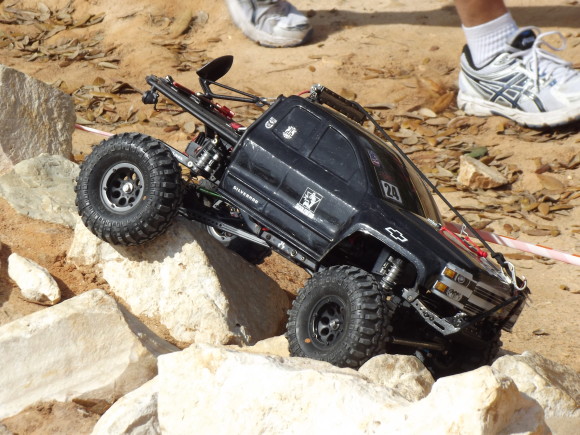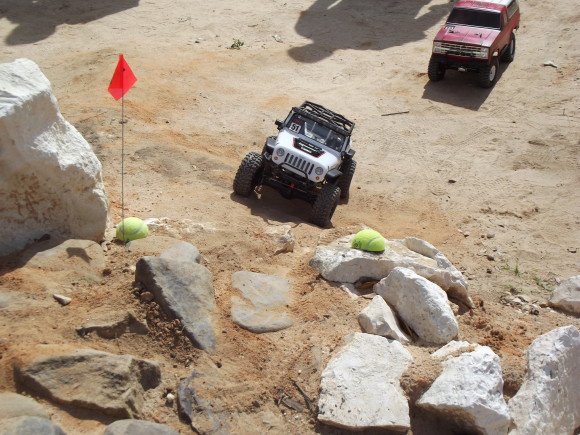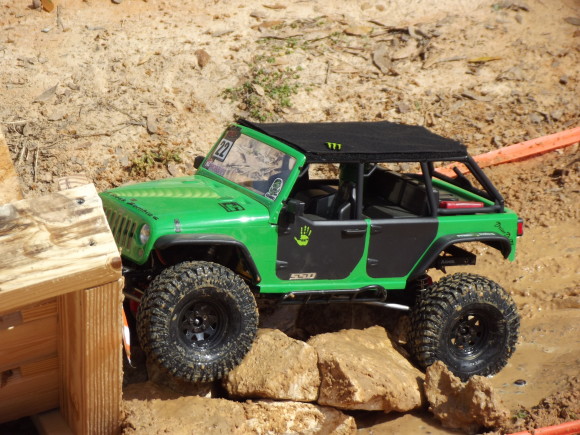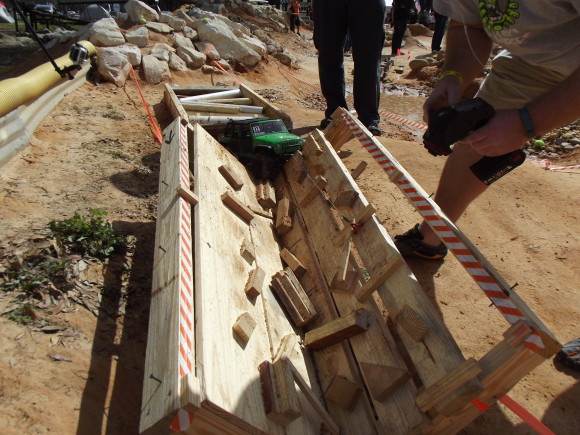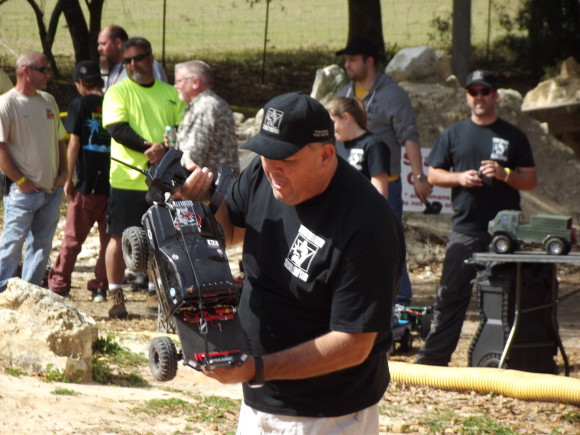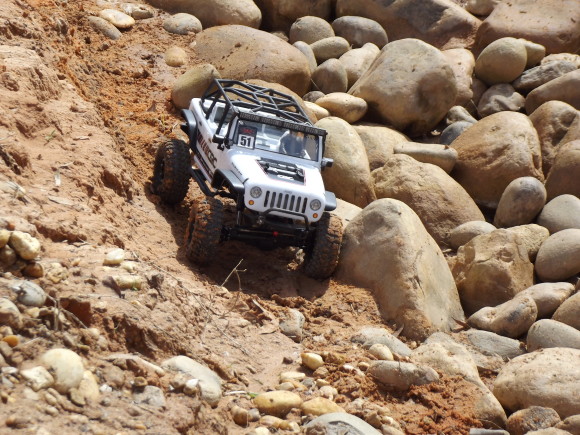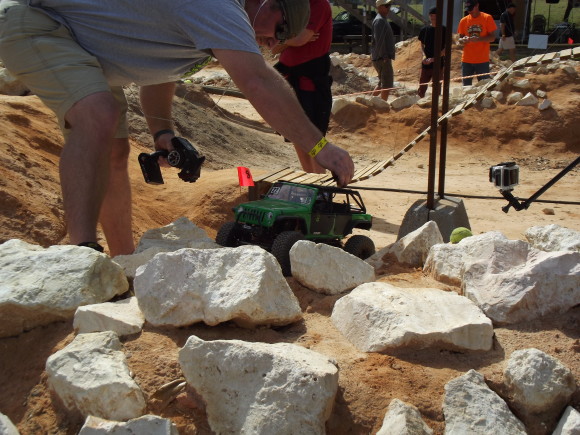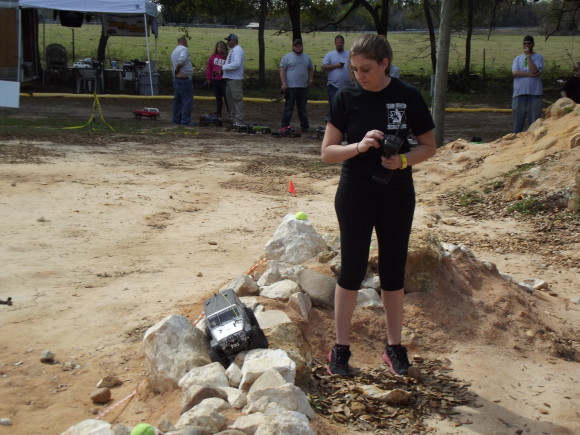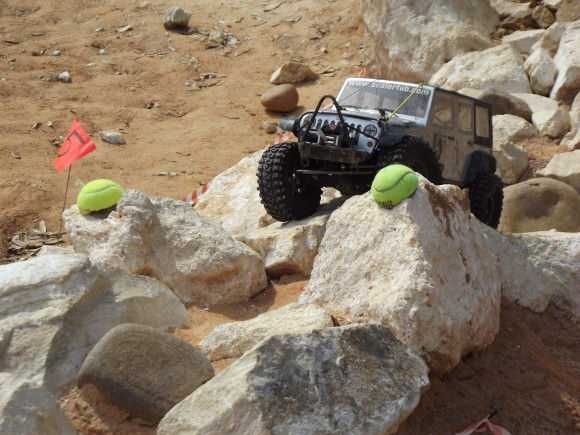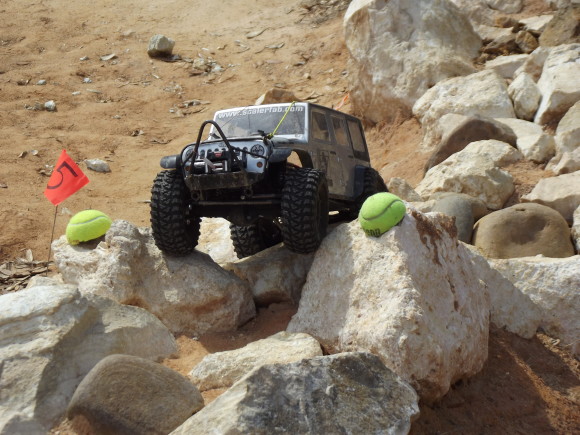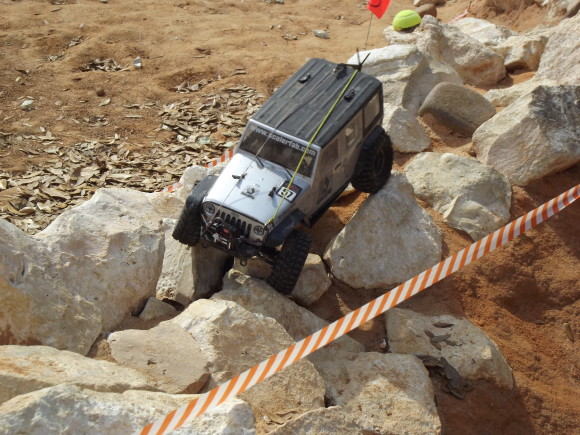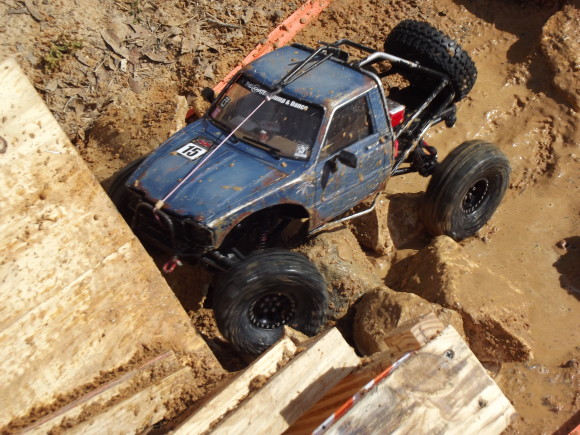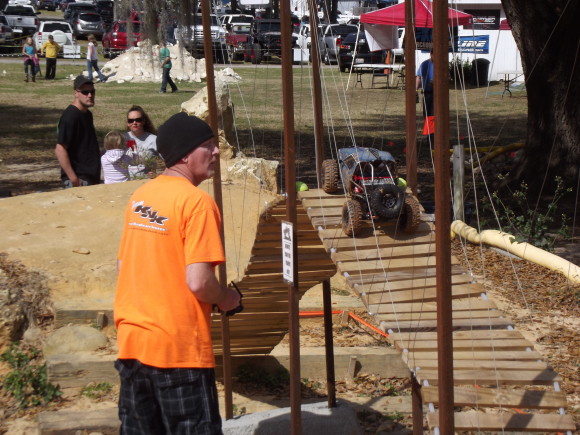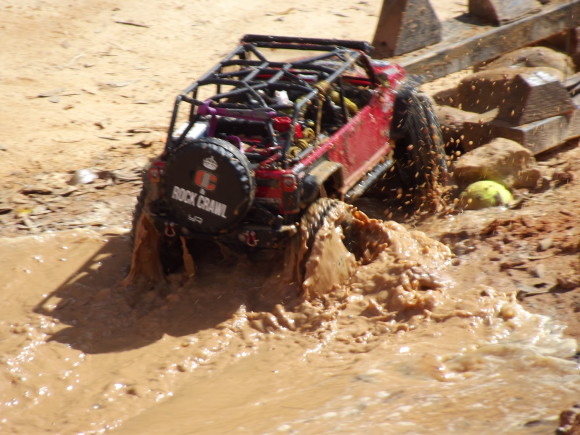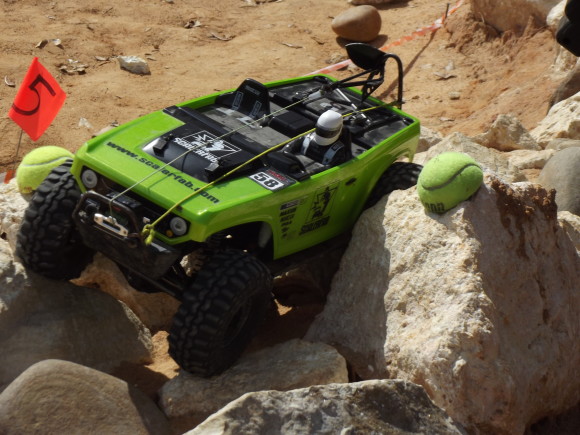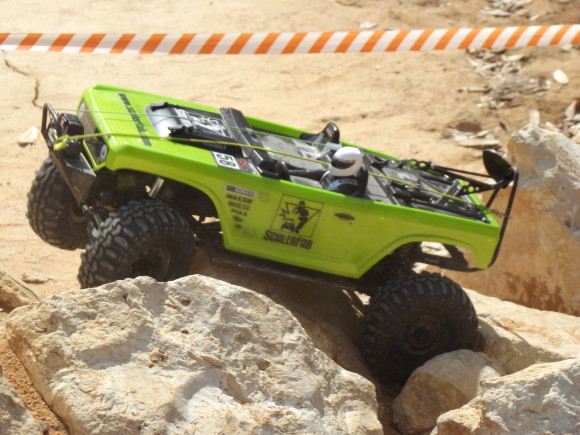 The Heavenly Crawlers crew made a really good showing. Big group, family environment. Great group of folks. Was great to see you all.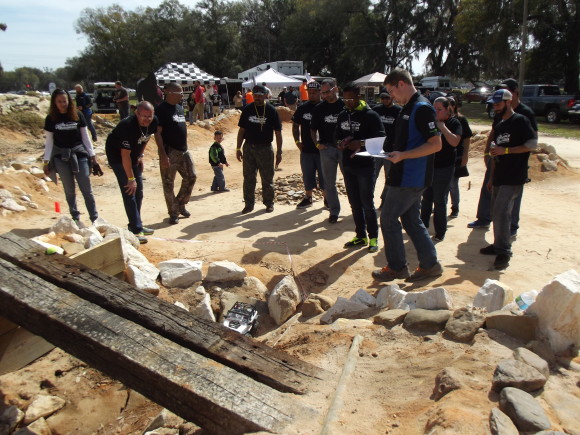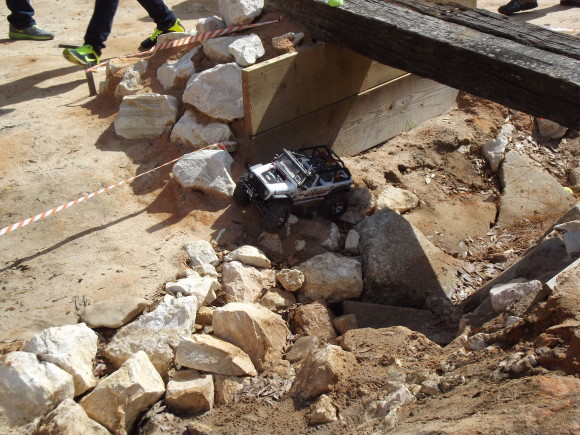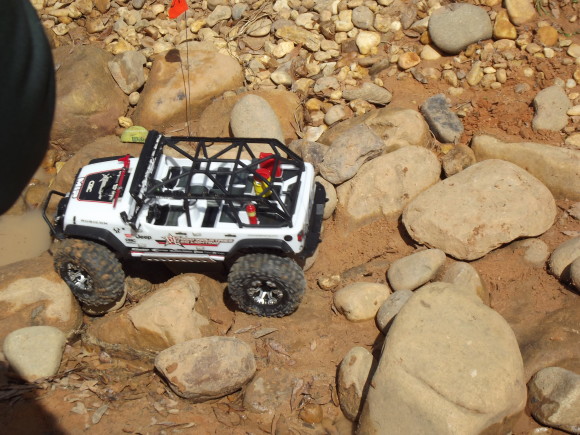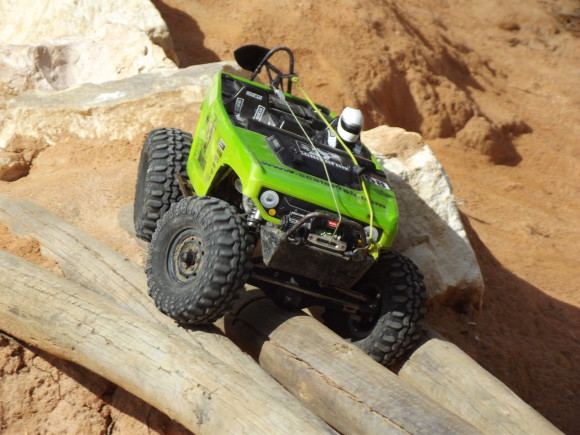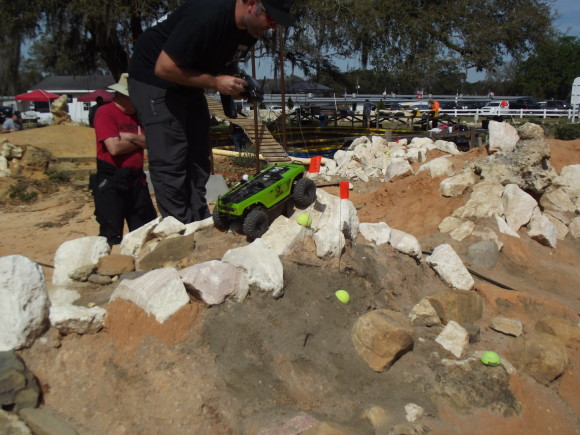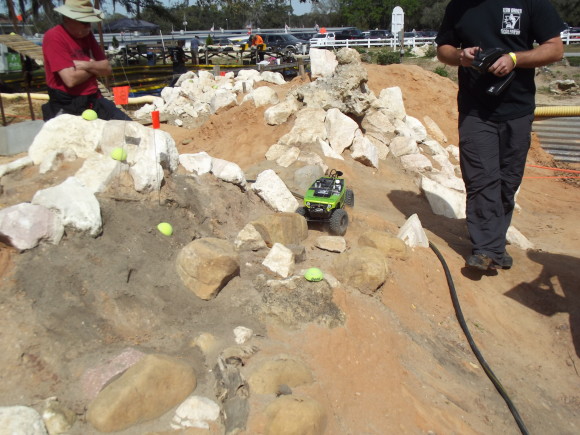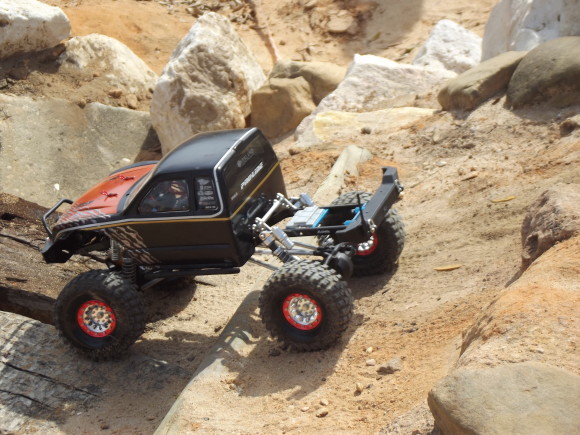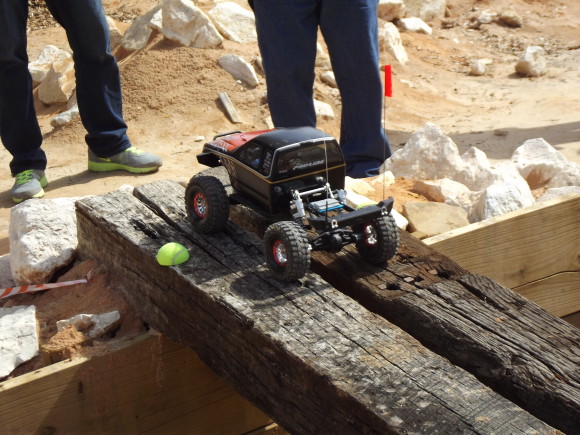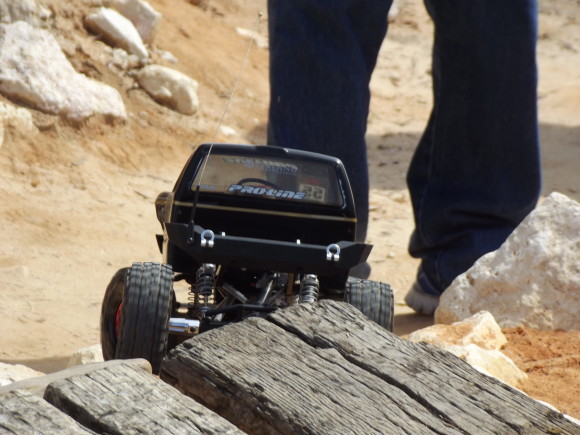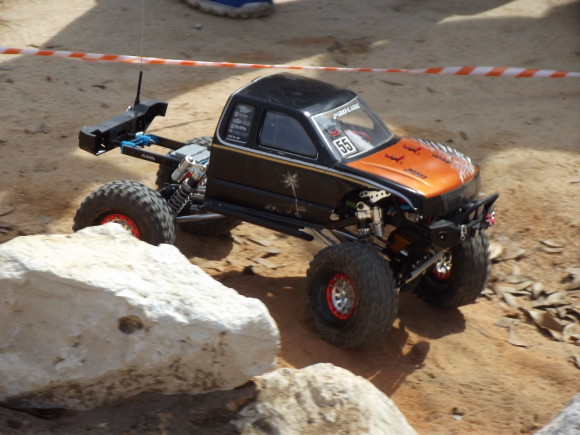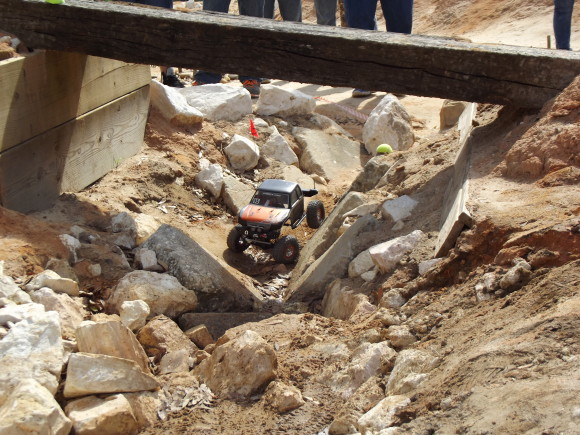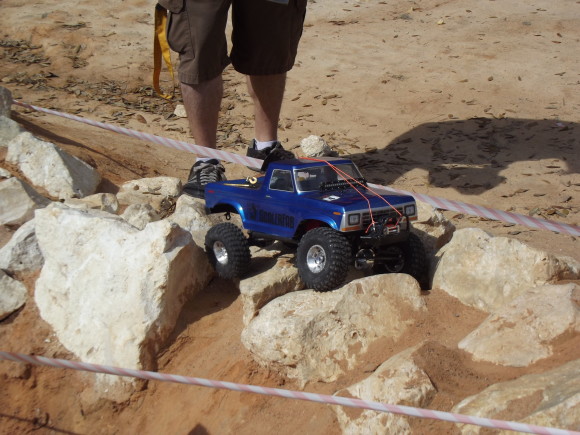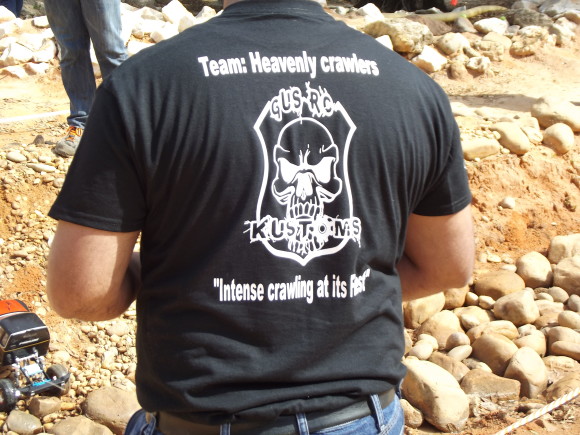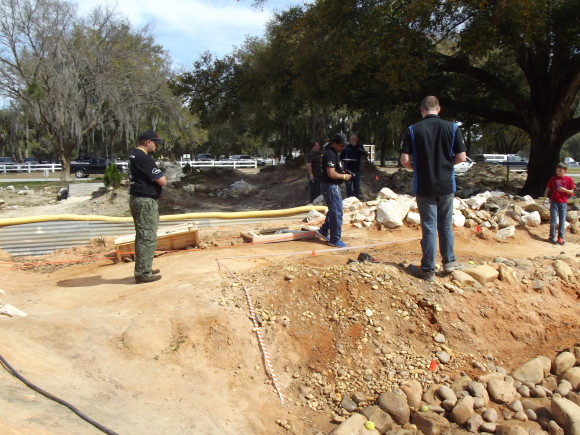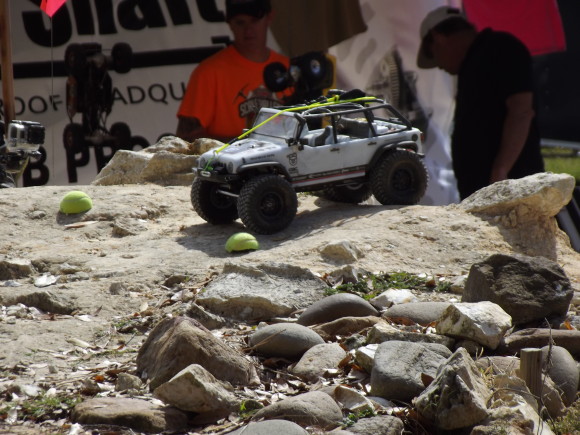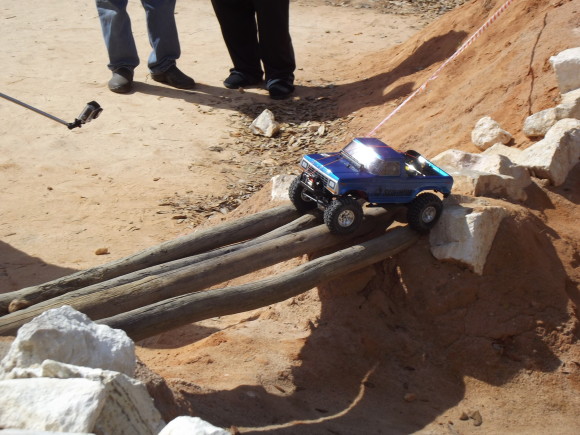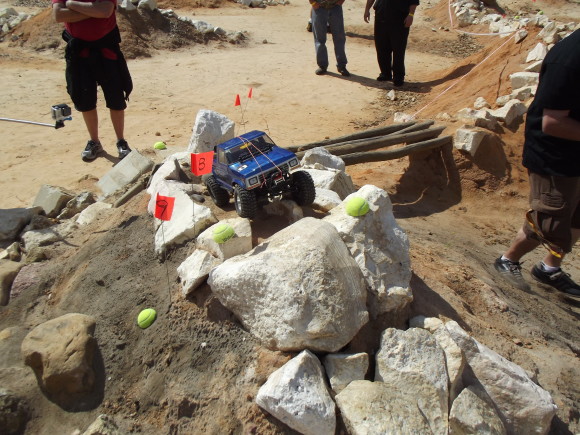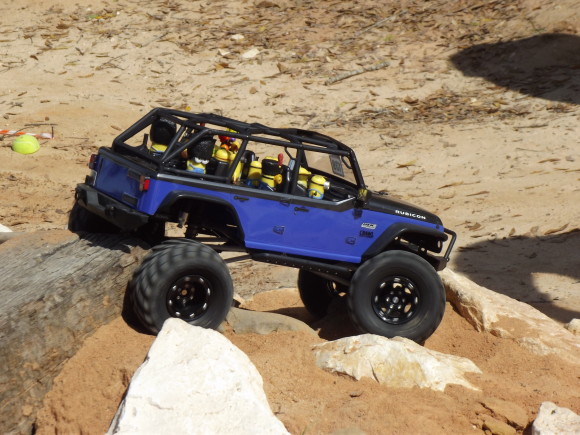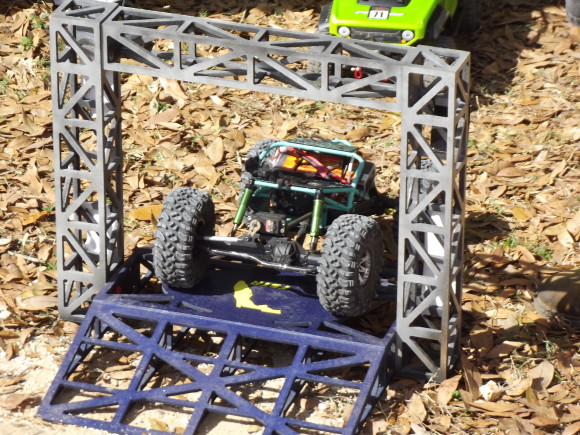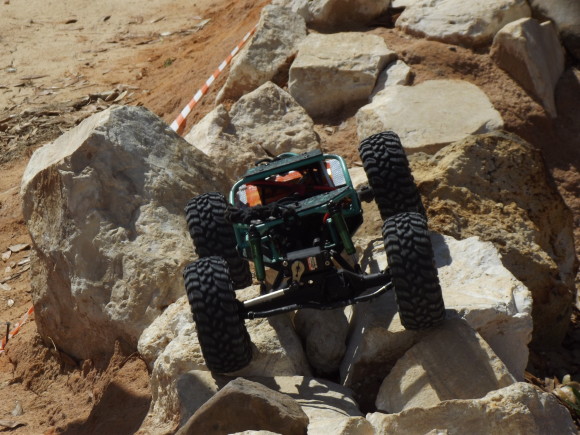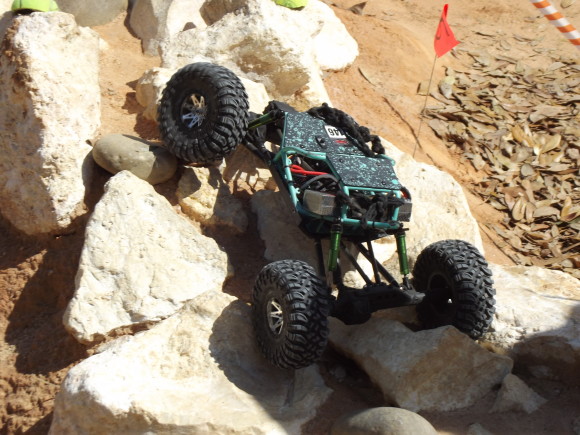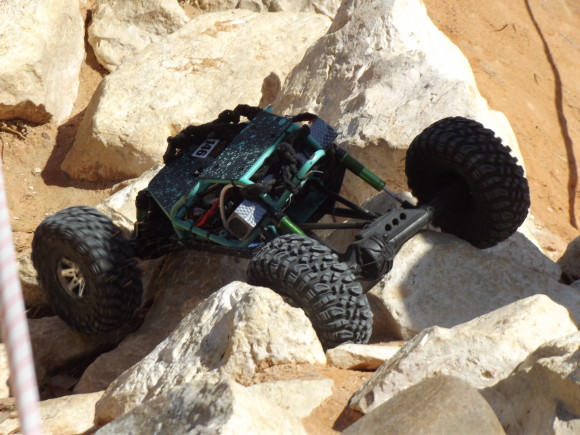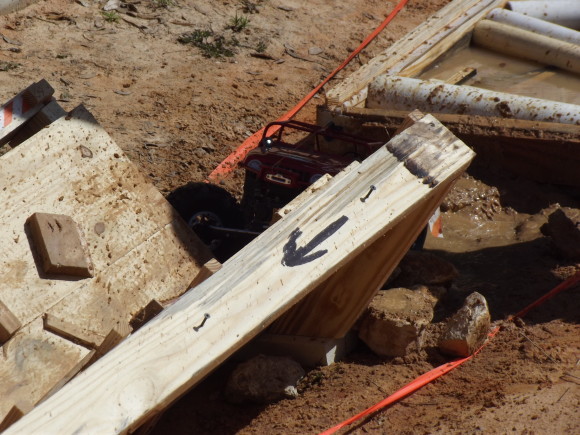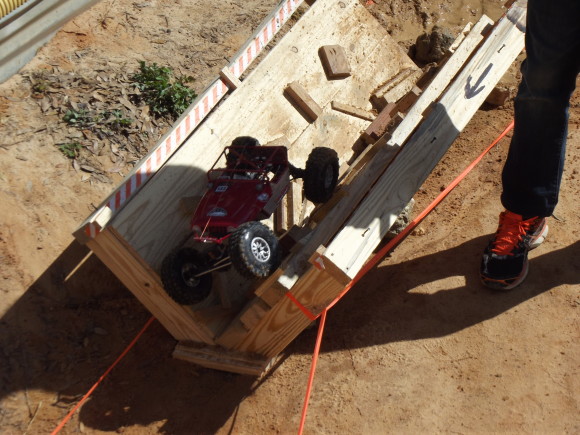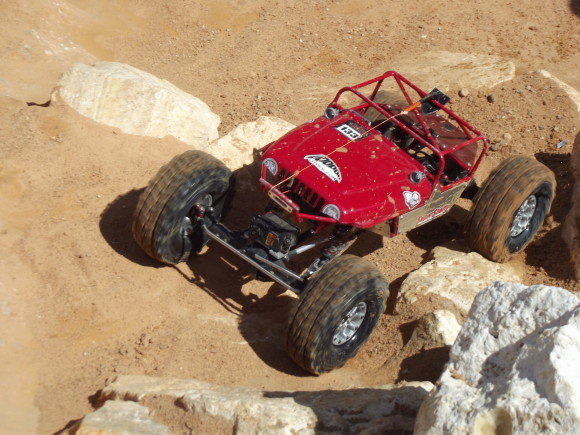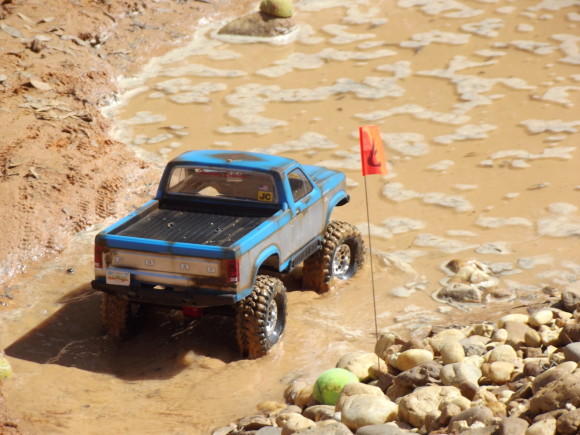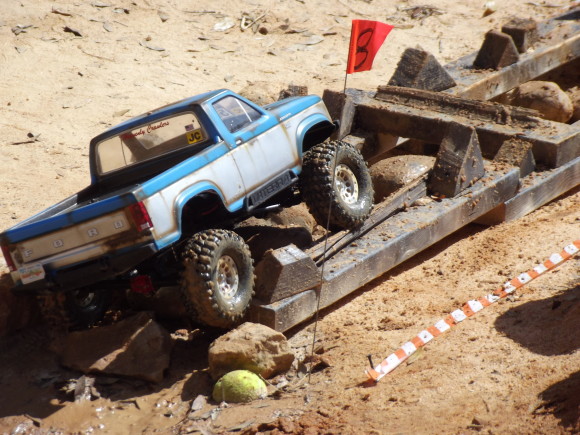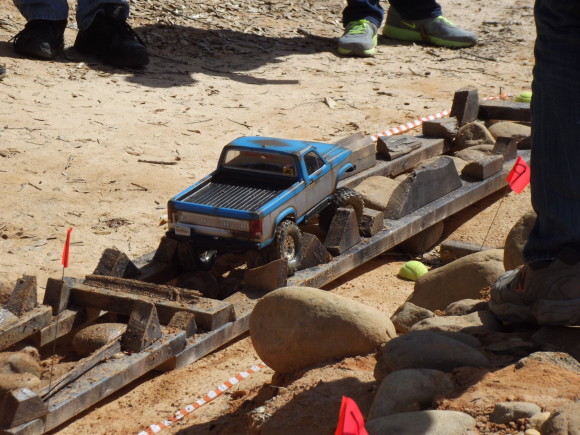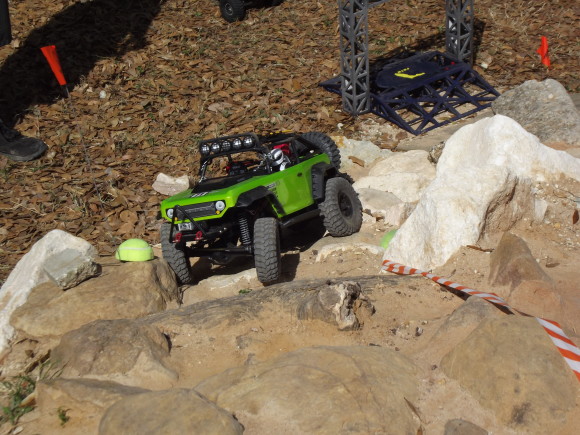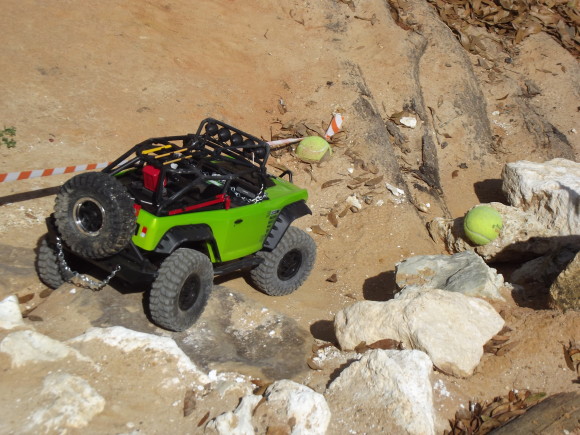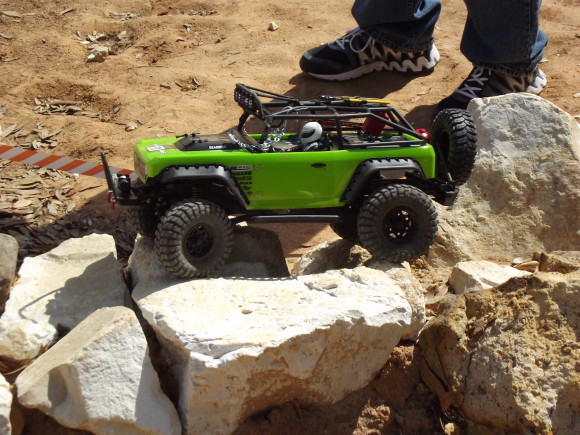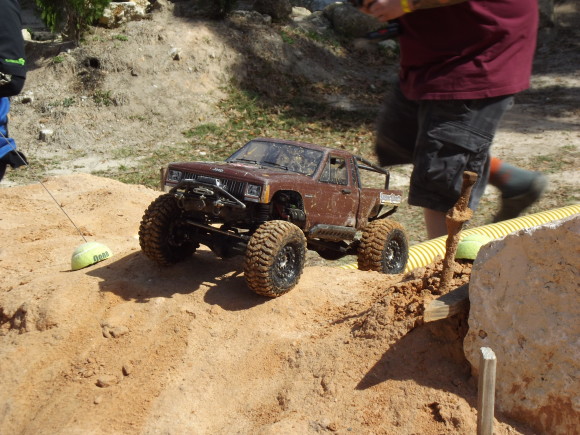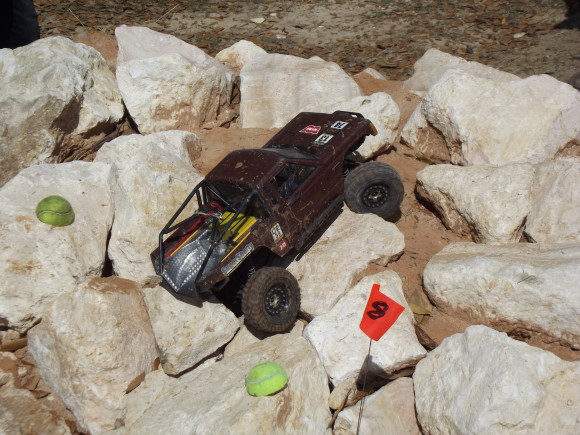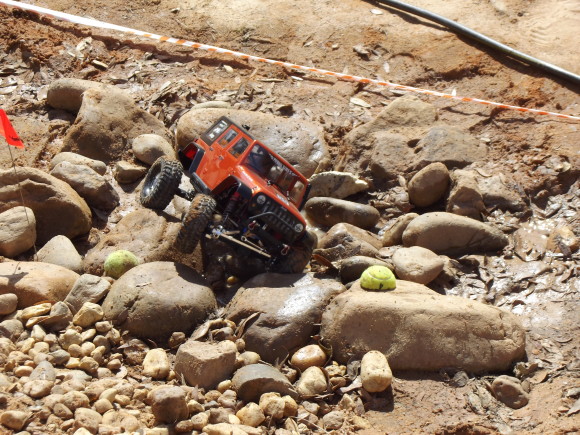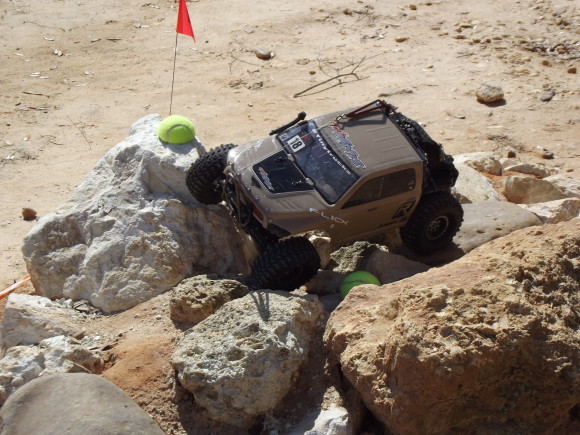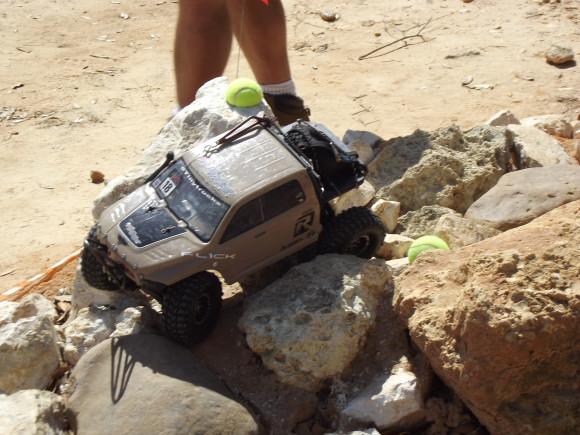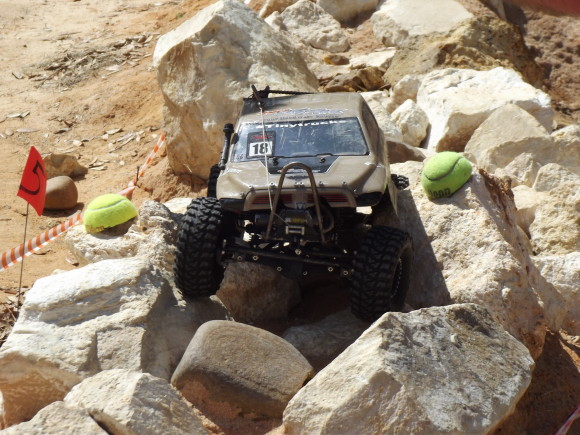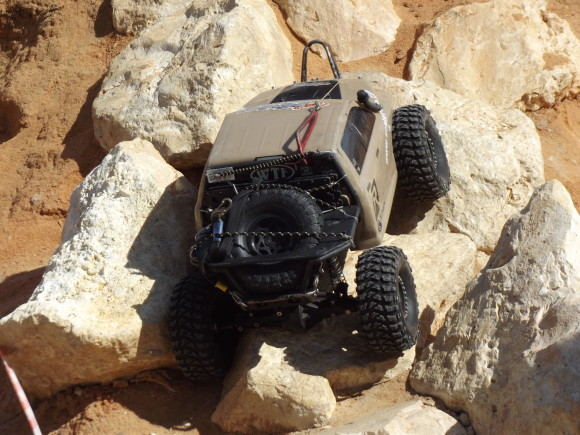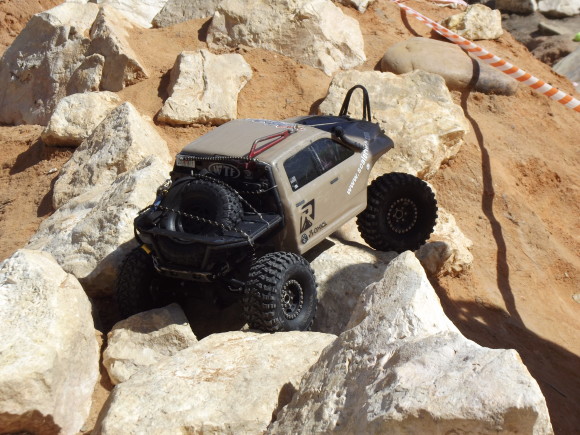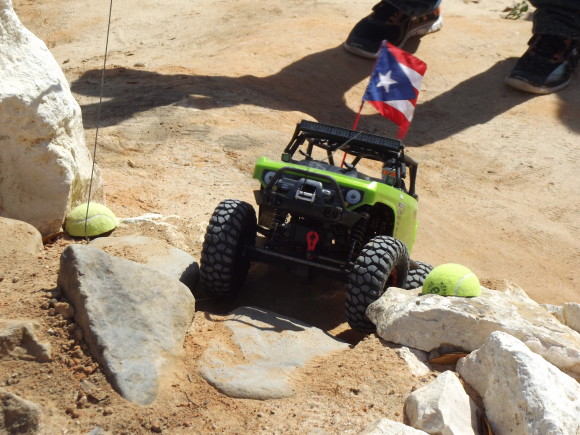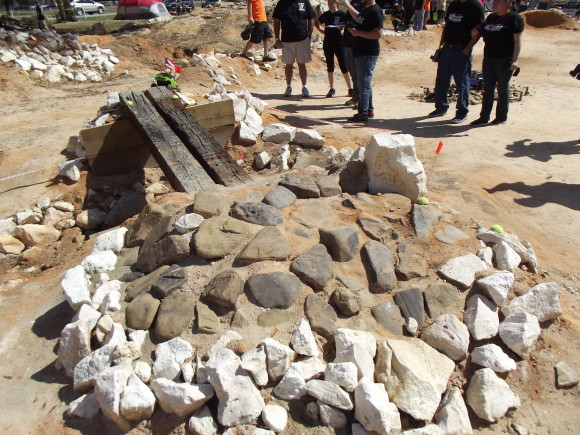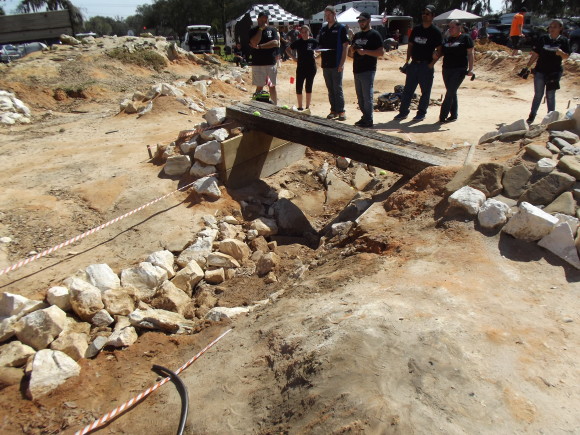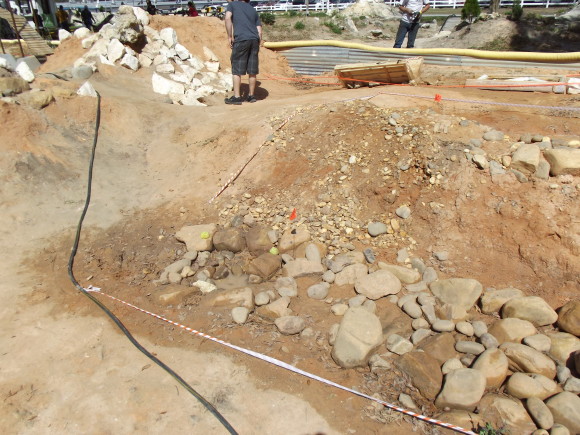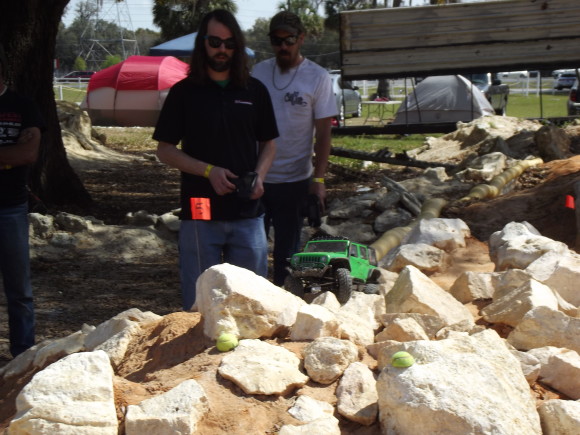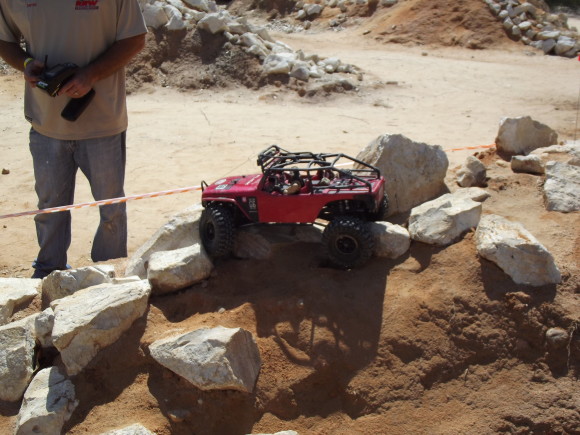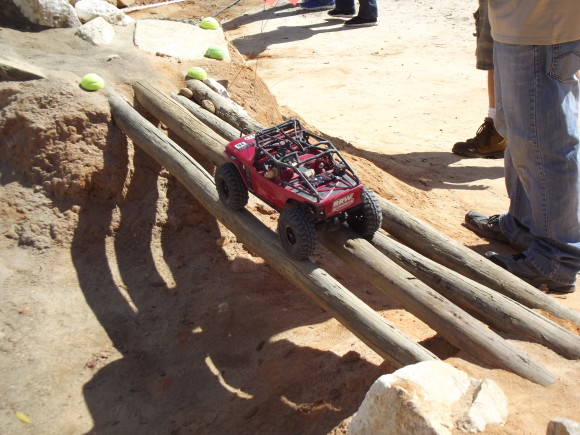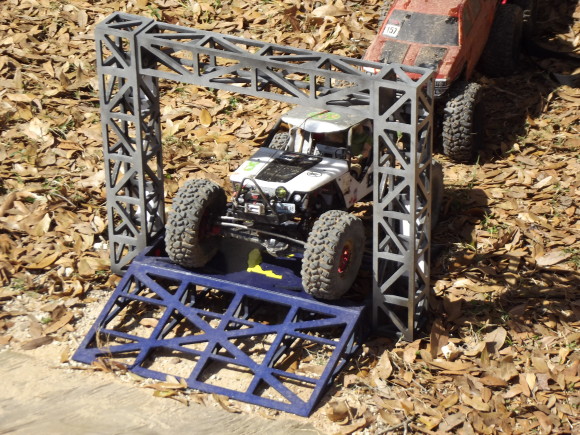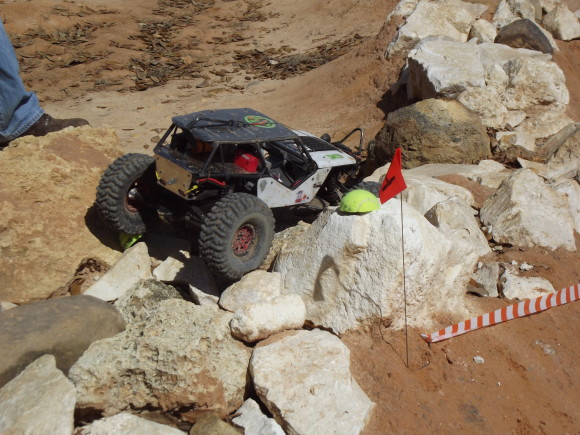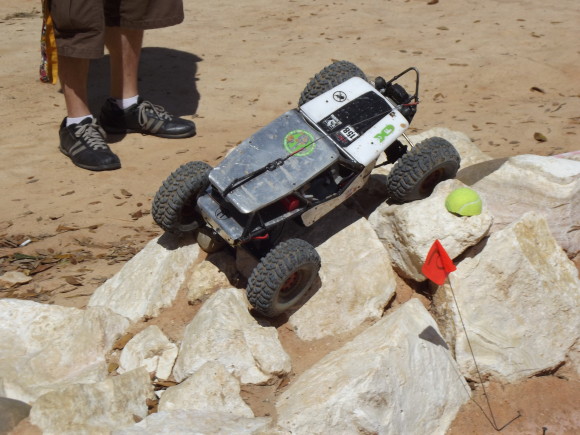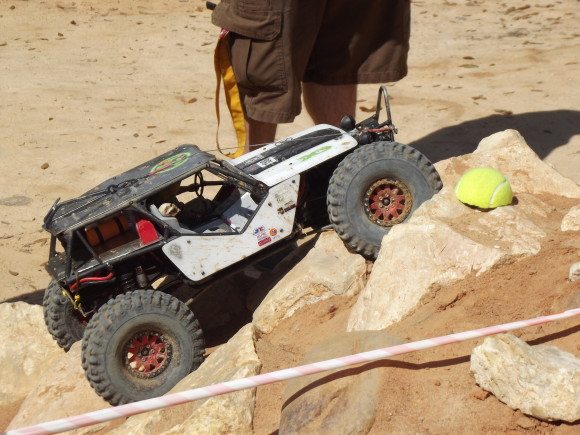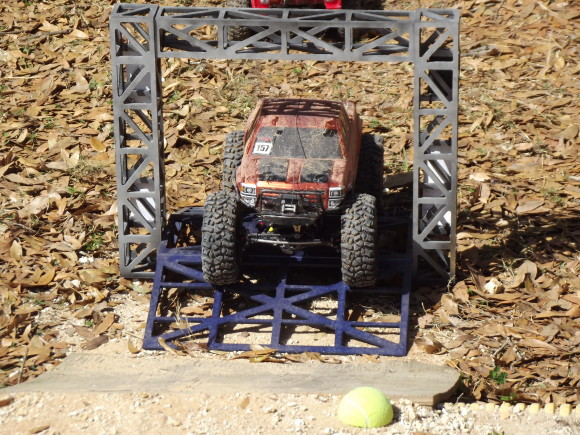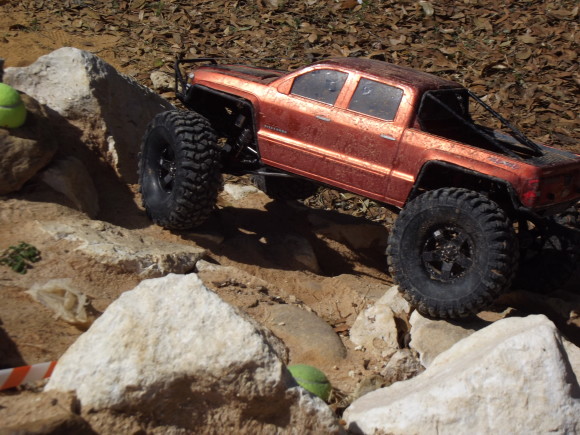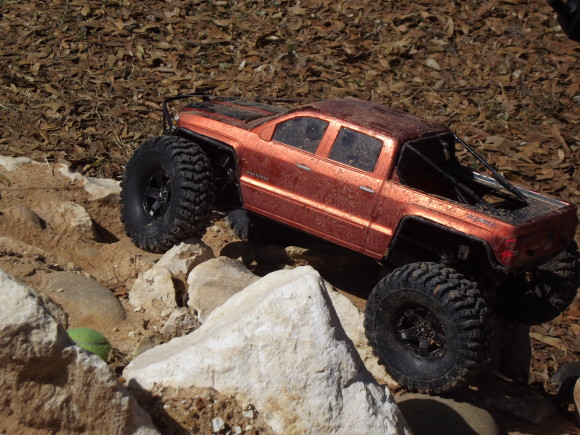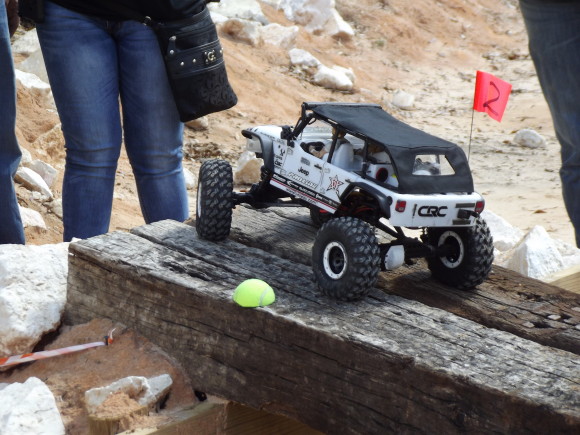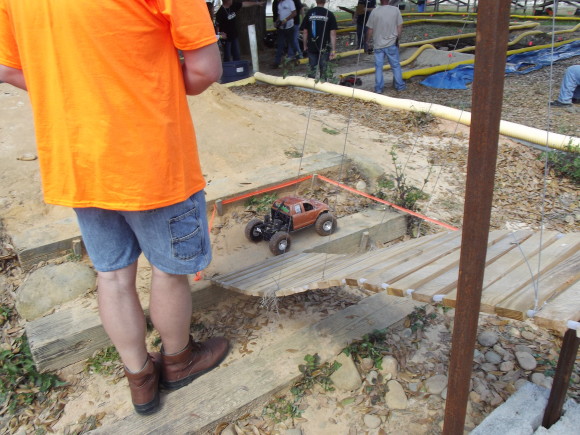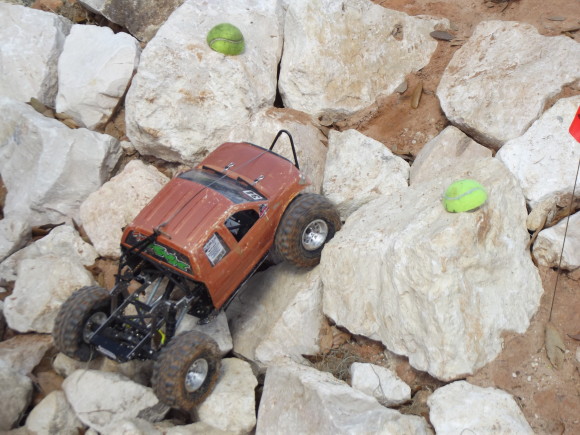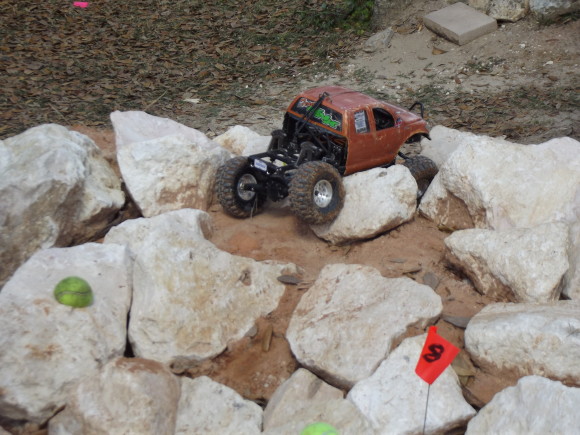 This body is the new Ford Atlas body, and was custom painted by Matt Dexter. This was to be awarded to the winner of the Class 1/2 combined class.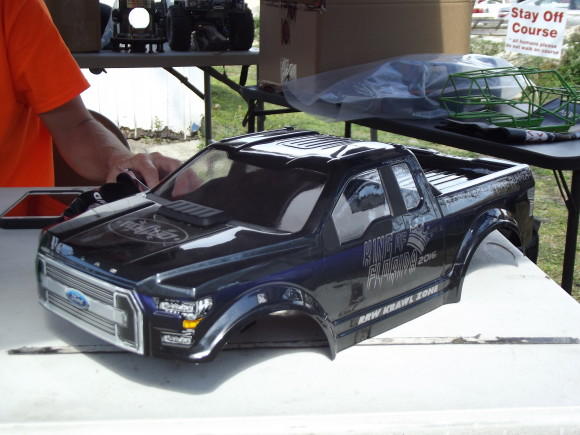 Absolutely gorgeous work.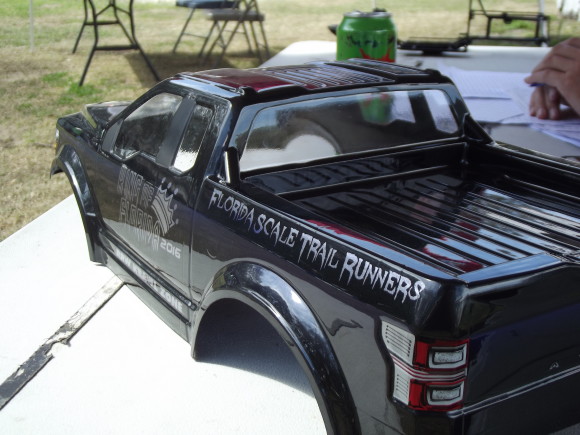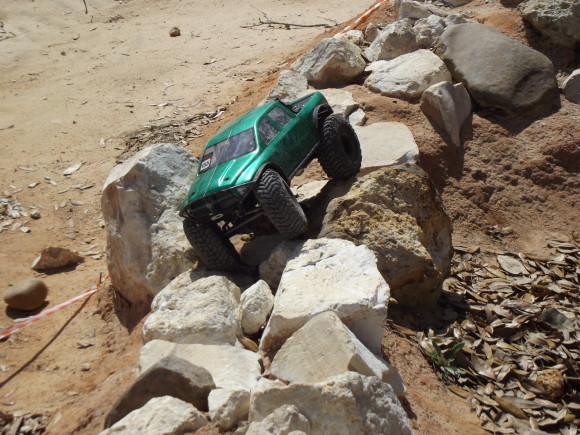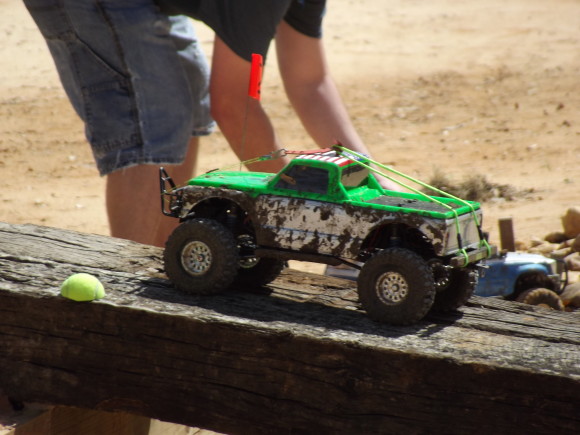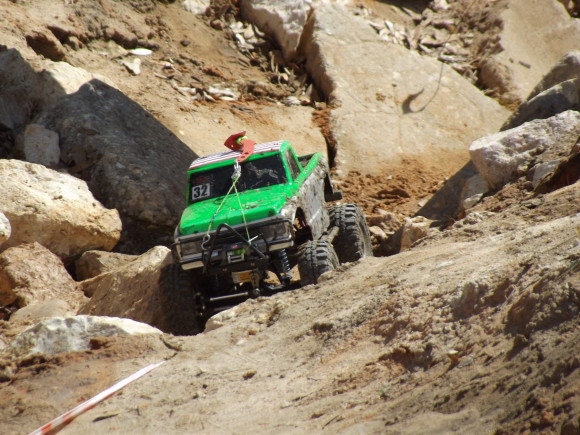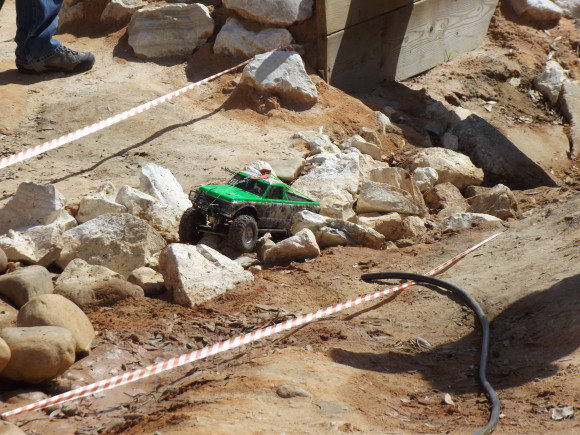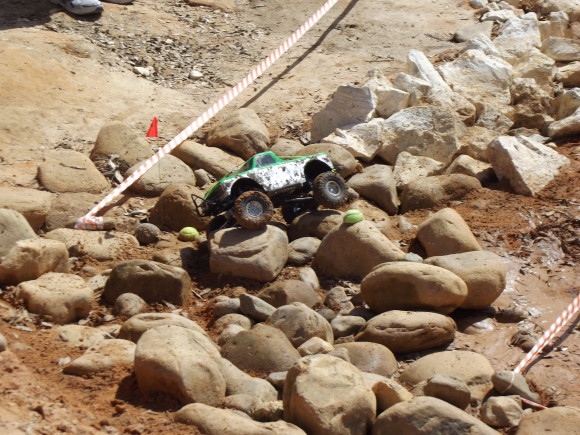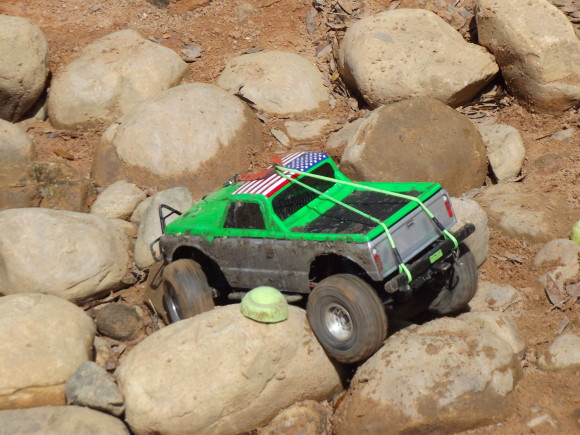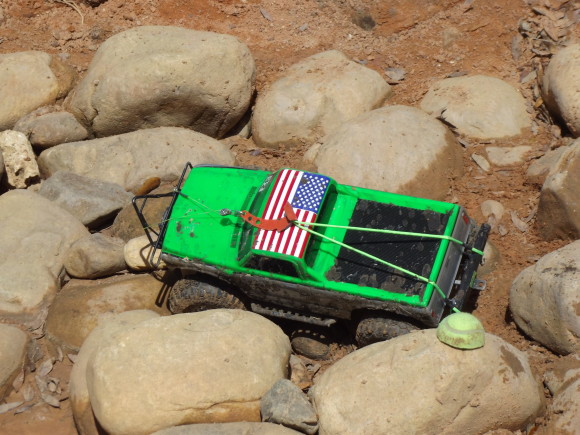 The theme of the day was lines. If there was one thing we learned, it was that with 103 entries, there was just no way around waiting. Each run was timed, with a 4 minute maximum. There was only one truck permitted on each course at a time. It meant some long waits on line for your turn.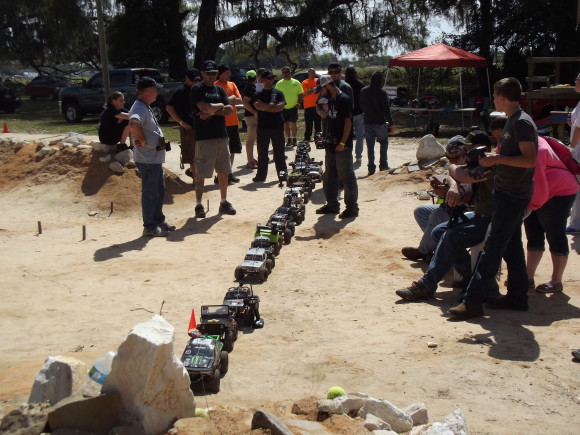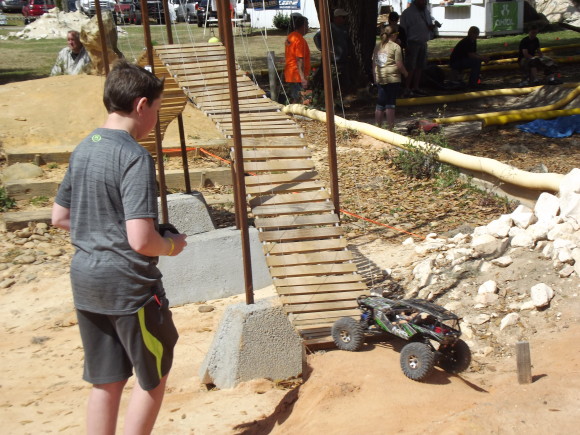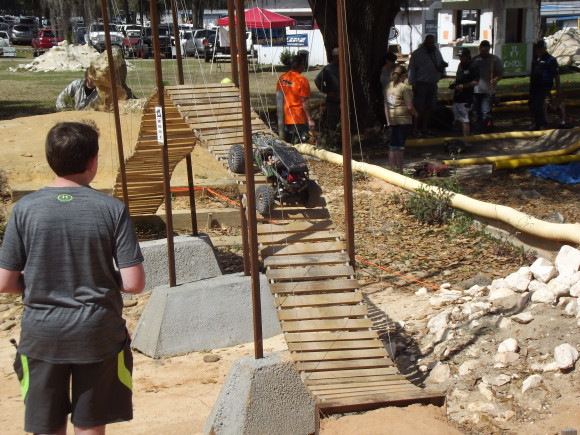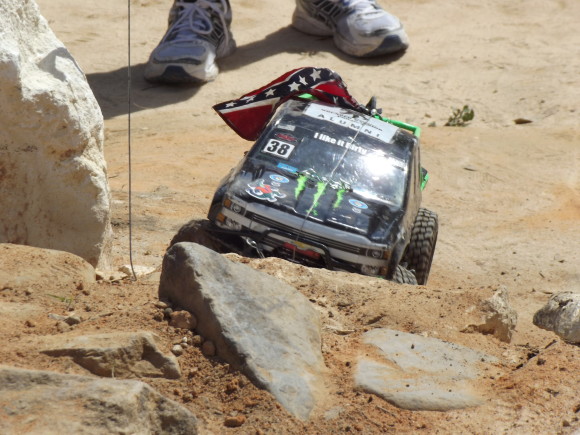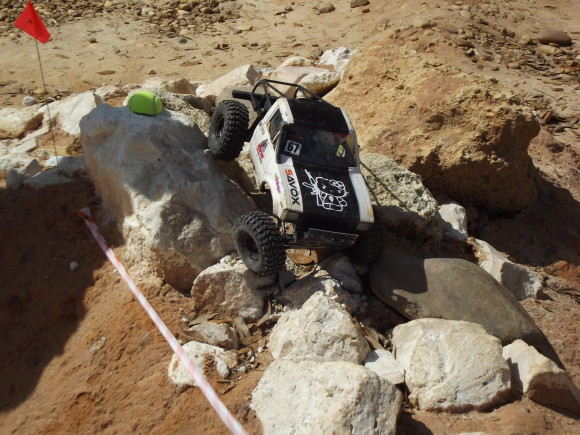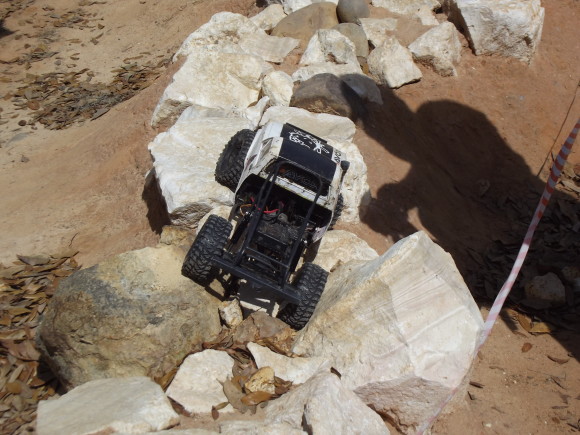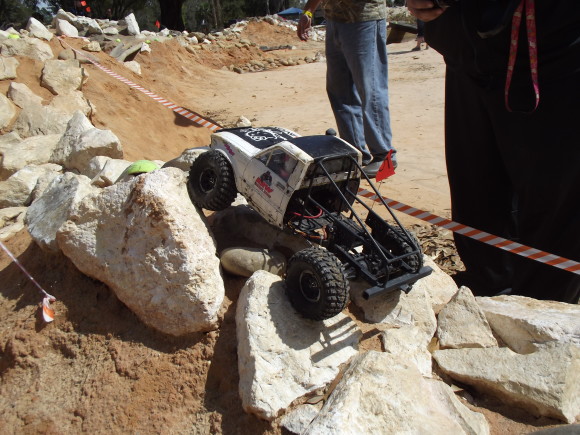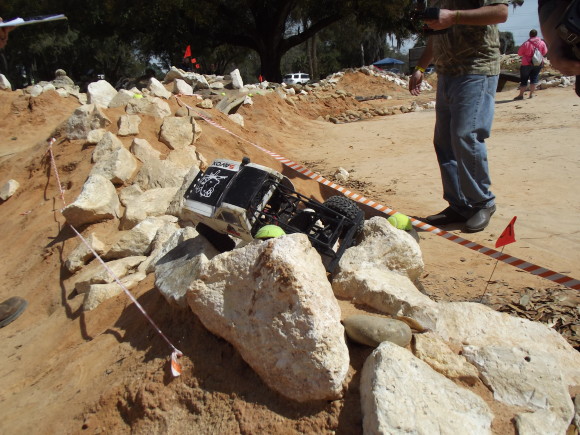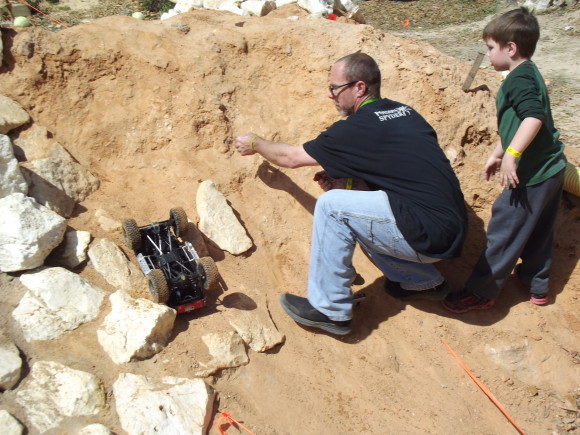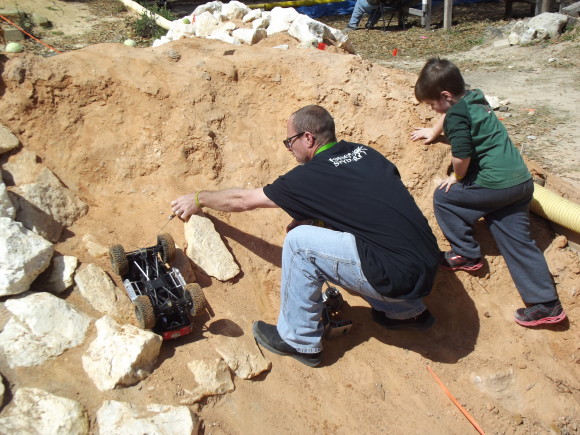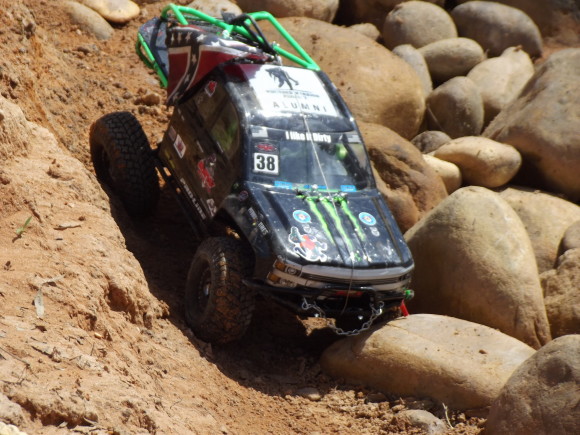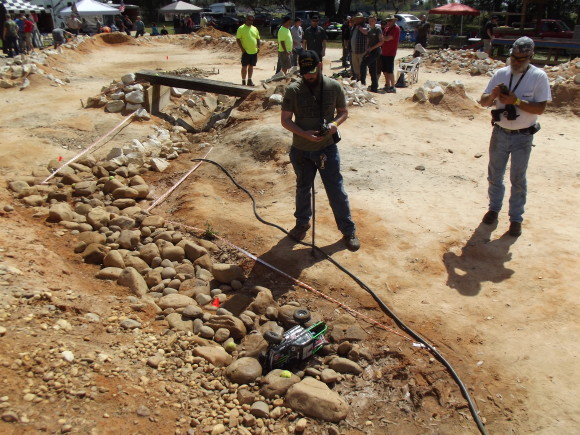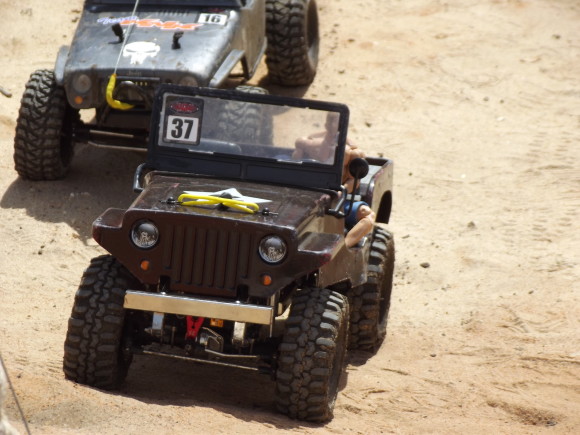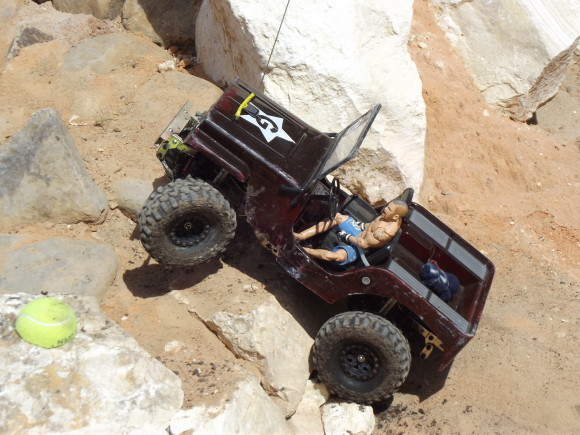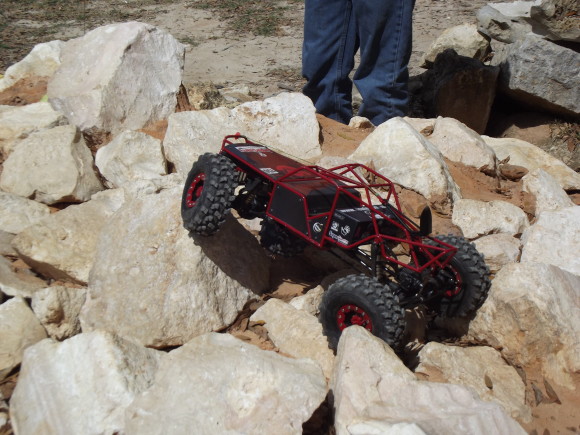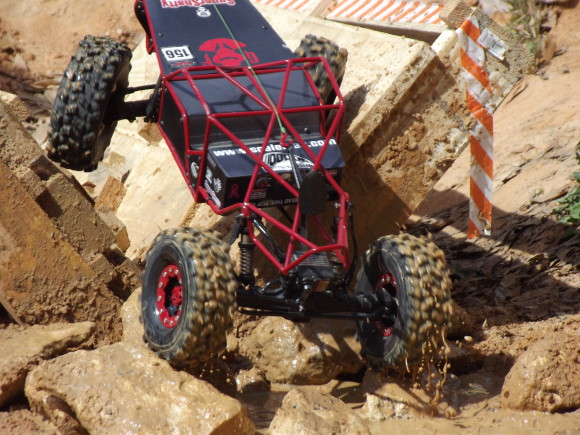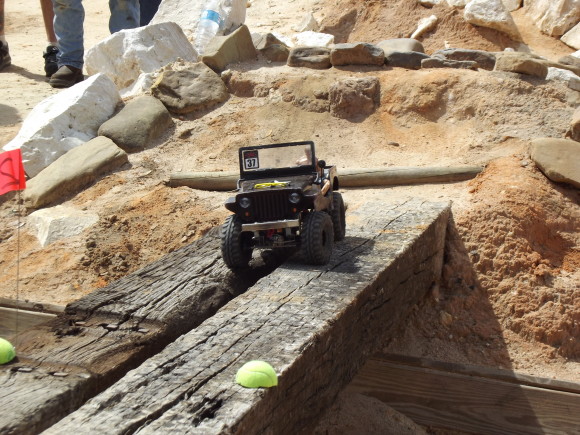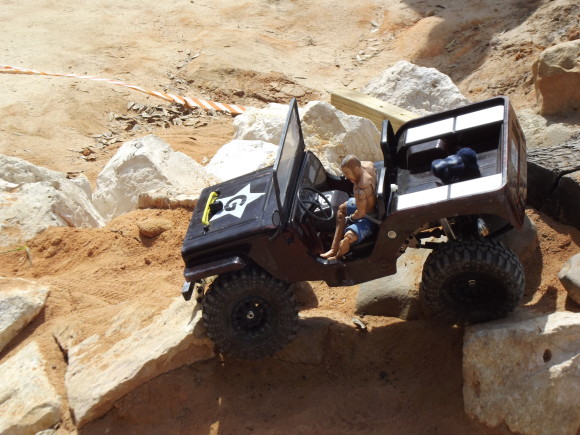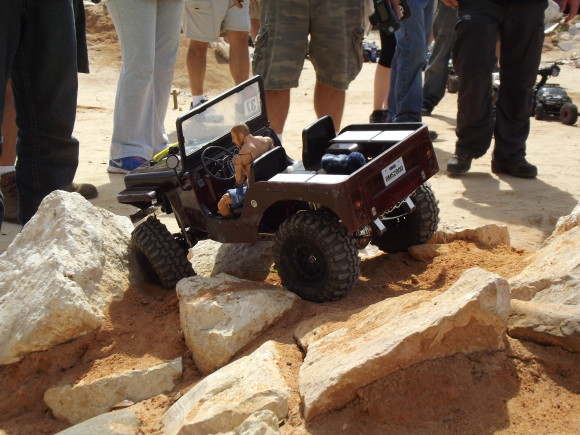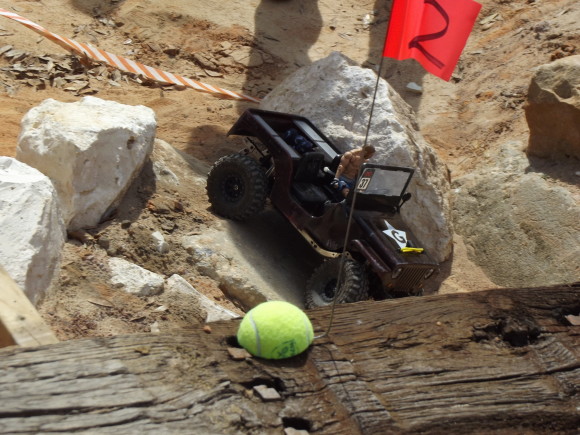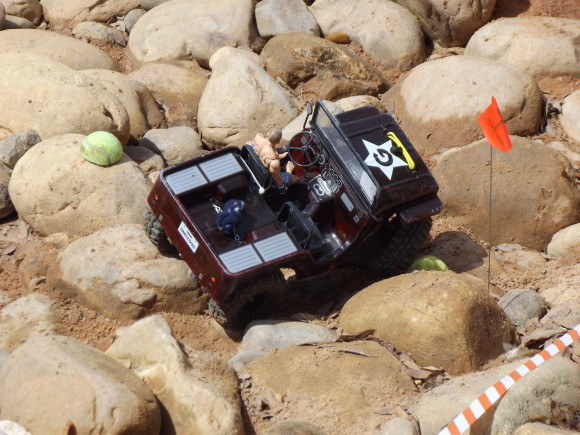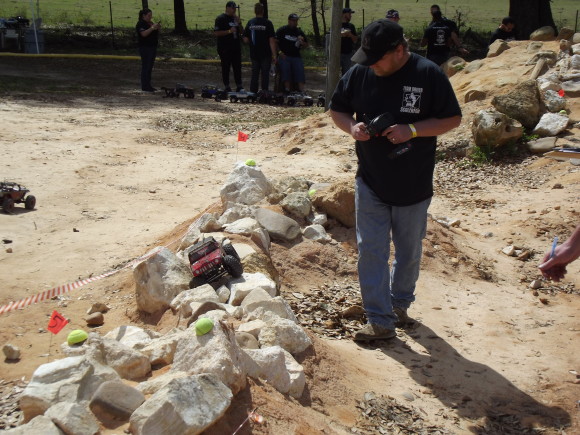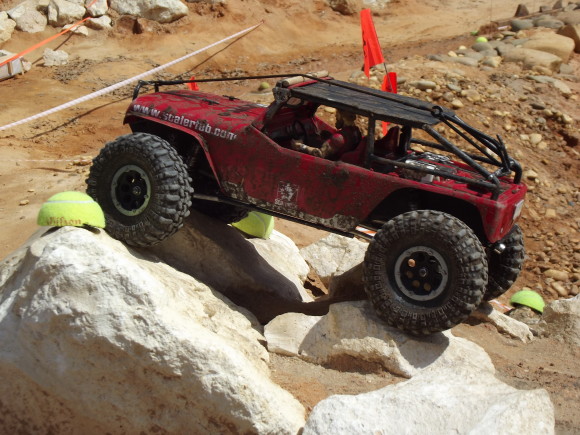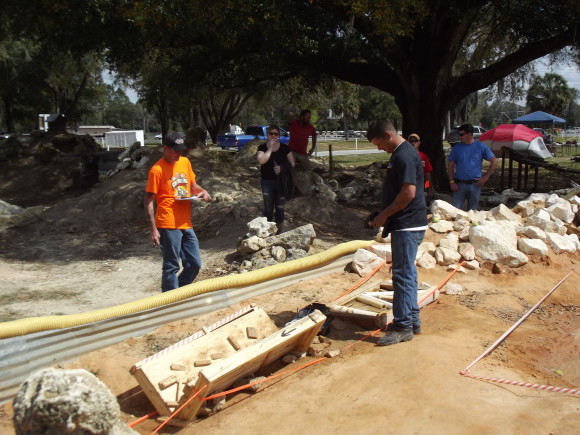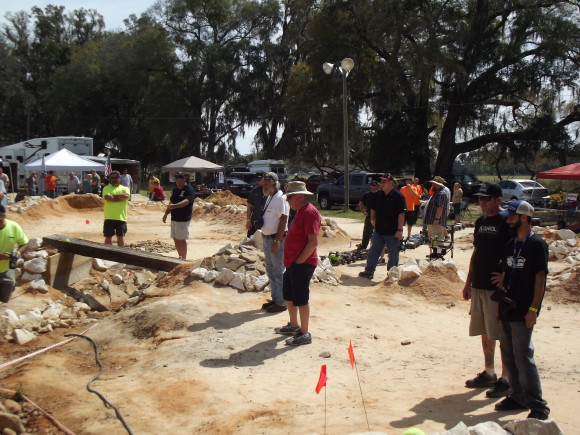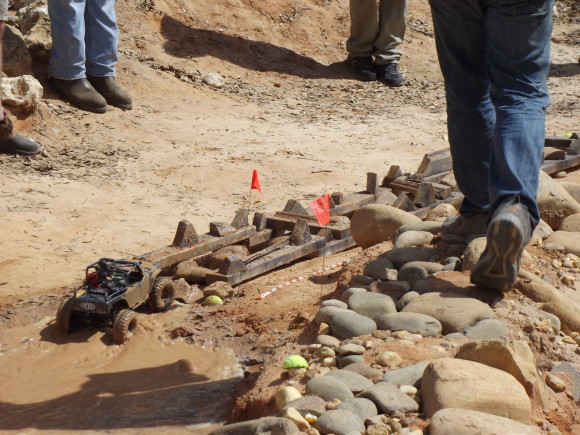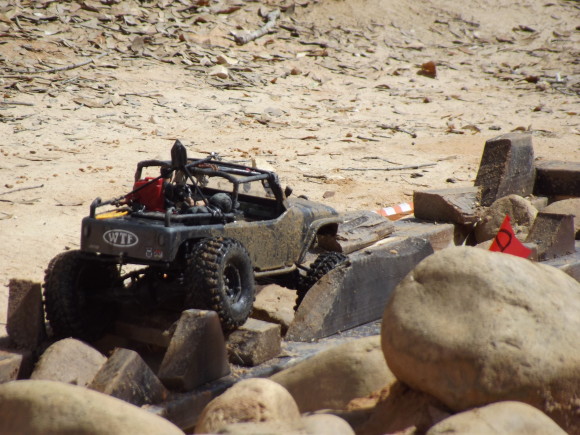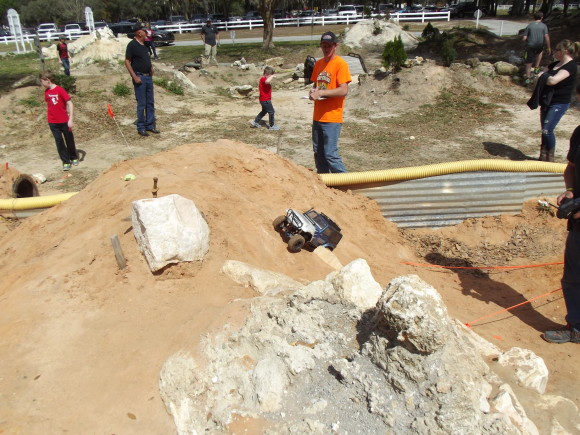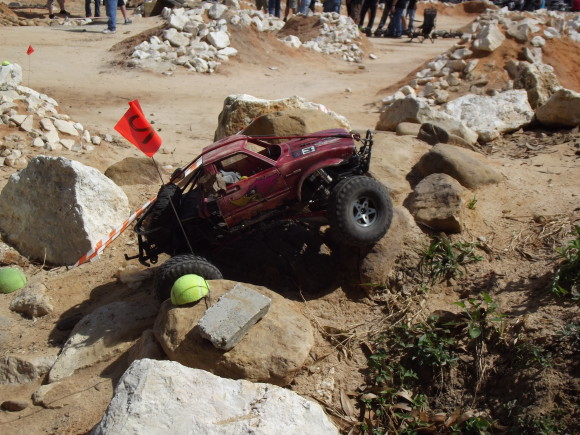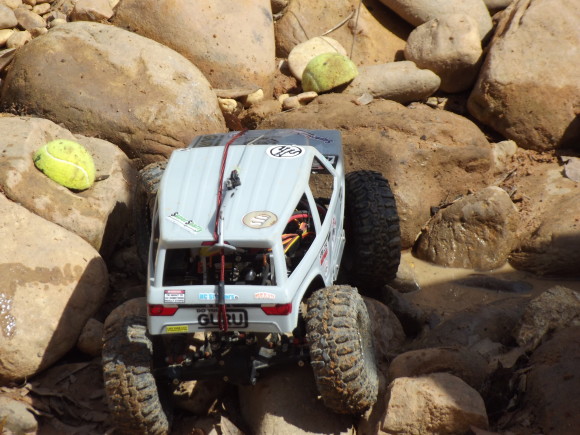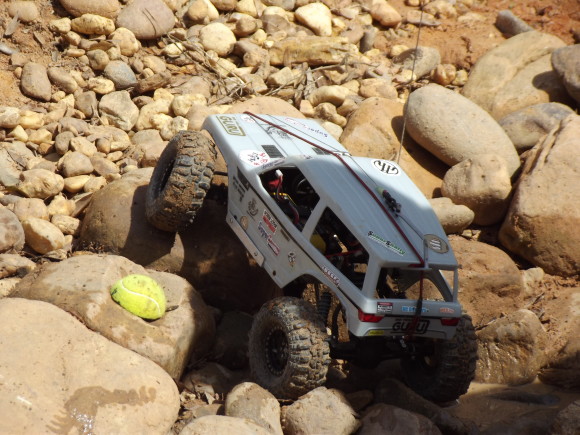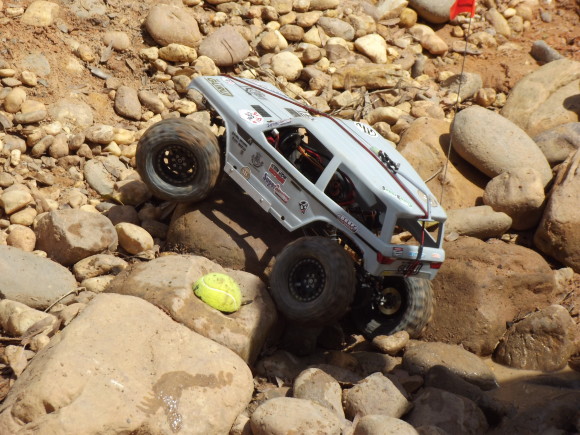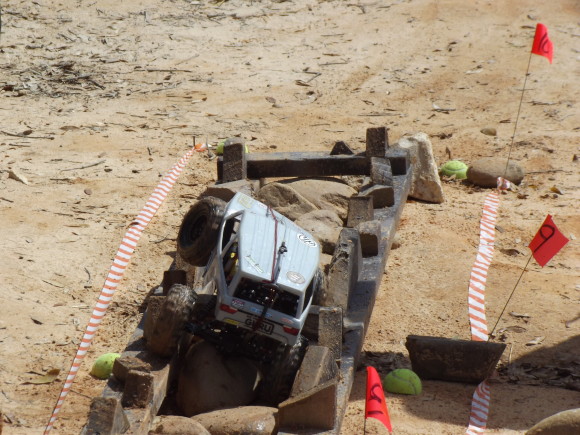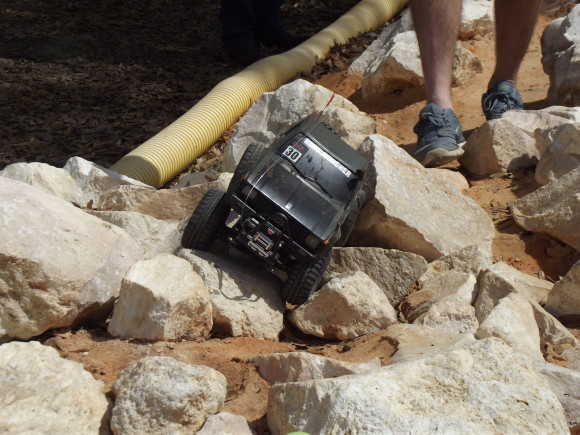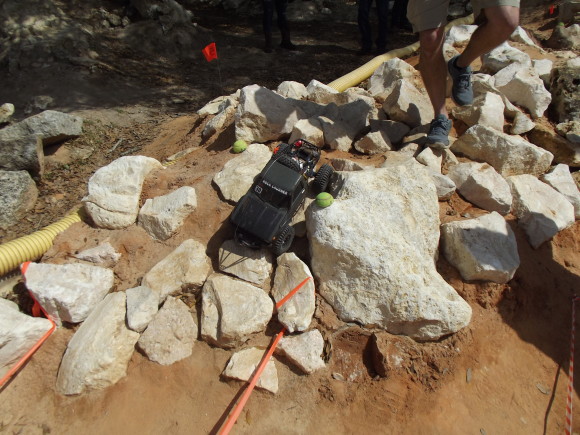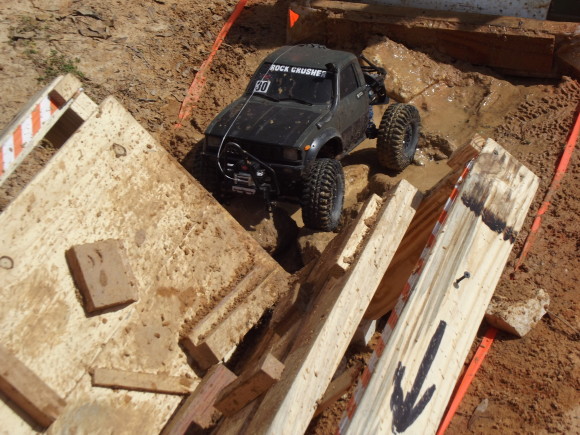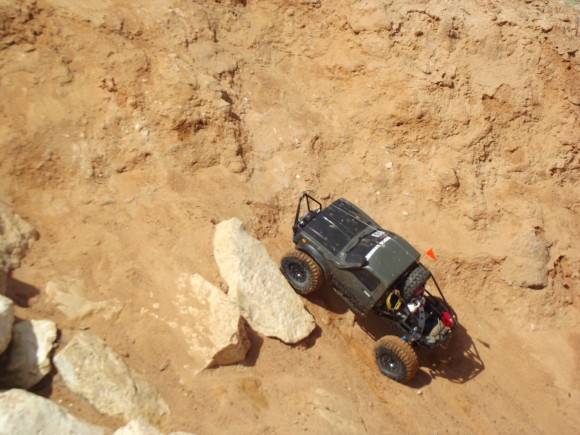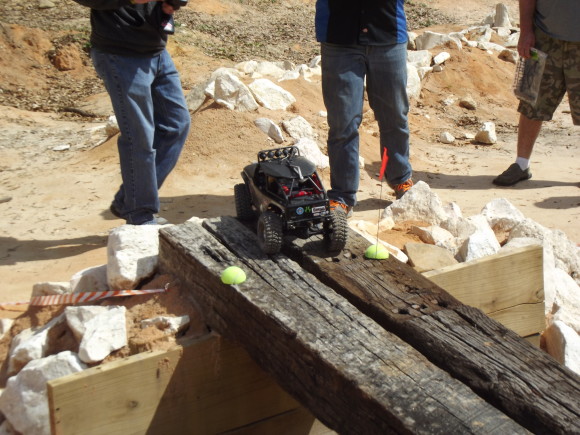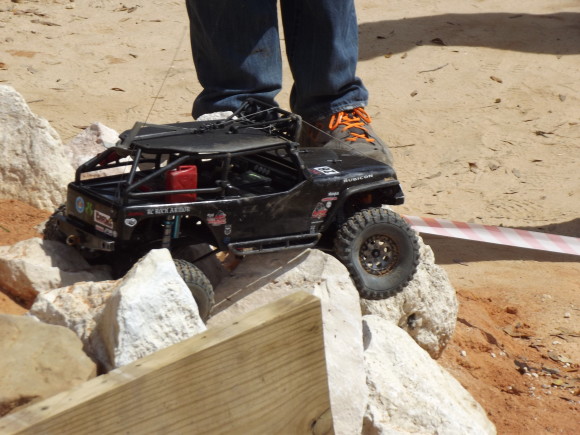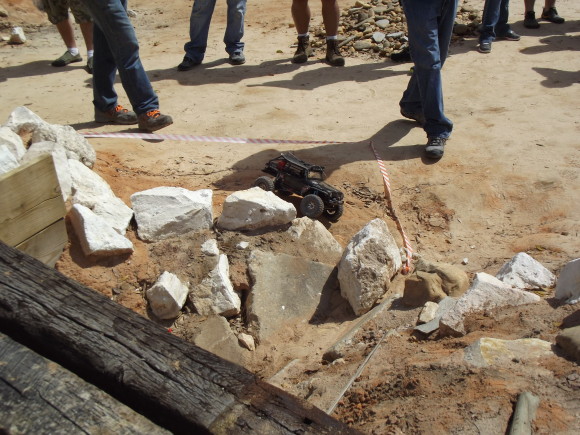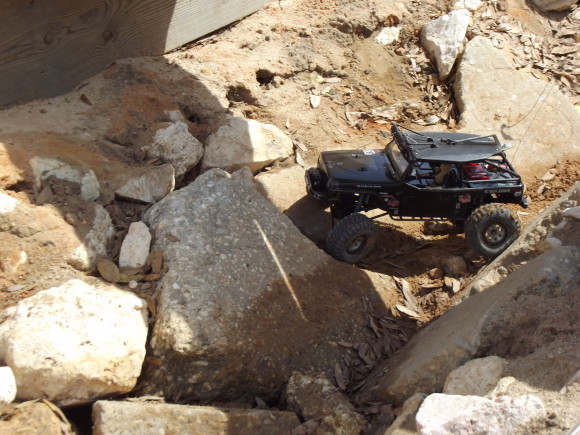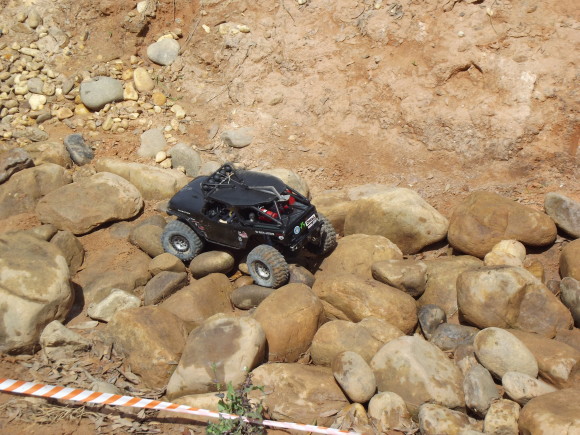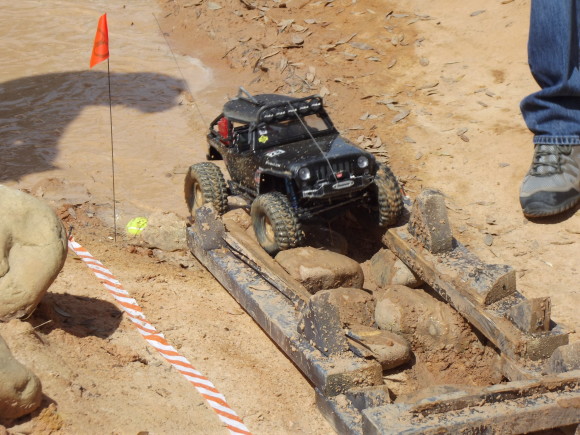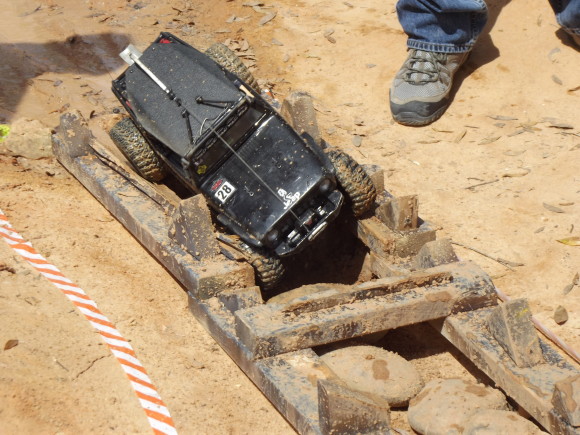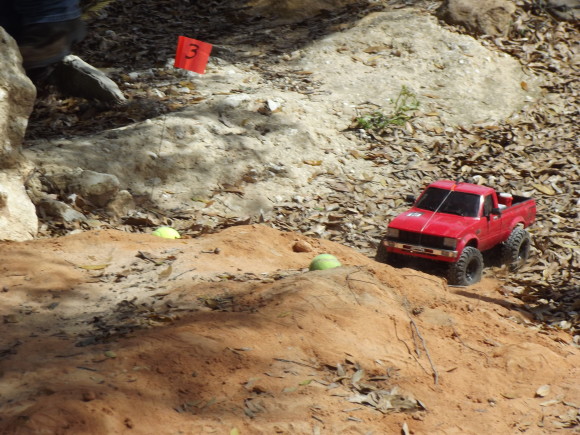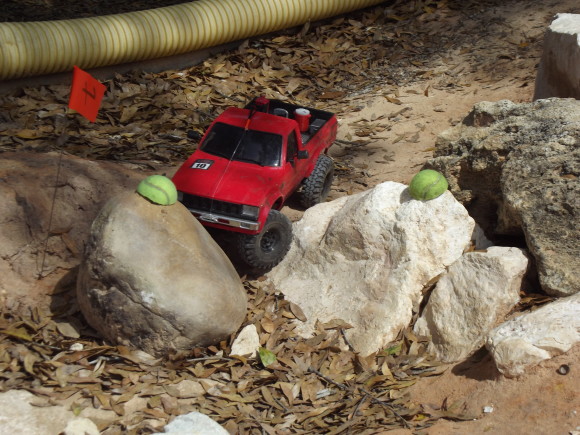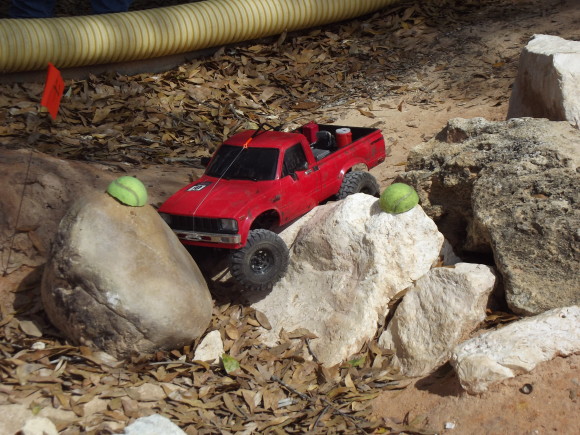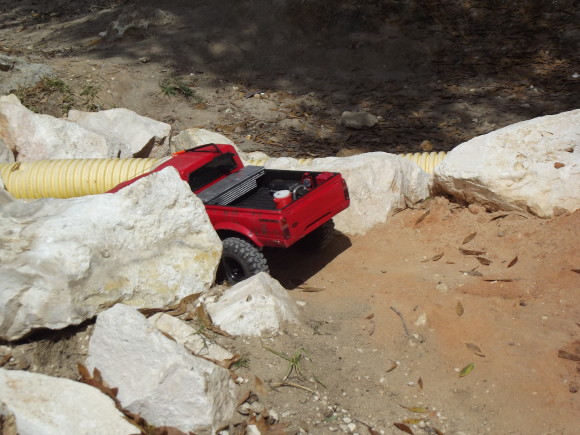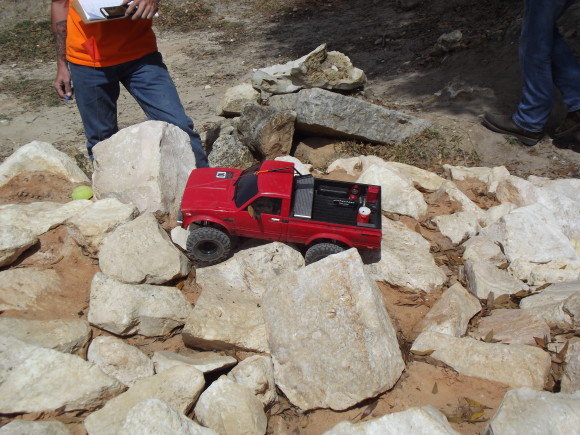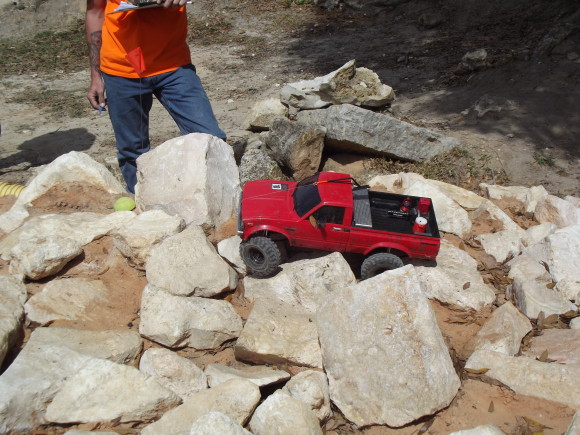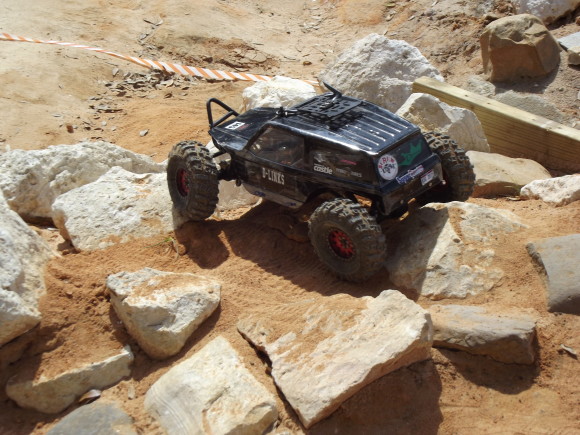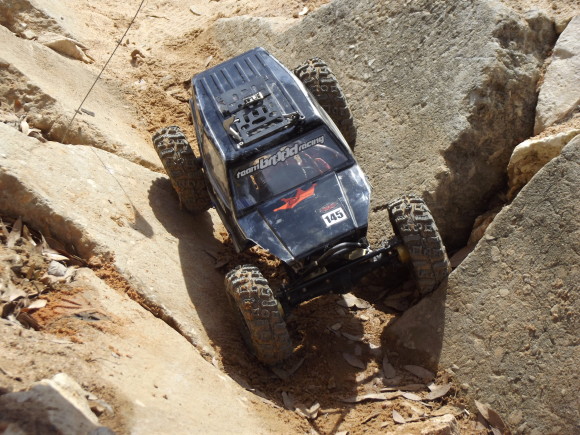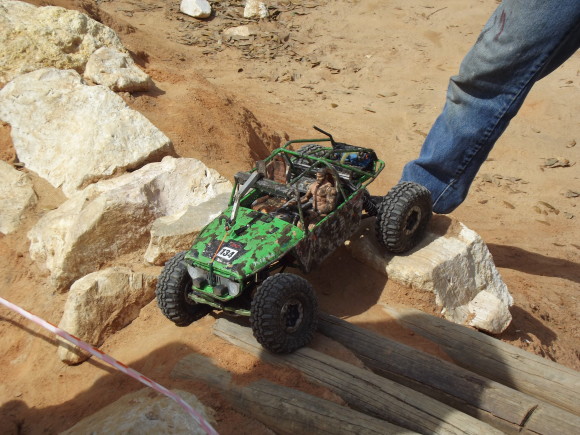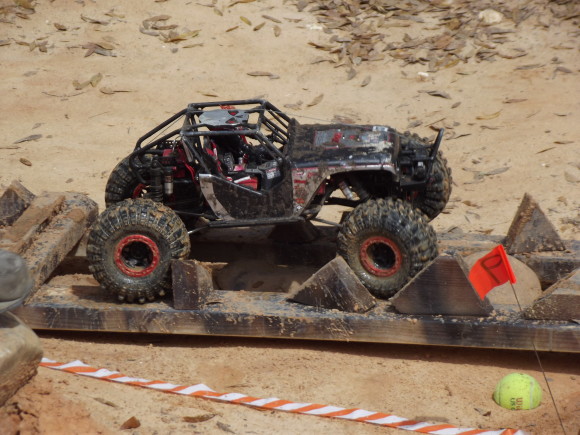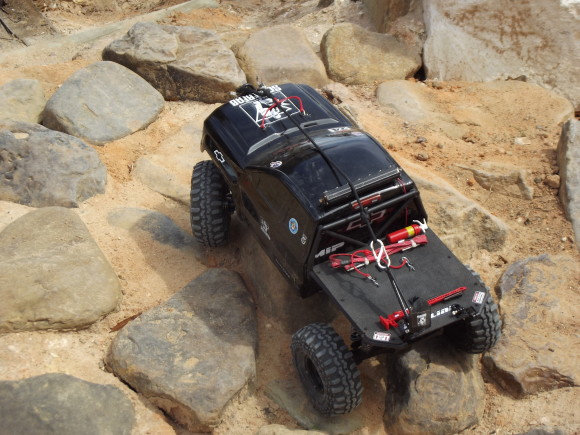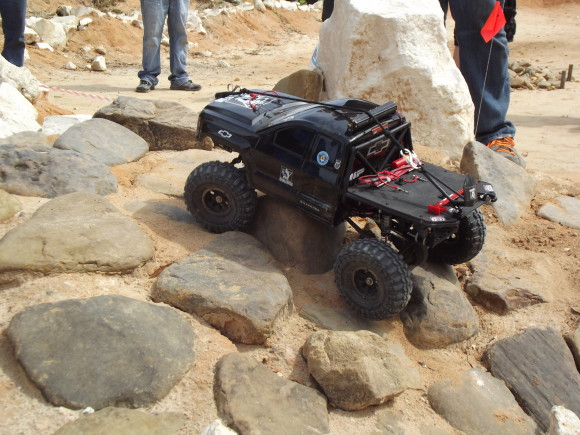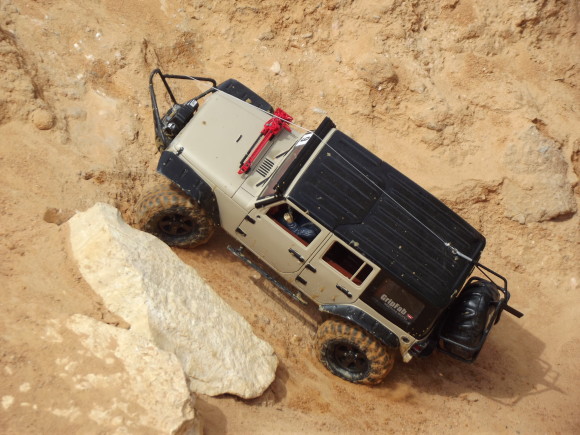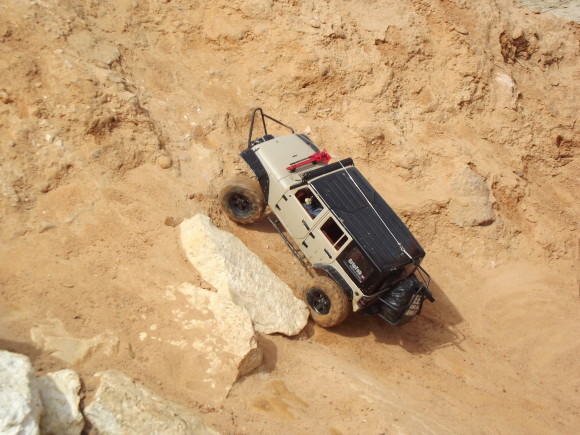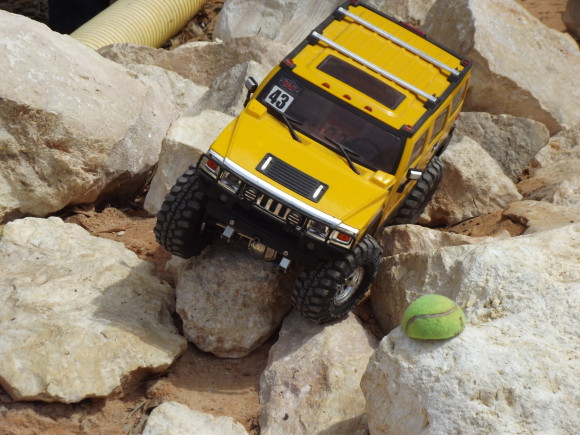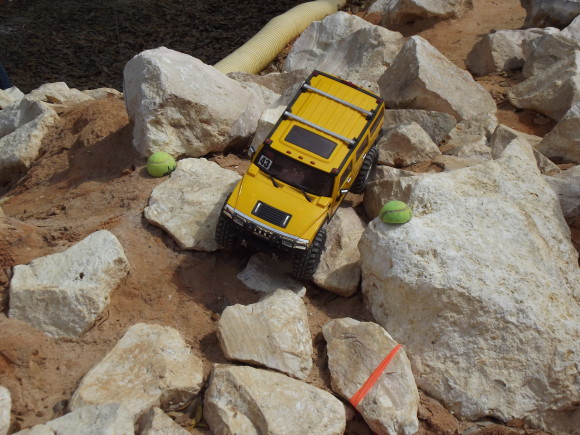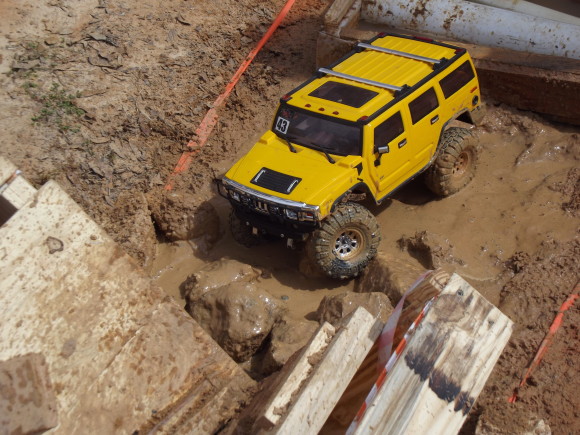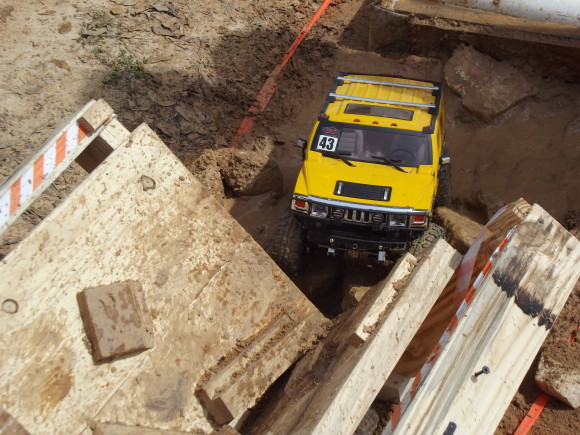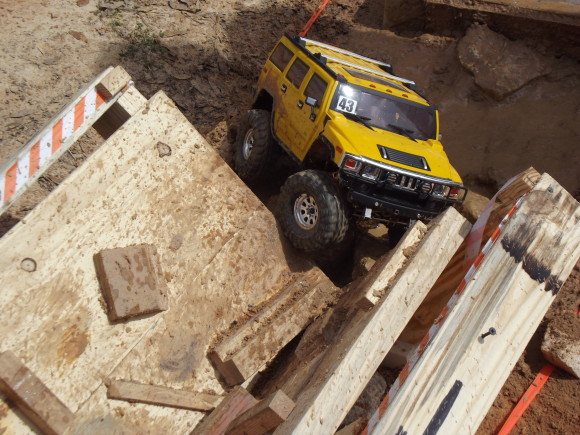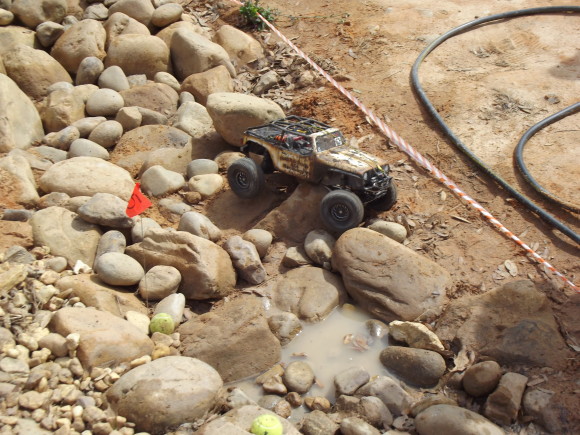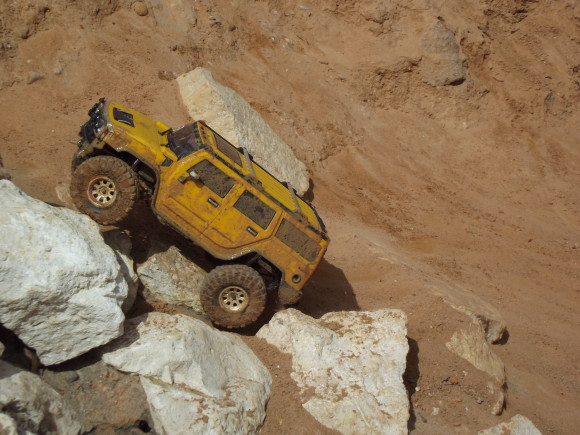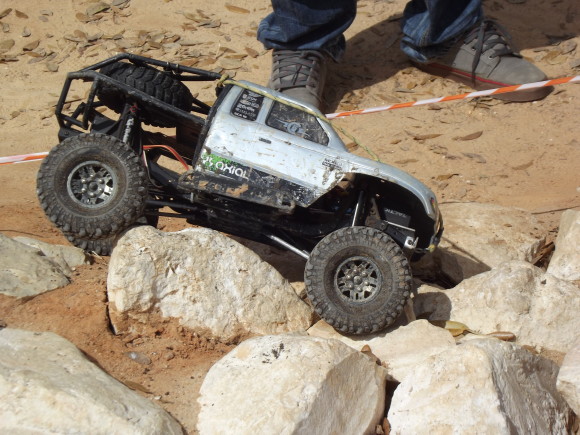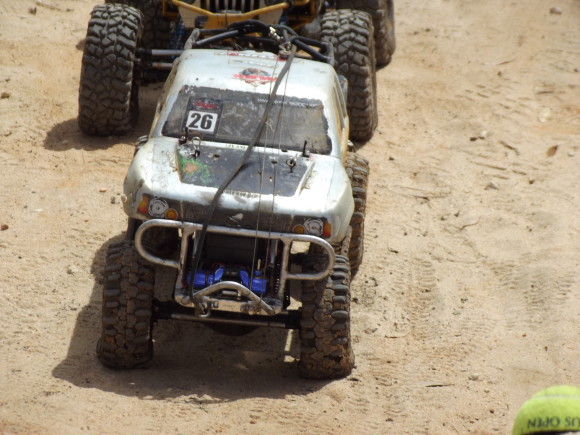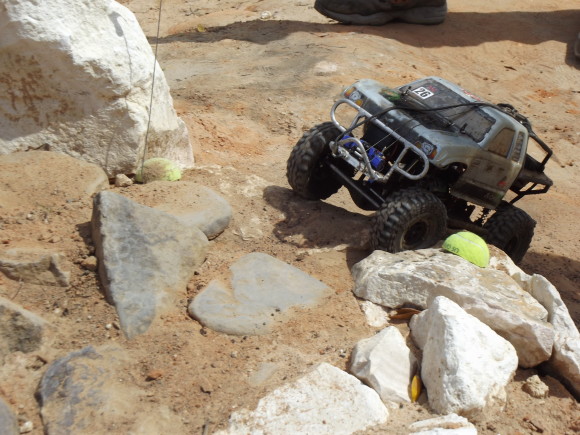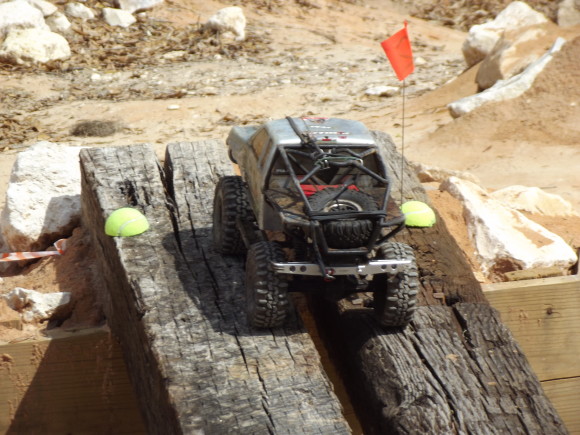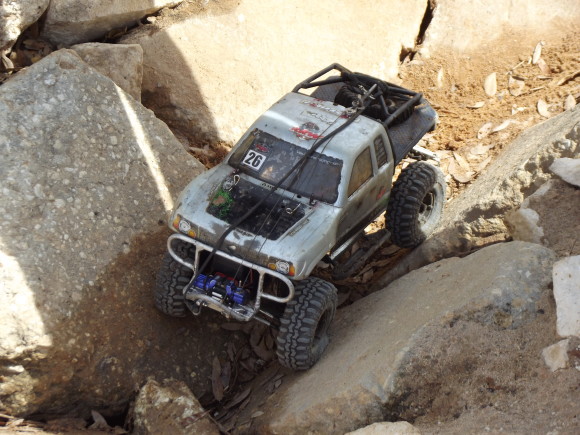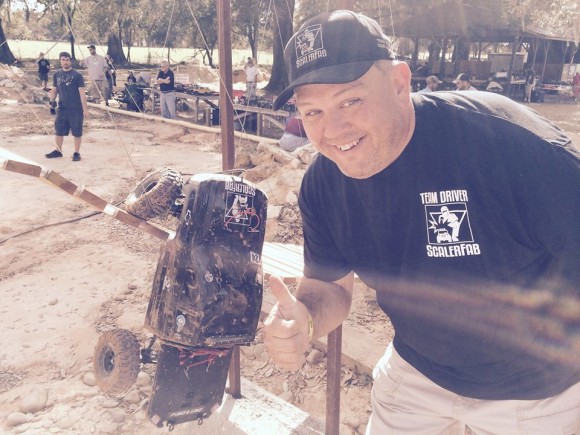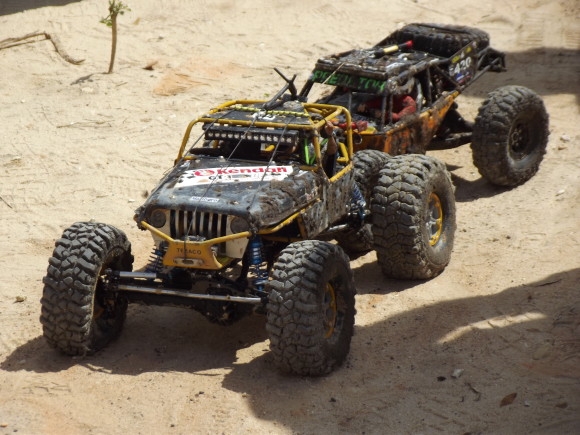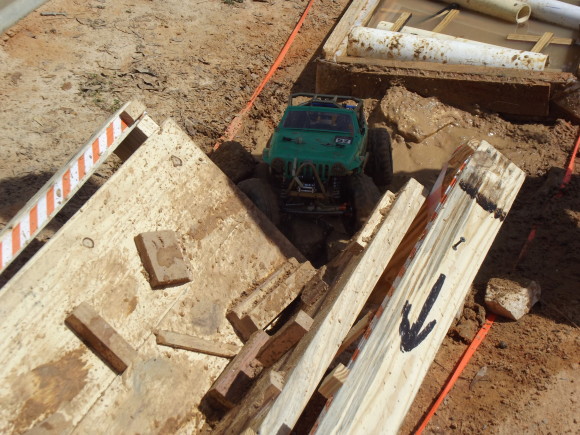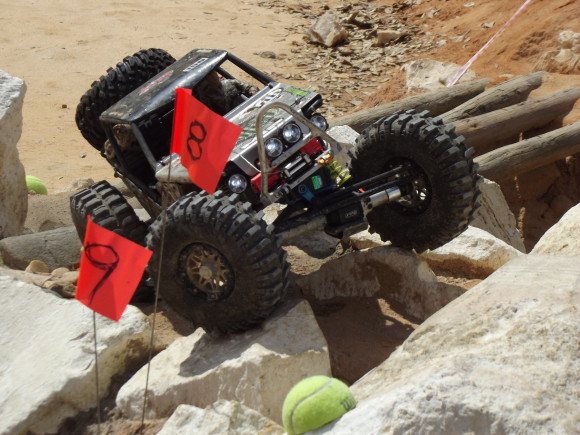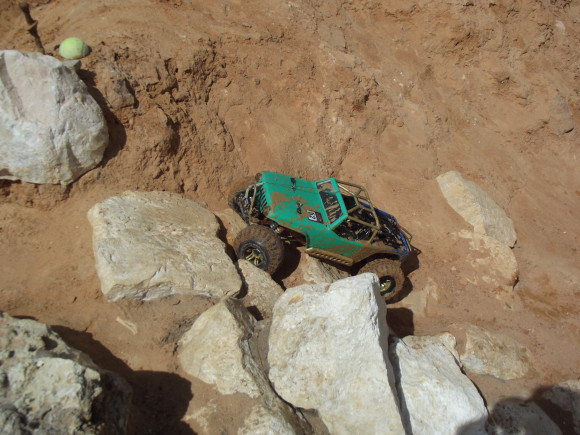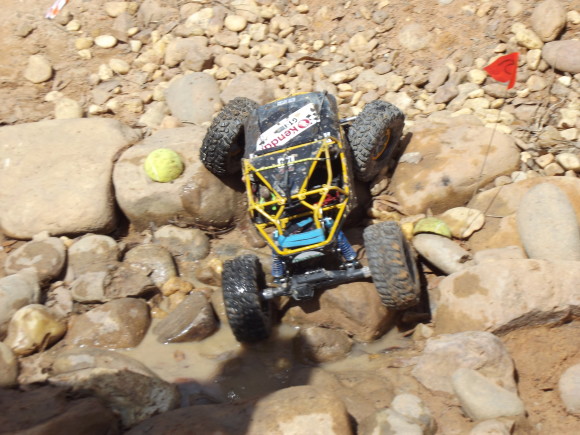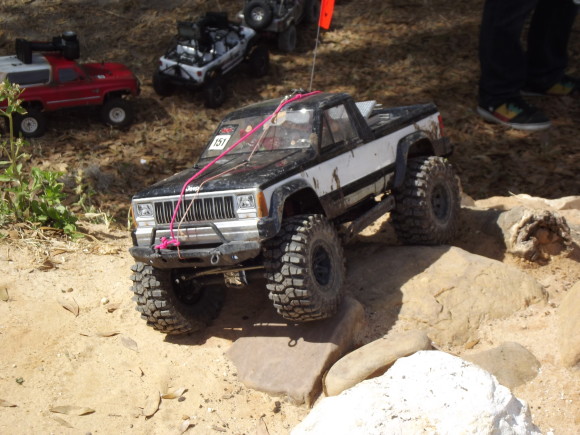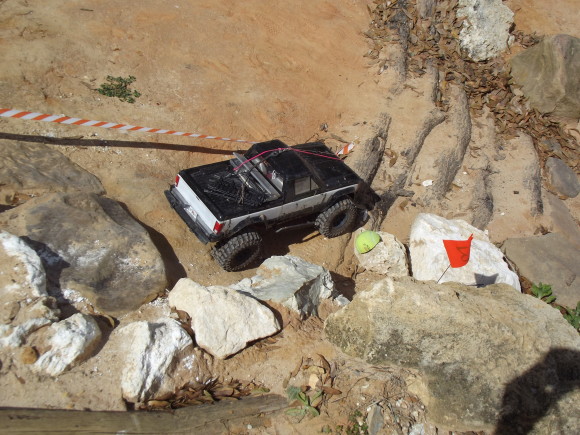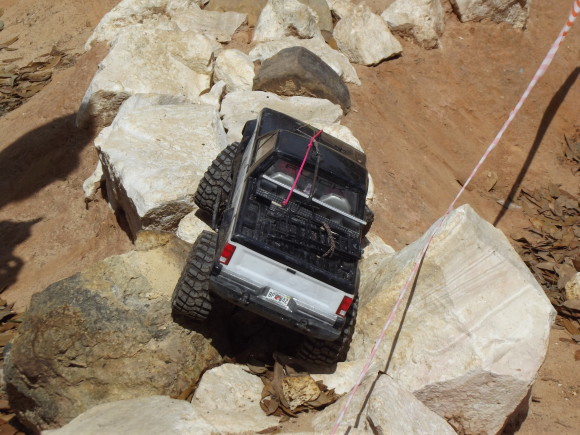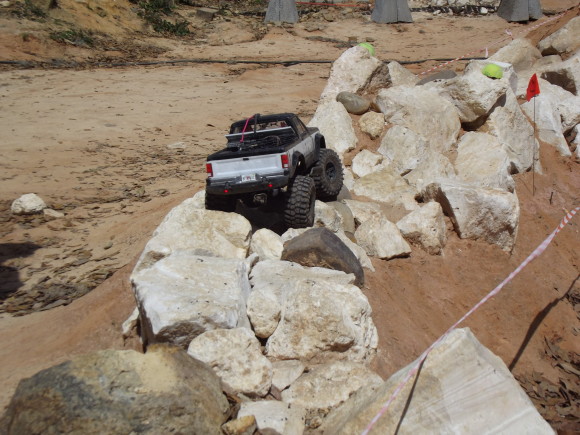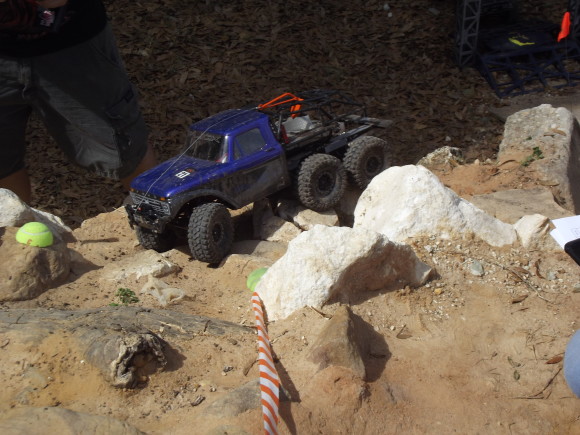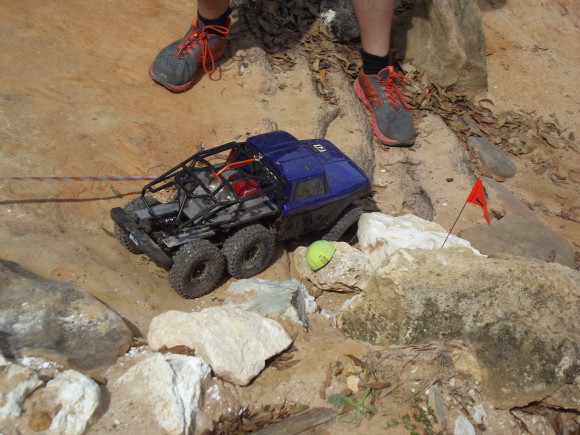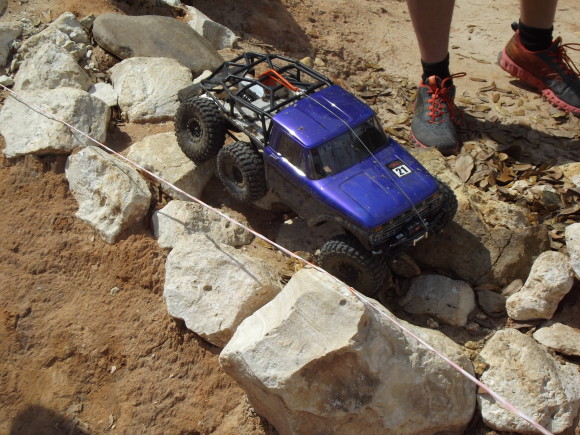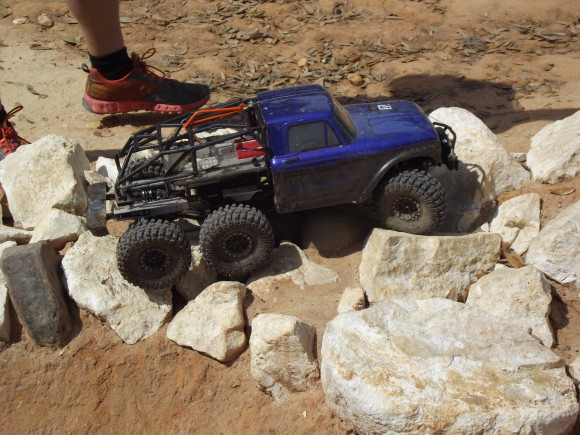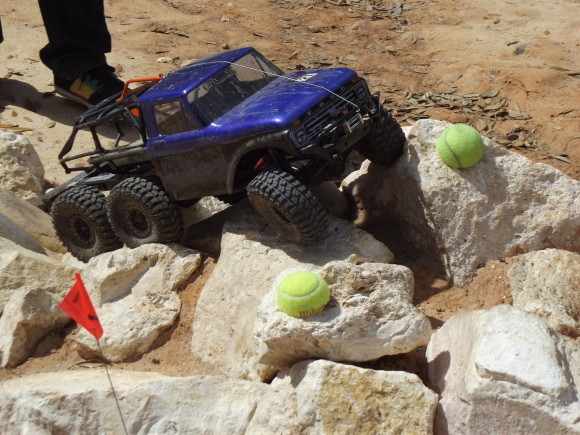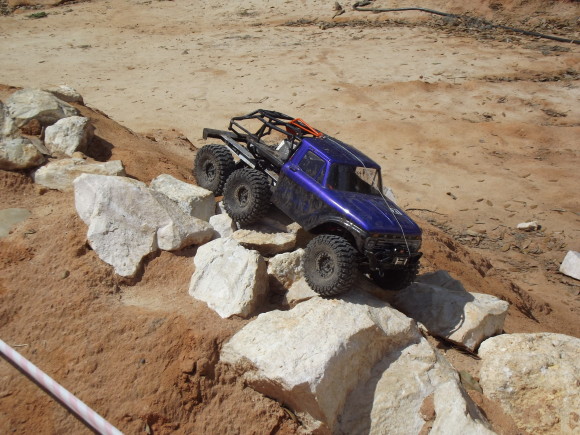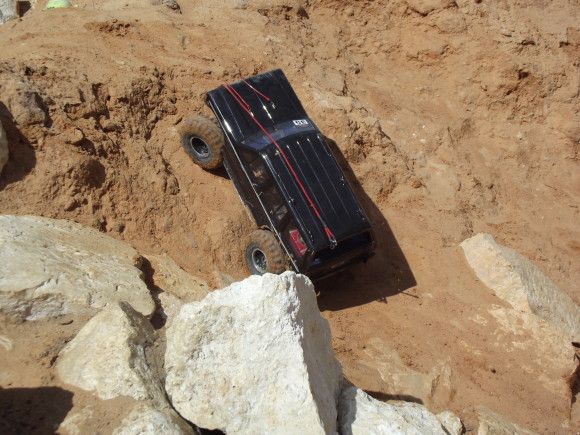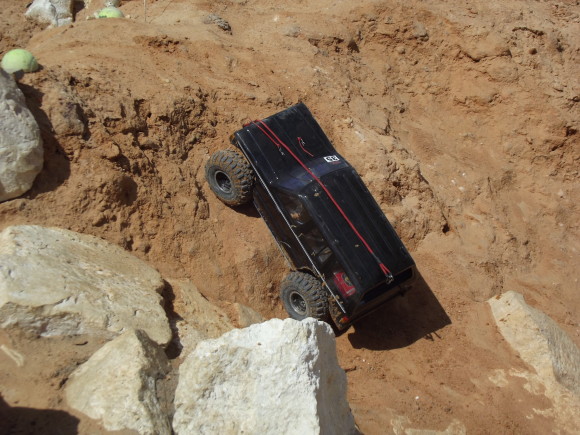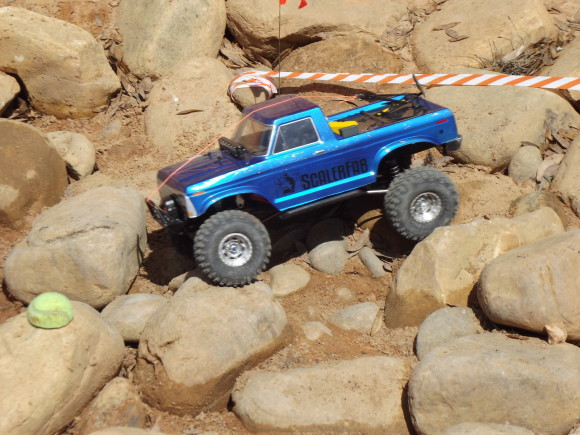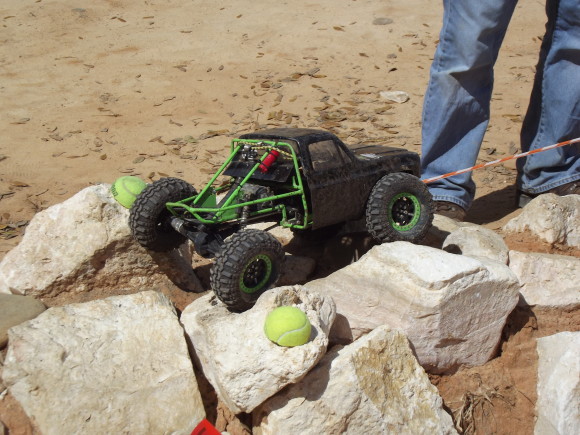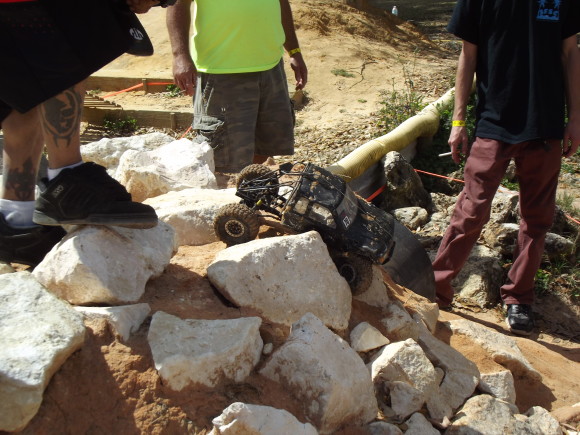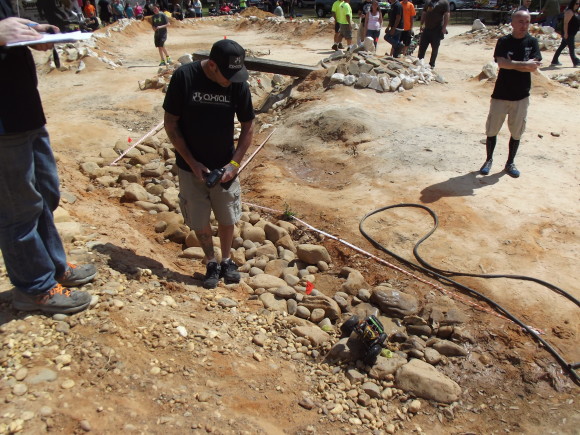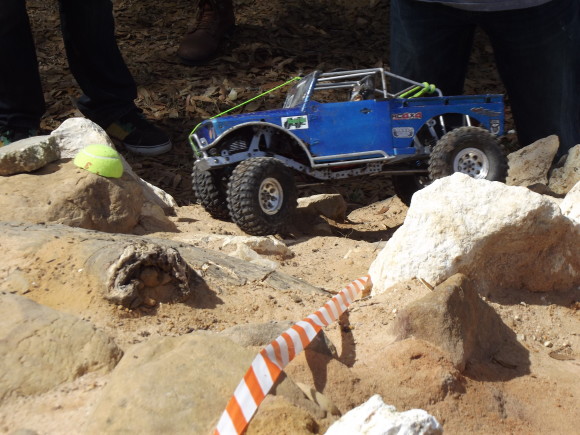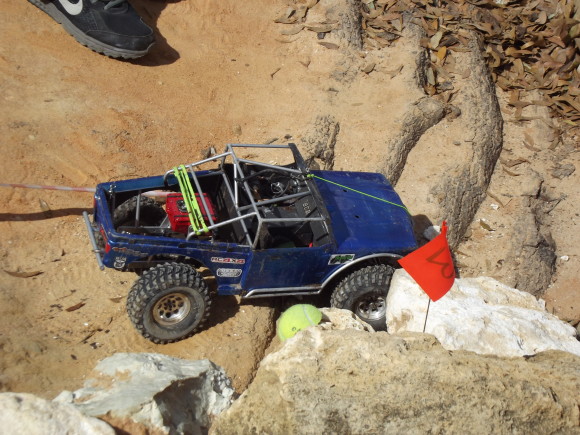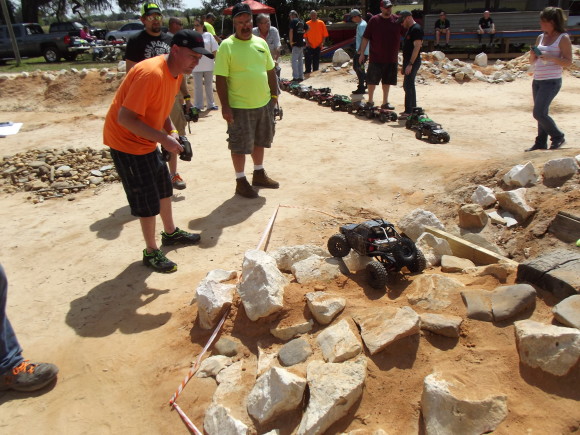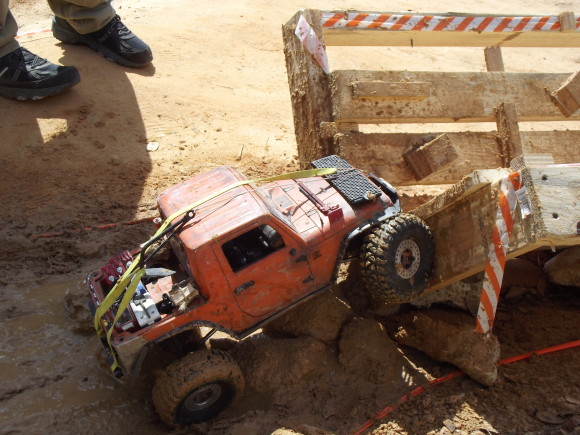 When the dust settled, it was time to crown the winners. While the scores were being tabulated, the Florida Scale Trail Runners gave away some really amazing prizes from the sponsors. I can't thank all the sponsors enough for all their support.
Drumroll please…………….
In the 6×6 class, which was a hard fought, to the death battle…….ok… there was only one official 6×6 entry…but he did amazing just the same! Big congrats go to Matt Dexter for the win in 6×6!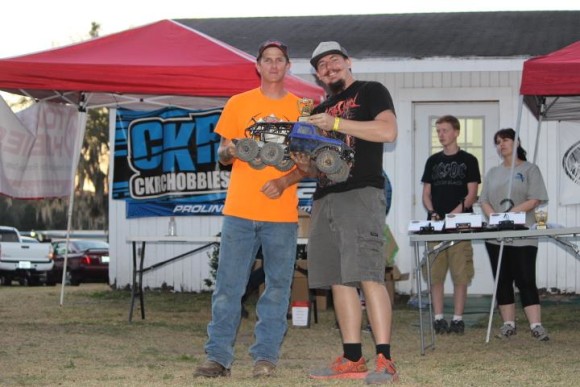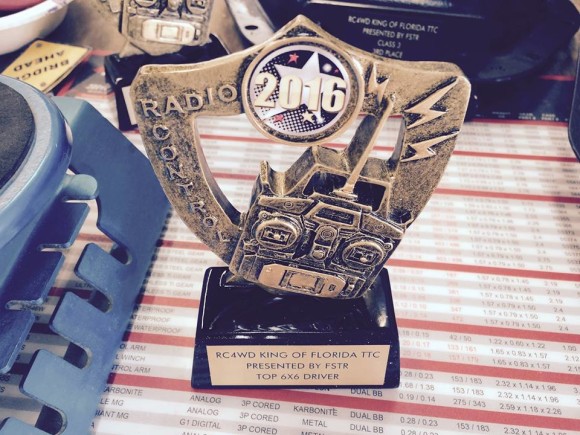 Next up is the Diva Class. This is a class for the ladies. The winner was Jessica Melendez!
Class 3 was a very close battle. Only one point separated each 1st, 2nd and 3rd!
In 3rd place, with 12 points, was James Cocenza!!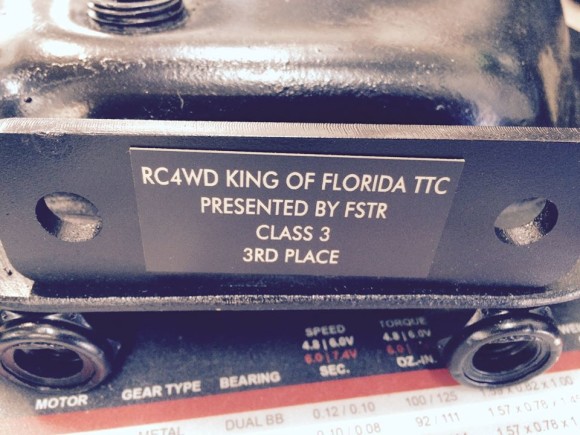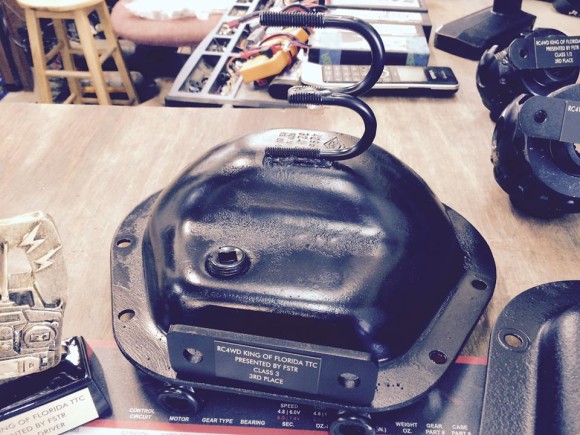 Class 3 second place, with 11 points, went to Chris Tustian!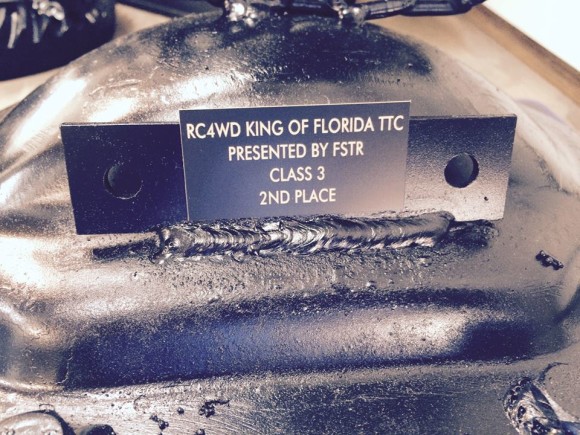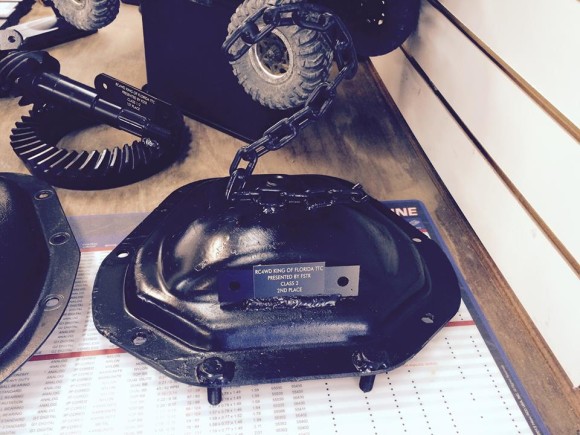 And the winner of Class 3, with 10 points, went to the one and only David Peterson!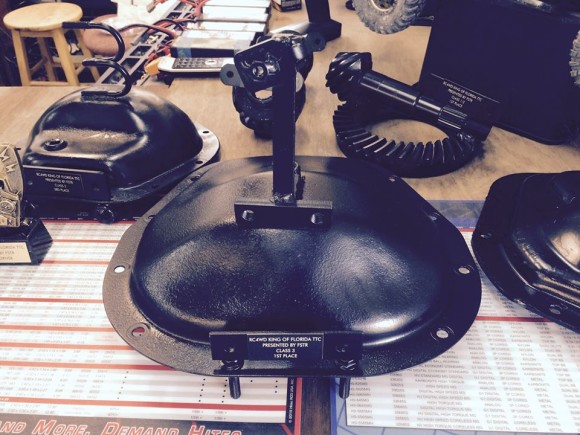 Now, to crown the King of Florida. It was a tightly contested battle, albeit not as close as Class 3.
In the combined Class 1/Class 2 division, 3rd place went to Larry Morris with -6 points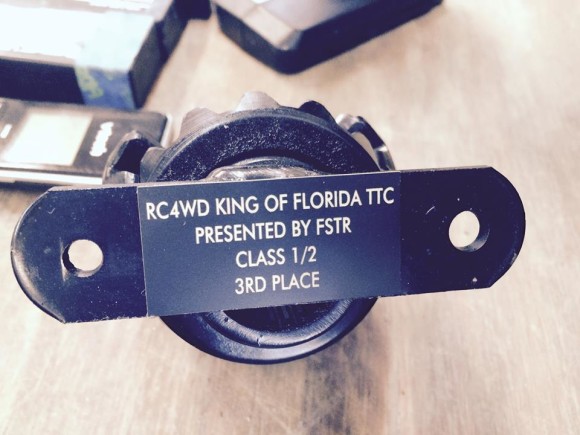 In the combined Class 1/Class 2 division, 2nd place went to Jim Lewis with -29 points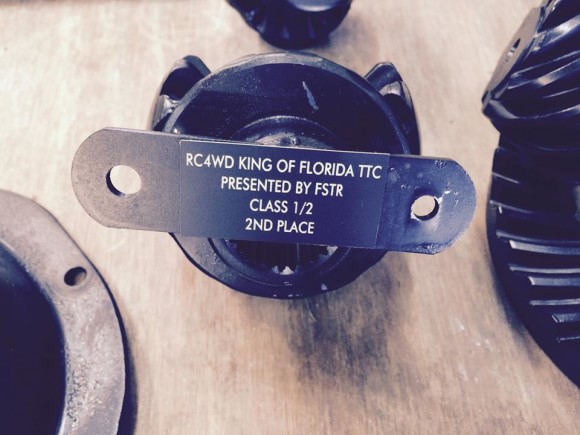 And the winner..with -35 points….the RC4WD KING OF FLORIDA 2016, goes to Bill Joyce!!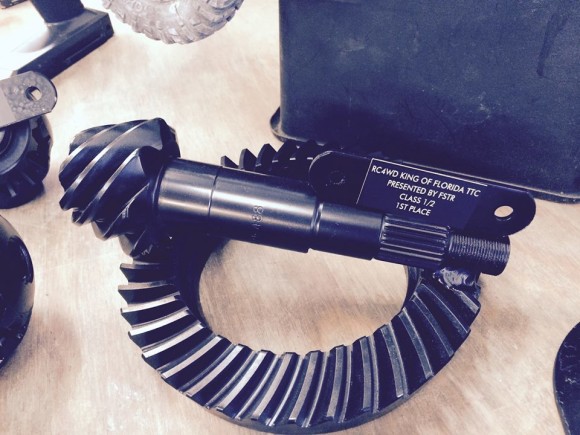 Once again I want to thank the Florida Scale Trail Runners, RRW, RC4WD, SuperShafty, GRUNDISH Customs, CKRC, CBE-RC Fab, ScalerFab, Tower Hobbies, Castle Creations, Phoenix Designs LEDs, Clints Custom Trucks, RC Addicts, Slingshot RC products, The Khatel, Beef tubes, Remote Control Hobbies – Orlando, KMS Winches, DEXTROYER, Kovacs Racing Team, KNK, Proline Racing, Axial racing, D-Links, and Jwalker Designs.
Most of all thanks to all of the participants; The folks that traveled from around the country to Florida to checkout an awesome event, hosted by an amazing facility, presented by a group of some of the most dedicated folks around. I, for one, cannot wait until next year!