In response to overwhelming requests from our dealers and current customers, Atomik RC presents the Whiplash 24 RTR Electric RC boat. The Whiplash 24 is the perfect introduction to RC boating and is the perfect blend of performance, simplicity and durability at an affordable price for such a feature rich boat.
A durable blow molded ABS hull comes with full color graphics pre-applied and clear coated for long lasting looks. The fully adjustable Flexdrive system allows users to tune the boats performance for any setup or water conditions without the need for confusing and hard to adjust trim tabs. The hull incorporates innovative water routing channels around the magnetically secured hatch to drain away any excess water before it enters the interior of the boat.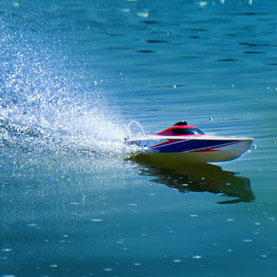 Inside the hatch you will find the water-resistant radio box and a powerful V380 Marine Brushless Outrunner motor. The Whiplash comes fully ready-to-run "Powered By Venom" and includes an 11.1V 2100mAh LiPO battery pack and a 2-3 cell LiPO balance charger for turnkey fun. Enter the exciting world of RC boating and experience speeds up to 25mph right out of the box with the Whiplash 24 RTR RC Boat.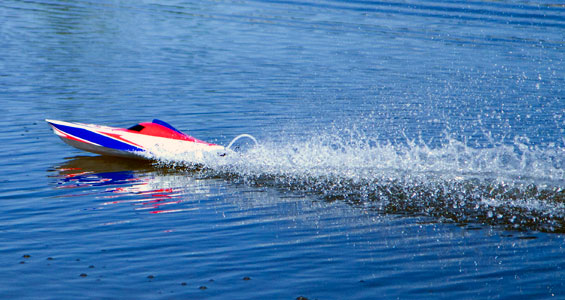 Features:
• Ready-To-Run with 2-Channel 2.4GHz Tx/Rx, 3 Cell Lithium Polymer battery &  balance charger
• Durable blow-molded ABS hull with factory applied graphics
• Water-cooled brushless ESC handles up to 4S 14.8V LiPO
• Waterproof radio box protects valuable electronics
• Magnetically secured hatch
• Incorporated hull channels for excess water drainage
• Adjustable Flexdrive™ system for easy tuning
Specifications:
Age Rating: 14+ With Adult Supervision
Length: 28.12 in (714 mm)
Height: 4.62 in (117 mm)
Weight: 2.41 lbs ( 1.048 kg) w/o battery
Beam: 6.5 in (165 mm)
Motor or Engine: V380 2200Kv Marine Brushless Outrunner
Batteries: 20C 3S 2100mAh 11.1V Venom LiPO
Charger: Venom 2-3 Cell Balance LiPO Charger
Radio: VR2T 2-Channel 2.4GHz Tx/Rx
ESC: 50A Water-Cooled Brushless ESC