A few weeks ago, Team Soup headed south into Athens, PA to visit a track there called The Compound. This would be our 1st stop on our "CMN Benefit Tour" to raise awareness for our site, and our 2012 Children's Miracle Network Benefit. It's located in the back of a vacant restaurant and you can tell it was at one point a barn of sorts. It's an indoor clay offroad track. The pic below is from their site of the current layout.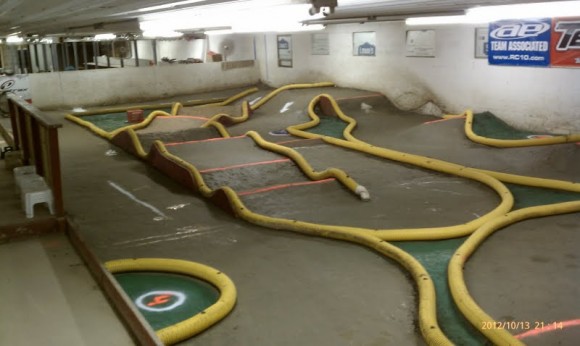 It's on the smaller side for 1/10 Short Course vehicles, but it works. It's 65′ x 35′, built from really nice clay. They race the following classes:
SCT Stock 2WD
SCT 2WD 17.5 Spec
SCT 2WD open
SCT 4WD Open
Buggy 2WD Open
Buggy 4WD Open
Truck 2WD Open
Kids
Novice
Mini
Of course, which classes run depends on turnout. They did not run all of those when we were there. Matt and I were the only ones to run Mini class for example (of which I had the most fun in). Between our group we raced Novice, Kids, 2WD Open SCT, 4WD Open SCT, and Mini classes.
They run AMB transponders and have house ones you can borrow.
They pit area is great, with plenty of room to set up, and outlets readily available. We went on the first day of their Winter Warfare series. They had around 30 entries, and that I believe was with a few locals not able to make it. I'd expect that car count to pick up, and probably already has, as their series continues to heat up.
For us, the drive took around 2 hours, which isn't bad. We loaded up Matt's van with as many cars and people as it'd fit and hit the road.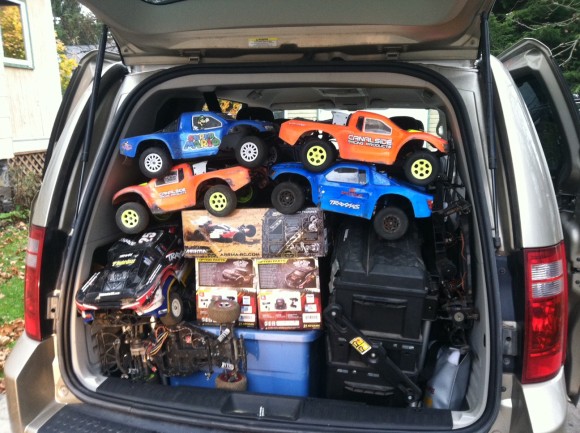 2 Hours later we were there and hit the track.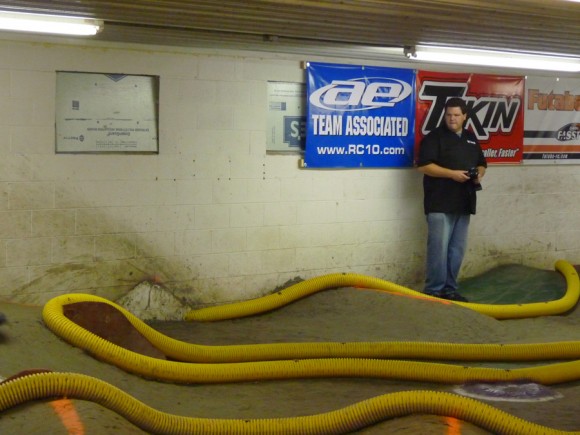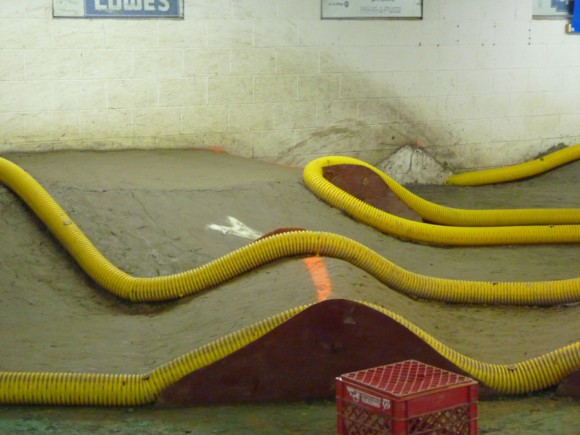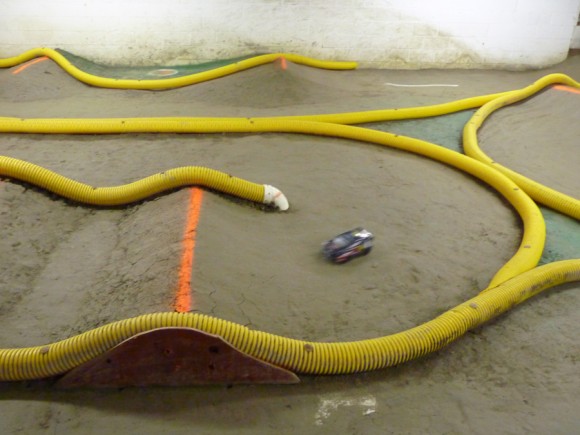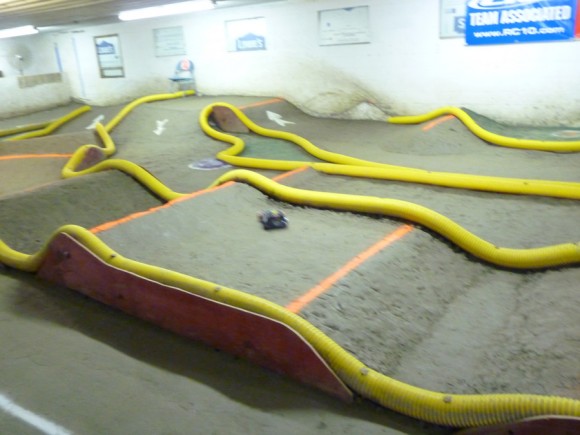 Here is a shot of the pit benches and area. Chairs are provided as well.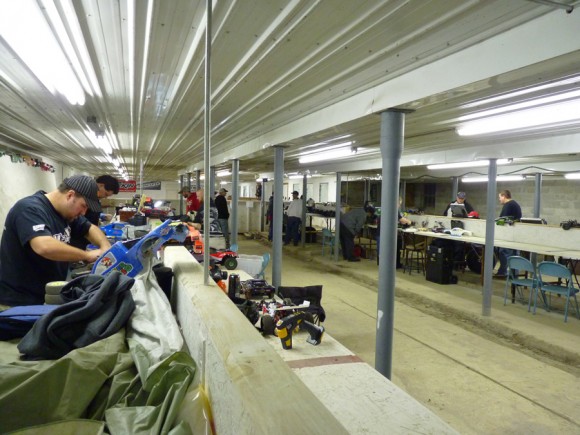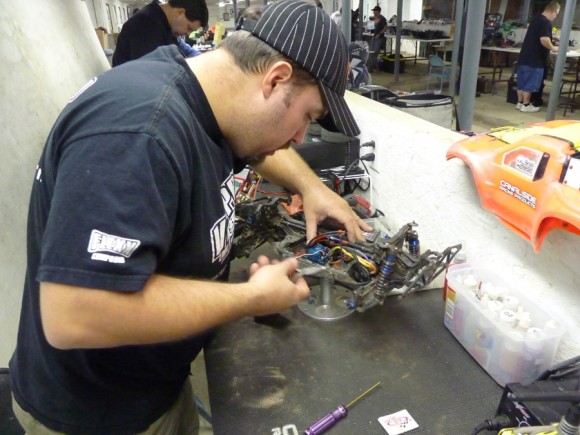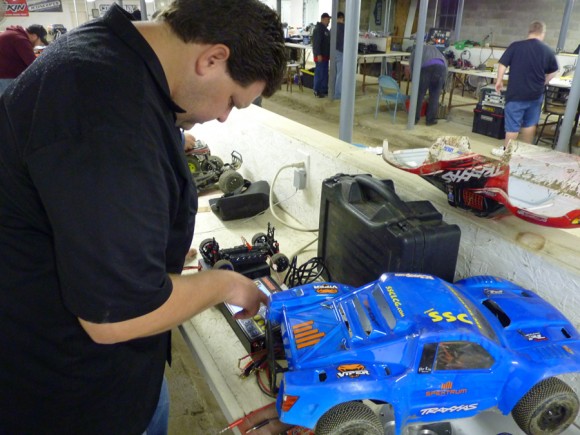 A trip to the track with the kids is not complete without at least one Nintendo DS.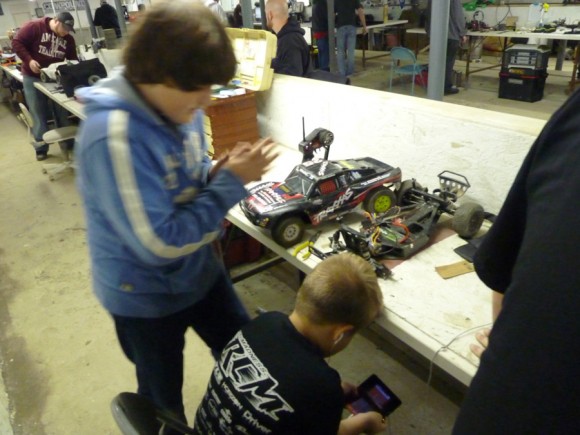 Another angle of the track.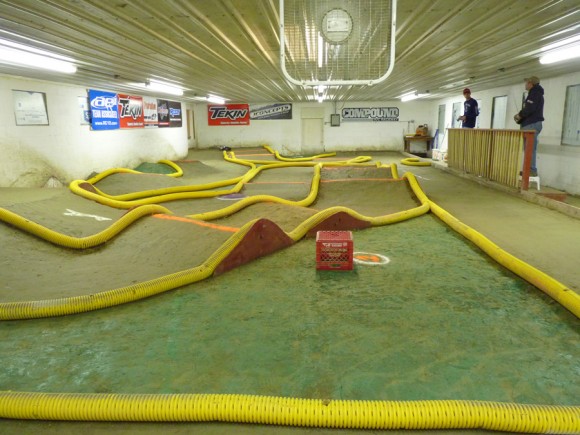 As you can see, the lanes are wide enough for 2 trucks, with a little room to spare. A creative passing line is sometimes required.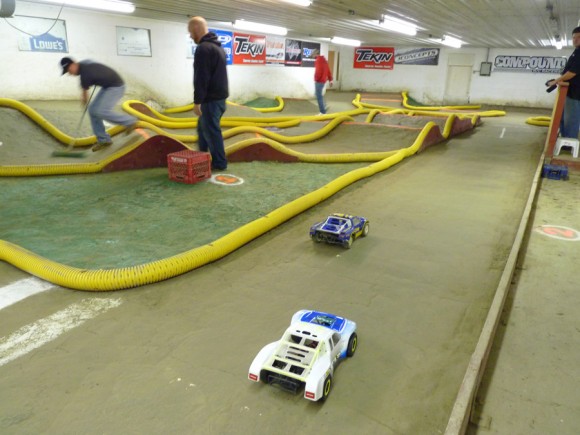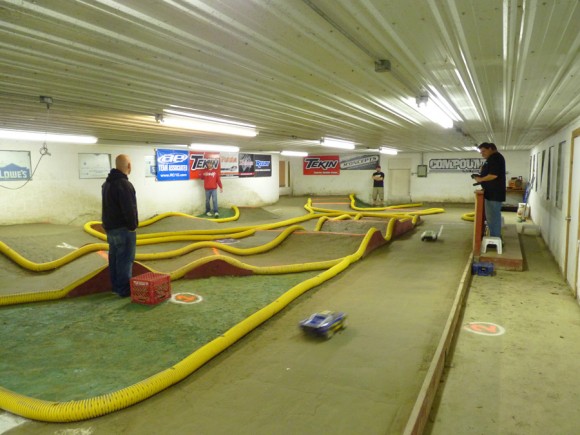 The starting lineup. The nice thing that the Compound does that I liked, is keeping the heats/mains to a low car count. I don't think they ever run more than 5 trucks at once on the track, which gives them some breathing room.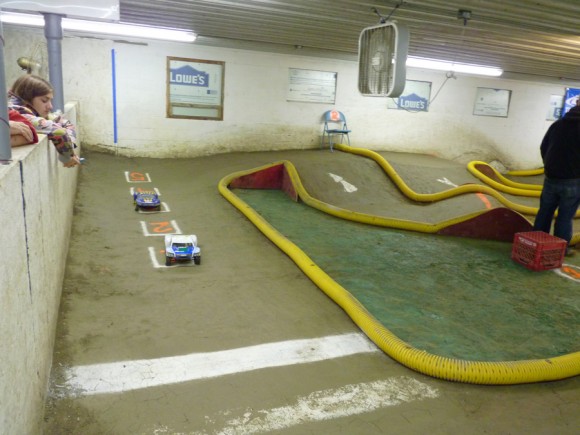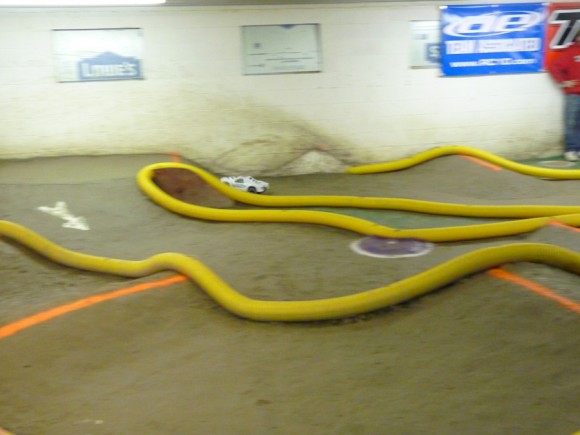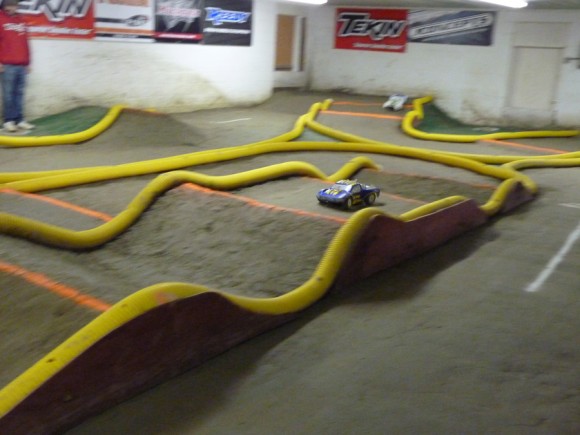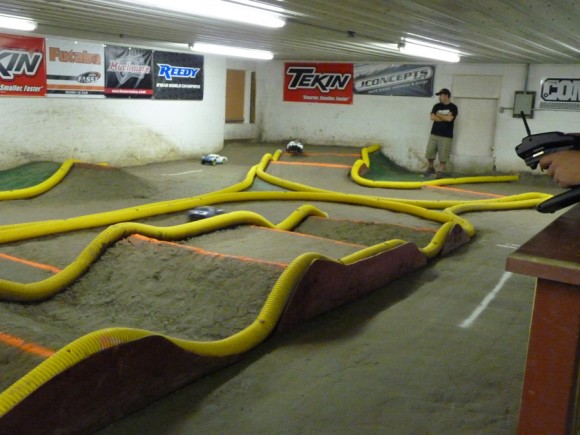 Jarodd making some final adjustments before hitting the track.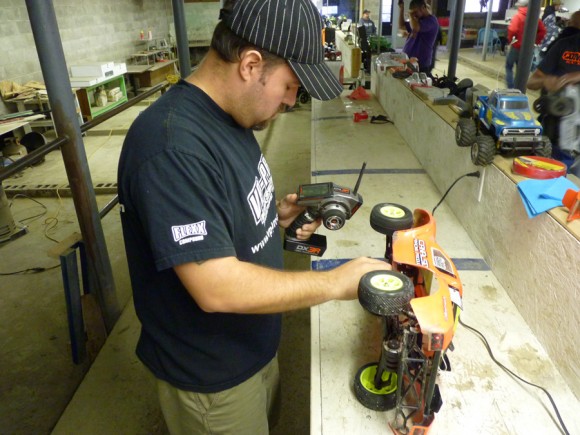 He's taking it straight to 88mph with his flux capacitor powered Associated SC10.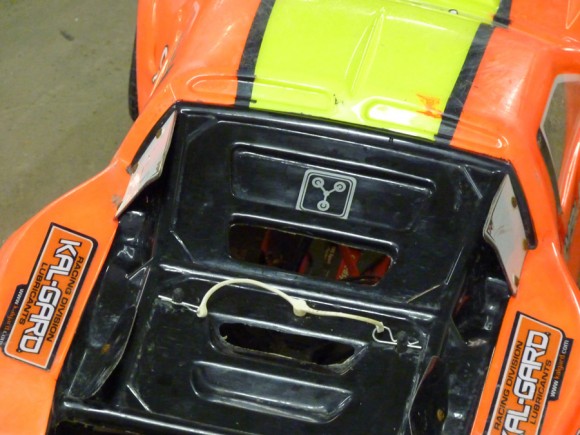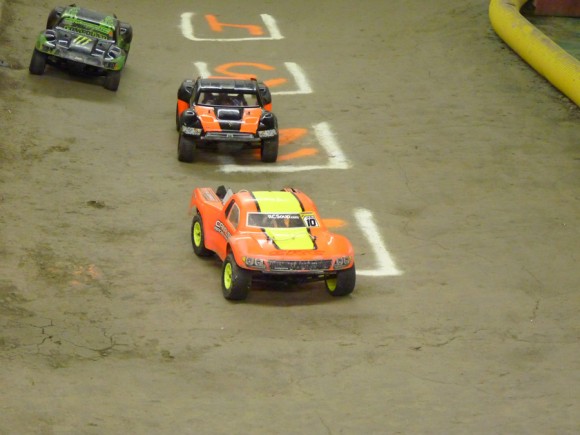 You could fit a lot more minis on the track. These were AWESOME here. We had a lot of fun with them. I think the guys had just as much fun watching us too!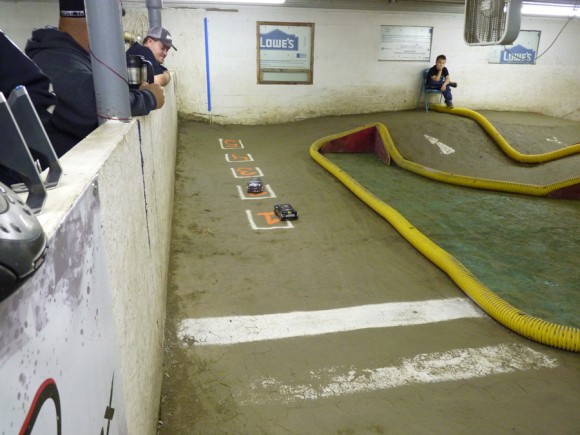 Here are some videos to give you a much better idea of the track layout.
[youtube]https://www.youtube.com/watch?v=IKqrQOffkN0[/youtube]
[youtube]https://www.youtube.com/watch?v=iAw-rAnz4Ok[/youtube]
…and here are Jarodd and his son Mason piloting our test Atomik cars. They are the 1/18 Brian Deegan Rally and SCT. TONS of fun, and they are super cheap. Look for our review on these soon.
[youtube]https://www.youtube.com/watch?v=Tg6VE-Y5gbQ&feature=plcp[/youtube]
Overall, we had a blast. The racing action was great, the locals there are fast. We'll probably be back as the "Tour" winds down. If you live in the area, or even if it's a little bit of a drive for you.. it's worth checking out.
Here are some more links to learn more.
Website : http://thecompoundrcraceway.webs.com/