This docking maneuver will take you directly from the pit to the Winner's Circle!   The TrakPower VR-1 Charger and DPS Power Supply work in tandem to supply everything drivers need to gain that critical edge on the track.  Because they dock directly to each other, drivers will get the perfect power source in streamlined, space-efficient units. The VR-1 charger can be used with any other 12V power supply as well.
Two outputs, both with built-in balancing
Capable of charging all R/C battery chemistry types
Charge up to 20A on output 1 and up to 6A on output 2
40 programmable model memories, pre-loaded with TrakPower, Onyx and LiFeSource batteries
Large graphic reverse backlit LCD displays data like temperature, current and voltage
Other features include special charge mode for battery storage, built-in cell checker and mini USB port for firmware updates
Works with any 12V power supply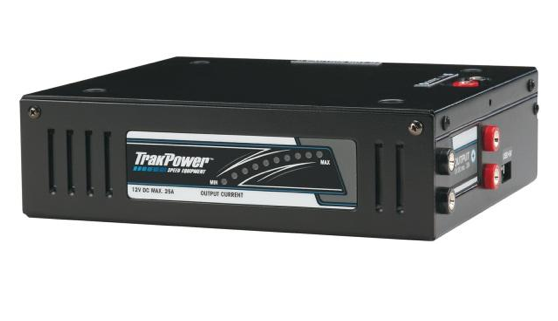 DPS 12V 25A Racing Power Supply
Delivers up to 25A while maintaining a smooth, clean 12V DC on the output
Multiple DC outputs let drivers power additional chargers and/or other devices
The USB port is convenient for charging music players, phones and other accessories while at the track
The VR-1 Charger is available now.  The 25A Power Supply will be available early December.
TKPP5000    VR-1 Dual Racing Charger            Retail: $299.99   Street: $199.99
TKPP5505    DPA 12V 25A Racing Power Supply        Retail: $139.99   Street: $99.99
Please visit trakpowerusa.com for details.