Here's a race report from AKA from the Cactus Classic this past weekend.
The 27th annual Cactus Classic held at SRS Raceway in sunny Scottsdale, Arizona went off without a hitch on the sugar coated track. Traction was high, the pits were well packed and AKA tires were hooked up.
The AKA team was going fast all week with their buggies on the new Handlebar STD rear tire. Kyosho's Jared Tebo made no exception, jumping out in the lead early in A1 of 2wd buggy modified and never looking back. Tebo showed patience and speed in A2. By clicking off amazingly fast laps and keeping his Handlebars on the dirt, Jared took the win, the overall, and was able to sit out and watch the last main.

Michael Losi was fast all week in 17.5 buggy. His TLR 22 buggy setup with Handlebar tires on all four corners started first on the grid in the 10-minute long A-main. Michael was able to take complete advantage of his TQ position and dominate the main from start to finish with a 10-second lead over the field.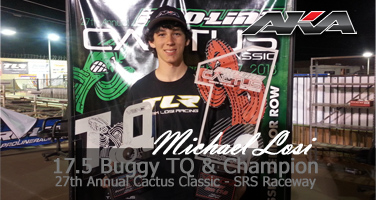 The pre-production Handlebar STD (standard tread depth) was the choice tire for the  AKA wins at the Cactus Classic. Soon to be released for short course and 1:10 buggy rear in all of AKA's race proven compounds.