CRC (Calandra Racing Concepts) has a new batch of top of the line performance racing lipo packs! Check out the following Press Release!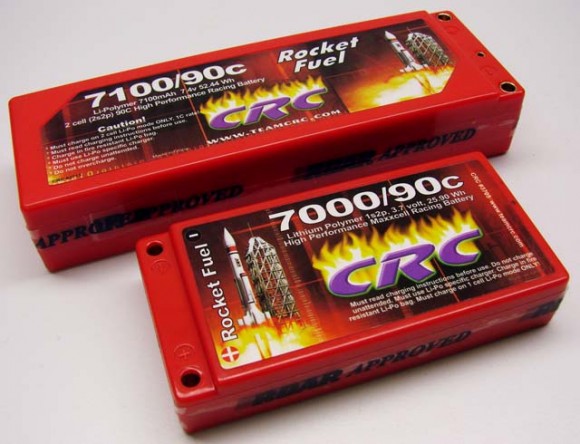 3705 & 3713 – New Rocket Fuel Cells!
Big Voltage and Huge Capacity!
Rocket Fuel batteries from CRC offer the best performance you can find and for competitive prices. These batteries have more voltage, more runtime, higher C rating, and lower internal resistance than any of our previous 1s or 2s lipos, and for a better price than the previous cells. Average street price on both of these packs will be over 22% lower than the previous Rocket Fuel packs!
There is a new 7100mah / 90C 2S lipo, and a 7000mah / 90C 1S lipo.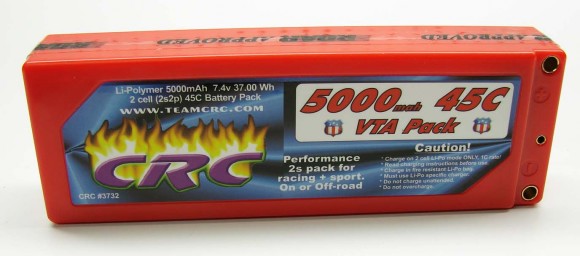 3732 – VTA Legal Performance Pack!
Next up is a new VTA legal 5000 mah battery for the popular Vintage Trans Am Class. This battery boasts some pretty impressive performance as well for an incredible price point. Whether you're a hardcore VTA racer, a weekend offroader, or anywhere inbetween; this battery will pack the punch your car needs without punching you in the gut and stealing your wallet.
3705 – 3.7v 1s 7000mah/90C-Bullet
$99.99 Retail
$69.99 MAP
Barcode – 800734037057
3713 – 7.4v 2s Lipo7100mah 90C-Bullet
$164.99 Retail
$115.99 MAP
Barcode – 800734037132
3732 – VTA Lipo-5000/45/2s-Bullet
$64.99 Retail
$45.99 MAP
Barcode – 800734037323