Inspired by the Glamis faithful and their insatiable, adrenalin fueled lust for speed, Glamis Fear™ by Vaterra is a faithful reproduction of today's contemporary 4-seat Sand Rails with its tuber-style cage chassis and it's lexan panel clad body styling.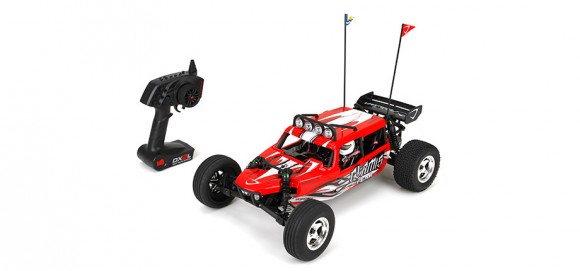 This 1/8 scale off-road Sail Rail buggy is an intoxicated blend of evocative looks and killer performance thanks to the powerful Dynamite Fuze brushless power system with its 3300Kv 4-pole motor design and Waterproof ESC. When powered by the included 2S 7.4V LiPo, Glamis Fear™ is quite capable of reaching speeds of up to 37mph but with in-built 3S capability, it can reach astonishing levels of performance in excess of 55mph when powered by the optional 11.1V 3S LiPo battery.
Thanks to the innovative Viscous Torque Vectoring differential, all that power can be ably transmitted through to the rear wheels to help contain wheelspin and manage all the torque being thrown at it from the 4-pole motor.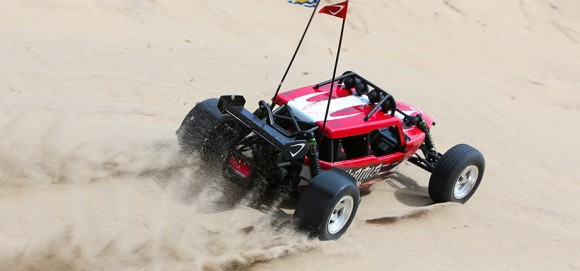 Adjustable oil filled long-travel dampers adorn each corner to ensure that the race-inspired suspension geometry is kept under control and in contact with terra firma – that is until you hit the throttle hard and watch as the front end leaps skyward as Glamis Fear™ power wheelies away into the distance.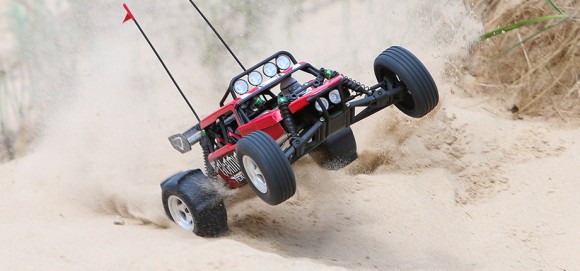 When you can cover the ground as fast as Glamis Fear™ does, it pays to ensure that you've got state-of –the-art control systems to guide it. Courtesy of the included Spektrum DX2L 2.4GHz DSM transmitter with it's waterproof 2 channel receiver, you're sure to remain in control at all times, even when it becomes a rapidly disappearing speck in the distance accompanied by two huge rooster tails from the rear wheels.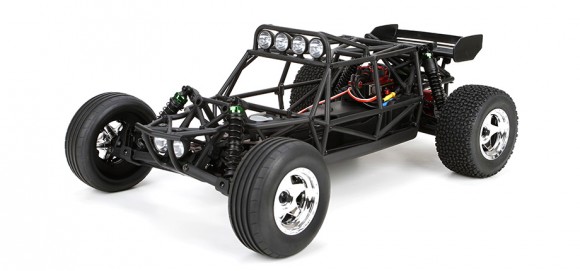 With looks this good, it'll be no surprise to find yourself centre of attraction and thanks to the Spektrum DX2L's throttle limiting switch, you can safely offer others the chance to control Glamis Fear™ without allowing them without allowing them to get into too much difficulty and without unleashing the full power-frenzied beast that sits inside its beguiling good looks.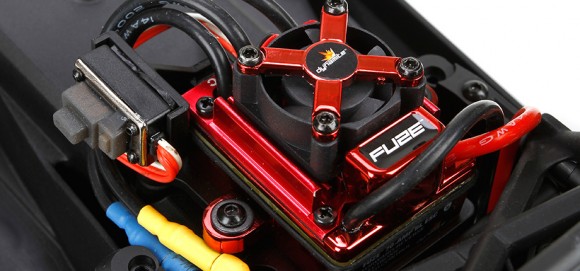 True-scale chrome-look beadlock style rims are used front and rear to hold the High Traction Tetrapod rear tyres and directionally stable ribbed front tyres in place and optional Paddle-style rear tyres are available separately to make the most out of Glamis Fear's inordinate power delivery when running on loose, sandy based surfaces.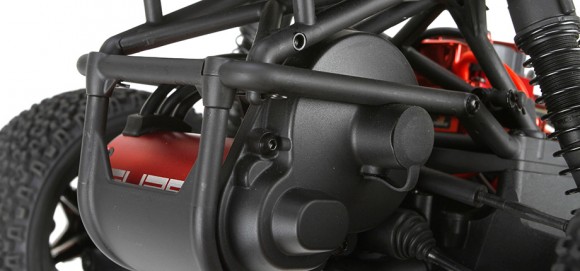 Scale details abound; from the twin rear mounted, flag topped whip-style aerials to the roof mounted light bar with it's integrated roll-over hoop, Glamis Fear™ remains true to its inspiration and authentic to its fans. Moulded cockpit detailing includes a driver figure, seats with seat-belt detail, dashboard and roll cage structure just like the real thing whilst the bottom load battery compartment means that changing the battery is a breeze and doesn't necessitate body removal in any way.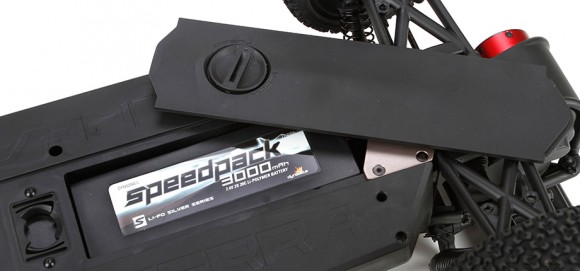 Scale: 1/8th
Length/Width/Height: 475mm/290mm/157mm
Ground Clearance: 50mm
Wheelbase: 347mm
Chassis: Moulded Composite
Suspension: Coil Over Independent Suspension
Shock Type: Plastic
Drivetrain: All Metal
Differential: Gear
Wheel Type: 40mm/50mm
Wheel Diameter: 2.2/3.0
Tyre Tread: Tetrapod Rear Tyres and Rib Fronts
Motor Type:Non-Sensored Brushless
Motor Size: 540 3300KV 4 pole
Speed Control: 70A Sensorless ESC
Radio: Spektrum DX2L
Battery: Speedpack 7.4V 3000mAh 2S 20C LiPo
Body: Prepainted Lexan
Charger: Balancing LiPo Charger
Ball Bearings: Full