With the growing popularity of the 4wd buggy class at my local track, REDNECK HOBBY I wanted to get in on the action. I wanted to do it in true Geo fashion, take something no one else had and make it work.
So with the recent release of the Tamiya DF03-MS (# 84370) the choice was easy for me. This would be the buggy that I would put my efforts in and see if it can compete at a club level with all the top brand name cars. It's not one that most people would put at the top of their "to consider" list when shopping for a 4wd buggy. I hope to change that with a long term review over the winter season and see if this Tamiya can hang with the fast guys.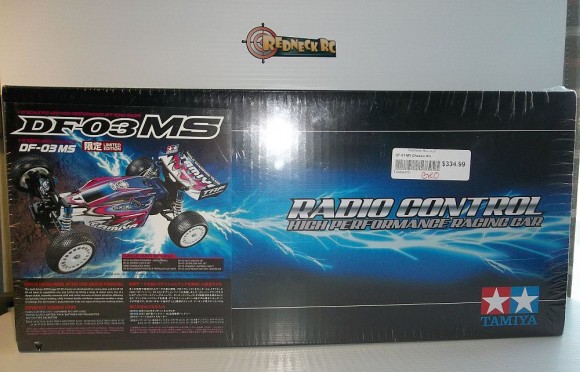 The mid-range shaft-driven 4WD buggy DF-03 chassis was developed from racing data, and the DF-03 MS kit takes its capabilities one step further by fitting a range of option parts. Use of a slipper clutch, assembly universal shaft and center one-way set boost drivetrain efficiency and provide sharp handling, while 4-wheel double wishbone suspension enables a range of settings.
This limited edition buggy features a chassis that is loaded with performance enhancing parts and a Dark Impact body shell with special markings designed by TRF driver Satoshi Maezumi.
The following Hop-Up-Options are included:
53791 DF-02 Assembly Universal Shaft
53924 DF-03 Heat Sink Bar Set
53925 DF-03 Slipper Clutch Set
53926 DF-03 Aluminum Damper Set
53931 DF-03 Center One-Way Set
53940 DF-03 Hard Turnbuckle Shaft Set
53941 DF-03 Aluminum Turnbuckle Steering Rod
53948 DF-03 Aluminum One-Piece Propeller Cup Joint
53949 DF-03 Lightweight Battery Stopper Pin
53984 Buggy Racing Wing
51000 Hi-Torque Servo Saver (Black)
Calvin Hall, owner and operator of Redneck Hobby graciously donated the kit for this series of articles. If you don't already know, Redneck Hobby is the premier place to race in central NY. They have a fully stocked hobby shop with super low prices and two tracks; one off road and a newly finished carpet oval. Redneck Hobby is the place to be. Its a competitive place to race at with a friendly staff and great racers of all ages you cant go wrong.
So stay tuned to this series, The Tamiya DF03-MS: Can it Compete?