The Crawler King is now available and a winning choice for any driver wanting to move up, out or over! And, since it's all-in-one complete and completely factory built, drivers can get to it as soon as they can charge the included pack! The suspension offers over 6" (15.2 cm) of travel to overcome obstacles, plus extra-long-travel oil shocks and an adjustable suspension to soak up the inevitable bumps in the road. High-grip HB Rover tires, winner of back-to-back world championships, deliver great grab on rocks, roots, steep slopes and more. 4WD power from a torquey, crawler-wound 540 motor goes out through locked front and rear diffs for optimum traction. The control center is a programmable ESC that offers automatic setup, plus reverse for getting out of tight spots. Just like the receiver box and high-torque SF-10W steering servo, it's fully waterproof so you can tackle wet terrain as confidently as dry land and rocks. It's equipped to conquer the new world in retro style, and is available now at better hobby dealers everywhere.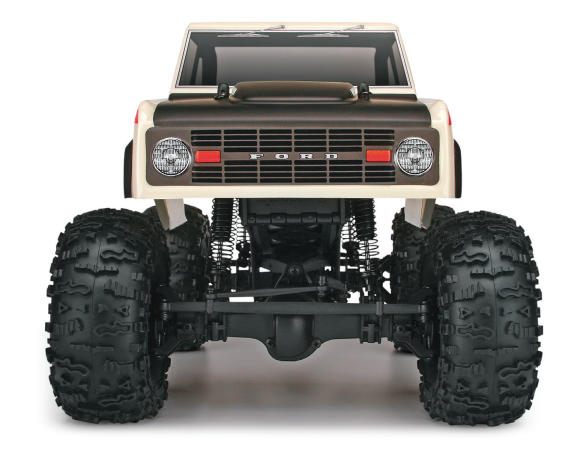 The Crawler King Rock Crawler RTR includes:
Fully assembled and equipped rock crawler
chassis
Trimmed, painted '73 Ford Bronco body
2.4GHz radio system with batteries
Factory-installed 55-turn crawler motor, SC-3SWP ESC, SF-10W waterproof steering servo, receiver & waterproof receiver box.
Mounted HB Rover tires
6-cell, 2000mAh NiMH battery pack
110V AC wall charger
Length: 18.5 in (470 mm) • Width: 11 in (280 mm)
Height: 10.5 in (270 mm) • Wheelbase: 9.4 in (239 mm)
Weight: 4.2 lb (1905 g) • Includes: everything!
Available Late November!
HPID3225 HPI Racing Crawler King 4WD Rock Crawler RTR. $289.99