Tekno RC is happy to announce the signing of Ryan Lutz to the factory driver team.  Over the years we have built up an arsenal of professional level RC vehicles that push the envelope of performance, value, and durability.  Our focus on responding to customer needs and requests is unprecedented.  We created a unique team driver strategy to enhance support for our vehicles in all of the RC hot spots around the world.  Our team drivers are the most courteous and respected drivers at the track.  It's this attitude and culture that has propelled us into the mainstream consciousness of the RC racing community.  Naturally, Ryan's attitude and work ethic are a perfect fit for us.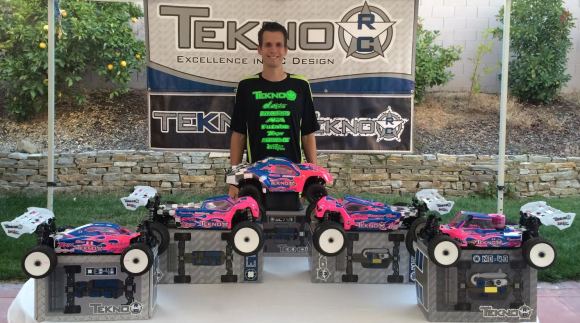 So we are ecstatic to add Ryan to the team.  He's the hardest working driver in RC, the fan favorite, always smiling, incredibly helpful off the track, the world's #1 turn marshal, and of course, one of the most skilled drivers that RC has witnessed.
Ryan will run the full range of Tekno RC vehicles and compete in dozens of events all over the world in the coming years.  He will also assist with development on upcoming projects and vehicles as we expand our reach into this awesome hobby.  Our commitment to bring the best RC vehicles to market is unwavering, and Ryan's addition to our team will solidify our position as a top contender for years to come.
Ryan had this to say:
"It is an absolute honor today to be joining the ranks of Tekno RC. Tekno is a company I have had my eye on for a while. In my opinion they have built their company and brand in a way that it is really impressive. They have assembled a large regional presence of drivers and supporters around the USA and have also made a name for themselves by building super durable cars backed by the best customer service in the R/C world.  Likewise, I pride myself on helping as many people as possible to grow and nurture the R/C community, so I feel this is going to be a perfect partnership.
One of the things I'm really looking forward to is having a robust support system at the races. At larger events, Matt Wolter (team manager) and Daniel Lewis (CEO) will be there to support the race effort.  This will provide me with some knowledgeable eyes around the track and some steady, consistent faces in the pit lane.  Matt will also be traveling to most of the regional races as well and when you add the incredible support of the rest of the team, there will always be plenty of help to make the most of every race.
So I want to thank Tekno RC for this opportunity to represent and run for them. I welcome anyone considering a Tekno vehicle to contact me through social media or internet forums.  I fully plan to put my skills to use and prove that Tekno RC belongs at the top. All in all I am stoked to be joining Tekno and I just know 2015 is going to be a break-out year for me!
-Ryan Lutz"