Well, the 2012 Meltdown is in the books. The event is CRC's annual indoor carpet offroad trophy race. The classes consisted of Stadium Truck, 2wd Buggy, 4wd Short Course, and 3 classes of 2wd Short Course (divided by skill level, Sportsman (novice), Pro-Lite, and Pro2). Trophies were awarded to the Top 3 in the A Mains, and Winners of the lower mains. CRC events are always broadcast on LiveRC.com so anytime they are racing, feel free to log on and check out the action!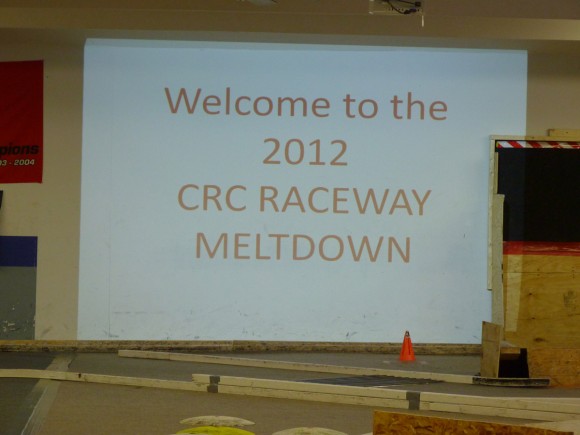 Doors opened at 8:00 AM. Having been to the track on several occasions I knew pit space might be tight. Last year they had 99 entries. I left early and made it there to claim my front row pit spot by 8:30 or so. They ended up with 83 entries this year. Down a little from last year, but still not bad at all. It was one of the first really warm days of the upcoming spring season, so it makes sense that people may have stayed away due to the weather. Their loss I guess. I wasn't going to miss this awesome race, there will be plenty of warm days down the road, and this race is only once a year!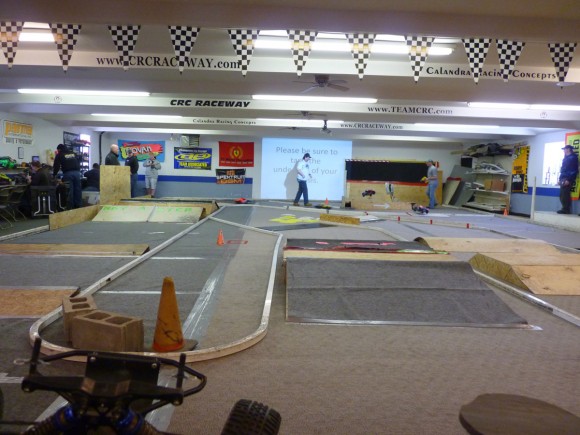 The above is a portion of the track, shot from my pit area. You can see the highlight of the track in the far back corner. That's a wall ride, that immediately jumps another lane coming off of it. An Over-Under if you will. Very cool! They had some tight turns, a few doubles, a tabletop and more. Rather than me trying to describe it, why not check out the clip below where we follow Team Soup driver Jarodd Goedel around the track for a few laps during a heat.
[youtube]http://www.youtube.com/watch?v=RcHolEksQJE[/youtube]
Now that we've got the track layout covered, we can cover more of the event itself. The Meltdown is in it's 3rd year. This year they had a few sponsors and they gave away some cool door prizes! Their sponsors were Losi, Spektrum, Canalside Racing Products and Tony's Pizza (Black River in Rome). They handed out gift certificates for the most part, Free Small Pizzas, 50% off any Losi product, 50% off any Spektrum product, some Kalgard products from Canalside, etc. If you were racing, you were entered. They randomly drew entry forms throughout the day to pick a winner.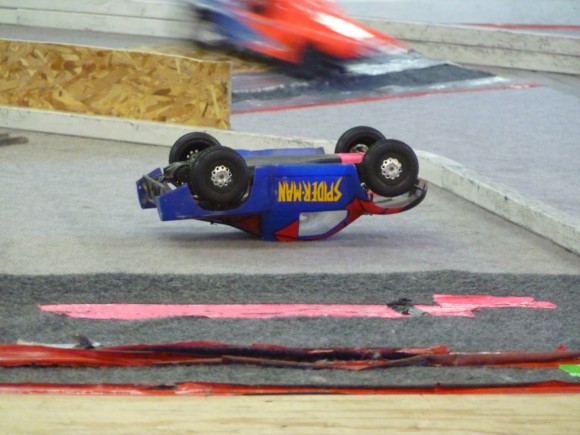 CRC ran 3 qualifying rounds, followed by the mains for the event. It was a long day. I wound up being there for close to 12 hours, but it was a great time. Well worth it. Love hanging around these guys up here, great crew.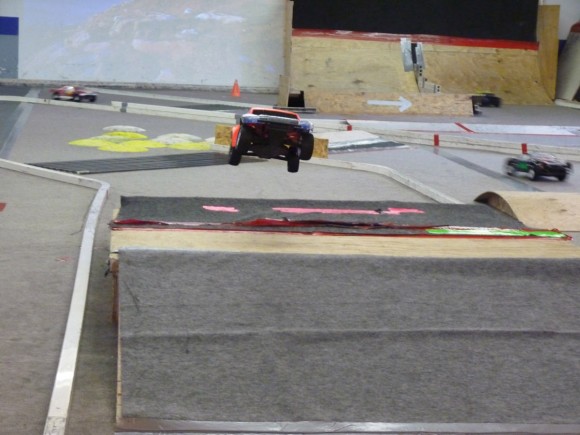 I ran in the Pro-Lite class, mainly because I only have a 17.5 motor, and Pro2 is running 13.5. I also don't consider myself to be a top shelf driver, so I kept myself back in the intermediate level class. My truck felt pretty good on the track, so I didn't change anything between any of the rounds of qualifying. Mainly just tried to drive better. I had some bad laps in my first 2 heats, and at that point was seated for the B main. In the 3rd qualifier I was finally able to hold a clean line and get out of traffic. I won the 3rd heat and seated myself 5th in the A main of Pro-Lite.
In the main I finished where I started, 5th. Not bad, not great.. overall I was happy just to be there and have fun racing. Anyone who knows me knows I don't get too caught up on results. If you are interested in results, you can view the final results of the entire event on this PDF.
I have almost no photos from this race because my camera is terrible at action shots, so I apologize, and hopefully the video above is enough to give you an idea of the track layout. It was a fun, tight, technical course. I enjoyed the Over-Under jump/wall ride a lot.
CRC Raceway is a good time whether it's a trophy race or not though, so if you're in the area, check out their operation/track! Team Soup will be there running occasionally through the spring, and will be at most of the outdoor races over the summer (Sunday series).
Looking forward to next year's Meltdown! For more info on CRC, check out their website and be sure to like them on Facebook.