Atomik RC is proud to announce its partnership with Brian Deegan and the Metal Mulisha. Over the past year, Brian and the Atomik designers have been developing an exclusive line of Radio Control models that are set to release throughout the summer of 2012. The product line will follow Brian's career progression from an icon of the freestyle motocross movement, to dominating short course and rally car racing.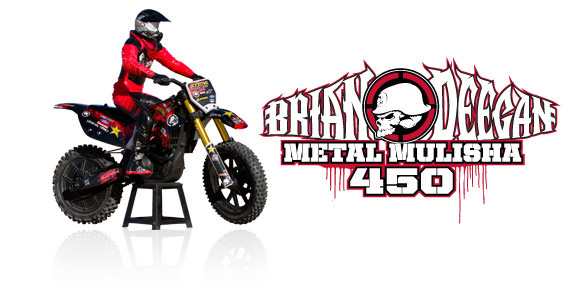 "We are excited to be in the position to bring these cutting-edge vehicles to market in connection with such an icon of off-road motorsports. Brian Deegan and the entire Metal Mulisha team have been very supportive during the entire process and we vow to follow wherever "The General's" career moves next," says Clint Bower, President of Atomik RC.
The flagship of the line is a 1/4-scale radio controlled off-road motorcycle that boasts an electronic gyro stabilization system, providing gravity defying stability and ease-of-use. The bike was debuted last weekend at the Road to Recovery Charity Supercross Golf Tournament and the surrounding events in Las Vegas with overwhelming success.
The Brian Deegan Metal Mulisha 450 RC Dirtbike gives you the ability to feel the excitement and adrenaline usually reserved for those lucky enough to ride at the professional level. The bike features the tune-ability of full scale motorcycles, from adjustable aluminum oil filled shocks, true metal chain drive, readily available hop- up parts and a meticulously recreated scale graphic scheme of the actual Metal Mulisha team bikes. "We feel the attitude, energy and passion that Brian Deegan brings to the table is a perfect fit for Atomik. Brian's career started at a grass-roots level much like our company and like Metal Mulisha, we pride ourselves in staying true to our roots," says Keith Wallace, Atomik RC's Director of Sales & Marketing.
Metal Mulisha founder and co-owner Brian Deegan quoted "I'm excited to do a deal with Atomik RC, as they have the best, high-end RC platforms on the market. They push the envelope, which goes right along with the Metal Mulisha brand!"