Checkout this release from Duratrax. This is a buggy that's sure to get some attention.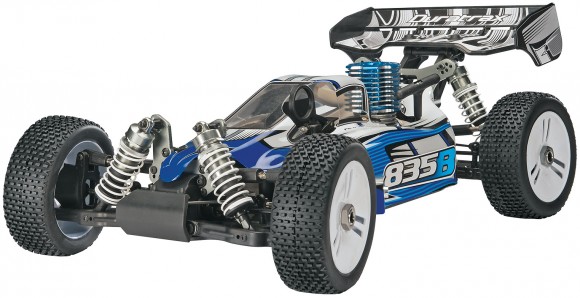 There are a lot of tough buggies, but only one that's guaranteed tough — and that's the new 1/8 scale Duratrax 835B. It's loaded with Stress-Tech™ parts, and every one of them is protected by a 1-year replacement guarantee. If any Stress-Tech part fails during the first year, DuraTrax replaces it free. Other reasons for the 835's durability include grey-anodized aluminum parts and hardened steel parts in the drivetrain. Driving the 835B is a SuperTigre® G-27CX .27 engine,  a power plant known for dependability and power, it's protected by a 3-year limited warranty. The G-27CX .27 demands matching control and Duratrax provides it with a 2.4GHz FTR  (Futaba Transmitter-Ready) system. It's several steps above the usual ready-to-run radio, because it includes digital, metal-geared steering servo, 5-cell receiver pack and a wall charger. And since it's an FTR system, it's  compatible with all Futaba® 2.4GHz FHSS systems. While it's great for sport driving alone, the 835B's power and radio system also make it a solid contender in venues all the way up to regional contests. Droop screws, hex head hardware and more offer track-tuning flexibility for the up-and-coming competitor all in one value-packed package.
Duratrax 2-channel FTR 2.4GHz radio system with digital steering servo, 5-cell, 1300mAh receiver pack and 110V wall charger
SuperTigre G-27CX .27 engine, with recoil starter, polished tuned pipe, glow plug and 3-year limited warranty.
Countersunk, hard-anodized 3.25mm aluminum chassis
Grey-anodized aluminum parts include threaded Big Bore shocks, drag link plate, front and rear shock towers and front hinge pin plate
Hardened steel driveshaft and gears
3.5 mm shock shafts
4 mm shock towers
4.5 mm tie-rod turnbuckles
5 mm camber turnbuckles
Droop screws front and rear
Installed front and rear sway bars
Hex head hardware throughout
Fuel tank with a race-inspired "ring-pull" lid
A high-downforce wing
Mounted racing tires with foam inserts and 17 mm hex hubs
Body in four sizzling trim schemes
Specifications:
Length: 19.9 in (505 mm)
Width: 11.9 in (302 mm)
Height: 7.5 in (190 mm)
Wheelbase: 12.8 in (325 mm)
Weight: 7.9 lb (3565 g)
The 835B will be available early July.