On April 14, 2013, David Stevens of RC Formula1 will attempt to break the current Guinness World Records® record for the 'Greatest distance by a Radio Controlled (RC) model car on one set of batteries'. The current record of 23.726 km was set in 2009 in France and was achieved at a very slow speed over more than 24 hours. That's an average speed of approximately .6 MPH. Yes POINT 6! That's pretty slow.
Mr Stevens will attempt to break this record in under one hour! It will certainly prove exciting to watch. This will all go down at TFTR RC race track, in Templestowe, Victoria 3106, Australia. You can check out the track at their website.
You guys know us, we're always interested in things you don't see everyday. When I first caught word of this, I had to reach out to David for an interview. He was happy to entertain some questions about his upcoming attempt.
What is your equipment setup; i.e. what car are you using, tires, body, electronics, motor, battery, etc. Any special modifications?
Mr Stevens: We are using a Tamiya F104 v2, Ride R1 premount tyres, LRP Flow brushless ESC, LRP brushless motor, Savox SC-1251MG low profile servo, and a MaxAmps 10,900 mah 2S lipo. We are still testing different turns of motors currently to find the optimum for the attempt. Some spacers were required under the top deck to allow the battery to fit, otherwise the car is stock.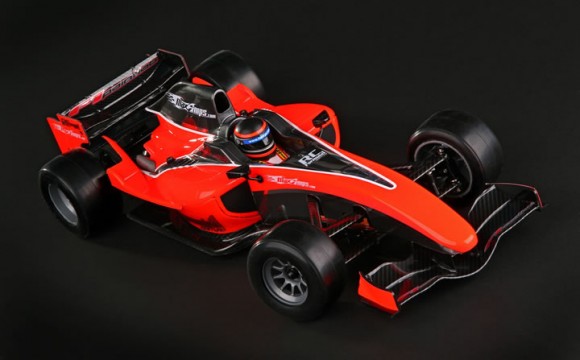 How would you compare the pinion/spur combo to what you would normally race with on this track? Slower to conserve power? About the same as a normal race setup?
Mr Stevens: Once we determine the optimum motor wind we will conduct further testing on the Final Drive Ratio to use. Normally we use the full track to race but for the world record attempt we will use the outside oval of the track only. This will allow less throttle variation which will minimize heat in the motor and maximize power to the ground.
What made you want to attempt to break the world record?
Mr Stevens: The mission of RC Formula1 is to promote RC F1 racing. F1 is enjoying a resurgence and series like UF1 in the US, Super GP1 in China, the F1 Italian Series, F1 RC GP in Japan, F1 RC in the Philippines, Australia's RC Formula1 and of course Tamiya's TCS are all doing great work to bring F1 racing to the fore and it's looking very positive for F1 racing.
We felt that attempting to break an existing RC world record with an F1 car would further raise the profile of F1 racing and hopefully bring the hobby to the attention of potential new racers who don't currently know that RC car racing exists. Anyone interested can find lots of F1 news, reviews, articles and tips at www.rcformula1.com.au.
Is this your first attempt at a world record? (of any kind)
Mr Stevens: Yes it is.
The existing world record was set over a 24 hour period, why go for it in under an hour?
Mr Stevens: In a word – Logistics. Guinness World Records have very stringent requirements. The attempt must be videoed and there must be a number of independent witnesses present throughout the attempt to record their observations and ensure the rules of the attempt are complied with. Organizing a 24 hour event requires a great deal more management than one which is over in a little over an hour. It is also more exciting for spectators and easier to gain support for.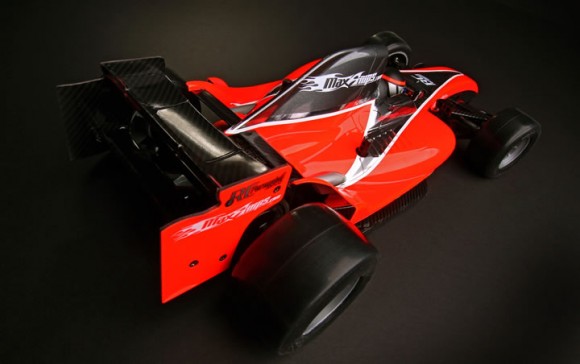 How will the distance the car travels be measured?
Mr Stevens: A qualified surveyor measures the inside line of the track – the absolute minimum that the car could travel if it was always brushing the kerbs. The number of laps will then be recorded by computer using Alycat software and a transponder in the car. Independent witnesses will keep a manual tally of laps and the attempt will also be videoed. Multiply the number of completed laps by the track distance and hey presto. An incomplete lap will not count.

What is your strategy to beat the record?
Mr Stevens: Testing and more testing. On the day I will only have to drive the oval without crashing and with the smallest throttle inputs necessary to stay as close to the kerbs as practical. Providing nothing breaks I will hopefully already have beaten the record during practice so I will know exactly what to expect.
Who are your sponsors?
Mr Stevens: MaxAmps.com batteries loved the idea of a world record attempt and were very enthusiastic and supportive. This was fantastic as when we were researching battery manufacturers MaxAmps had the largest capacity 2S lipos commercially available that we found. MaxAmps make each battery to order using fresh cells and you can even choose the battery wrap from their online store. The world record attempt battery is wrapped in the same colours as RC Formula1's logo.
Metro Hobbies, our local hobby store, have also been brilliant and provided the car. They ship worldwide from their online store metrohobbies.com.au so if you need anything RC related check them out.
LRP provide the ESC and brushless motor. LRP have been around for a long time. The first LRP ESC I used was the TC Sphere which was a brilliant ESC and ultra reliable. Reliability is key in a world record attempt and we asked LRP to provide the electronics for that reason. We are very pleased to have them on board.
F1 Paintlab designed and painted the fantastic body you see in the photos. Brad from F1 Paintlab runs a great paint shop for RC bodies.
Finally, what is your favorite Soup?
Mr Stevens: Tomato soup. I like to dip my bread in it 🙂
Thanks for your interest in our world record attempt. We'll let you know how it goes.
From all of us here at RC Soup I wish you the best of luck!