Speed Monkey R/C hosted the AKA Mid-America Championship on May 24-26 in Dallas, Texas. With a cap of 200 entries, the race quickly filled up to max capacity with the appeal of a $50 entry including a set of AKA control tires (Soft Impacts for buggy/truggy and Soft Enduro 2 for SC).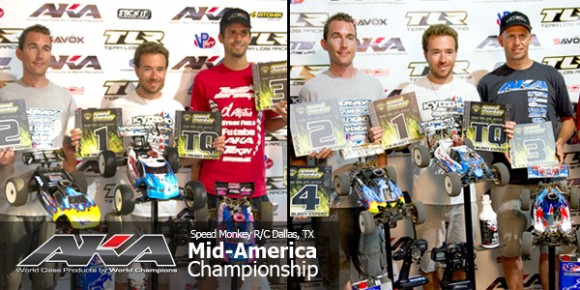 AKA team drivers dominated the field of racers. Jared Tebo led the team with a pair of TQ's in Pro Buggy and Pro Truggy followed by easily winning both mains by 2 laps on the field.  Josh Wheeler was able to give teammate Tebo some pressure throughout the race and earn himself a pair of 2nd place finishes.  Mark Pavidis rounded out the podium in Pro Buggy, and Ryan Lutz would go on to finish 3rd in Pro Truggy.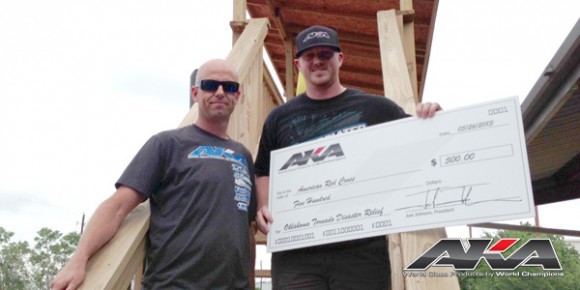 With the race falling just days after nearby Oklahoma was hit with disastrous tornadoes, AKA team driver and Oklahoma resident, Tyler Keel made the trek to not only race, but help raise money and donations to the American Red Cross to help with disaster relief. AKA was proud to make a donation of $500 to the American Red Cross in Tyler's honor and presented him with a check at the race.  If you would like to make a donation to help with disaster relief please visit the American Red Cross Disaster Relief Donation Page.
AKA would like to thank all of the sponsors that helped to make this race happen: TLR, VP Racing Fuels, Racers Edge, Savox, Venom, Atomik, FTW, A-Main Hobbies/Protek, Stickit1racing.com, and OS Engines.