Team Durango posted this in their blog this morning
Since its introduction as Team Durango's first purpose designed 1/8 electric racing Buggy, the DEX408 platform has found success in the hands of a wide variety of drivers, on a diverse range of track surfaces, all over the globe. In the hands of Team Durango Pro team racer Ryan Lutz to grassroots club racers, the precision engineering and high-impact durability of the DEX408 continues to prove it is a race winning machine.
The kit page is now live!   http://www.team-durango.com/race-cars/dex408v2/
The DEX408v2 is set to build on the success of the DEX408 platform by providing all the Team Durango design elements that 1/8 electric Buggy racers have come to love, with the addition of extra tuning options, including new rear-end geometry and the option to use bladder or emulsion based shock absorbers, plus much more.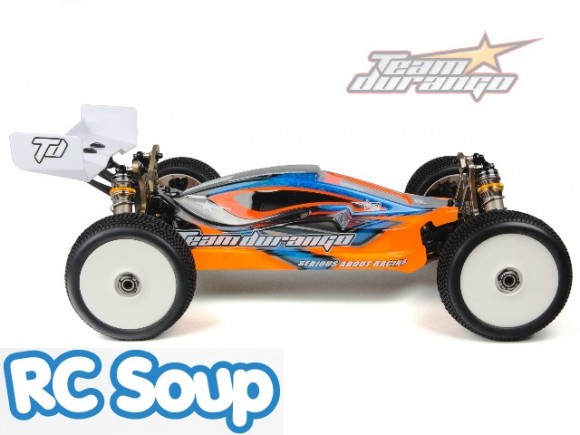 The DEX408v2 offers the 1/8 electric Buggy racer with the next evolution in Team Durango racing design.
Stay tuned for more images and specifications later this week.
Stay close to the DEX408v2 news by hitting the 'Like' button over at our official Facebook page. Click here now: https://www.facebook.com/OfficialTeamDurango
Watch Ryan Lutz in action with the first DEX408 Buggy to see how it all began here: http://www.youtube.com/watch?v=y_6uvO2T954
Checkout RC Soup's Build and Review of the original DEX408