We picked up the Arrma Raider BLX a few weeks back. The Arrma brand has been around a few years, but they've really stepped up their game as of late. Within the last few months, Arrma has released brushless versions of most of their cars. The original brushed version of this car is still available as well. The Raider buggy is a sand rail style car. It is right at home on the sand dunes, and on looser dirt or grass.
It features the Arrma typical dual vertical metal chassis rails. It comes RTR with a 2.4 ghz radio, waterproof ESC, 3600 kv 4 pole motor, and a 6 cell NiMH battery. It also includes a trickle wall charger.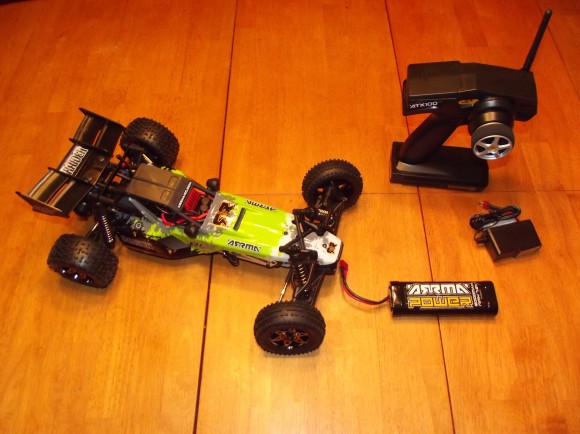 Checkout our unboxing video here, and some running video below.
[youtube]http://youtu.be/kdh8E_5HRDI[/youtube]
Here are some of my observations about the Raider BLX.
Power
On sand, arguably the loosest material you could possibly drive on, I thoroughly enjoyed throwing 20′ roosts out of the rear tires. This car definitely gets up and goes. As far as factory gearing is concerned, after running a full pack through, the ESC averaged around 85°. The motor averaged 110°. This with a lot of running back and forth across the dunes at full throttle. This indicates the stock gearing is on the conservative side, which can be expected for a RTR. On surfaces with more grip, like grass or loose dirt, you need to feather the car from a start or it'll flip over backwards. This all on only 2S. The ESC is rated to handle 3S power, which will reportedly take you past the 60 mph mark.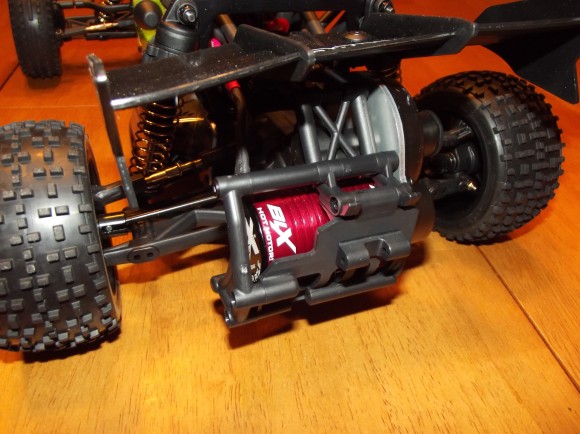 Tires
The DBoots tires worked extremely well in the sand. So well in fact that this car would wheelie on command on the sand dunes. They worked very well in short grass as well. They are not great on the street though. Don't get me wrong they'll grip the street enough to flip you over backwards, but they wear extremely fast on asphalt. If you're planning on driving on the street, think about a harder compound rear tire.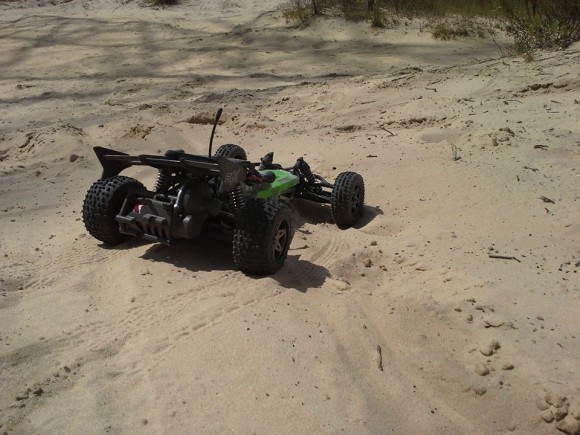 Electronics
Arrma claims the ESC is waterproof, and the receiver is mounted in a splash proof box. I drove through quite a few puddles, as well as wet grass, and the ESC never skipped a beat. I also never had any radio issues in the wet. The included ATX100 2.4 Ghz radio offers plenty of range. In my range tests, I was able to control the car over 1000′ away. As you get that far away, you can hardly see the car. Suffice to say there is more than enough usable range on this radio system. It is three channels, and has all the usual adjustments for trims, dual rates, and servo reversing. The included 5000 mah NiMH battery offers decent runtime, and a good amount of punch. But this car most certainly benefits from using a Lipo battery. I tested with a 2S Trakpower Lipo. The instant I swapped it in, the car seemed to go through a transformation. I think it's a combination of the lighter weight and the higher amperage output from Lipo that makes it such a big jump in performance.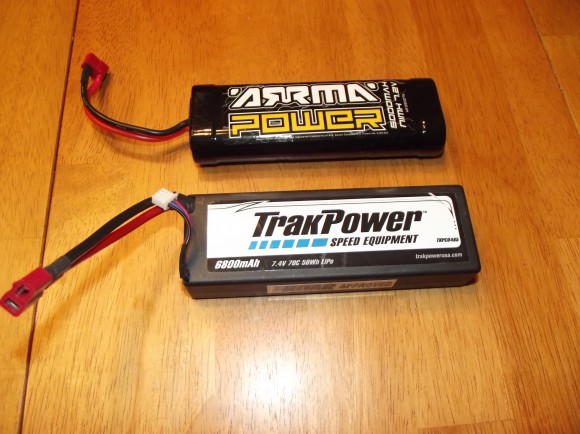 Durability and Build Quality
The fit and finish is top notch. This is definitely a high quality build. The plastics are not brittle, but at the same time not overly pliable. There is just enough flex there to prevent breakage in crashes, but not so soft as to effect performance. It uses hex hardware throughout. We did run into a couple of durability issues during our testing, which are detailed in the scores below.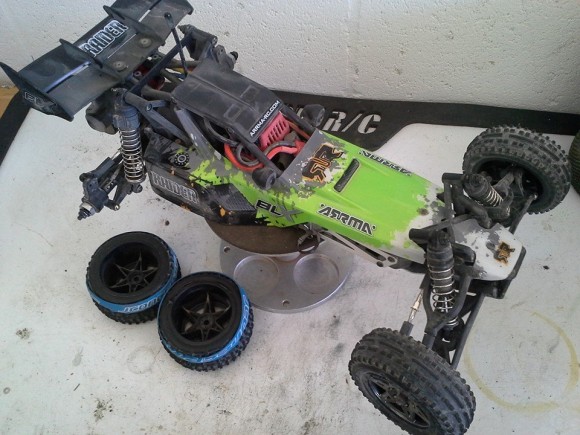 Now for the scores.
| | |
| --- | --- |
| Value | At the time of this writing, this buggy is $350. That is a great price for all the goodies you get. In this package, you've got tons of speed, and a great radio. It also comes with a battery. With everything that's included and the features this buggy brings to the table, it's a hard value to beat. |
| Build Quality | The fit and finish on this car is really good. The vertical metal frame rails provide a very stout foundation. There is no excessive slop anywhere. |
| Performance | With the included 4 pole, 3600 kv motor, I could make this car wheelie on command. It has gobs of power. In this area you will not be disappointed. The steering servo, however, is a bit on the slow side. It doesn't hurt you though unless you take this car to a track. But in the basher environment this car was designed for, it's fine. |
| Durability | On my initial runs of this car, I ran into two problems. The first was the rear tires were not glued very well from the factory. A few dabs of CA took care of that. The second was that the grub screw on the pinion loosened. I threw on a quick dab of loctite and tightened the screw. I also ran into an issue with the steering servo. After about 10 battery packs through the car, I stripped the gear on the main output shaft of the servo. The servo horn itself was fine, but a replacement servo was needed to keep driving the car. |
| Would I buy again? | There is no question, I would totally buy this car again. The fun factor on this one is off the charts. It is a ton of fun to take to the sand dunes and blast rooster tails. |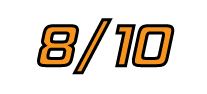 Overall I give the Arrma Raider BLX a 8 out of 10. Its a great car for both the expert driver as well as the ones that have only had a couple of RC's before. Aside from the servo issue, this car has been rock solid. And I've put it through its paces. It has been cartwheeled more times than I can count. The worst crash involved a rather large sand hill, and 20 ft of travel in the air, winding up on its roof. I just flipped it over, and kept right on driving. The main thing I noticed when I drove this car was how much fun it was.
Here's some running video of the Arrma Raider BLX. This thing is a total blast to drive!
[youtube]http://youtu.be/abIAU_DXNKs[/youtube]