On December 15, 2013, Newred Hobbies, in Ocala Florida, hosted the King of Florida Top Truck Challenge. This event would use 6 events to crown a new King of Florida. They had trophies for the top 3 finishers, but the bragging rights are much more coveted. The day started with a slight drizzle as we had a quick driver's meeting to go over the rules. This was my first time at an event like this, so I paid close attention to the rules.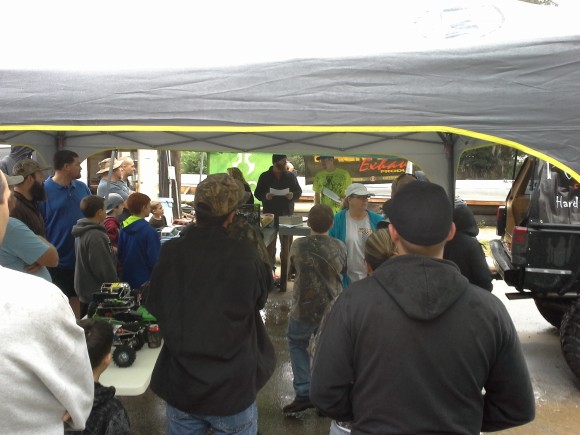 Quite a few sponsors sent some items in to be given away at random to the entrants, as well as an SCX10 Honcho kit to the eventual winner.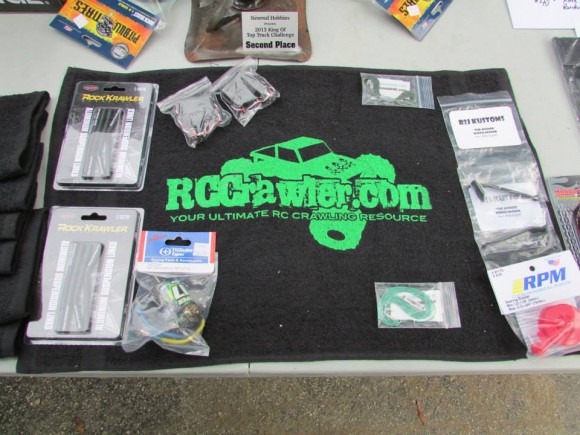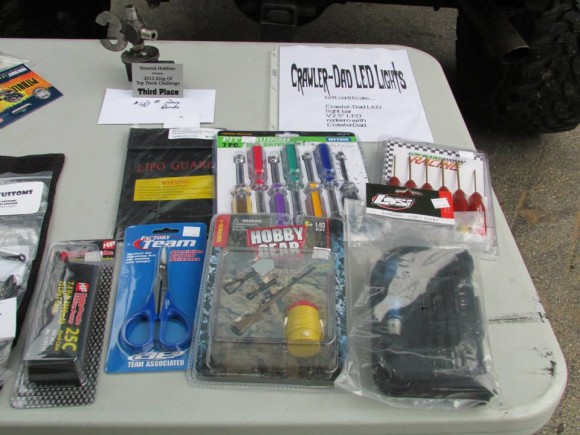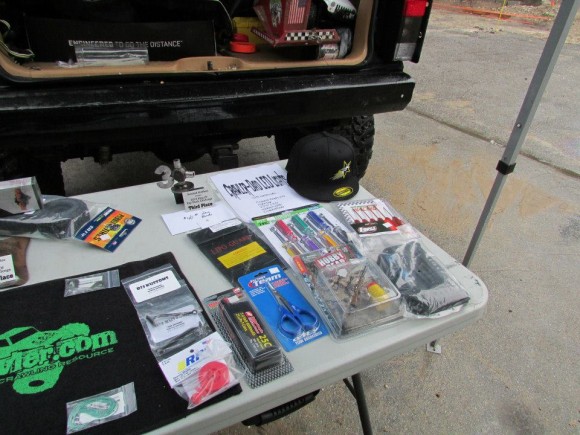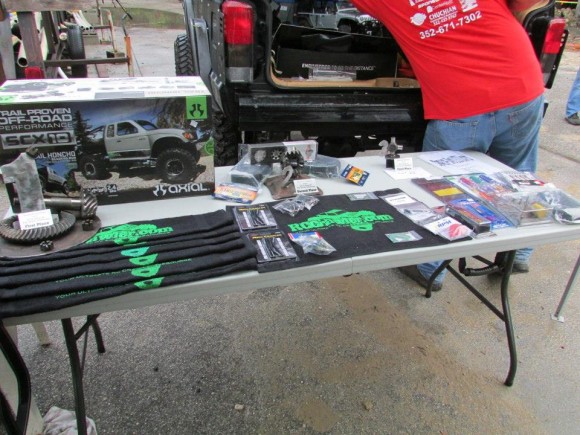 Kha Ly brought his Poison Spyder Customs full size Jeep out for us to see, as well as a 1/10 scale version. This one didn't see any use. Kha instead decided to try his luck with a different truck. More on that later.
Scalerfab.com was onsite showing off their custom scale gear. They make bumpers, rock sliders, and a host of other scale items. Look them up on their website for more info.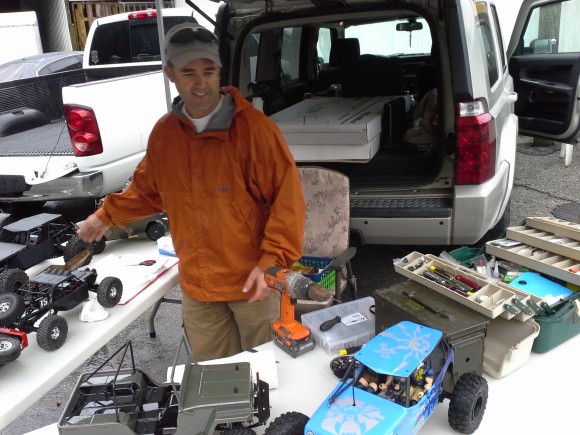 I ran my new RTR Axial Poison Spyder Wraith in this competition. I did make a few slight modifications first. I knew I would need a winch, so I swapped out the stock receiver for a Futaba, and binded the Wraith to my 4PL. I used ch 3 to control an RC4WD winch. The stock Wraith bumper doesn't really have a good way to mount a winch, so I hooked up with Scalerfab for one of their custom Wraith front bumpers.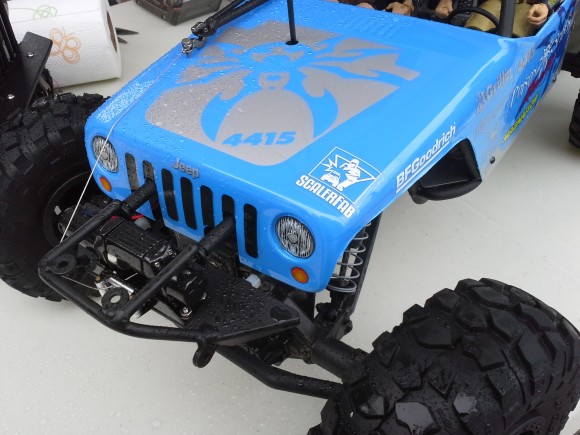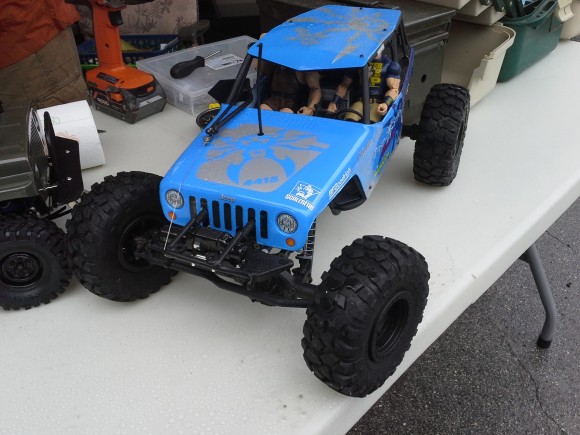 Kidd Kaos has been contributing to RC Soup for the past few weeks, and this was my first opportunity to meet him in person. He also had Scalerfab make him a custom bumper for his SCX10.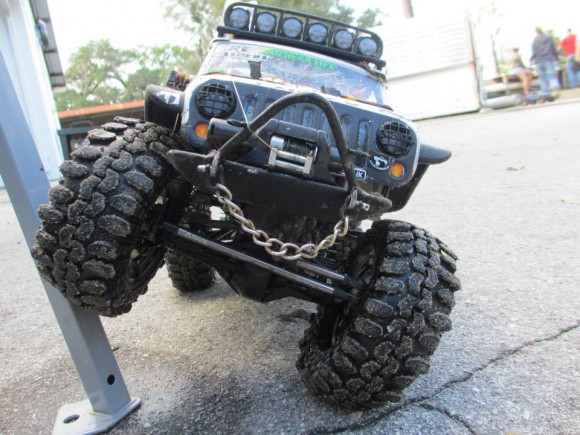 Troy from Scalerfab brought along his new GMade Sawback. He's been creating a lot of custom pieces for this new Gmade Scaler. Here is a front bumper with a built in grill.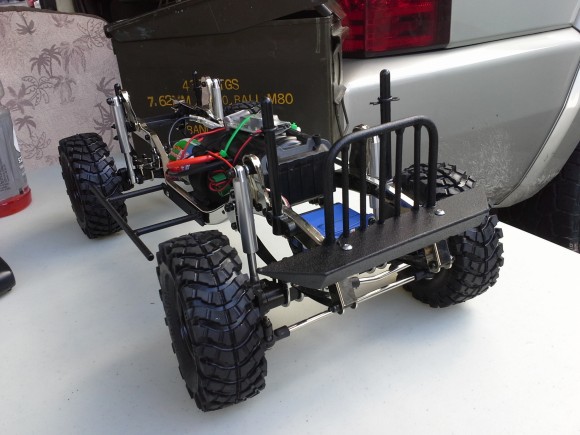 Custom designed and fabricated rock sliders.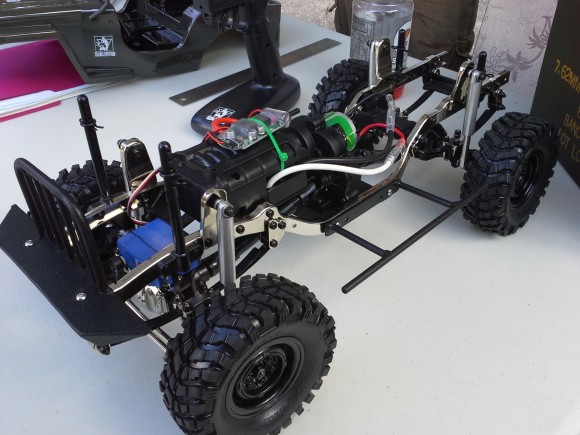 Here's the body on with the custom rollbar.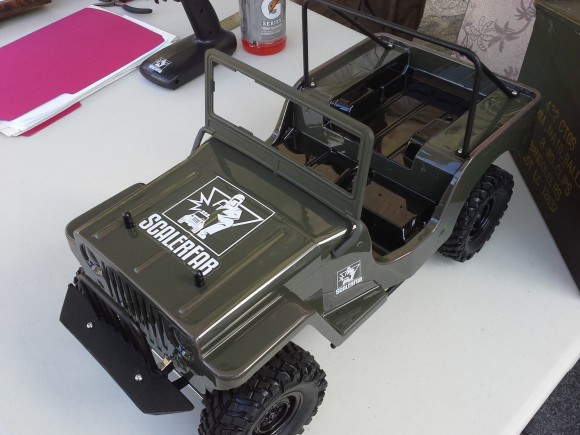 On to the events. There were 6 in total. The Tank Trap, Frame Twister, and Rubicon trail were run in the morning. The Hill Climb, Sled Pull, and Mud Bog were run in the afternoon.
All entrants were broken into two groups. My group ran the Tank Trap first, while the other group tackled the Frame Twister first.
Tank Trap
The Tank Trap was a trench carved into the ground, with mounds of rock and dirt within the trench to climb over.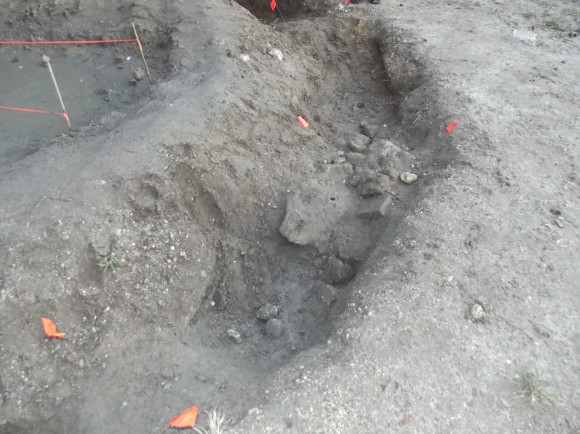 When we first arrived, it was raining slightly. This made for an interesting challenge in the Tank Trap, as the bottom of the ditch was a mud puddle.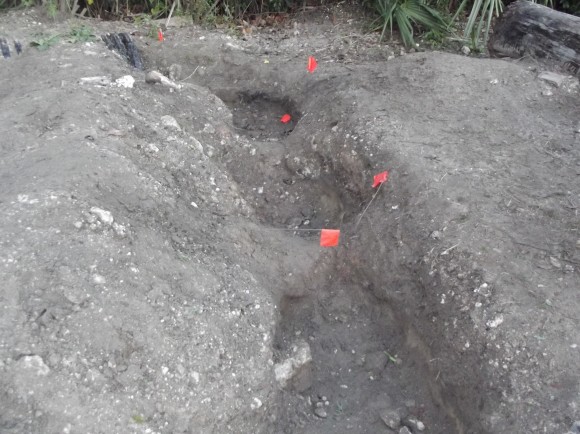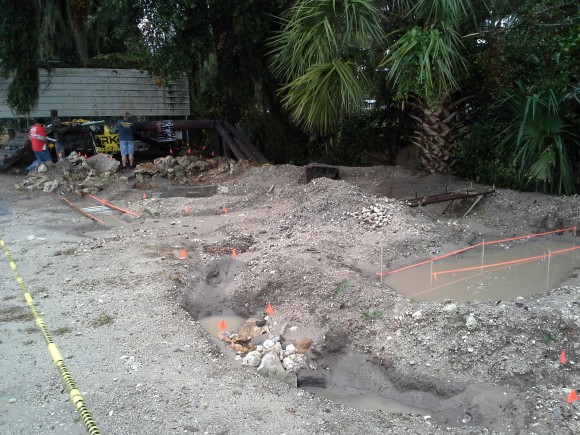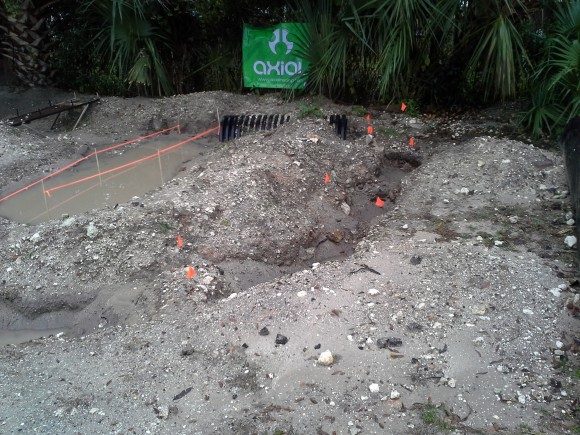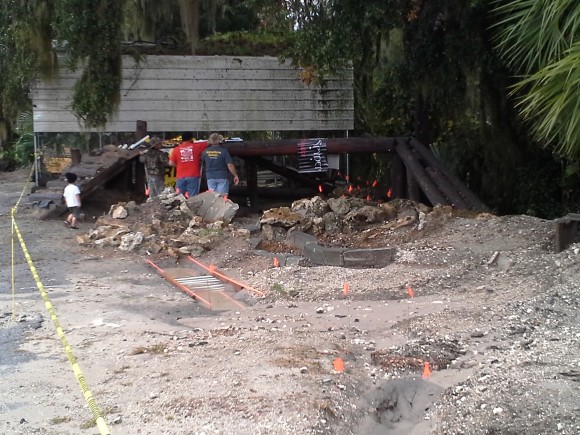 The course was marked with orange flags.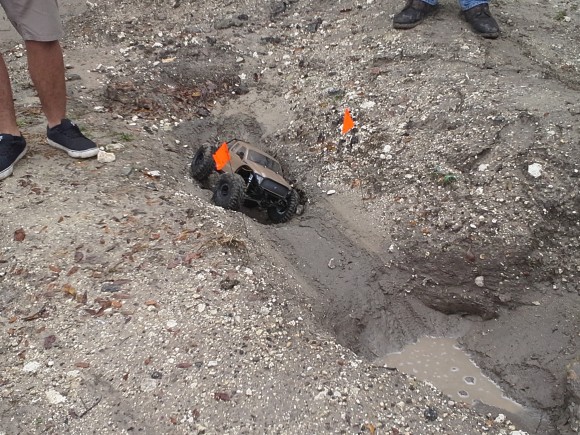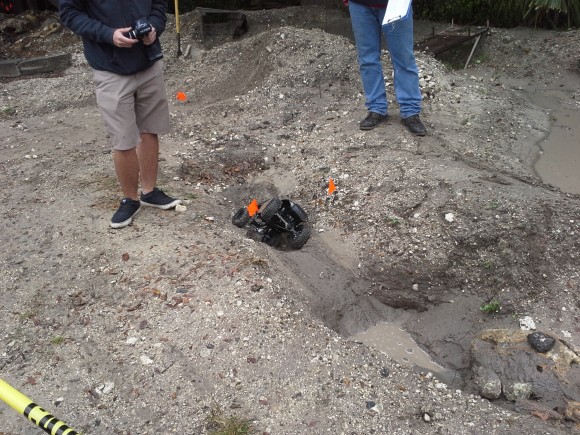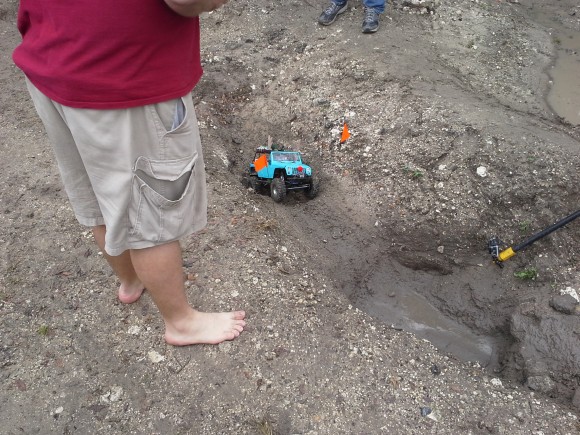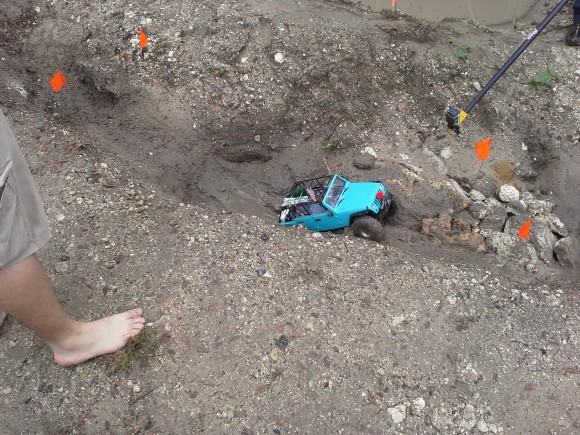 Here are a few pictures of my run through the Tank Trap.

I got into a little trouble in the Tank Trap, and got flipped on my lid. This was my first opportunity to use the new RC4WD Winch. Other than a lack of experience, I did fairly well with it. I was able to get myself flipped right-side up again, and complete the Tank Trap.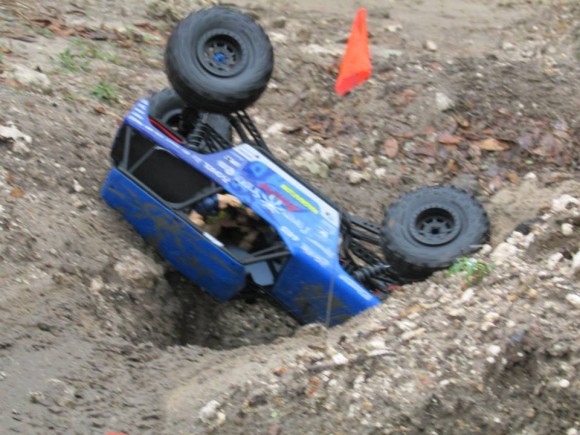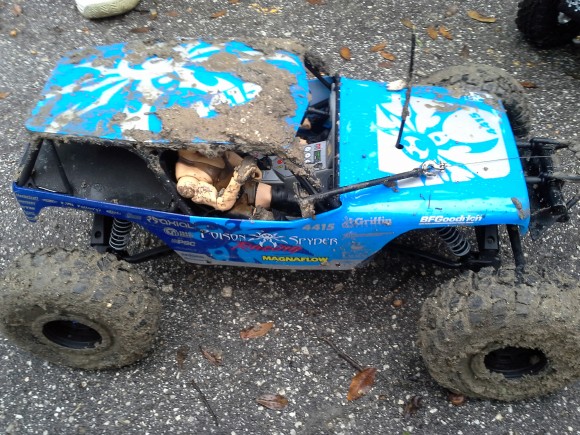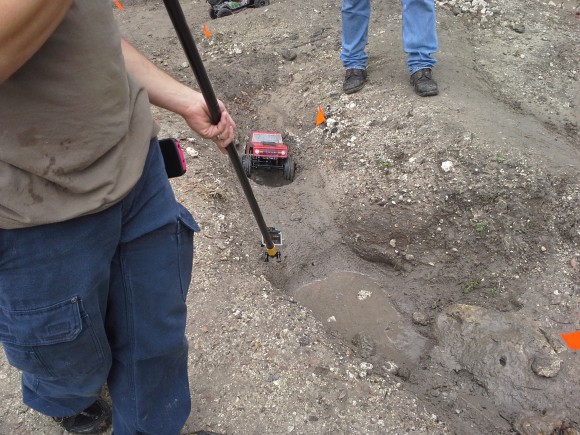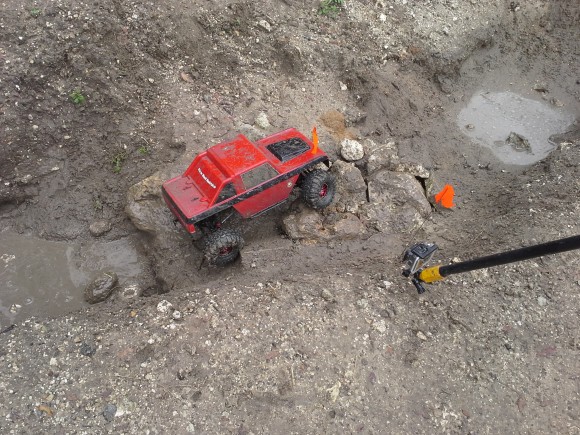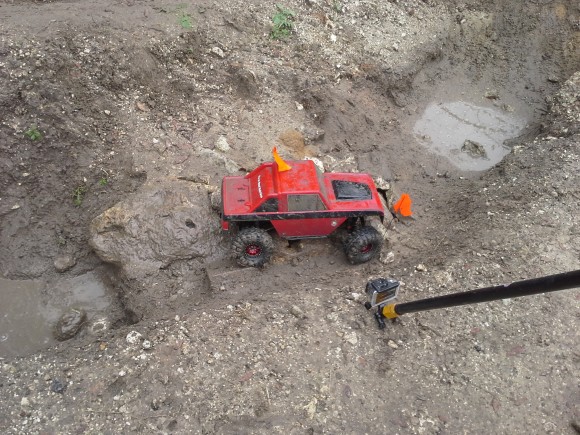 Here's a quick video of the Tank Trap to give you an idea of what it was like.
[youtube]http://youtu.be/ZCCnKWwjLgs[/youtube]
Frame Twister
Next up for my group was the Frame Twister. This consisted of a V shaped concrete structure followed by a very sharp 180° turn. You then had to traverse some very sharp rocks, followed by a run through a water filled ditch with PVC tubes to hop over.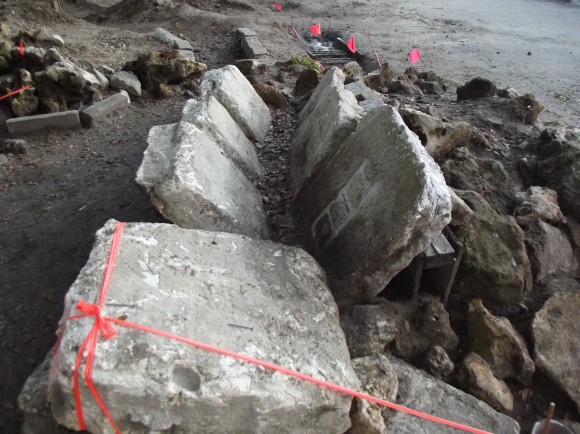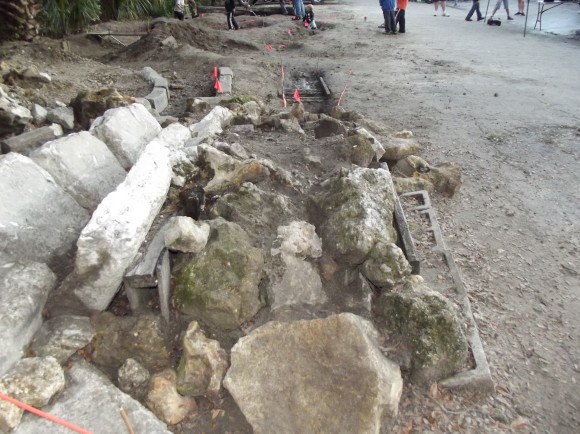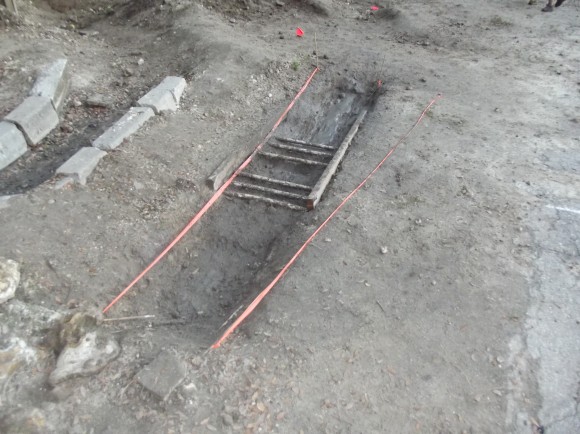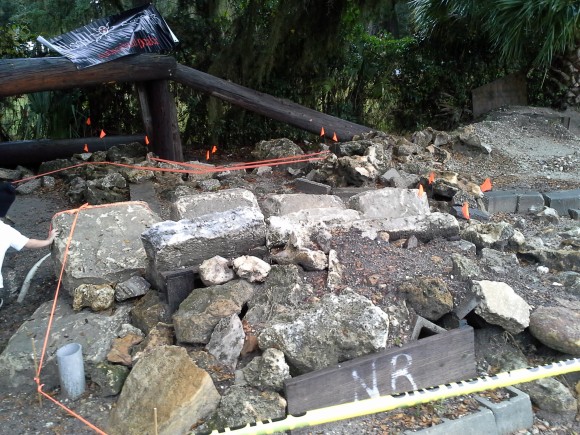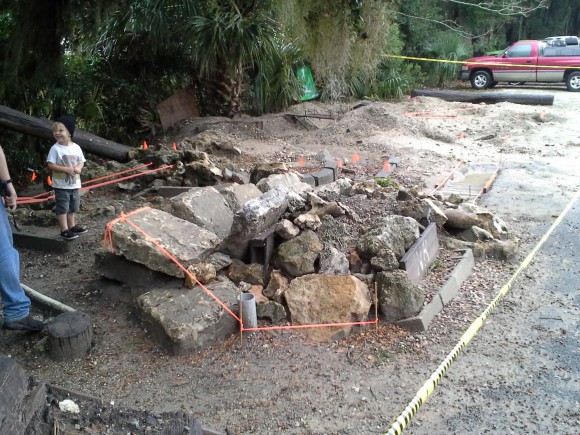 This was a Vaterra Twin Hammers traversing the Frame Twister. His body is made out of actual Mountain Dew cans that he cut up to fit. Not only does it look cool, it crinkles when he hits the body on the rocks.
Kha Ly threw down a couple of challenges in the Frame Twister. The first one was if someone could get through the Frame Twister without the use of their winch, they would win a T Shirt. The second challenge was tackled by Kidd Kaos. Kha's challenge was to get through the first half of the Frame Twister going backwards. It took some doing, but Kidd made it through.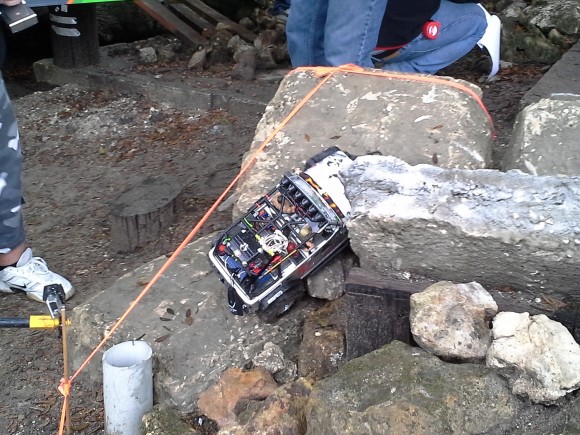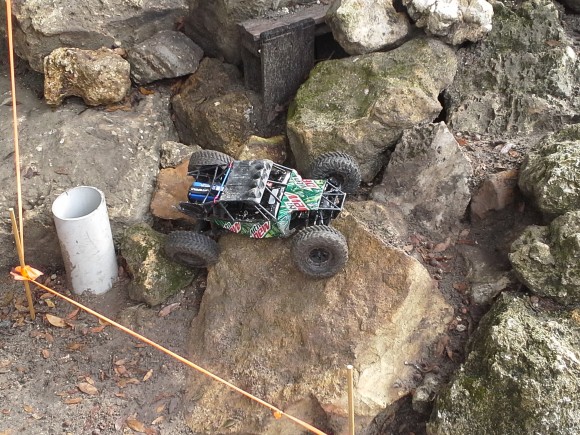 Kha Ly broke out a new GMade Sawback and tried his hand at the Frame Twister.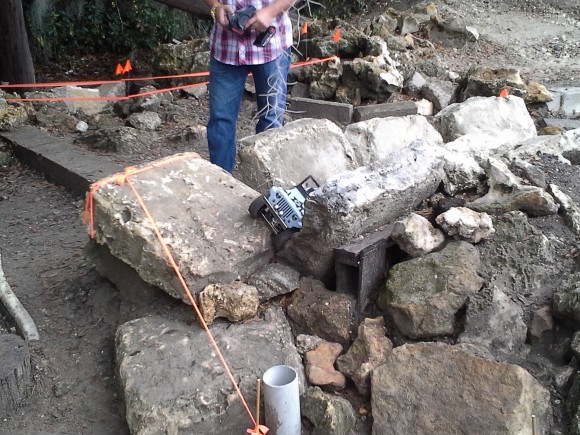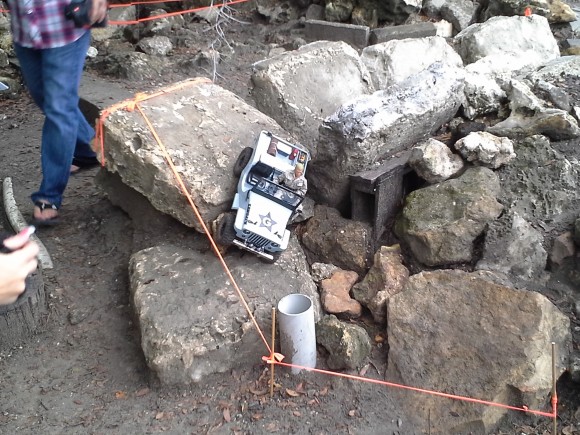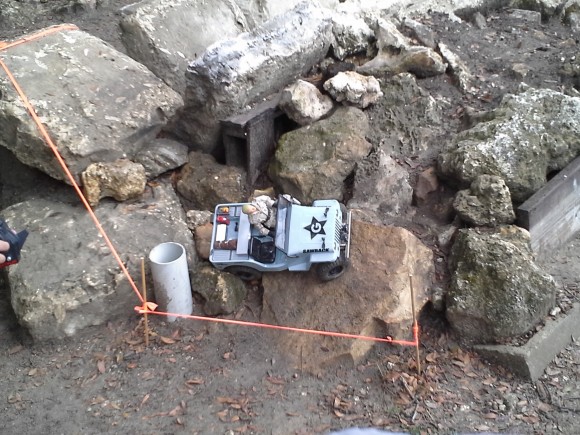 He didn't quite make it, but it sure was fun to watch.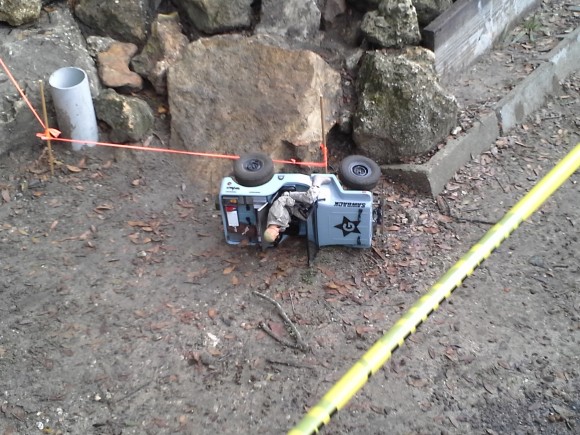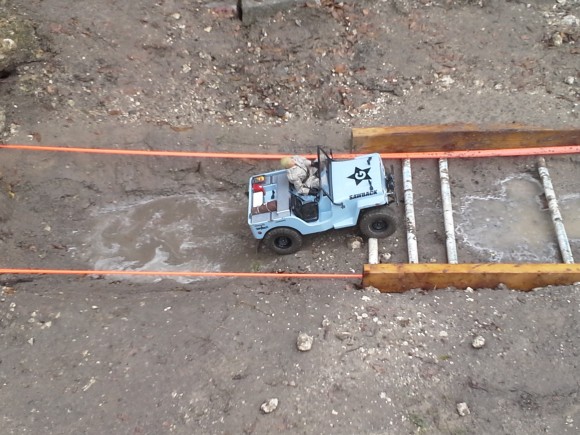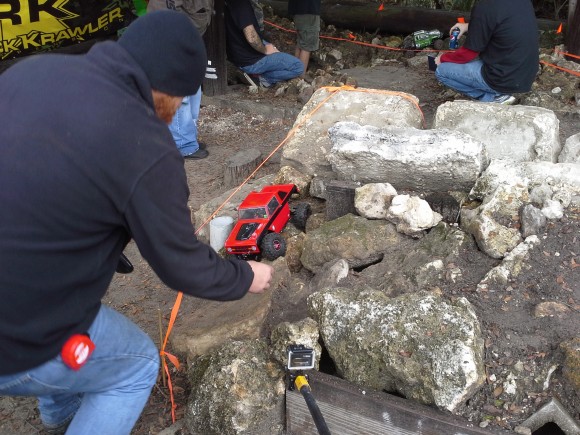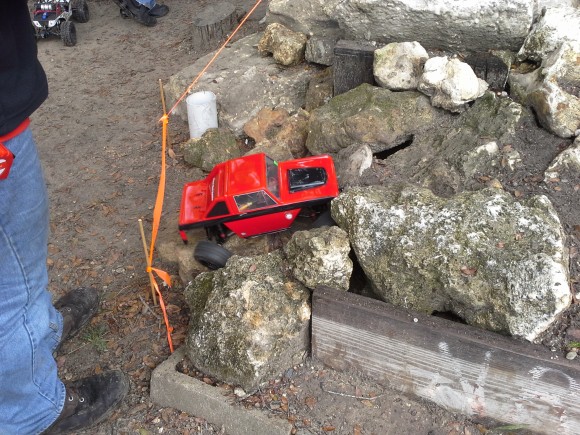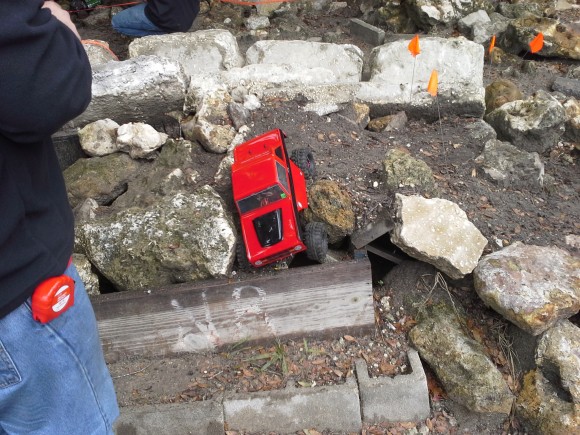 This was a pretty cool shot of Kha's Sawback finishing the Frame Twister.
Here is some video of the Frame Twister courtesy of David Chippy Williams
[youtube]http://youtu.be/afB53wD6a9s[/youtube]
Rubicon Trail
The Rubicon Trail required you to traverse a section of rocks next to a log. The key to this section was that it was severely sloped away from the log. You had to almost hug the log to stay on course. One wrong move and you slid down the slippery rocks to the out of bounds tape.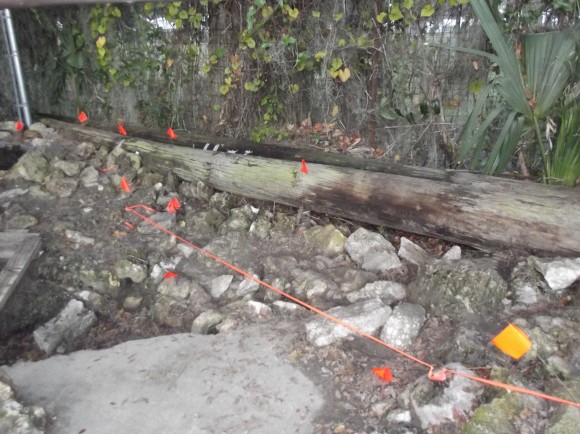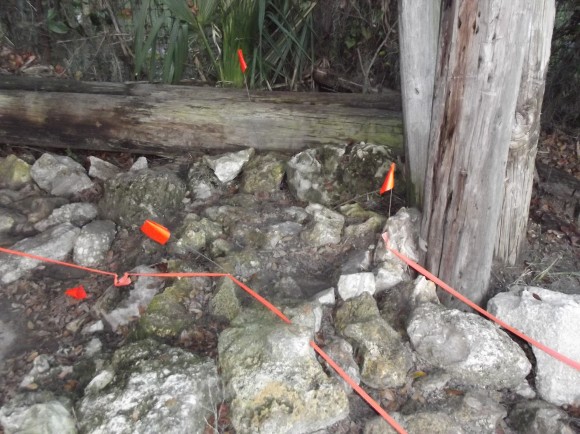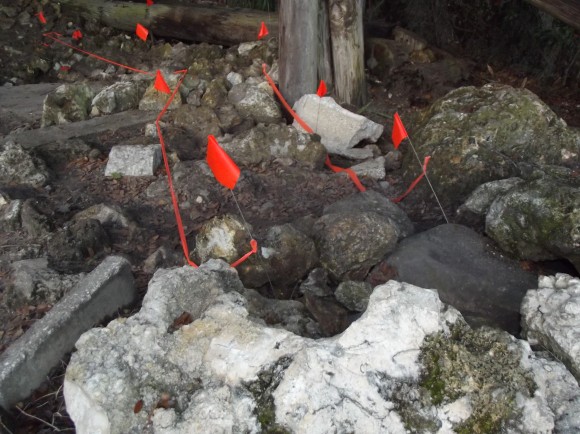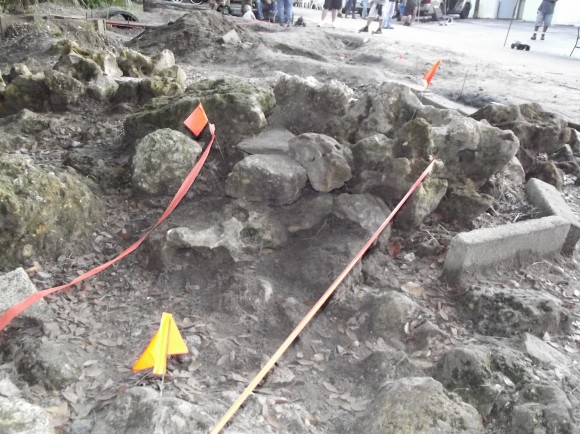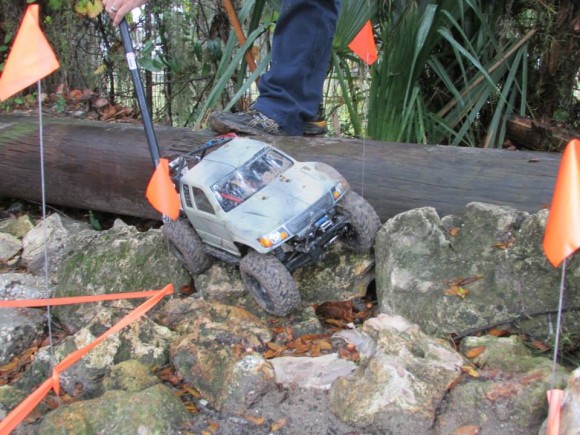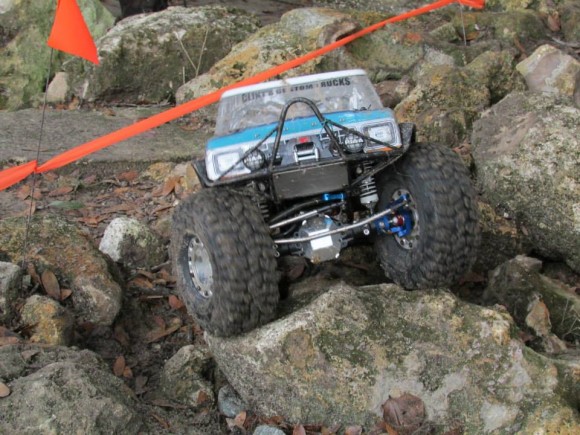 Here I am breaking out the winch yet again. It came in handy on all three of the first events for me.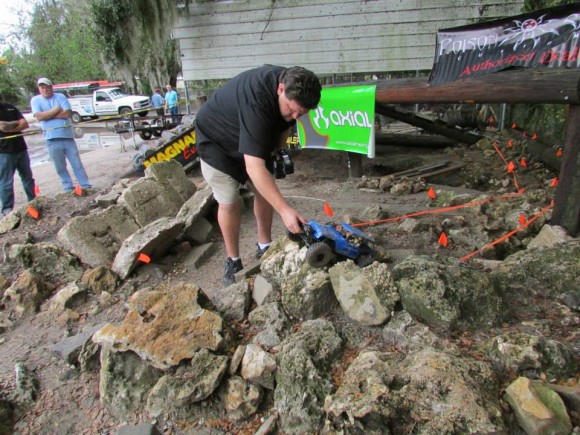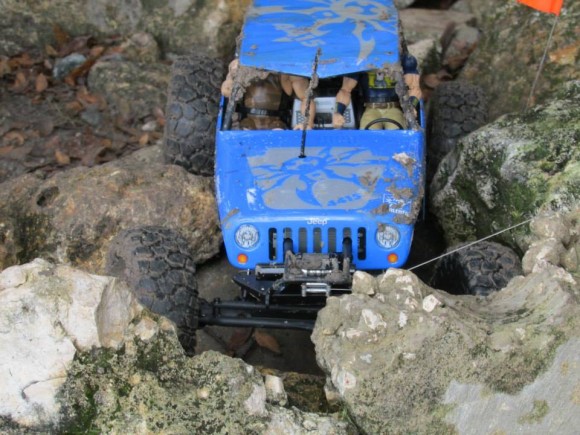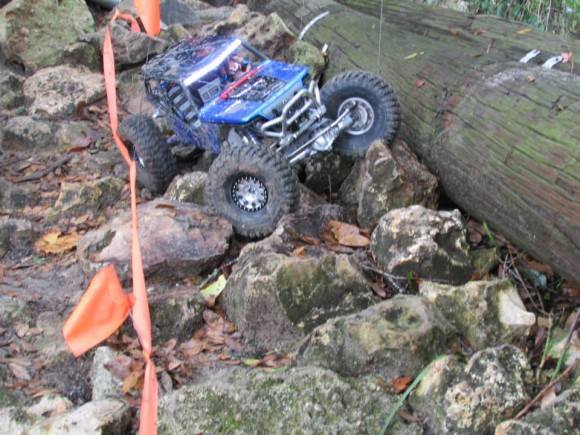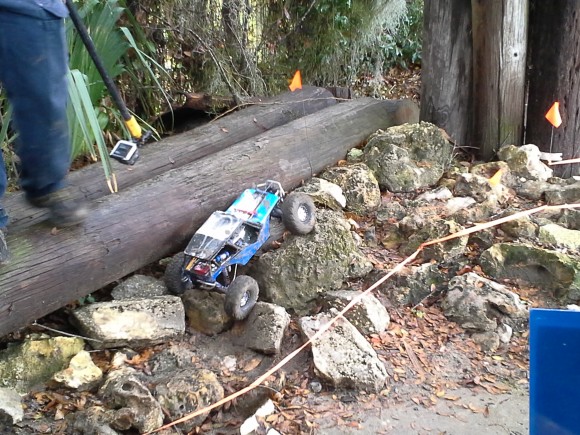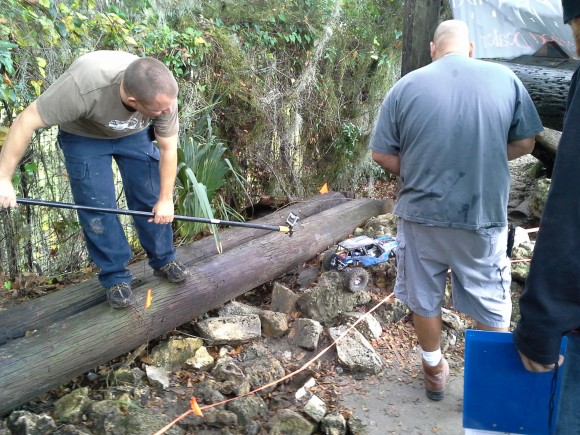 Hill Climb
In Florida, we have great weather, but no hills. So for the Hill Climb, we had to use a man made hill. This hill was part of a highway overpass.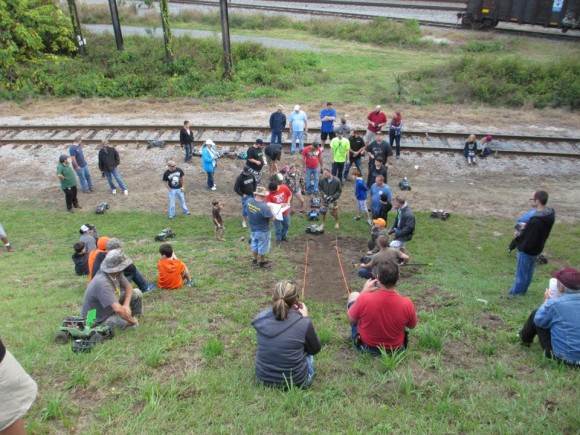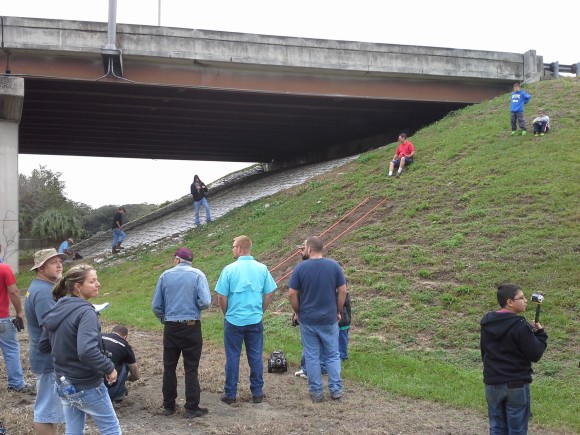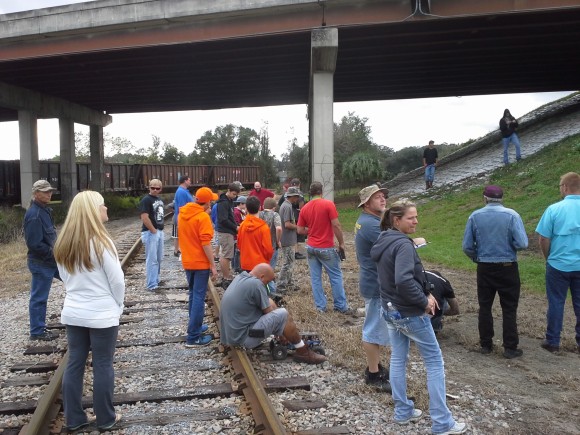 The object was to get up the hill as quick as you could, without touching the boundary tape on either side. Once the tape was touched, your truck was stopped and measured.

Here's some video of the Hill Climb courtesy of David Chippy Williams
[youtube]http://youtu.be/NCuqiz52qTI[/youtube]
Sled Pull
The Sled Pull was interesting. It was tough to get the sled moving, as the ground seemed to be too moist. The sled was sort of sticking to it. A few people did get it moving, but most people only moved it a few inches.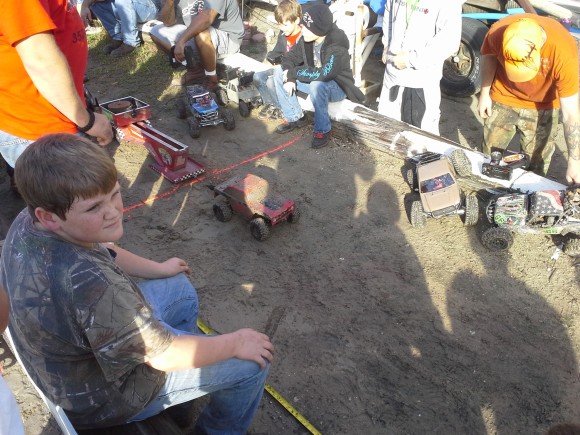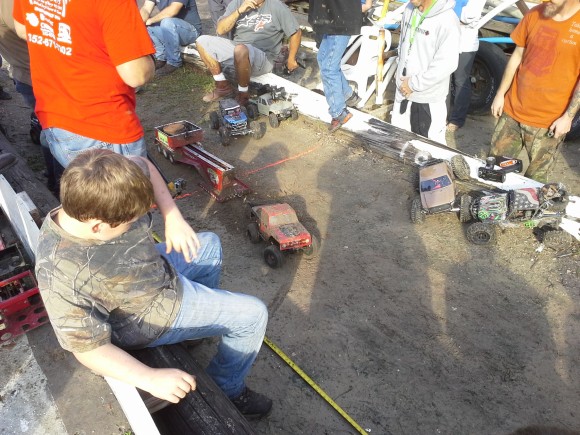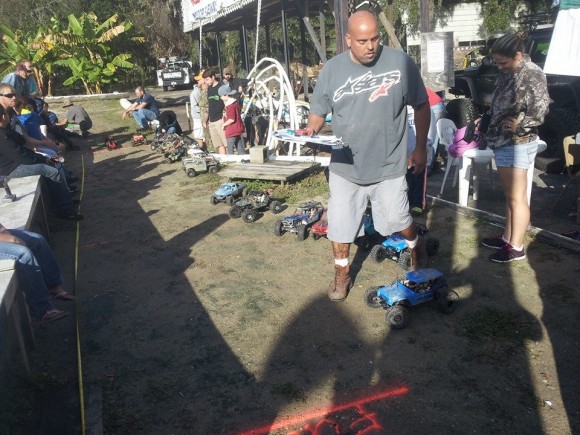 Here is some video of the Sled Pull courtesy of David Chippy Williams
[youtube]http://www.youtube.com/watch?v=C91pGVfsTxk&feature=share&list=UUL6VGYMnNTt51xKZxVp4djw&index=8[/youtube]
Here's what happened when the Twin Hammers tried the sled pull.
[youtube]http://youtu.be/Vwqwz1lHieo[/youtube]
Mud Bog
Last but certainly not least was the Mud Bog.

Here I am preparing for my attempt. I didn't make it far. In fact, only two people all day made it all the way through. My truck is waterproof, but this water was so thick with mud that it clogged up the brushed motor, stopping me in my tracks. Before the next time I try this, I'll install a sock over the motor to keep the thick silt from getting in.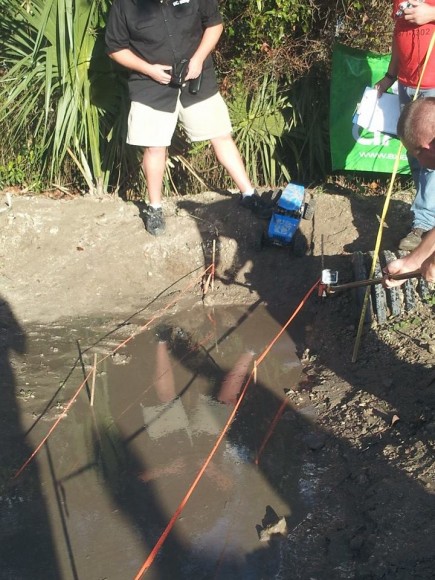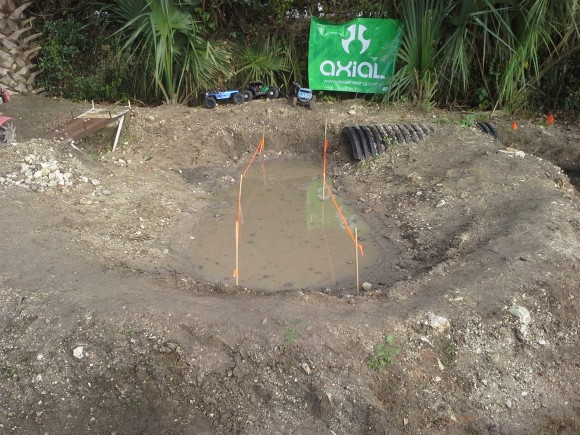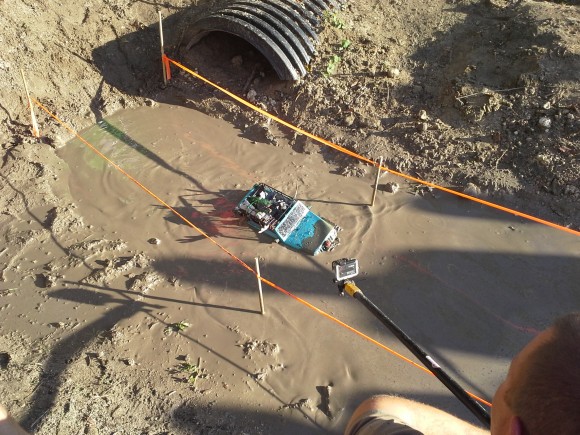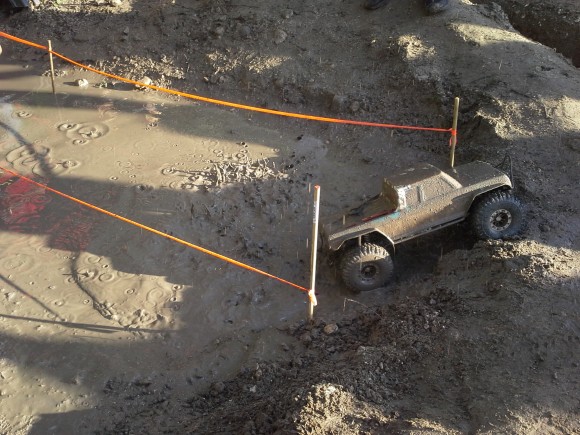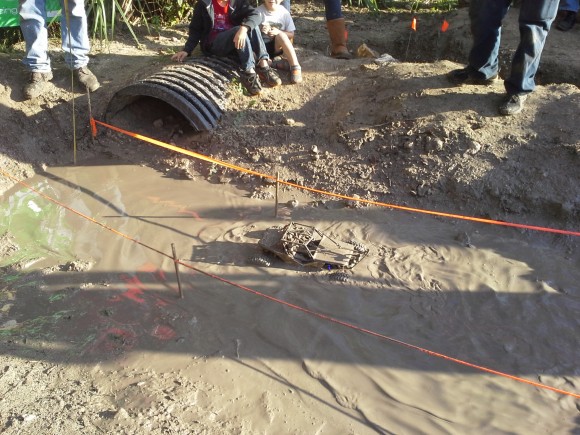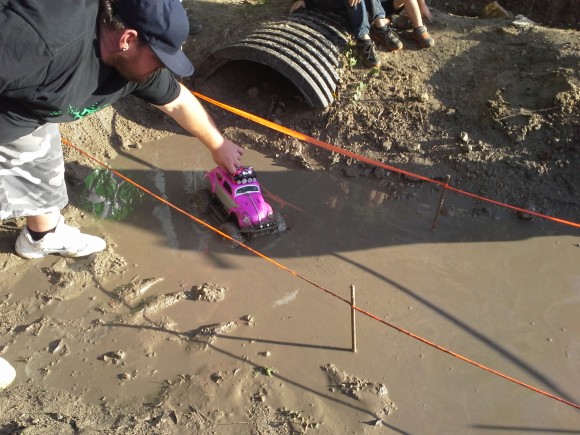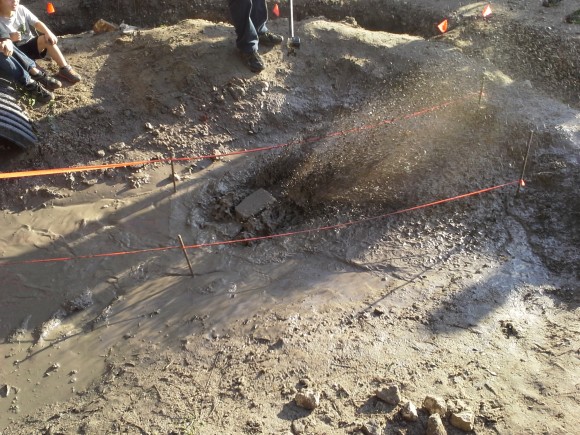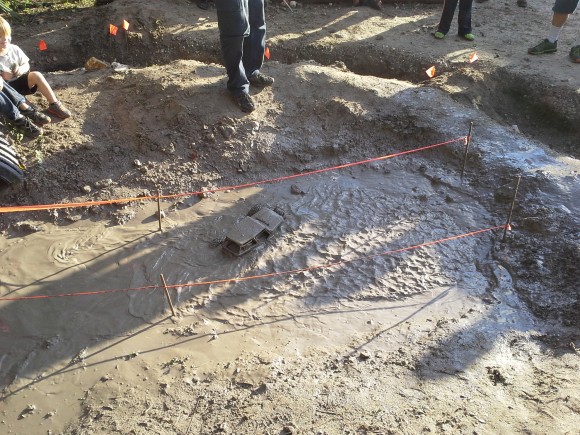 Riley Pickles was the first of two to make it through the mud bog. When his truck climbed out, the crowd erupted in cheers and applause. He jumped up and down with excitement. It was great to see him show all of us "old guys" how it's done.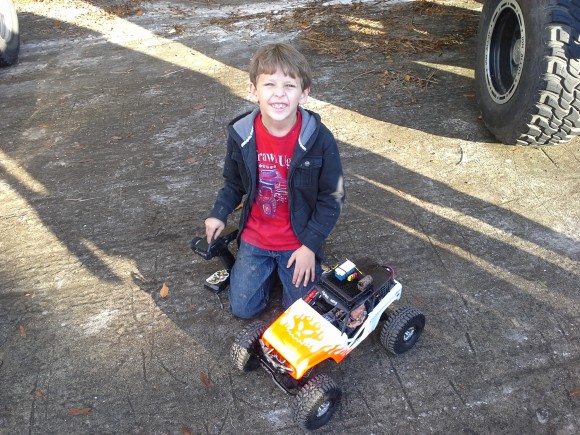 Here's some video of the Mud Bog courtesy of David Chippy Williams
[youtube]http://youtu.be/l0pyQS660kY[/youtube]
Trophies
In addition to the trophies for the top three finishers, they also had a few special awards planned.
Here is the third place truck
The trophy for 3rd place, as well as some prizes that he won as well.
This is the second place truck
The second place trophy, and some prizes that he won as well.
Here's the winning truck.
The first place trophy, along with the prizes he won as well. The first place finisher also won an Axial SCX10 Honcho kit.
Here's your podium
I want to thank Newred hobbies for hosting this great event. I also want to thank Sean Montanye and Bobby Mack. These guys were the men behind this great event. They ran the show, and made sure everyone had a great time. Thank you guys!