Arrma Mega RTRs offer speed, performance and value.
Drivers eager to find a first ride will find four great choices in the redesigned and improved MEGA RTR line. (Fury, Granite, Vorteks, and Raider)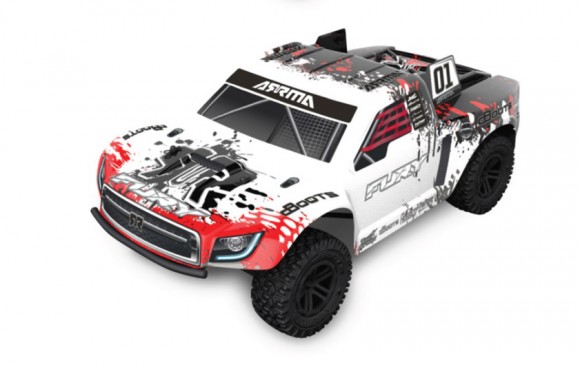 Performance features added for 2014 make them fierce but affordable competitors.2014 models include all 2013 updates, as well as a number of additional refinements:
Waterproof electronics capable of running in rain, sleet, snow or mud
Chassis re-engineered for greater rigidity, more strength and easier access
Impact-resistant battery box with door and foam padding
Molded-in servo wire channels for neater installations and greater protection
Compatibility with all optional alloy parts designed for BLX models
LiPo-ready chassis that can also accept 7-cell NiMH/NiCd packs without modification
Composite transmission gears for lower rotational mass and faster acceleration
Molded camber and steering links
Easily accessible steering servo

The top speed for all vehicles is 30 mph right out of the box.
All are also compatible with upgrades created for BLS and BLX class vehicles. They not only add competitive firepower, but double the top speed potential to 60+ mph. In addition to speed potential and new features, ARRMA RTRs also offer new drivers the ease of buying an all-in-one competitive package, plus the protection of the ARRMA 2-year limited warranty.
For beginners on a budget, ARRMA MEGA RTRs are natural choices for 2014.
All ARRMA MEGA RTRs include:
Fully assembled chassis
Painted, trimmed body
2.4GHz radio system
540-size MEGA brushed motor
Waterproof MEGA ESC
Waterproof ADS-3 steering servo
NiMH pack and AC charger
Mounted dBoots tires with foam inserts
ARAD38** FURY MEGA 1/10 Scale 2WD Brushed RTR Short Course Truck
ARAD35** RAIDER MEGA 1/10 Scale 2WD Brushed RTR Buggy
ARAD37** GRANITE MEGA 1/10 Scale 2WD Brushed RTR Monster Truck
ARAD36** VORTEKS MEGA 1/10 Scale 2WD Brushed RTR Stadium Truck