KRATON 6S & TYPHON 6S RTRs: ready for 6S LiPo and 60+ mph speeds!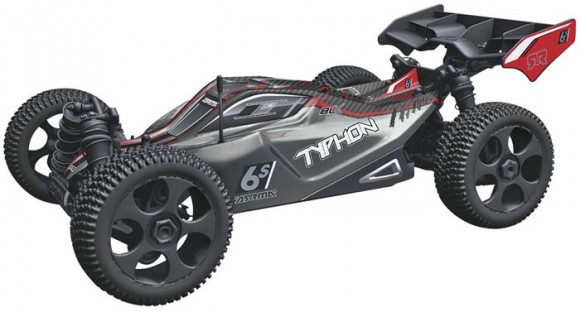 ARRMA isn't known for 1/8 scale or 4WD vehicles —but they will be soon. The KRATON Speed Monster and the TYPHON Speed Buggy are in the new "Speed" class of vehicles. The name fits well for several reasons. Speed is the biggest, and both vehicles feature the race-inspired designs and equipment to deliver exceptional speeds without updates, upgrades or modifications. Part of the reason is that both vehicles were designed to accept 6S packs — a fact that has a huge impact on speed. Top end for the KRATON Speed Monster with a 6S pack is 65 mph. The  TYPHON Speed Buggy pushes it a few mph higher to 67 mph. There's no way to know now what top speeds will be with hop-ups and  modifications— but chances are good that it won't be long to find out and that the results will be insane 1/8 scale speeds.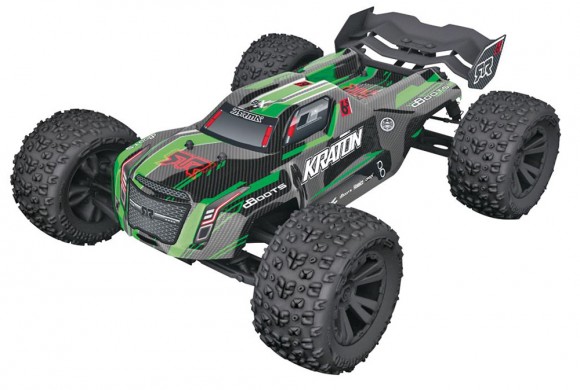 A high-efficiency brushless power system makes the best of the power. It includes an ESC that's rated for 180A continuous and a staggering 900A burst currents. The metal-geared steering servo is just as impressive, capable of delivering a massive 208 ounce-inches of turning torque in just 0.12 seconds. Brute, 1/8 scale power is accompanied by superb control finesse. Both vehicles offer exceptionally stable, balanced 4WD handling for amazing traction on all terrain, as well as a host of other construction/performance features.
Highlights include:
6S LiPo compatibility for extreme high speeds
Waterproof radio box
Aluminum motor mount to keep the brushless motor running smooth and fast
Adjustable hook and loop battery straps for ease and security
Race-proven roll bars, front and back, for professional race handling
Adjustable servo saver
Turnbuckle-tunable suspension
Aluminum servo horns for fast, responsive steering
The KRATON and TYPHON also share features found on ARRMA 1/10 scale vehicles, including multi-lingual documentation, an online owner registry and an industry-leading 2-year limited warranty.
Both RTRs include:
Assembled chassis
Finished, trimmed body
ATX100 2.4GHz radio system
ARRMA brushless motor
Waterproof, 180A ESC with automatic setup
Waterproof ADS-15 metal-geared steering servo
ARRMA mounted, high-traction tires
KRATON specifications:
Length: 23.2 in (590 mm)
Width: 18.5 in (470 mm)
Height: 7.7 in (195 mm)
Wheelbase: 14.9 (378 mm)
Ground Clearance: 1.3 in (33 mm)
Weight: 8.8 lb (4 kg)
Includes: 2250kV brushless motor
Requires: 4-6 cell LiPo, charger &
"AA" batteries
TYPHON specifications:
Length: 20 in (508 mm)
Width: 12 in (306 mm)
Height: 7.2 in (183 mm)
Wheelbase: 12.9 in (328 mm)
Ground Clearance: 1.0 in (25 mm)
Weight: 6.6 lb (3 kg)
Includes: 2300kV brushless motor
Requires: 4-6 cell LiPo, charger &
"AA" batteries
Available: Mid-Summer
ARAD80** TYPHON BLX 1/8 Scale 4WD Brushless RTR Speed Buggy
ARAD81** KRATON BLX 1/8 Scale 4WD Brushless RTR Speed Monster