The re-release of the RC10 Classic has come with a few changes that affect users of RPM RC10 Rear A-arms (RPM #70542). RC10 Classic A-arms aren't quite as wide as they used to be so Associated shortened the length of their hinge pins (Associated #6380). That means those pins no longer work with RPM A-arms or older versions of the stock RC10 A-arms.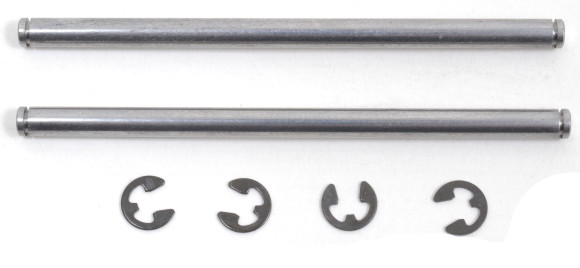 To rectify that problem, we contacted the original manufacturers of the stock Associated hinge pins and had a new set made to the old specifications. These new hinge pins are now available through RPM. These hinge pins are made in the USA (just like they used to be 20+ years ago)!
Tech Notes: RPM Inside Rear Hinge Pins are 2.28" O.A.L., 1/8" in diameter and are sold in pairs with e-clips. These hinge pins work on the original RC10 & newer RC10 Classic when using RPM #70542 A-arms. They will not work on later versions of the RC10 such as the B2, B3, etc., nor will they work on the RC10 Team Car.
#70590 Suggested Retail Price – $6.95 / pair