The Touring Car created with Team Durango DNA.
Team Durango is serious about racing — and the DETC410 touring car shows it in every feature. Early prototypes set the fastest lap times ever recorded at established tracks in the UK. However, while it was designed from the start as a world-class competitor, the DETC410 is also a great choice for racing newcomers . Both will find a huge assortment of competitive pluses waiting for them, including some that have never been available in a 1/10 scale touring car .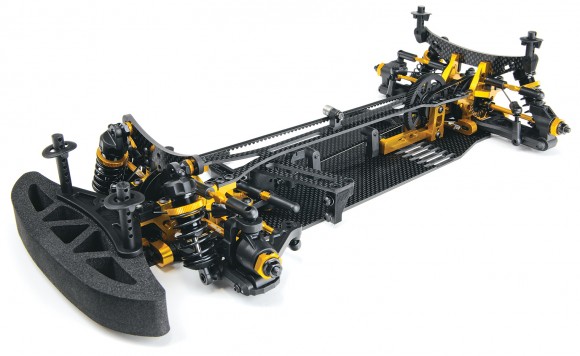 FEATURES:
Large-diameter aluminum D-Joint drive shafts in front, for high-efficiency power delivery and reduced vibration
Adjustable toe inserts for fast, precise adjustment
Adjustable front caster for more track-tuning options
Gold-anodized 7075-T6 aluminum parts for less weight and pro looks
Laminated quasi-isotropic carbon fiber chassis, top deck, shock towers and servo mount top plate for consistent flex and ultralight weight
Advanced shock tuning options, including bladder or emulsion setup and single or multiple O-ring configurations for best performance on all surfaces
Adjustable battery mount for weight-balancing battery against other electronics
Optional fifth body post for less air deflection and exceptionally consistent high-speed handling
High-quality dual Bando™ belts for fast, efficient 4WD
Low CG aluminum motor mount for superior positioning and consistent gear mesh settings
What's even more amazing is that the DETC410 offers these features and more for significantly less than other world-class touring cars .
Specifications:
Length: 14 .4 in (365 mm)
Width: 7 .3 in (185 mm)
Wheelbase: 10 .0-10 .3 in (254-261 mm)
Requires: 2-channel radio w/high-torque steering servo, 540 motor, ESC,
2S/7 .4V 4000mAh (min .) LiPo battery, body, touring wheels & charger
Available: Early Spring
TDRC0150: DETC410 1/10 Scale Electric 4WD Touring Car Kit . . . $399 .99