RC Soup teamed up with Redneck R/C back in December to bring CNY racers the Stocking Stuffer Classic with success to the tune of 150 entries! It was meant to be a fun little trophy race just before the Holidays. After it turned out to be something so much more, we HAD to do it again, this time, BIGGER!
I've had a vision for a "Soup" themed race for a long time now, and Redneck RC afforded me the opportunity to host the SOUPer Bowl Shakedown. It was named after the sporting event the following day, but with a touch of SOUP flavor ;). It was to be the biggest and best thing that RC Soup has ever been a part of. With a record-shattering 210 entries for the day, I'd have to say we certainly had the interest! The next largest entry count Redneck (or the area in general) had seen for an indoor-offroad event was 134 @ the first annual Redneck Hillbilly Hoedown (2nd Annual is coming in March). This race has been a huge undertaking for Redneck crew and myself, and I believe that it showed. Huge thanks to the whole Redneck crew for busting butt and getting the track ready (Matt Kitts, Nate Reyes, Afro, Justin, and everyone else!).
The event was February 1st, 2014.
Below is the race flyer for the event. We had a lot going on, that's for sure. Seminar Friday night w/ Paul Sinclair of X Factory and crew, as well as a boatload of racing, door prizes, and we did a special mini race (raising money for charity).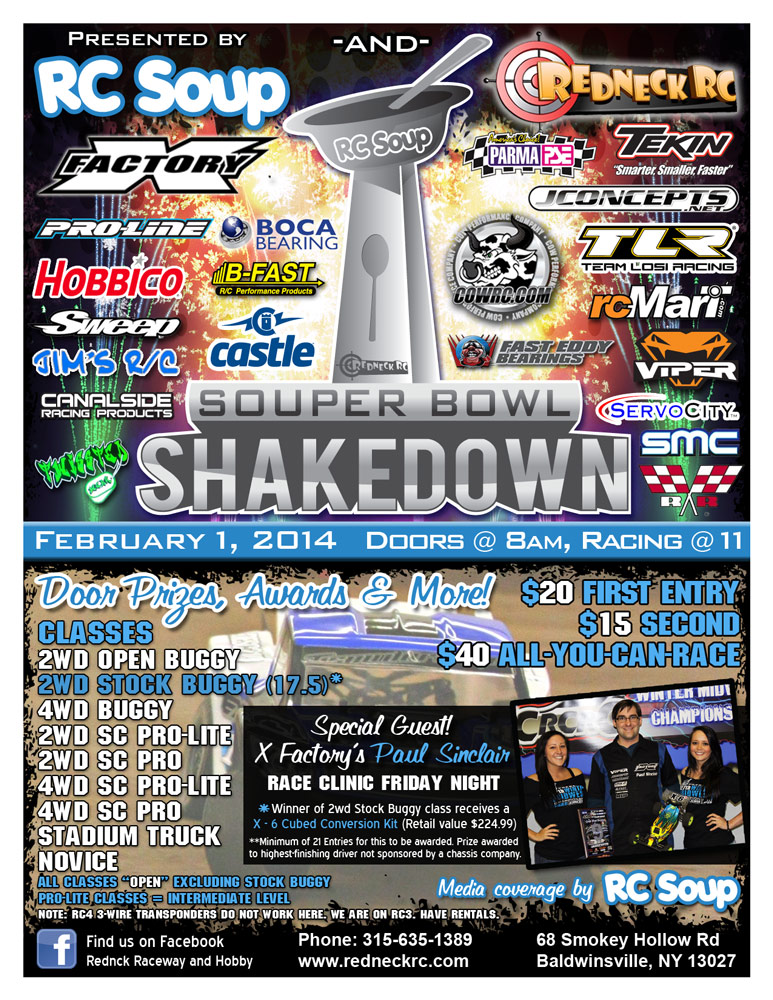 I'll try to cover the event in order of how things happened so you can follow along as if you were there. Friday night (around 7:30PM) Paul Sinclair and the rest of the X Factory crew (Jim Edmonds, Chris Cristo, & Chazz Sinclair) held a free race clinic for anyone interested. They answered questions from the racers about anything R/C related. I feel like we didn't even scratch the surface of Paul's extensive knowledge. He did go over several key points and concepts from vehicle handling, driving lines, talking about how R/C is vastly different than it was when he started, and much much more.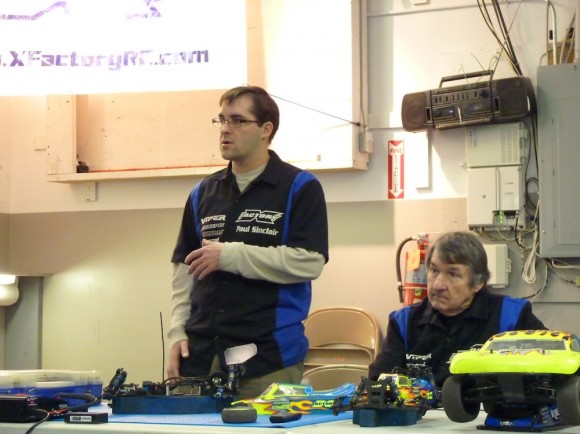 Paul and all the guys were super helpful in answering any questions, not only during the seminar, but all weekend. They came out to have a good time and spend time with the club racers at Redneck, so were very open and approachable (not that they aren't at big races, but they had less things distracting them that a big race might). Below is a YouTube Playlist of the entire seminar (recorded in 8 parts). You can watch each clip individually or just hit Play All and stream thru them. Beware the total length is well over an hour. It does have some good tips and insight from one of the leading engineers in r/c; the "Don" of the Mid-Motor Mafia; and inspiration to the mid-motor craze we're seeing.
Paul's rides were on display all weekend and you could check them out and ask any questions you liked.
I only heard positive comments regarding the seminar, and we can't thank Paul and crew enough for coming out and offering such a service for the event. It was a big bonus for the racers that were able to come out for it.
Fast forward to Saturday morning and we once again had Justin Kelly running controlled practice like he has at the last several Redneck events. He does a great job at keeping the line moving and getting cars on and off the track.
Next we had the drivers meeting, giving everyone the scoop on driver etiquette, marshalling, and the rest of the normal things tracks go over.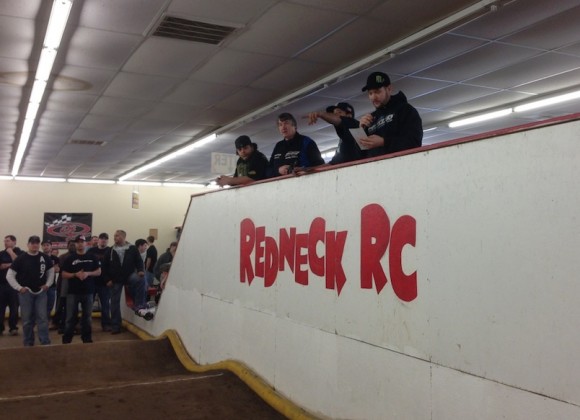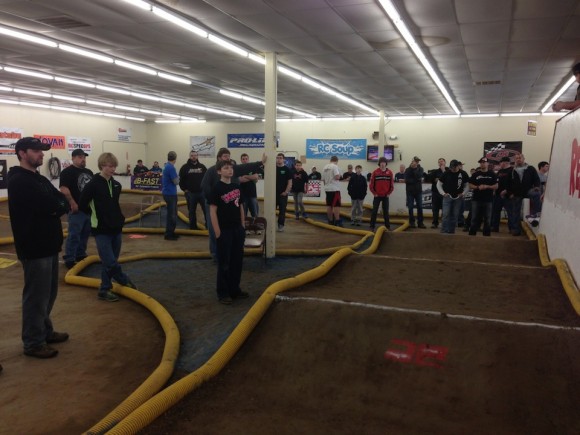 Chazz Sinclair from X Factory even spoke a little to the attendees and gave guys the scoop on how the seminar went, and talk about X Factory sponsoring the 17.5 Stock Buggy class. X Factory was awarding an X – 6 Cubed Conversion Kit (Retail value $224.99) as a prize for the winner of the stock buggy class. They needed minimum of 21 entries in the class, and we were able to register 22 drivers! Not bad for a class that is never run at the track on a regular basis. Prize was to be awarded to the highest-finishing driver who is not sponsored by a chassis company. So, if the winner was a sponsored driver, the prize went to the second-place finisher, provided he is not sponsored. More on this later.
The video.
[youtube]http://www.youtube.com/watch?v=SIbT2zHLAJk[/youtube]
Here are the awards we had made for the event. MX Trophies once again KILLED it with some guidance on what we were looking for. We went with bigger sizes for 1st and 2nd this time. It was an added expense but they came out incredible!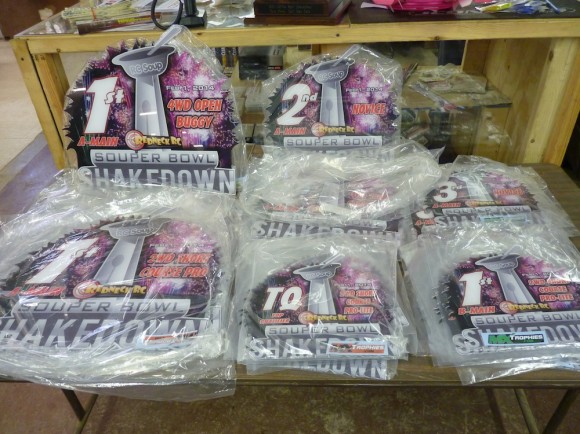 Contour cut, how sick are these?!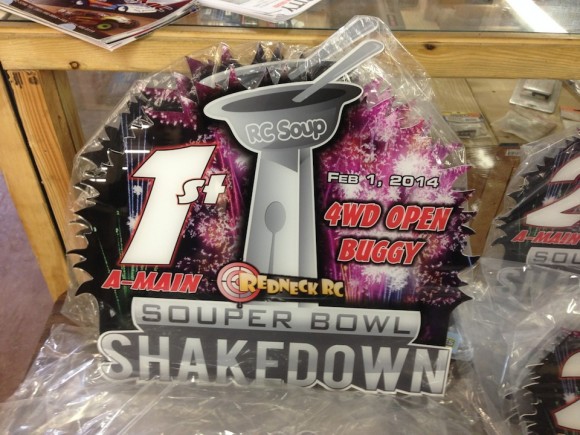 As you can tell from the flyer above, we had a TON of support from the best companies in R/C. They include:
CowRC
B-Fast RC Performance products
TLR
FastEddy Bearings
Castle Creations
Jim's R/C
Fantom Racing
Pro-Line Racing
JConcepts
Servo City
Boca Bearings
SMC
Hobbico
Sweep Racing
Team Scream Racing
Tekin
Parma
Robinson Racing Products
Viper RC
RCMart.com
Canalside Racing Products
Twissted Wear
RC Soup
AXO
Rockstar
Alpinestars
Troy Lee Design
One Industries
Thanks to all the sponsors for donating! Again, events like this just aren't possible without everyone's awesome support.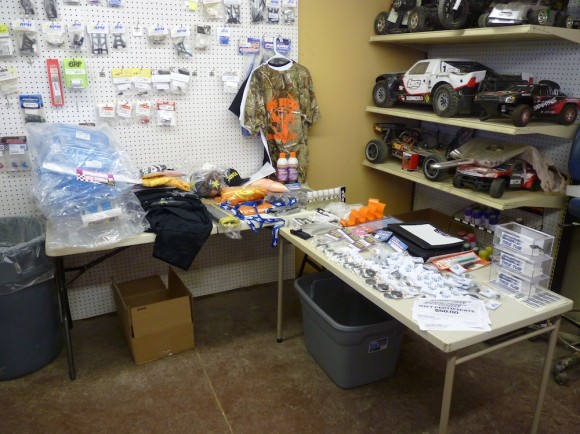 Door prizes.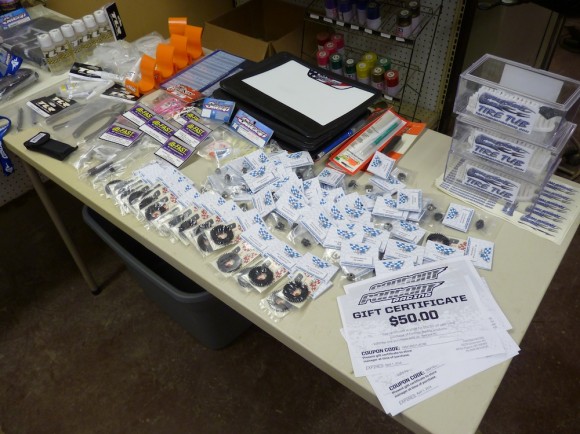 HUGE thanks to Robinson Racing Products. Everyone was thrilled to receive gears for their rigs.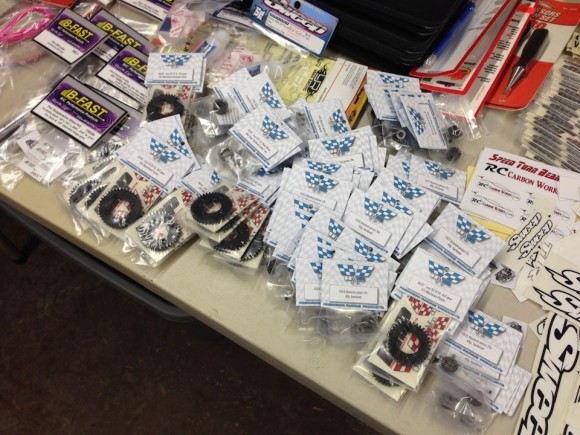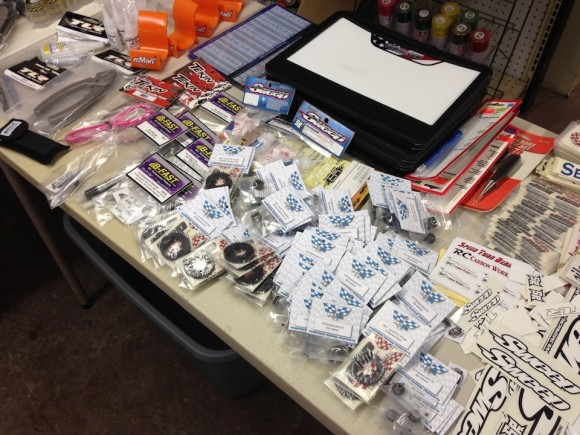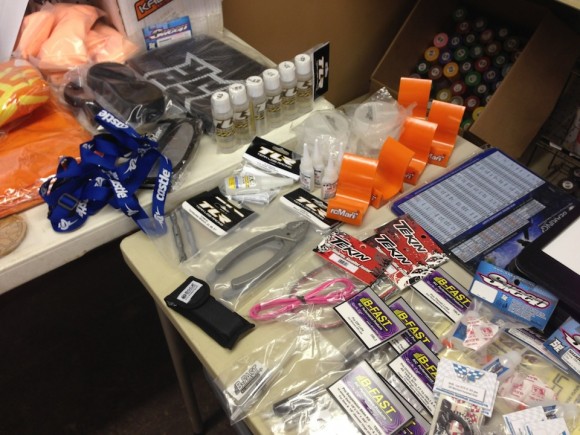 We had a boat-load of gift certificates too from everyone in the white envelope.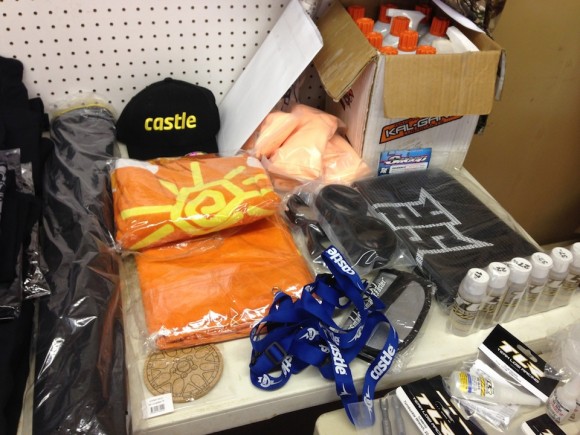 Twissted Wear t-shirts.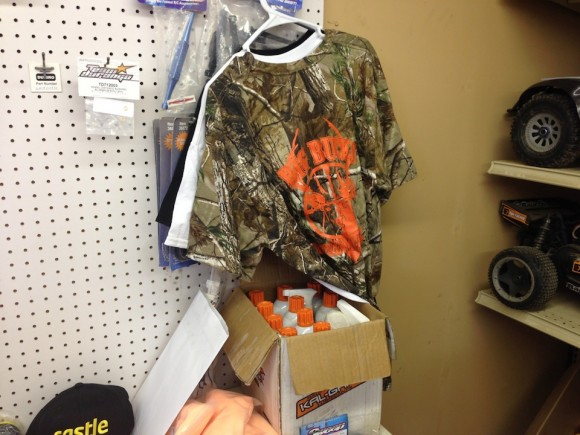 We had shirts from everyone, even us (RCSoup)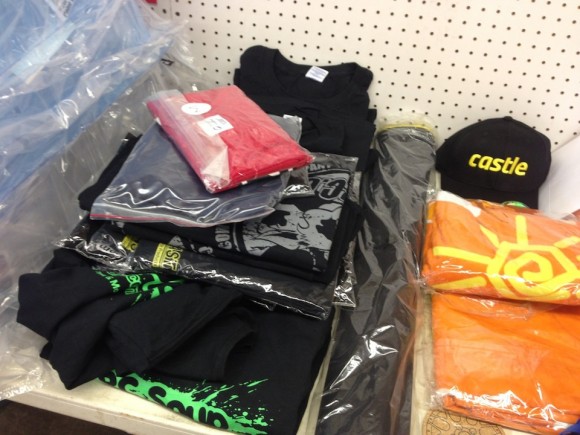 Bodies courtesy of Parma PSE and Jim's RC.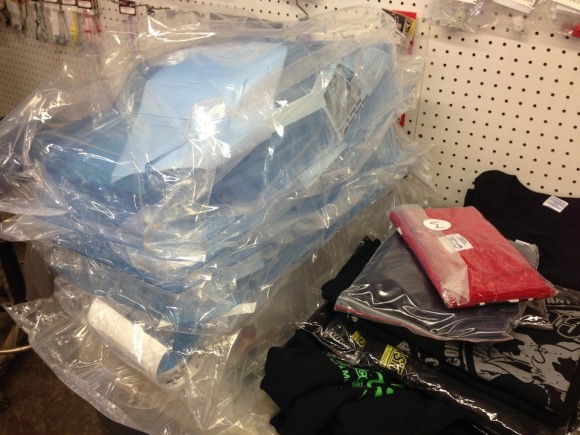 Everyone at the event got $10 to Fast Eddy Bearings as well as 10% off at Servo City, just for being at the event. Some quick shots of stuff being given away.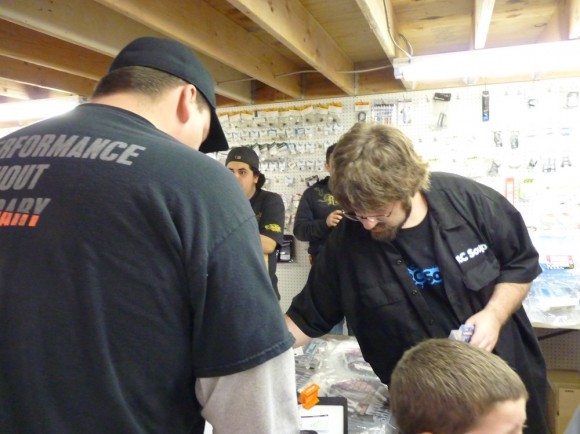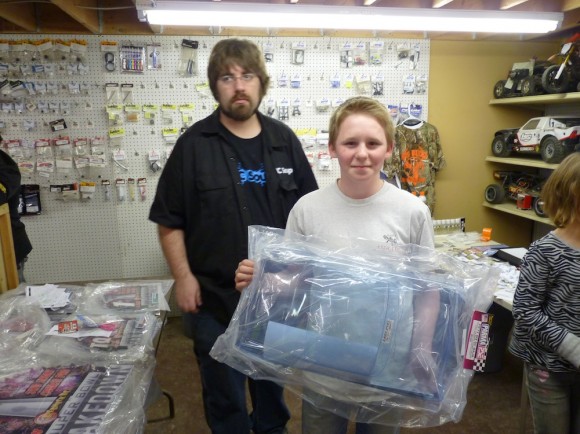 In addition to door prizes, Redneck RC also raffled off a brand new Associated SC10.2. Tickets were just $2 ea or 3 for $5. Rocky Warner won the truck. I think these types of raffles are great. Who wouldn't try to win a truck for $2?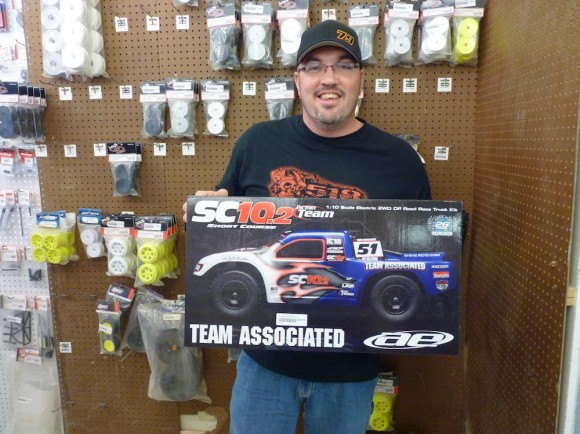 Ok, I'm going to move into some random race pics from throughout the day. These following are mostly of the pit areas and racers.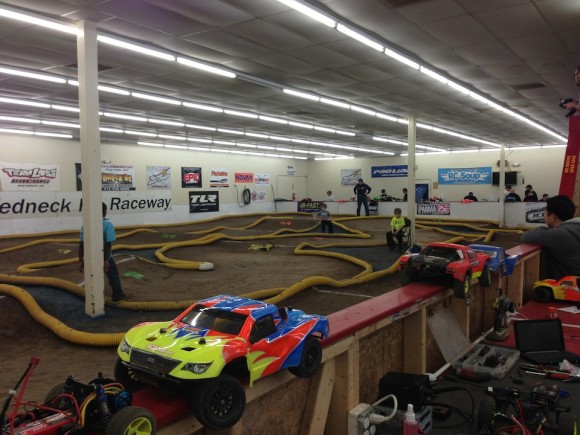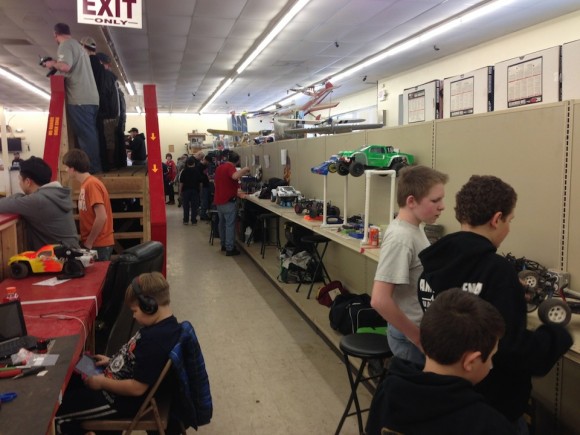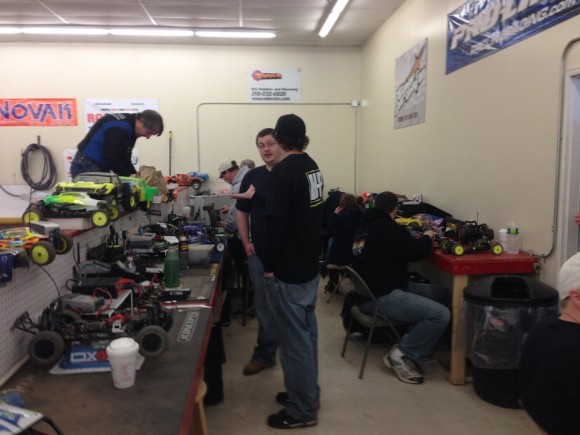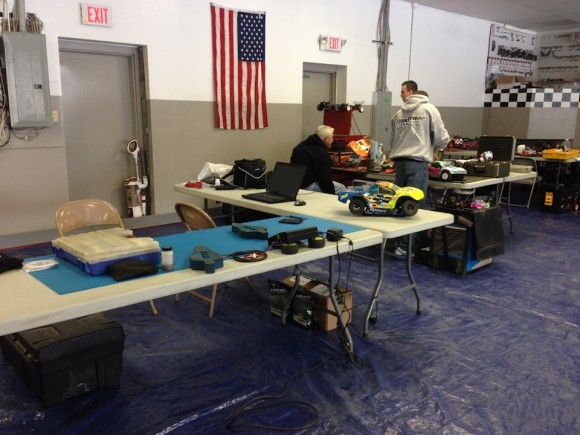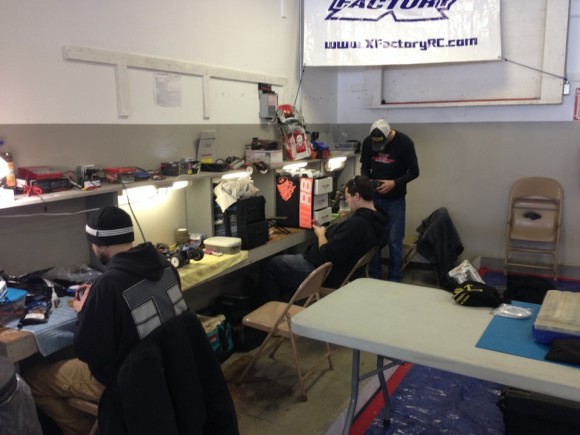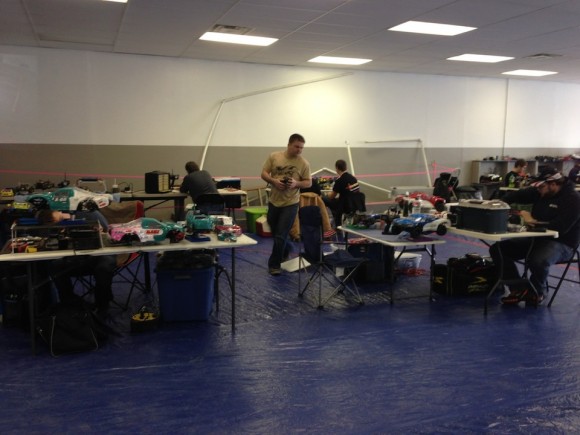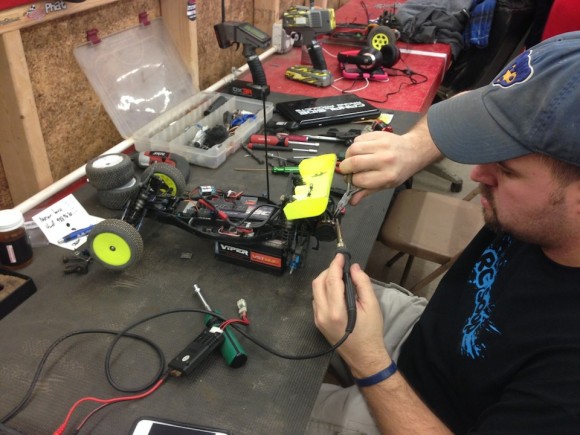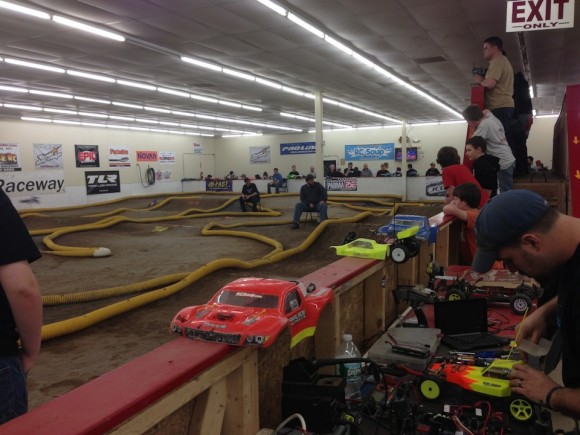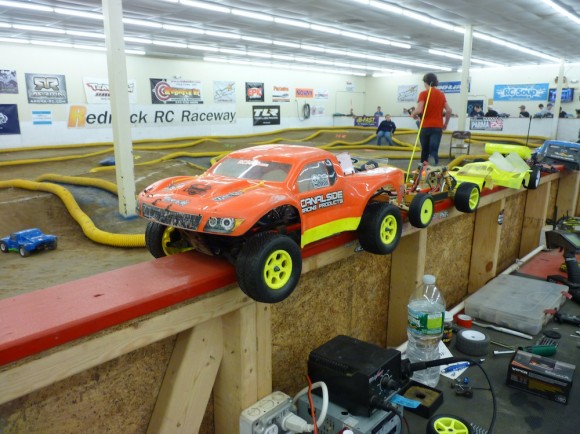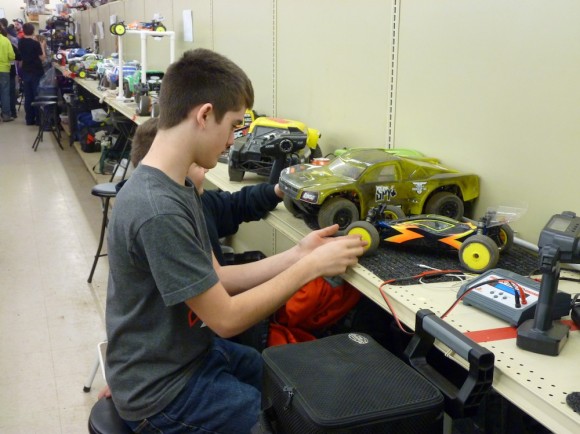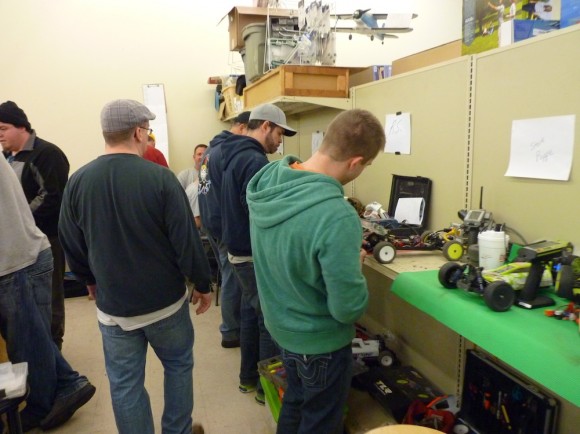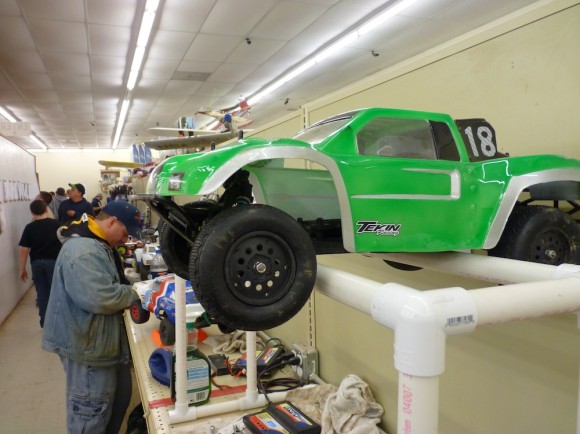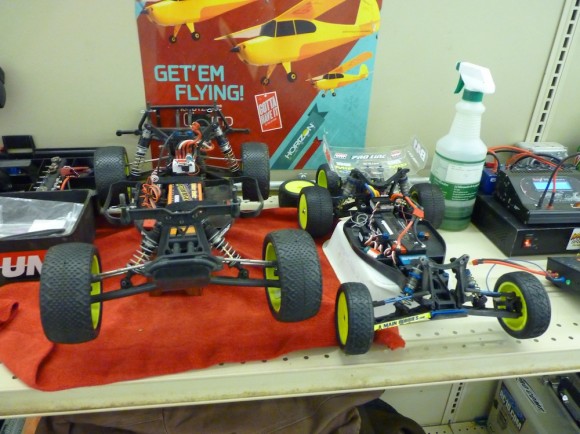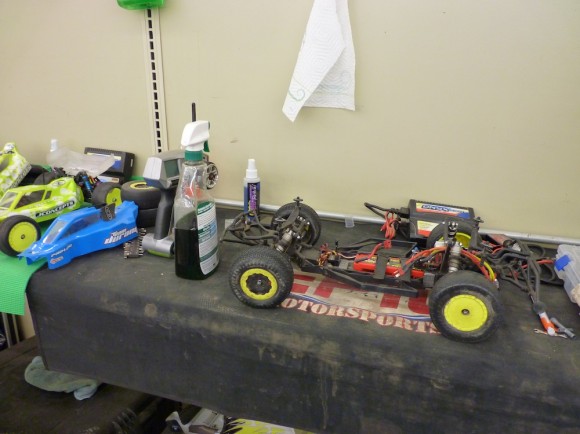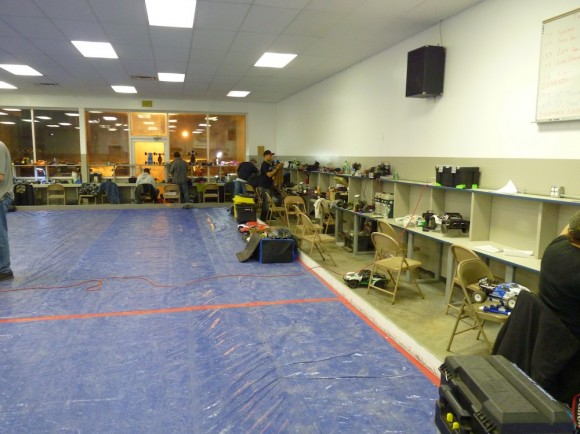 There's still a ton of room on the carpet track for more pits.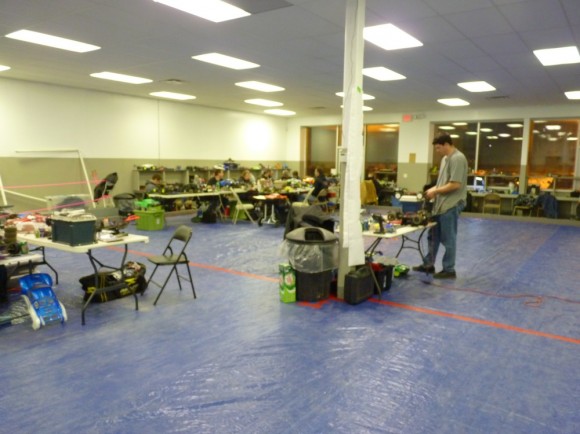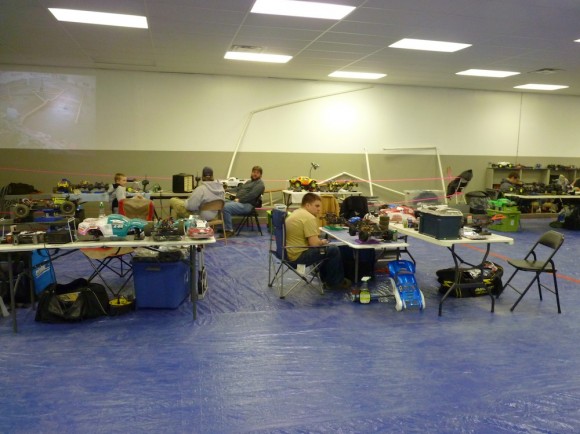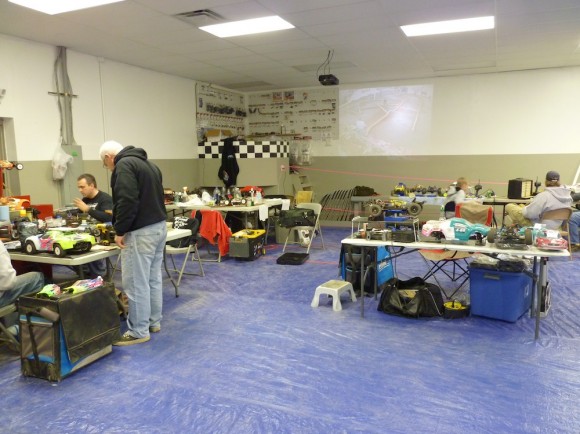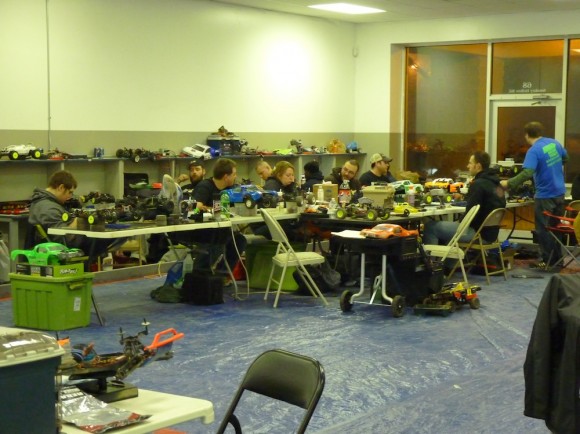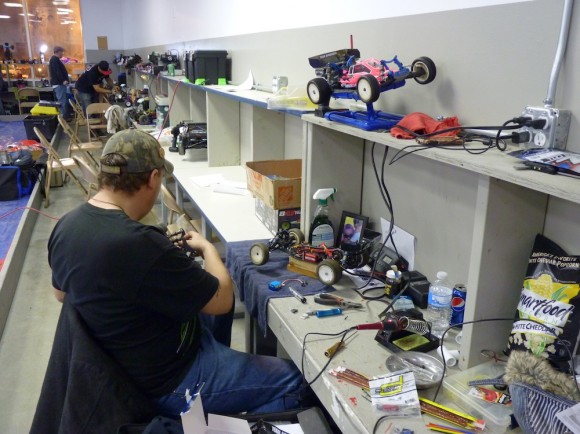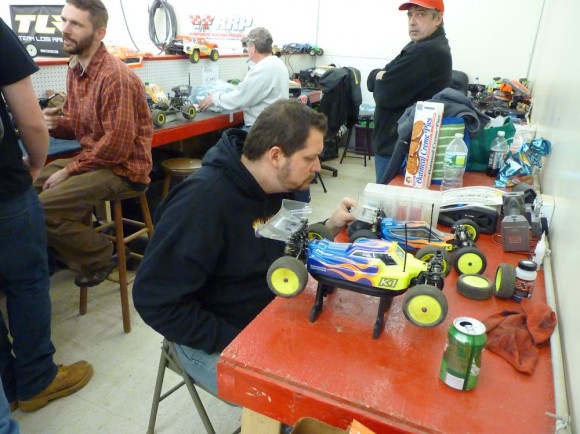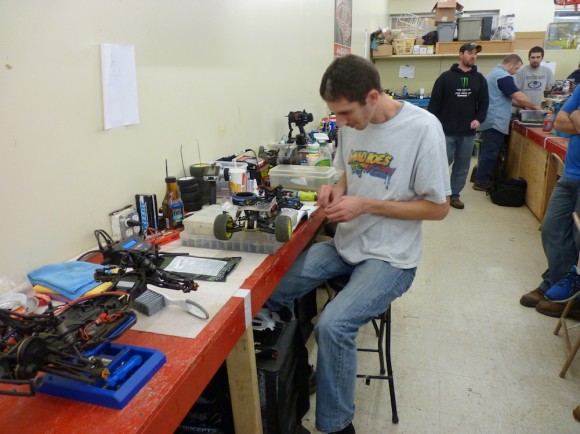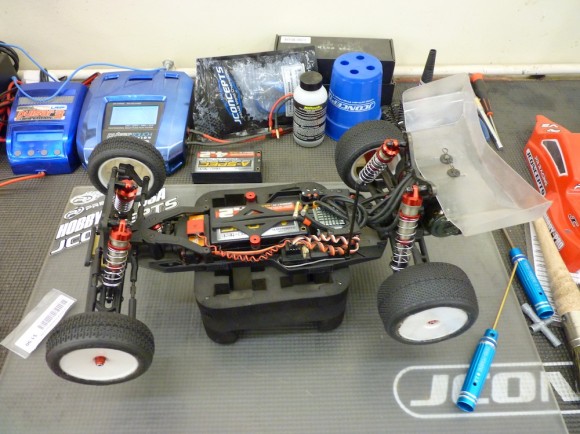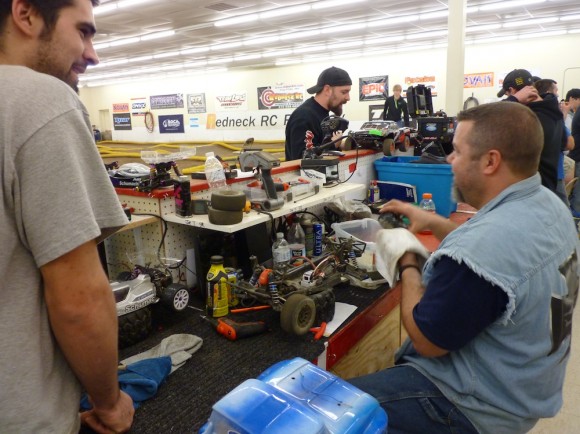 Now we have some track pics. This was a new layout a few weeks ago (different from the Stocking Stuffer layout). Props to the track crew, layout was pretty fun. We also got a ton of new sponsor banners hung for the event.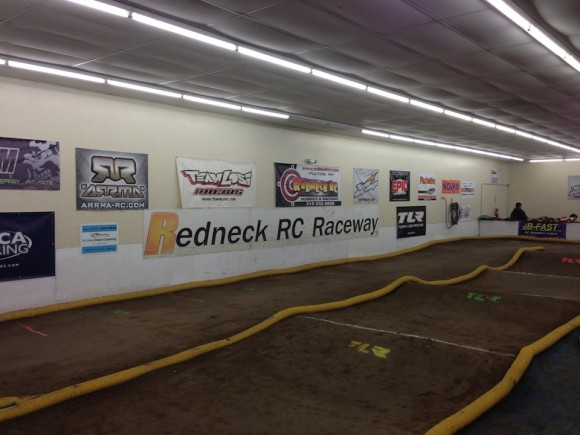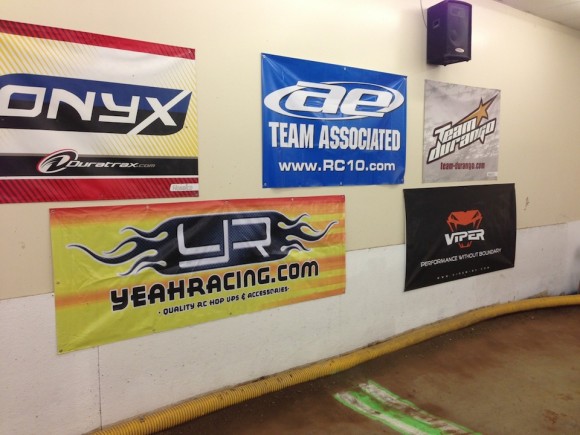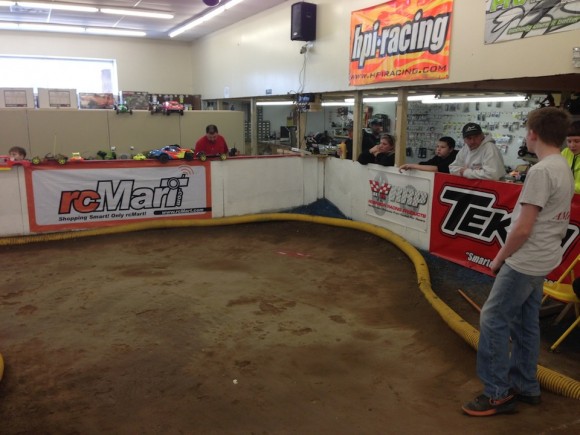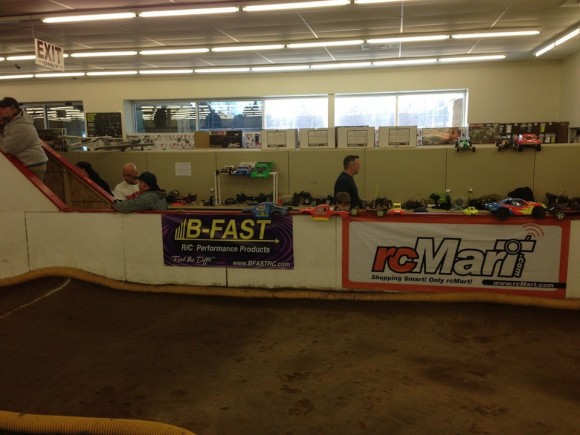 More random track shots.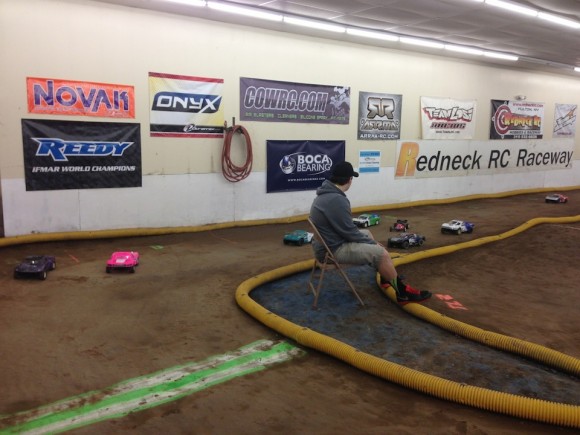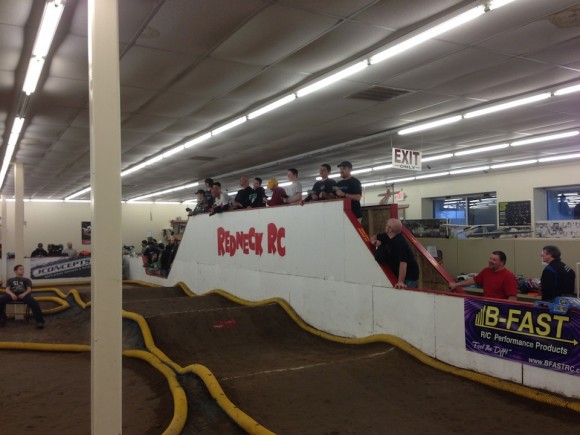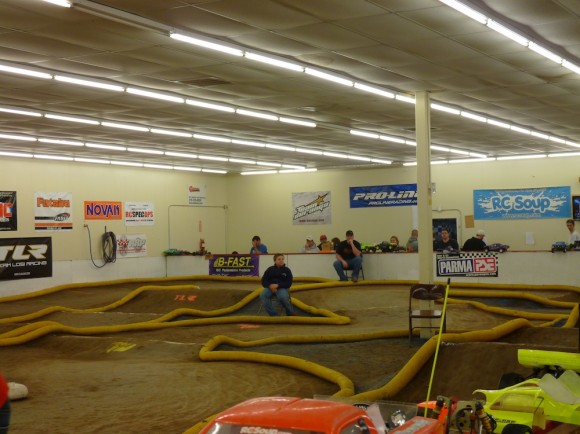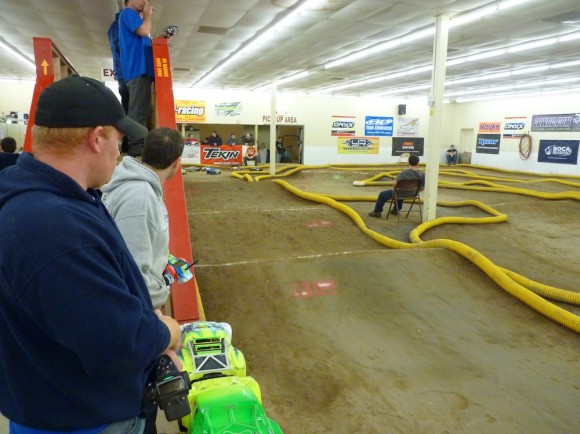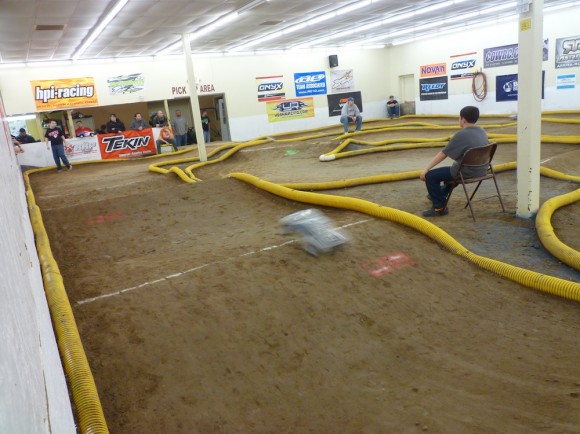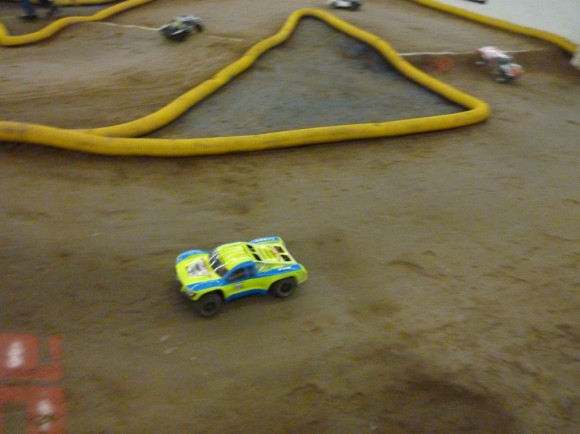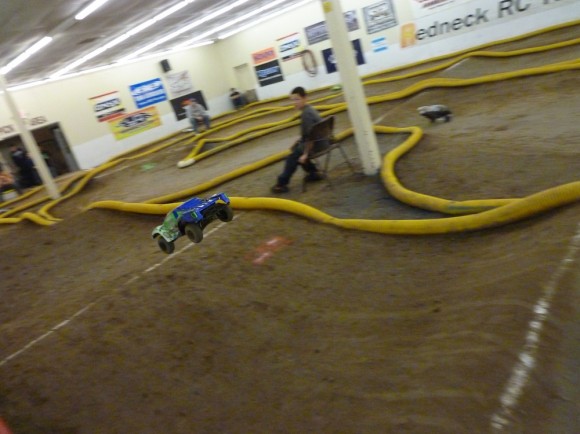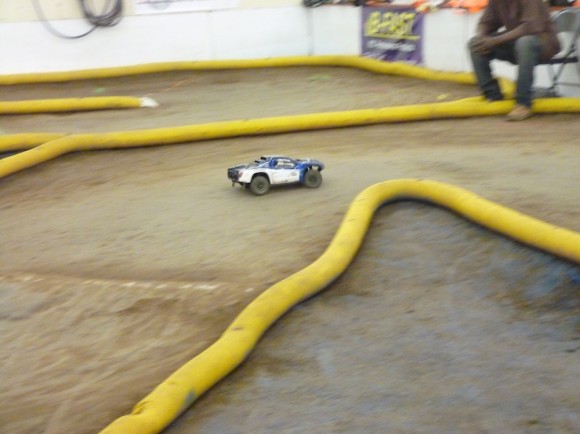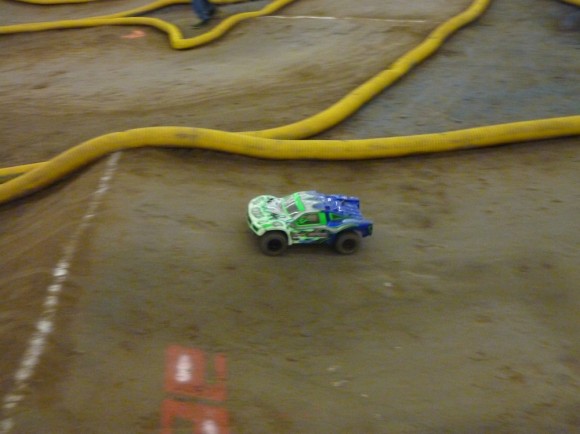 Below are a few pics from our friends at RC Spec Ops who came out to cover the race. They will be uploading a lot more to their site this week. You can check them out at www.rc-ops.com.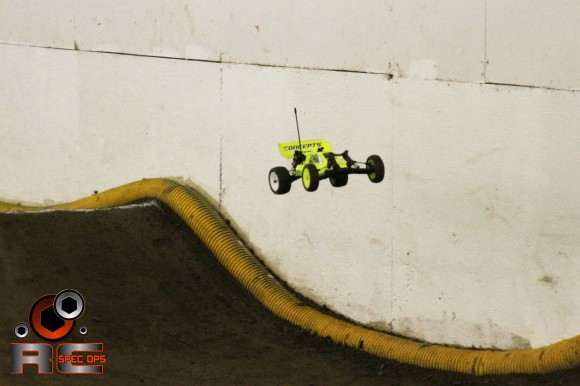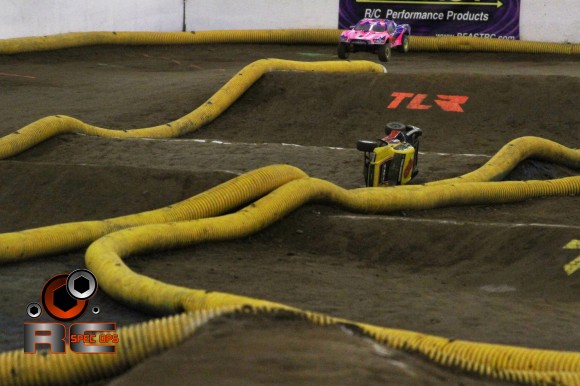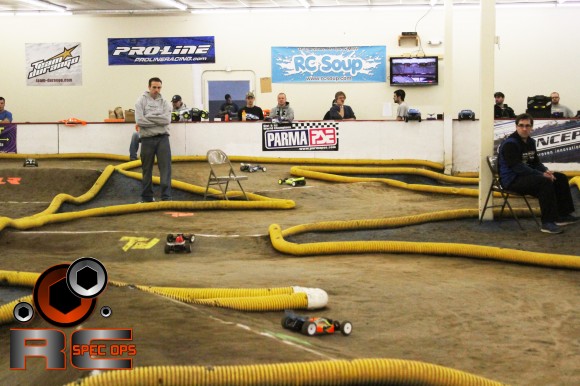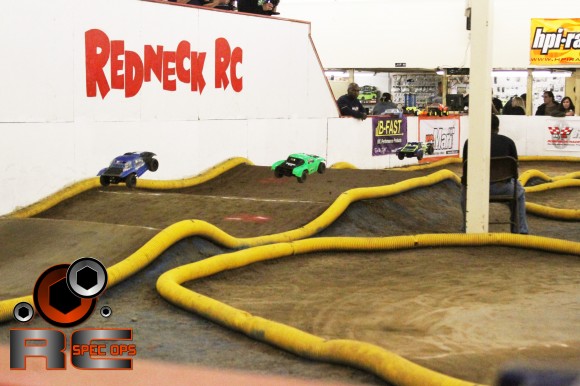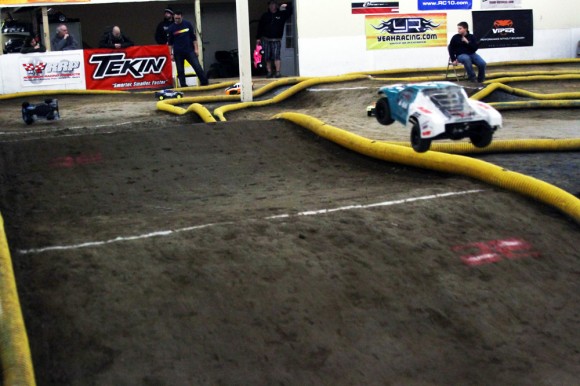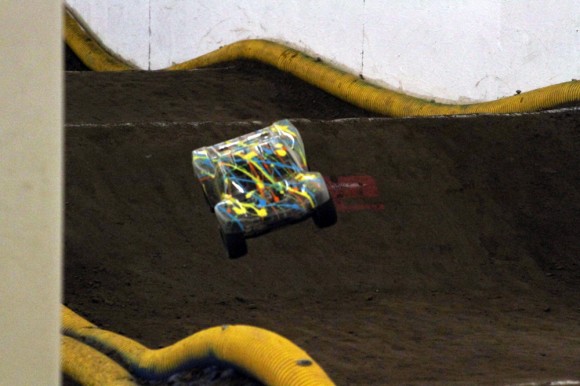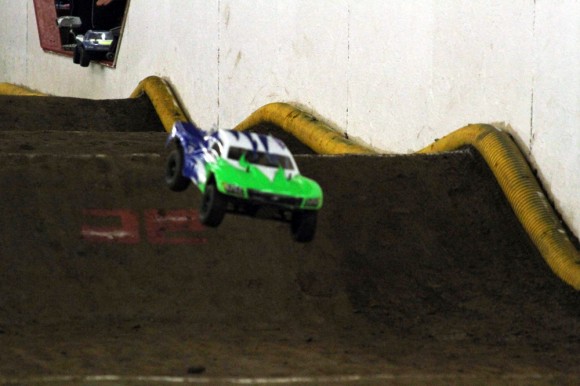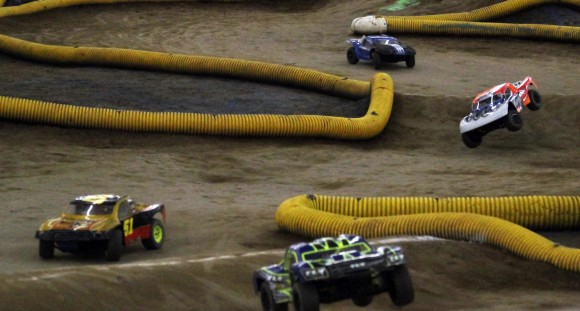 We also held a mini event at the SOUPer Bowl Shakedown.  It's called the Half-Time Dash.. a bracket race. It was a lot like the Dash for CA$H we ran at the Stocking Stuffer, but with a few twists.

20 drivers entered.
$10 per driver.
$5/ea went to charity = $100 (this was for the Wounded Warriors Project)
$5/ea to overall winner = $100
There were 3 races.. 5 Minutes each.
First group of 10 drivers ran Race 1 at the Beginning of Round 1 (after drivers meeting)..
Second group of 10 ran at the Beginning of Round 2.
We took the top 3 from each (that's where the bracket comes in).. and had a final showdown before the Mains. Six drivers, Winner take all.
All of these races were similar to the first Dash for Ca$h.
Rules:
Any class vehicle being raced in normal classes during the SOUPer Bowl is eligible.
Track is run backwards.
Race 1 & Race 2 will have turn marshalls.
Race 3 (Final) you get 1 courtesy marshall, then it's the 30 second rule from the Dash. (If you flip or get stuck after 1 courtesy marshall, you have 30 seconds to try to rectify your car using your radio (throttle/brake/steering, etc) or find a friend on the driver stand willing to try to bump your car with his)
Intentional bashing will get you DQ'd from any round at the race directors discretion.
Overall winner from Race 3 (Final) took home the trophy (built by Pat Danquer) and $100.
Race 1 video:
[youtube]http://www.youtube.com/watch?v=UHfxKfRqYfc[/youtube]
Race 2 video:
[youtube]http://www.youtube.com/watch?v=IcUlUc9zpVI[/youtube]
Race 3 / Finals video:
[youtube]http://www.youtube.com/watch?v=W7XZOtvgaZA[/youtube]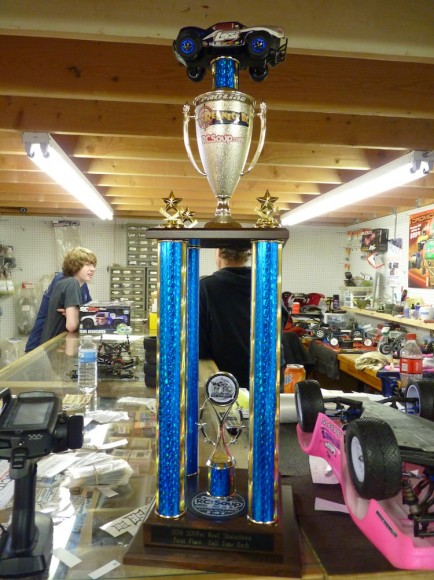 Here's the epic trophy that was built for the Half-Time Dash. Thanks so much Pat!
Jarodd Goedel was the eventual winner with his Tekno SCT410.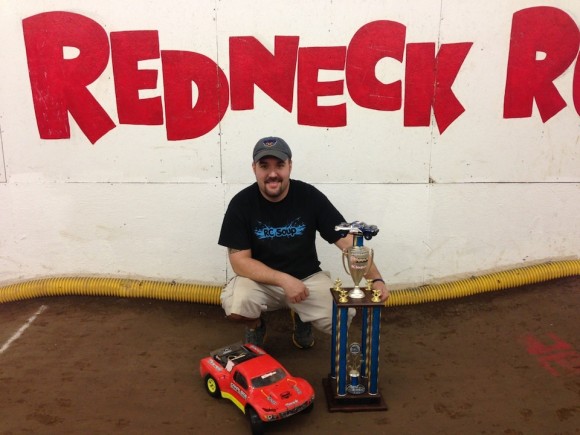 And here we have proof of the $100 donation to the great cause we chose for this event.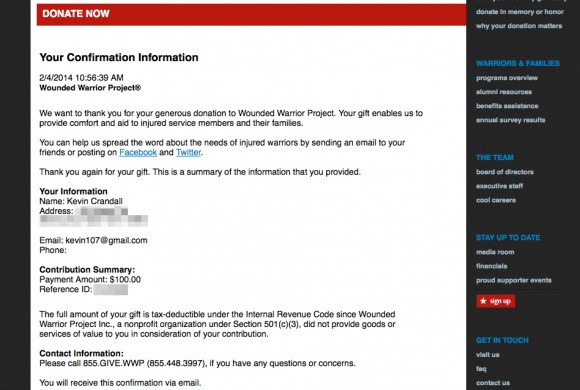 Below are the results from the SOUPer Bowl Shakedown. I feel I need to explain something that happened while running the mains that caused a little bit of a stir (rightfully) and disappointment. After race 4 of the mains, the computer glitched and showed "no racers in Race #5" and asked the race director to skip ahead. It skipped races with no way to return back to the race we were supposed to be running, and even then races were empty. It seemingly corrupted the database it was working off.
Calvin, the shop owner, and most experienced with the software Redneck was running was called away mid-raceday for a family emergency. The race directors and track crew did everything in their power to attempt to get the race back on track, including desperate phone calls with little success. They eventually tried to reshuffle the main listing, and that seemingly worked but dropped several racers. They manually added them back in and we had something to work with but it was getting really late at this point. We got 1-2 races in, and the software did the exact same thing. The track crew then decided we had no choice but to award trophies by qualifying order and declare those the official results for the event.
Needless to say, several changes will be in place before the next event, including a move to the much more reliable RC Scoring Pro software. Redneck is committed to making the very best racing experience. For those this computer failure effected, Redneck is willing to offer you a significant savings on the next trophy event. Other changes are being put into motion as well that should speed up the race day significantly to better handle a large crowd.
For the record, the following is retyped based off the printed sheets from the event. The computer lost the original heat setup, so I took home the printout.
Race #1 – Novice A Main
Tanner Warner
Derrick Mcgrew
Mason Goedel
Garrett Marshall
Mitchell Kristoff
Owen Kitts
Megan Wruck
Rayden Morris
Sierra Mueller
Olivia P
Race #2 – 2wd Buggy E Main
Warren Canfield Jr
Kyle Welker
Ron Childs
Race #3 – 2wd SC Pro-Lite D Main
Joe Brandstetter
Calvin Hall
Race #4 – 4wd Buggy D Main
Darrell Prouty
Scott Brooks
Matt Rush
Rob Swan
Jon Haggard
Race #5 – 2wd Buggy D Main
Steven Urauhart
Jeff Dayger
Scott Brooks
Isaac Wood Jr
Matt Kuhlmann
Brandon Pierce
Jacob Mingle
Vincent Reali
Loandro Burrarazzi
Race #6 – 2wd SC Pro-Lite C Main
Al Smith
Brandon Pierce
Mike Hoyt
Bill John
Martin Hubbard
Micheal Figueroa
Mike Osier
Mike Sherbeck
Domonick Granga
Race #7 – 4wd Buggy C Main
Nick Cummo
Jason King
Keith Cardinale
John Austin
Steve Poppe
Mike Hobbell
Jacob Mingle
Justin Robinson
Race #8 – 2wd Buggy C Main
Rob Swan
Steve Poppe
Dylan Zacharias
Joe Rice
Eric Kirschner
Kevin Crandall
Jake Cooper
Justin Smith
Danny Mcgarrity
Race #9 – 2wd SC Pro C Main
Kevin Crandall
Warren Canfield Jr
Jeremy Hausfelder
Justin Robinson
James Sisson
Race #10 – 4wd SC Pro-Lite C Main
Ian Burke
Jeff Moyer
Chuck Herndon
Derrick Mcgrew
Darrell Prouty
Martin Hubbard
Mike Schrader
Race #11 – 17.5 Stock Buggy C Main
Nick Cummo
Matt Rush
Kevin Crandall
Calvin Hall
Race #12 – 2wd SC Pro B Main
Nelson Quinones
Jeff John
Andrew Irlmeier
Vincent Reali
Danny Mcgarrity
Jason King
Erik Vorlkle
Ron Childs
Joe Rice
Race #13 – 2wd Buggy B Main
Justin Williams
Matt Morris
Rob Stillwell
Jinson Collins
Jason Blum
Bihn Quan
Tyler Childs
Jarodd Goedel
David Preyer
Race #14 – 2wd SC Pro-Lite B Main
Jake Cooper
Brian Rosato
Tim Osier Jr
Jacob Mingle
Jon Haggard
Rocky Warner
Matt Rush
Zavien Rosato
Adam Cooper
Race #15 – 4wd Buggy B Main
Rob Stillwell
Shawn Wright
James Sisson
Jeff John
Eric Kirschner
Combat Carl
Rich Herholtz
Tyler Childs
Danny Mcgarrity
Race #16 – 4wd SC Pro-Lite B Main
Justin Robinson
Jon Haggard
Bob Kitts
Brian Rosato
Jeff Davis
Scott Meier
 Brandon Pierce
Ian Joyce
Mike Hobbell
Race #17 – 4wd SC Pro B Main
Anthony Scott
Ken Ramsey
Dylan Zacharias
Keith Cardinale
Ryan Fields
James Sisson
John Austin
Ron Childs
Race #18 – Stadium Truck B Main
Isaac Wood Jr
Kyle Welker
Race #20 – 17.5 Stock Buggy B Main
Tom Hargrave
James Sisson
Justin Jubert
Reid Mcmichael
Steve Poppe
Jarodd Goedel
Vincent Reali
Shawn Wright
Isaac Wood Jr
Race #21 – 2wd SC Pro-Lite A Main
Jeff Moyer
Shaun Sergott
Justin Smith
Jeff Davis
Scott Brooks
Matt Kuhlmann
Jim Ferguson
Anthony Granga
Reid Mcmichael
Race #22 – 2wd SC Pro A Main
Nate Reyes
Jason Wruck
Chris Cristo
Geo
Shawn Coyle
Tom Hargrave
David Preyer
Tyler Childs
Robb Fumire
Race #23 – 4wd SC Pro-Lite A Main
Joe Jr
Joe Sr
Randy Kitts
Shaun Sergott
Reid Mcmichael
Justin Smith
Scott Brooks
Eric Sigler
Dale Allen
Race #24 – 4wd SC Pro A Main
Afro Thunder
Justin Kelly
Jim Edmonds
Jarodd Goedel
Binh Quan
Matt Kitts
Danny Mcgarrity
Tom Hargrave
Shawn Coyle
Race #25 – Stadium Truck A Main
Shawn Coyle
David Preyer
Justin Smith
Dylan Zacharias
Jeff John
Scott Brooks
Shawn Sergott
Brian Rosato
Vincent Reali
Race #26 -17.5 Stock Buggy A Main
Combat Carl
Rich Herholtz
Jeff Dayger
Matt Kitts
Robb Fumire
Scott Brooks
Shawn Coyle
Jeff John
Nelson Quinones
Race #27 – 4wd Buggy A Main
Afro Thunder
Paul Sinclair
Jim Edmonds
Andy Starratt
Luke Allen
Brett Blum
Jason Blum
Dylan Zacharias
Joe Jr
Race #28 – 2wd Buggy A Main
Paul Sinclair
Nate Reyes
Jim Edmonds
Jason Wruck
Combat Carl
Brett Blum
Geo
Chris Cristo
Luke Allen
Finally we have the Stock 17.5 2wd Buggy class. This was a hotly contested class because X Factory put that X-6 Cubed conversion on the line for the winner if we had over 21 entries. Well we did meet the minimum, so the buggy was awarded to the winner (who was not sponsored). Carl Engelmann aka "Combat Carl" took the class by storm with his TQ run (and eventual win by default).
Finally at the end of the night, despite the computer screwing up all the mains, Chazz Sinclair asked us to run a mock Buggy A Main. We used the results from qualifying for the awards, but the race crew were able to re-input the A Main drivers into a new race program and run what would have been the A-Main lineup. Even that took a bit of time, so by the time this was run, it was really getting late. Not many got a chance to see these guys put on one heck of a run, with Chazz on the mic. It was awesome to watch. The video is below.
[youtube]http://www.youtube.com/watch?v=8fNvJZzyrWQ[/youtube]
All in all, I would call the race a success. We had an AMAZING turnout with drivers from multiple states coming out. Uncontrollable circumstances plagued the mains which is unfortunate but as I mentioned, Redneck is stepping up and taking action. This being only their 2nd trophy event at the new location, it's all lessons to build on. Racing will be better and better with every event, and Redneck RC will certainly become one of the premier tracks to race at in the Northeast.
I hope everyone who came out had a great time. Look for details on the next event coming soon. I can tell you that it's the 2nd Annual Hillbilly Hoedown on March 15th, 2014. Mark it on your calendar or visit the event page on Facebook.
Redneck R/C is located at
68 Smokey Hollow Rd.
Baldwinsville, NY 13027
You can call them at 315-635-1389
Find the Redneck Group on Facebook.