A proven competitor with brand-new racing firepower.
With wins at European Championships and the Reedy Race of Champions to its credit, the Team Durango DEX210 had nothing to prove. But now, the company that's "Serious About Racing" has added 20 new features to create the DEX210v2 — a buggy destined for even greater success in the future.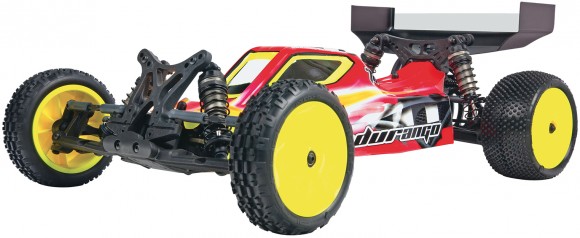 These race-winning features are now standard equipment:
8 mm-longer hard-anodized aluminum chassis for more straight-line stability and better post-jump recovery
New, straight front arms for more ground clearance and better aerodynamics
New, interchangeable rear arms for front or rear shock mounting options
Redesigned rear chassis brace for easier access to gearbox and power system
New side pods provide more mounting space for electronics and better dirt and water protection
New front shock tower design and material for faster, easier access to camber links and superior crash resistance
Improved, low-profile rear shock tower for better post-jump handling and more shock tuning options
New v2 cab-forward body for greater downforce and straight-line stability
More shock piston choices, including blank pistons for custom setups
Updated DIMEC X ball cups for better crash resistance and faster adjustment
-2 mm rear low roll-center suspension hanger for improved (forward) traction and smoother cornering on low-grip tracks
All Team Durango Type "B" upgrades
These are in addition to standard features such as the patented Hybrid Gearbox, which allows drivers to run rear- or mid-motor setups in the same kit.  Racers anxious to make their mark in the record books can find the DEX210v2 at better hobby retailers everywhere.
Specifications:
Length: 13.2 in (355 mm), 14.5 in (368 mm)
Width: 9.6 in (245 mm)
Wheelbase: 10.6-11.2 in (274-282 mm)
Weight: 3.64 lb (1650 g)
Requires: 2-4 channel radio w/high-torque steering servo, 540 motor and ESC, 2S 7.4V 4000mAh (min.) LiPo battery, LiPo charger & tires
Available: Mid Spring
TDRC0011 DEX210v2 1/10 Scale Electric 2WD Kit
Please note: the information in this press release was the best available at the time. Please see the Team web site for updates.