The newest incarnation of world championship performance.
Team Durango UK Team Driver Chris Doughty summed it up best when he was recently quoted as saying: "I am really excited about the added tuning and performance options that are being offered on the latest version of the world-class DEX410 racing platform. The DEX410v4 buggy is hotly anticipated by Team Durango fans world-wide."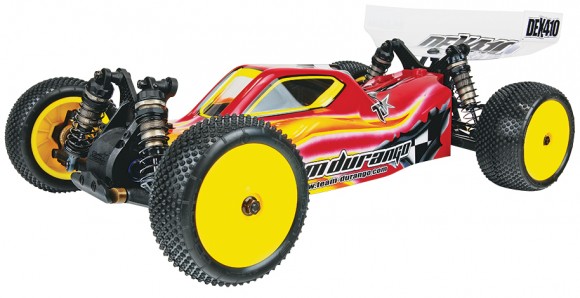 With many new upgrades to an established championship-winning design, the DEX410v4 is staking its claim as the world's most advanced 4WD racing machine, and ready to continue Team Durango's off-road dominance. For drivers 'Serious About Racing' the DEX410v4 is the right car, right now!
FEATURES:
New cab-forward body design
Front arm features outboard wheelbase adjustment
Rear arm has a recessed droop screw and captured outer hinge pin
New piston sizes included: 2×1.6mm, 2×1.7mm, 3×1.6mm, 3×1.7mm, plus 4 blanks
Black titanium nitride-coated shock shafts front and rear
19° aluminum caster blocks
Low 'Stiction' O-rings
2mm hex balls throughout
Larger body clips included