Race Re-Cap – Short Course Showdown 2014
Track: RC Excitement, Fitchburg MA
Owner: Todd H Anderson
Director: Scotty Ernst
Entries: 184
Schedule: Friday Practice, Saturday 3 qualifiers, Sunday 1 qualifier and mains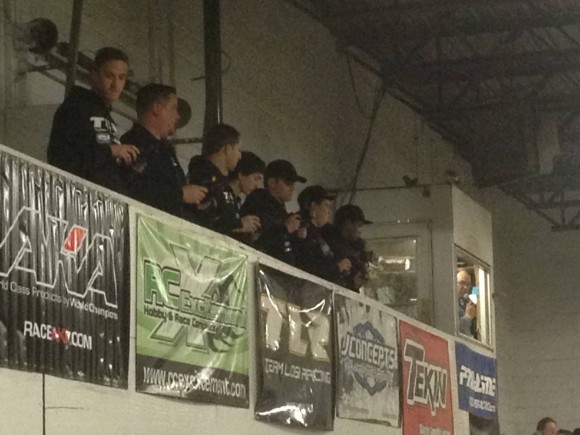 The 2nd leg of the Showdown tour was this last weekend with pro drivers, industry leaders and plenty of Rc fanatics grouped together under the shelter of RC Excitement. With entries just under the 200 mark, it was a lighter turnout than some of the other big events at RC Excitement, but provided for an outstanding atmosphere.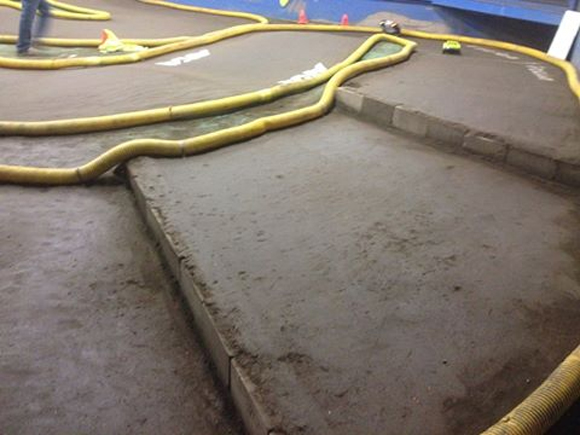 With Scotty Ernst on the microphone, the race schedule was amazingly smooth and fast. Throughout the event, Mr. Ernst kept up with who was who, made time for those in need and pushed the pace like the pro he is. From the start of the event Scotty was there greeting and meeting the drivers, learning who was going to need help and pinpointing special cases like young kids and veteran disabled RC enthusiasts. On practice day, Scotty sat in the pits making sure everyone was signed up and signed up correctly. It was a more direct, friendly and calmer way to sort out the last minute adds and drops typical with a larger race.
JConcepts and AKA were there via Dave Duncan and Greg Hodapp. It was great to see two competing companies working so closely together at an event. Dave and Greg constantly worked together for the good of the RC enthusiast and spent tons of time explaining, re-explaining and educating people time after time. It was rare to see people 'not' in front of their tables and for good reason. They both consistently handed out the very best of their information and support regardless of who was asking. Add to that the very notable laughter of Dave Duncan and good times were assured.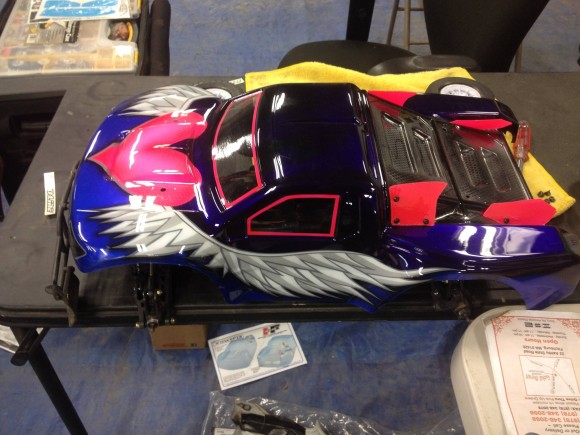 Associated was represented by Mike Wilder, Alex Kosciuszek and Nick Powell. Both Nick and Alex are young and upcoming drivers with unlimited potential. I believe Mike Wilder set my ride height 3 times, must have answered 20+ of my questions and continued to check in on not only 'my' performance but pushed help to anyone in need.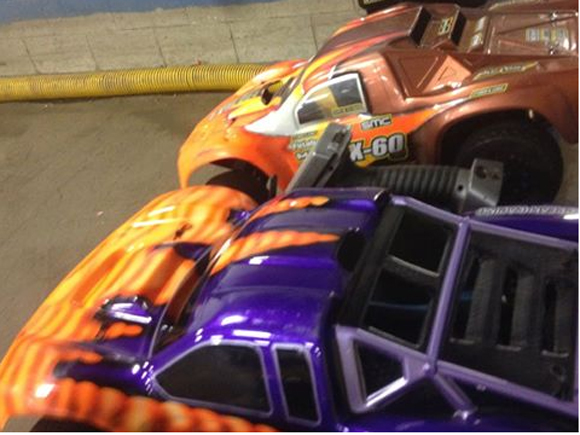 TLR had a very strong showing with Anthony Mazzara and Dustin Evans taking to the track and more importantly showing skills in the pits. Although Evans ran 3 classes and TQ'd each one, he was active in supporting anyone, and I do mean 'anyone' who approached asking for help. Mazzara showed grace and a great deal of patience as drivers young and old approached time and again to see what the deal was with using duct tape on his tires, or any number of other random questions. It was great to see top tier racers giving their time and knowledge away freely.
The pro drivers in attendance were all very helpful, the atmosphere in the pits reflected this and there were very few moments in which someone, or some group of people were not laughing. With a very fun atmosphere in play, help being offered at every turn, the stage was well set for racing.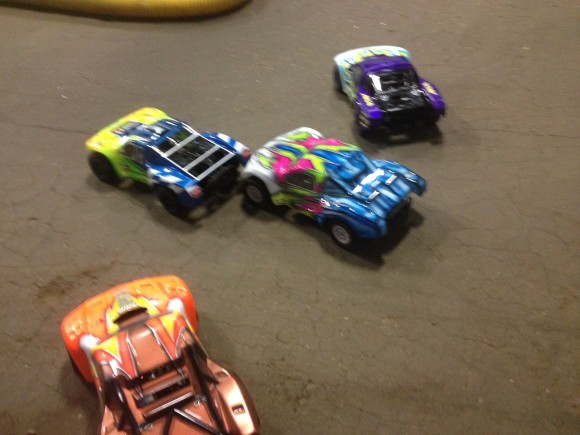 Driver Meeting: – a vote was taken to decide if we would use 'heads up' starts or go one at a time. The vote was close, but it was decided that we would use 'heads up': i.e. everyone goes at the horn for all quals and mains. — This turned out to have a major payoff at the end of the races as everyone was used to starting at the same time together.
Qual1: – rough starts as people got used to each other on the track but Mr. Ernst pulled out re-start after re-start while somehow not falling behind schedule.
Qual2: – unshuffled, everyone had a pretty good idea of who was who and many people shot up the ranks quickly.
Qual3: – Shuffled, and later at night caused a decrease in traction and some more chaos as people got re-acquainted with new drivers. However, there were a couple TQ's set as some people found open room to run.
End of day
6:30am or earlier the doors were open and the lights were on – open practice as time allowed 8:00am
Qual4: – shuffled and found many people getting bumped down as people figured out track conditions.
Break for raffle: – Scotty Ernst played up to the crowd and all agreed it was the most 'fun' they could remember a raffle being. Scotty kept hanging the last number out there until the crowd was worked up and by the end of it people were clapping, laughing and enjoying themselves.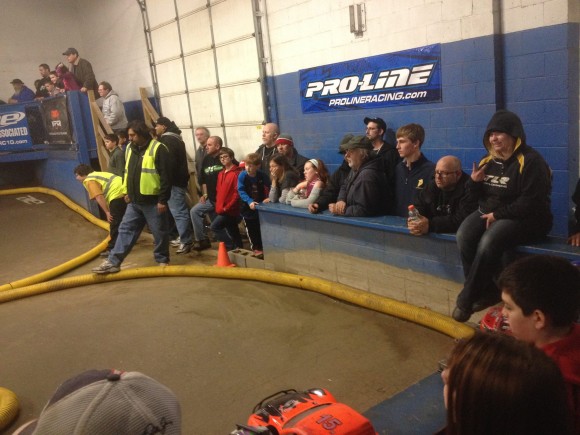 Mains: – intensity is one word for it….. utter insanity behind the wheel is another way to describe the racing. Too many close calls, battles and chases to recount, but the crowd watching was going absolutely ballistic and both the director and drivers gave them good cause. — Dustin Evans cleaned house once again at RCE and said in his interview that RCE has definitely been good to him. 1 year rookie Peter Bartlett took down the stock class and placed 5th with the same truck in the modified class showing that 'slow is fast' always applies.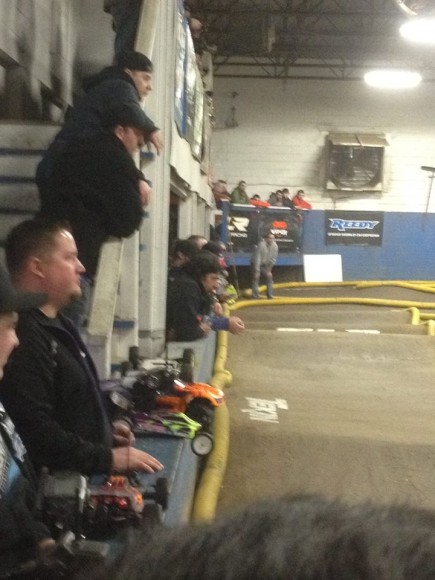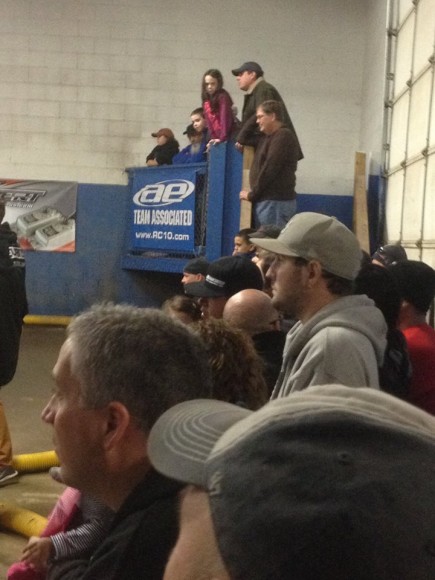 —– In general, the mains were fun, fast and moved along smoothly. At the end of the day, it was once again Scotty Ernst out in the parking lot shaking hands and giving well wishes with thanks for attending to all. From start to finish, the Showdown was professional, fun and classy.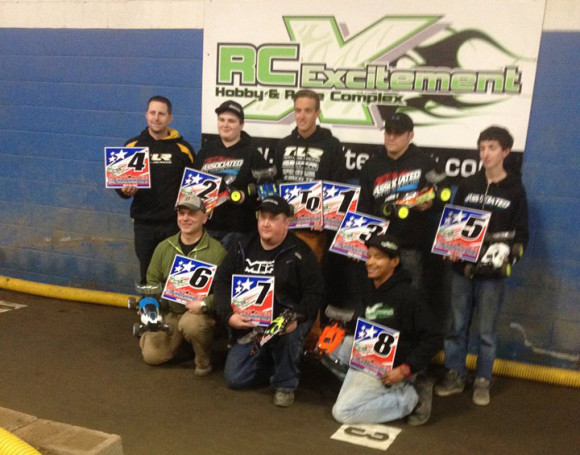 After everything was done, I was lucky enough to sit down with some of the drivers from the weekend and ask them some random questions. I look forward to releasing them as soon as they are done being edited!