Why should only the Stock racers have the better drive system? MIP engineers have now developed a stronger Pucks™ system for the Modified racer, now introducing MIP Pucks™ Shiny Drive System.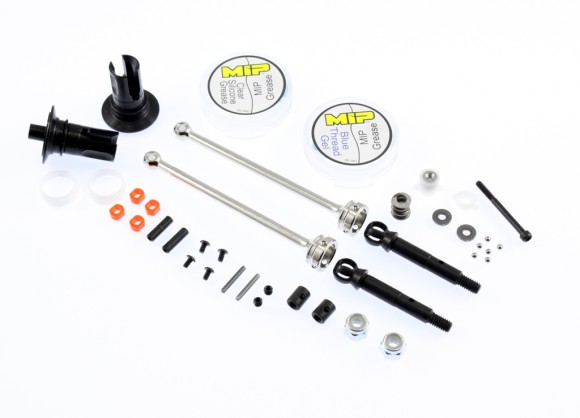 These new shiny kits from MIP provide all the speed, acceleration, and replaceable Pucks™ (Keeping your drive train running like new) of the aluminum kits just made to handle the abuse of the Modified racer. If you're not using MIP Pucks™ you're losing to the person that is. MIP Pucks™  Shiny Drive system provides smoother accelerations, better handling out of turns, and a little more weight to keep the vehicle grounded while helping the driver maintain more control of the vehicle. MIP Shiny Drive Pucks™ system are for the racers who use 13.5 or higher motors for their vehicle  and needs a little more strength and weight  to their drive train then MIP Aluminum Pucks™.
TARGET CUSTOMERS:
Serious racers looking for a competitive advantage on the track
Racers with 13.5 or higher motors
COMPETITIVE ADVANTAGES:
Quicker acceleration
Less overall wear on drive components
FEATURES:
Replaceable Pucks to keep drivetrain fresh
Race Prove C-CVD™ Construction
Two sets of holes in the C-CVD™ bell
100% Quality made in the USA!
INCLUDES:
MIP Confetti Sticker (2), MIP Thread Gel Safety Sheet (1), MIP Instruction sheet (1), 5/64" Chrome Steel Ball Bearings (6), #2 Hardened Washer (2), Diff Lube & Grease Cup (1), ¼" x 9/32" Diff Spring (1), 2-56 x .925" Diff Shoulder Screw (1), Molded T-Nut (1), Diff Thrust Cover (1), MIP Pucks™ Male Outdrive Schumacher Cougar KR/SV2 (1), MIP Pucks™ Female Outdrive Schumacher Cougar KR/SV2 (1), SHSS 4-40 x 3/32" Cup Point (2), 1/16" x .430" Solid Pin (2), M4 x .7mm Steel Locknut (2), BHCS 1-72 x 1/8" Button head (6), MIP 3/16" CVD™ Coupling (2), MIP Retaining Ring (2), MIP CVD™ Pucks™ Pin (2), MIP Outdrive Pucks™ (8), MIP Pucks™ Shiny Bone Schumacher Cougar KR/SV2 (2), MIP CVD™ Rear Axle Schumacher Cougar KR/SV2 (2)
REQUIRES:
.050 inch Allen Key – (Suggest #9000 MIP Hex Driver Wrench .050 inch)
5/64 inch Allen Key – (Suggest #9002 MIP Hex Driver Wrench 5/64 inch)
COMPATIBILITY:
Schumacher Cougar KR/SV2 (K139, K140,K123,K124)
#14100 MIP Pucks™, Shiny Drive System, Schumacher Cougar KR/SV2
MSRP: $85.00
UPC: 691545141008
SUPPORT PRODUCTS:
#10144 MIP CVD™/C-CVD™ 3/16 Rebuild Kit w/ Set Screws MSRP: $6.00 UPC: 691545101446
#11115 MIP Capture Rings (4) for all 1/10 MIP CVD™ MSRP: $6.00 UPC: 691545111155
#13131 MIP Pucks™, Orange No.1 Pucks (8) MSRP: $6.00 UPC: 691545131313
#13132 MIP Pucks™, No.1 Pins & Screws (2) MSRP: $8. UPC: 691545131320
#14101 MIP Pucks™, Male Outdrive, Schumacher Cougar KR/SV2 (1) MSRP: $12.00 UPC: 691545141015
#14102 MIP Pucks™, Female Outdrive, Schumacher Cougar KR/SV2 (1) MSRP: $12.00 UPC: 691545141022
#14103 MIP Pucks™, Shiny C-CVD™ Bone, Schumacher Cougar KR/SV2 (2) MSRP: $22.00 UPC: 691545141039
#14104 MIP Pucks™, CVD™ Axles, Schumacher Cougar KR/SV2 (2) MSRP: $18.00 UPC: 691545141046
#14105 MIP Pucks™, Steel Thrust Rebuild Kit, Schumacher Cougar KR/SV2 MSRP: $10.00 UPC: 691545141053
#99010 HW-Nut, M4 x .7mm Steel Locknut (6) MSRP: $3.50 UPC: 691545990101
#99016 HW-Pin, 1/16 x .430 Solid Pin (4) MSRP: $3.00 UPC: 691545990163
#99026 HW-SHCS, 2-56 x .92 Diff Screw (2) MSRP: $3.00 UPC: 691545990262
#99028 HW-SHSS, 4-40 x 3/32 Cup Point (4) MSRP: $2.50 UPC: 691545990286
#99064 HW-BHCS, 1-72 x 1/8 (6) MSRP: $3.50 UPC: 691545990644
For reviews & more info visit http://miponline.com/store/mip14100.html