The shape of car batteries to come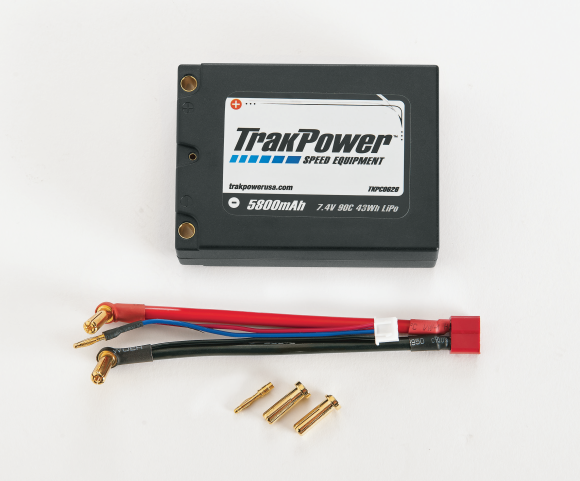 Who says you can't have it all? Not TrakPower.
Their new square LiPo car pack simplifies weight distribution and balancing, while at the same time making saddle packs and jumper wires unnecessary. Its 5800mAh capacity eliminates run-time concerns up front, while its 90C discharge rate provides fast response and insane, crushing acceleration. Big, 5 mm discharge connectors are included to keep the pack cool while providing the necessary current carrying capacity. And like all TrakPower LiPos, this pack features an impact- and damage-resistant hard case for investment protection.
TKPC0626 Specifications
Max. Recommended Charge Current: 1C (5.8A)
Discharge Current: 504A
Watt Hours: 43
Dimensions: 2.7 x 1.0 x 3.7 in (69 x 25 x 93 mm)
Weight: 10.4 oz (295 g)
Discharge Connector: 5 mm
Balance Connector: 2 mm
Includes: 5 mm to Deans® charge/balance lead; balance connector & (2) 5 mm bullet connectors
Deans is a registered trademark of W.S. Deans.
TKPC0626 7.4V 5800mAh 90C Square Balanced LiPo Pack. . . . . . . $89.99