Serpent introduces the 1/8 Cobra as E-Truggy – Super narrow E-Truggy chassis with new E-Truggy body to match.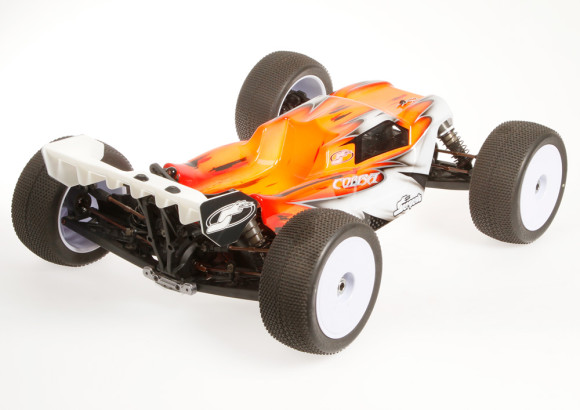 The Serpent Cobra e-truggy is the electric powered version of the very popular Cobra gas powered Truggy. Serpent created the E-Buggy Cobra a few years back, with the motor front mounted together with the speedo, receiver and servo, allowing the batteries to be mounted in longitudinal fashion in the center-back of the car, and as low as possible, one side each, to create a perfectly balanced car. This same design has now been used also in the Truggy, just allowing more space for the motor in case a driver wants to mount a truggy size brushless motor.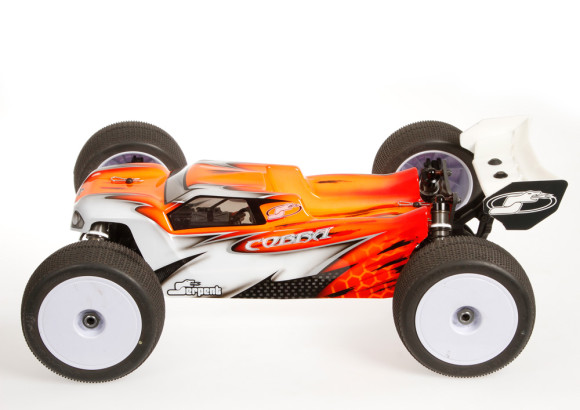 World Champion Billy Easton, USA, designer for the Serpent Cobra and Spyder line of cars, has made another masterpiece in the form of this E-Cobra Truggy.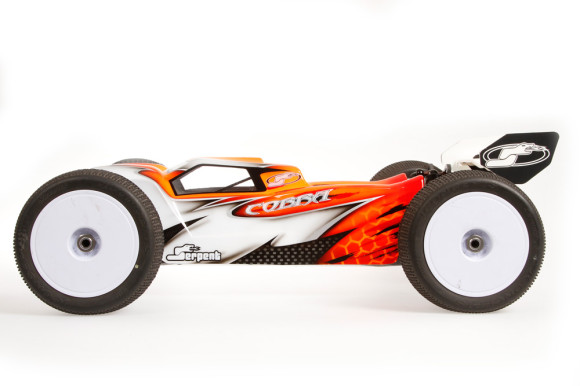 Features
Long and narrow 7075 T6 aluminum chassis
Carbon fiber shock towers
Big bore shocks
3 gear diffs with new type spiral shaped gear and pinion 10T – 43T
Spring steel transmission parts
Super durable suspension
Front C-hubs combined with angled steering system
Front mounted motor / speedo/ receiver unit
Longtudinal placed battery pack holders / chassis stiffners
Low and narrow E-truggy body design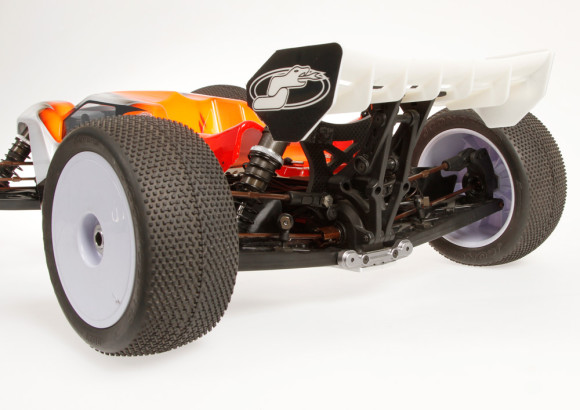 Main features
Chassis
Very narrow 3mm 7075T6 aluminum chassis, with machining on the upper face to make it lighter in strategic locations and to control flex. Kick-up front for proper landings. Angled side to increase cornering clearance, and secure and easy mounting side guards with 5 screws. Countersunk holes,   pockets to position the suspension brackets. Grey anodized with Cobra Logo engraved. Overall the Truggy is designed to keep the weight very central and near to the center line as possible, to create a great overall balance.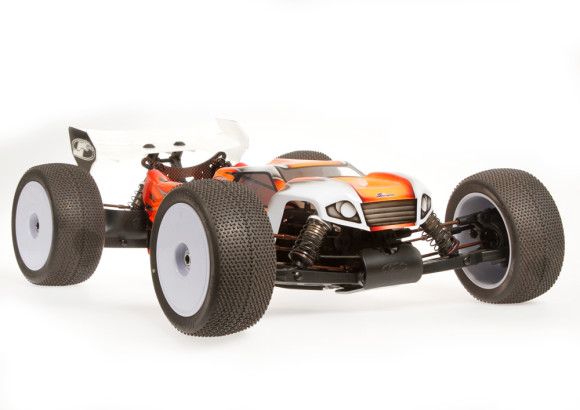 Side guards / battery trays
Durable shaped composite side guards / battery trays that follow the line of the chassis, and mount with 5 screws each side. Front and sides high enough to keep the dirt out. The guards/trays create a lot of stability. The batteries are mounted in longitudinal fashion, keeping the weight very low in the car. The battery trays feature hinged covers, to keep the batteries well in place, but are easy to open for access.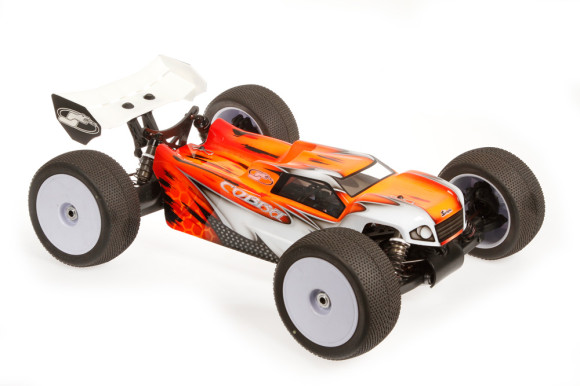 Motormount
The motor is placed in the most optimal position in the car, keeping motor-forces and transmission parts / alignment in mind. Only one-screw is needed to secure the BL motor, in the nicely designed durable machined aluminum motor mount. Space for additional motor-cooling available as needed.  The space for the motor allows mounting all popular buggy and (monster) truggy motors.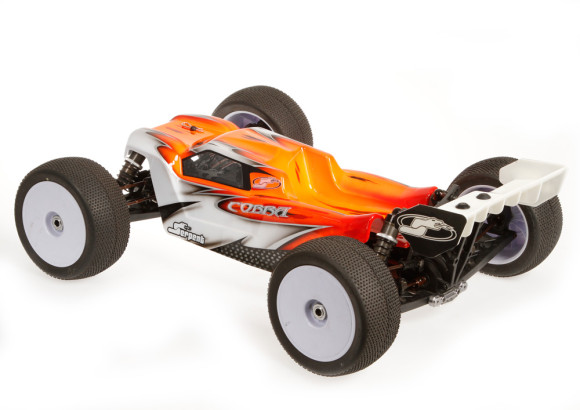 Composite chassis braces
Allows the chassis to flex which helps improve bump handling. Front and rear.
Front bumper
Nicely rounded front bumper, same as on the Cobra buggy, to protect the front anti-roll bar, suspension brackets, and flows inline with kick-up chassis front for safe landings.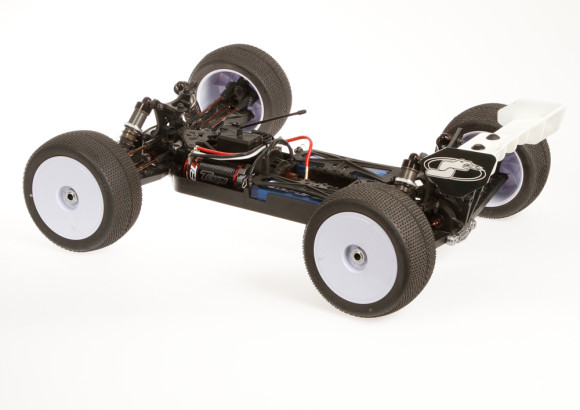 Front suspension
Very long and durable composite lower wishbones, combined with upper spring-steel trackrods. 2 lower shock-mount positions. Downstops can be used as needed. Pivotball type anti-roll bar rods.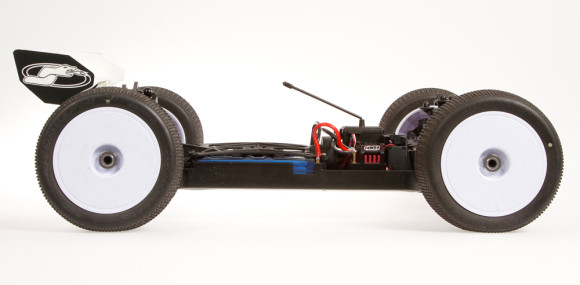 Front steering / servo saver / angled
Innovative angled front steering assembly to reduce the angle of difference between the total caster and steering plane. Therefore you will have less bump steer and a truer steering Ackerman through the entire range of suspension.  Adjustable spring loaded servo-saver system with interchangeable Ackermann plates. With the design of the steering bell cranks when changing the Ackerman you will not need to adjust your steering tie rods. You simply will only need to adjust your end points on your radio.. Very easy to access and set-up.
The Inboard Bell crank keeps the lever and linkage inside the car. It will aid in the prevention of damage to the steering system.   Zero scrub radius's on steering knuckle, helps reduce the jacking effect created by your steering knuckle offset. It provides a more direct fell while keeping the cars chassis more level while turning.
The front roll center can be changed quickly by moving the steering knuckle shims to their appropriate locations.  Topped of with a strong 5mm carbon fibre top-plate.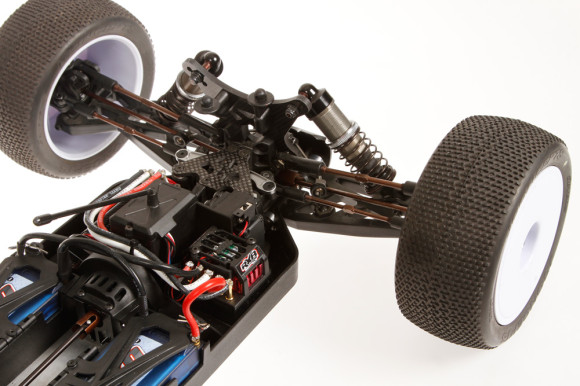 Front steering-block / c-hubs
Very durable front steering block   / C-hub assembly .
Drive-shafts
Long and lightweight spring steel units with pressed in steel pins, laser-engraved.   Same length front and rear.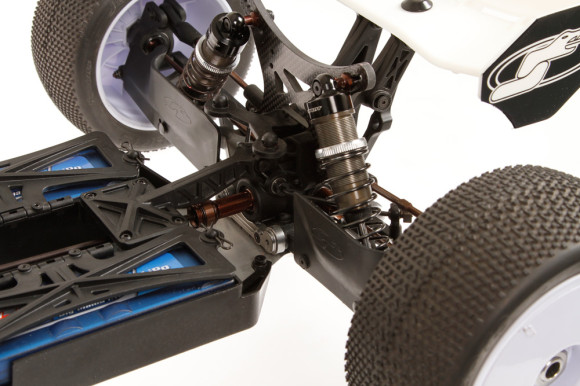 Wheel-axles / wheel-nut
Serpent spring steel threaded wheel-axles with lightweight grey anodized aluminum wheel-nuts ( flanged and serrated) to keep the massive truggy wheels/tires on track.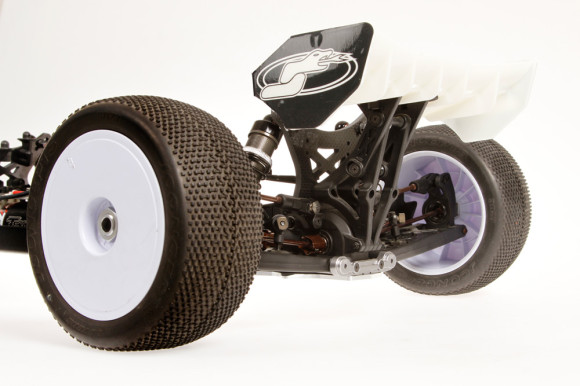 Captured universal joints
The idea here was simple. Guarantees you will finish a race without loosing a pin or set screw. All parts, axles and drive train components have capture pins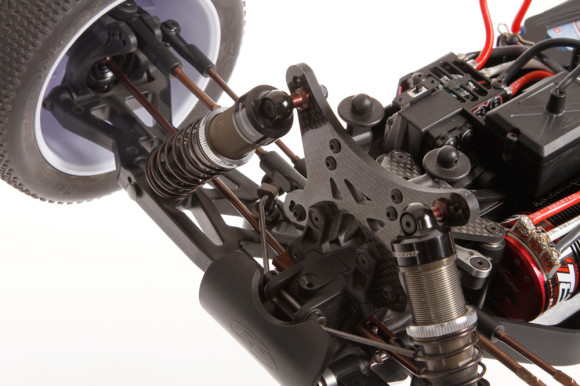 Front shock tower
Light, strong and durable machined 5mm carbon fiber units with 5 positions for shock angle.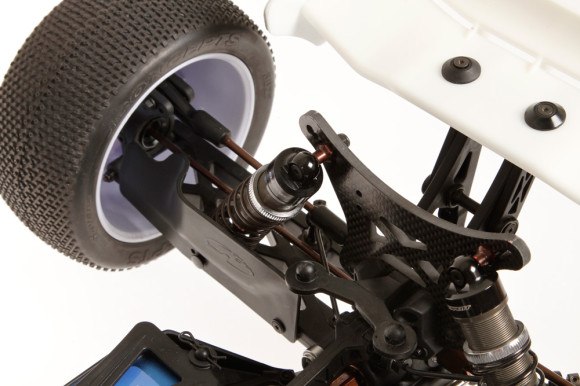 Shock-set front and rear
16mm big bore shocks, with hard anodized precision threaded shock-bodies. Shock boots in silicone rubber to keep the dirt out . Chromed shock-shafts for super smooth shock action . The larger o-rings provide less overall pressure and a better seal without dragging on the shock shaft.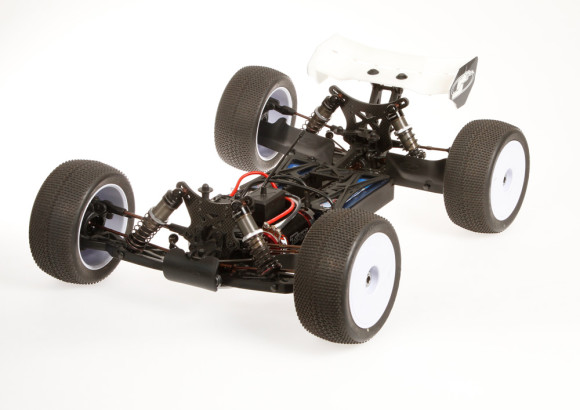 Suspension brackets alu
The hinge-pins / hingepin balls are captured in precision machined, special shaped 7075 T6 aluminum, grey anodized with indicated type. They capture the nylon roll-center inserts.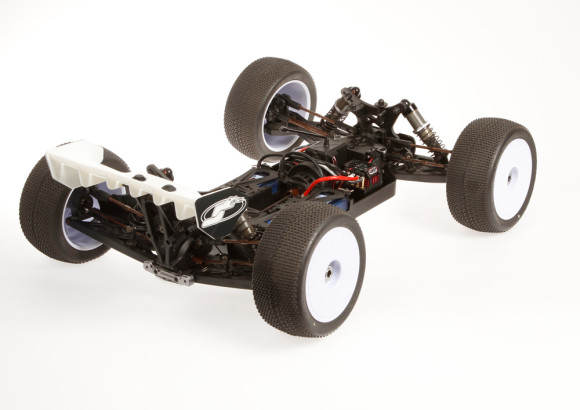 Anti-roll bar / anti-roll bar linkage with pivotball
The anti-roll bars front and rear are made of high quality special spring steel, and are captured on the diff-cased in ballbearing for perfect guidance and control.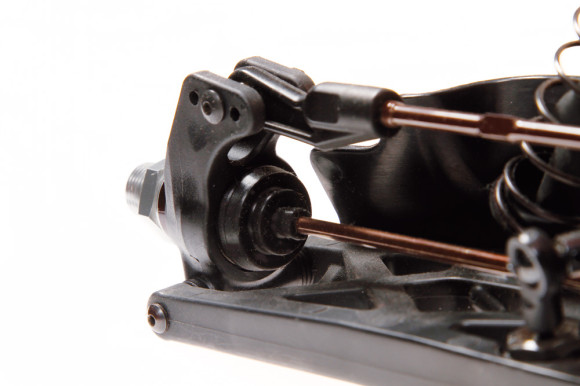 Receiver box / servo mount / speedo mount
Composite one piece radiobox to securely mount servo' s, speedo and receiver. For optimum balance the light receiver fits the top-case easy, with a small opening to allow cable to protrude. The speedo seats very low on a plate just above the chassis, so short cables can be used to the motor. The servo is mounted in a vertical fashion.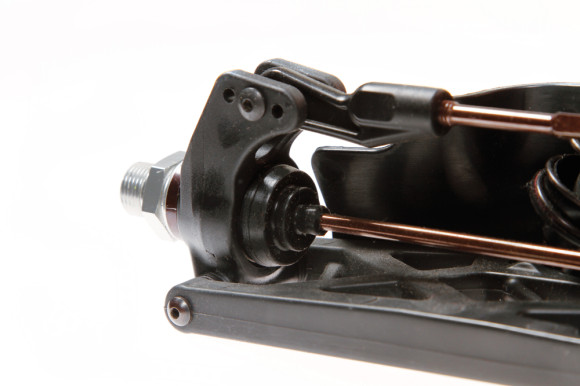 Central diff
Optimized central gear-diff with 50T super-hard spur-gear . Very small, compact design to reduce rotating mass to the max.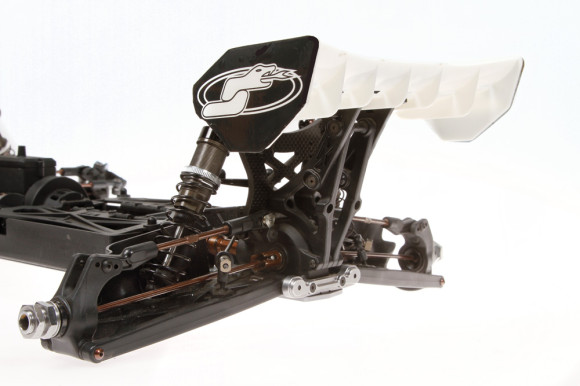 Transmission shafts
Durable but light and thin Serpent spring steel, laser engraved shafts.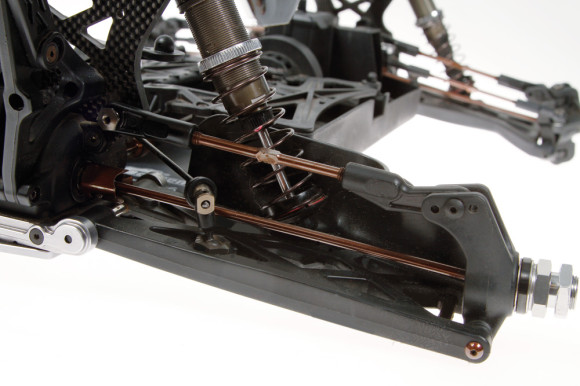 Front and rear diff
Optimized gear-diff with super hard spur-gears . Very small, compact design to reduce rotating mass to the max.   Same version front and rear.   Diff coupler in spring steel seated in large bearings for durability.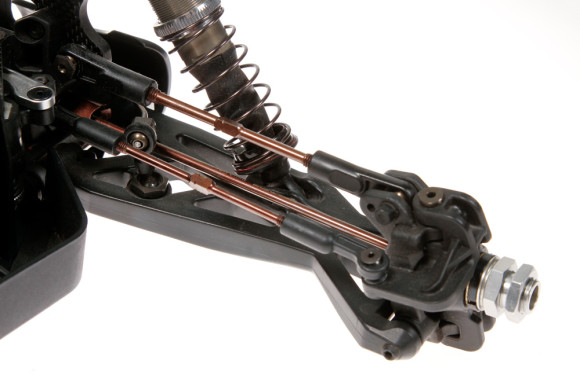 Rear shock tower
Light, strong and durable machined 5mm carbon fiber unit with 5 positions for shock angle.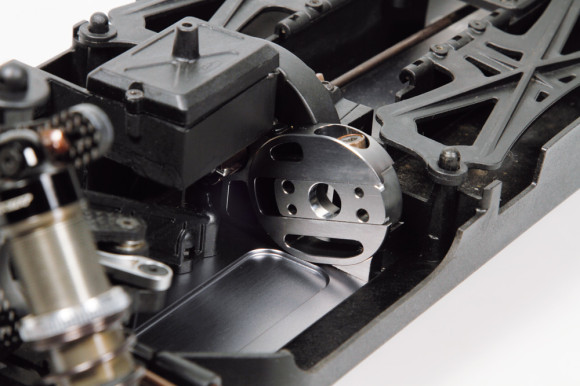 Rear uprights
Durable composite rear uprights with 3 camber positions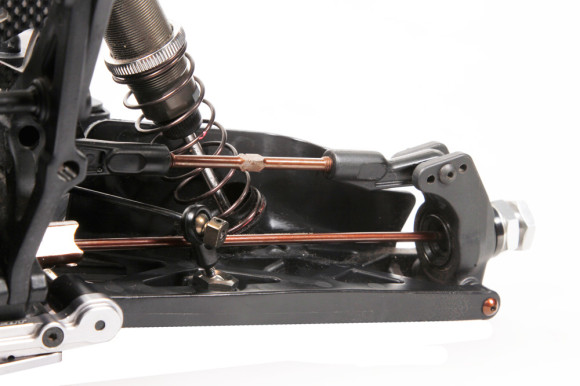 Mudguards
In moist or wet dirt situations these mud guards reduce and dirt sticking to the rear drive shafts and shocks.  Follow line of wishbone perfectly.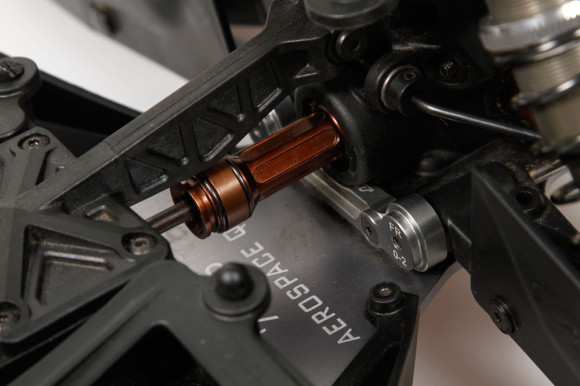 Rubber boots for shafts
Helps to keep the dirt out and the lubrication in. Reduces wear.
Suspension brackets rear
Nicely machined 7075 T6 aluminum with eccentric inserts to change set-up.
Rear wing mount
The composite rear wing mount, allows to change the angle of the rear wing.
Rear wing
Two stage high down force wing, has two levels of angle, which also includes 2 fins. Helps improve down force and straight line capability
Bodymounts
Nylon body mounts with wider seating for the body, securely fastened to the shock towers.
Super Low profile e-Truck Body
Improves appearance as well as keeps the profile low.
Decals
Serpent and Cobra-T logo decals in black-white print
Oils / grease
Kit includes high quality silicone oils for the diffs and shocks  and a container of grease.
Manual
Full color manual showing assembly steps , exploded views and reference guide. Set-up sheet included.
Box
Full color protective box to re-use for car transport or tires