Don't let failed caster blocks ruin your day of fun. RPM Heavy Duty Caster Blocks for the ECX Boost, 2wd Circuit, 2wd Ruckus & 2wd Torment are designed to prevent downtime and keep you running! We redesigned the overall geometry of the caster block, increasing the thickness of the walls in key breakage areas by as much as 20%! We also integrated a strengthening rib down the centerline of our caster block to improve the overall rigidity, helping to reduce or completely eliminate the possibility of a hard hit yanking the king pin screws out of the spindle block.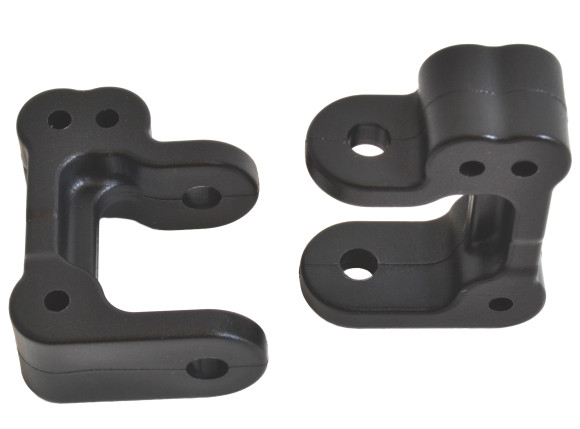 Each RPM caster block is molded from our incredibly tough blend of engineering grade nylons for proven performance and durability. Like all RPM molded products, our Heavy Duty Caster Blocks are proudly made in the USA!
Tech Notes: RPM Heavy Duty Caster Blocks replace the stock caster blocks for both ECX #1090 and ECX
Suggested Retail Price $9.95 / pair
Head on over to RPM's newly redesigned website to check them out!
RPM products is proud to announce that we finally have a new website built and on-line! The new site was designed to be extremely user-friendly. Our "Products" section has been completely revamped and allows multiple ways to find what you're looking for. Do you want everything we make for a particular vehicle? Simply do a "Make / Model" search and everything you see from that point forward will be directed specifically towards your ride! Are you more interested in product categories? We have you covered there as well. The entire product catalog has been broken down into simple categories making part types easy to find. Looking for a specific part? Type the part or description in the search feature to go directly to it. Each part now has its own individual product page and instruction sheets are now found on those same pages. Alternately, you can browse through our entire line of instructions via our "Instructions" page. Come visit our website and let us know what you think! It's computer, tablet and mobile friendly as well!