On October 18, 2014, we had the pleasure of attending the Recon G6 Coven Quest hosted by RRW. It was held at the RRW Krawlzone in Belleview FL. For those that are not familiar with a G6, it is an adventure style competition. Its designed to build camaraderie, and increase driver skill through carefully thought out driver challenges that test both man and machine.
The day started with registration. Several people preregistered, and they were shown to the front of the line.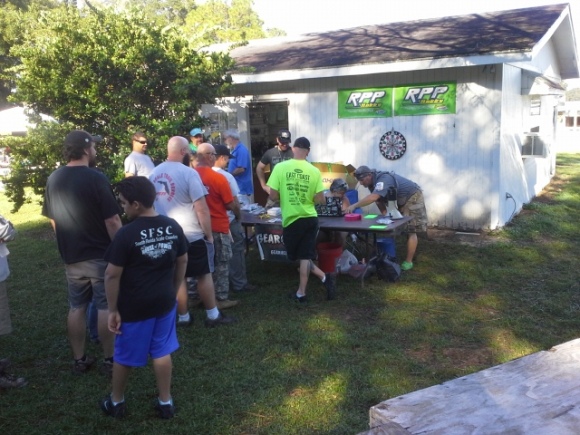 It was a pretty good showing. We had people in from as far as the Carolinas.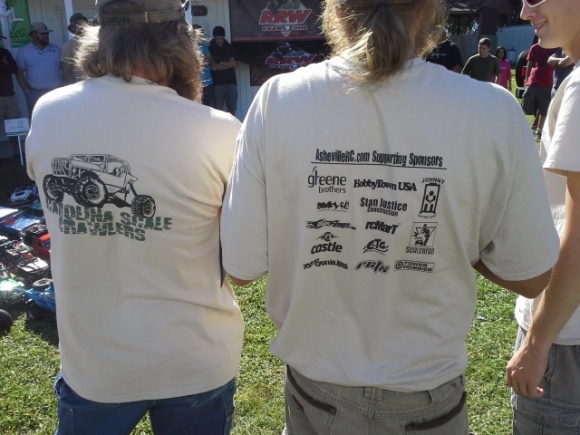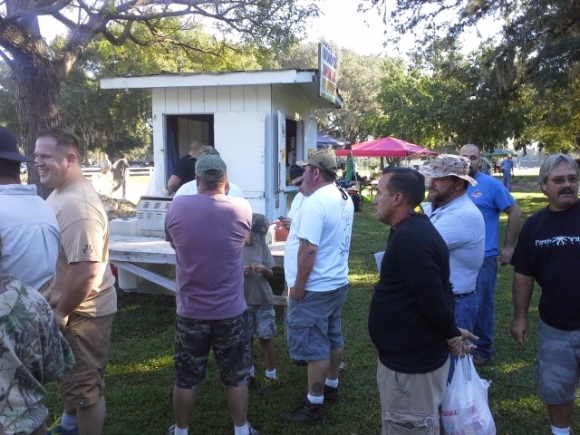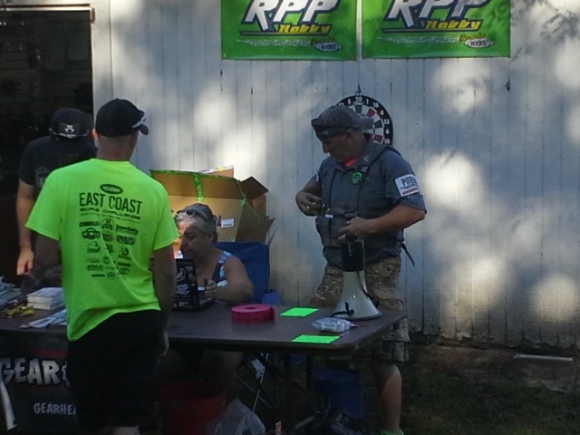 Josh and Parker assisting with registration and checking drivers in. You were given a scorecard, pen, and some participation stickers. They also gave you a balloon, which would come into play during one of the stages.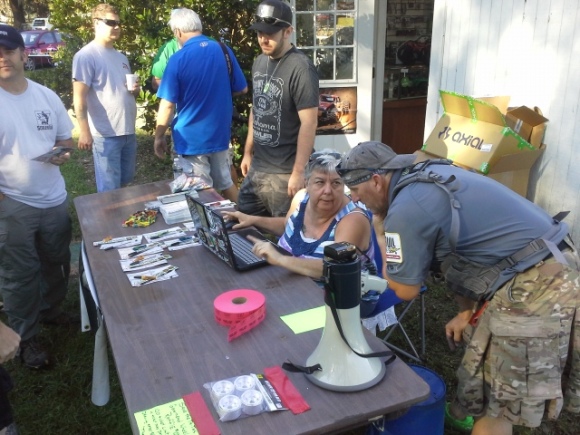 Troy Loftus from Scalerfab.com  doing his best "Shooter McGavin" impression.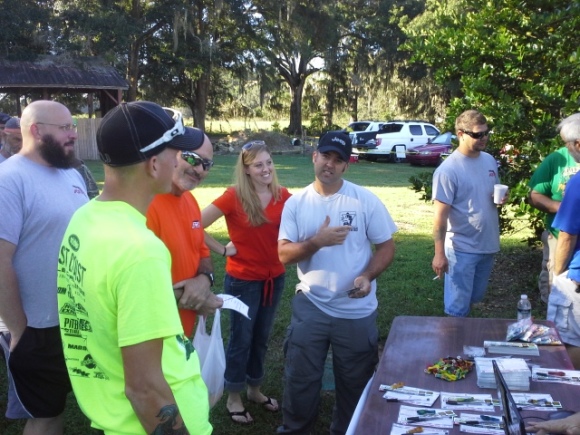 RRW has a small pit area with tables already setup, or you can bring your own tent and tables to setup your own area, which is what most people did.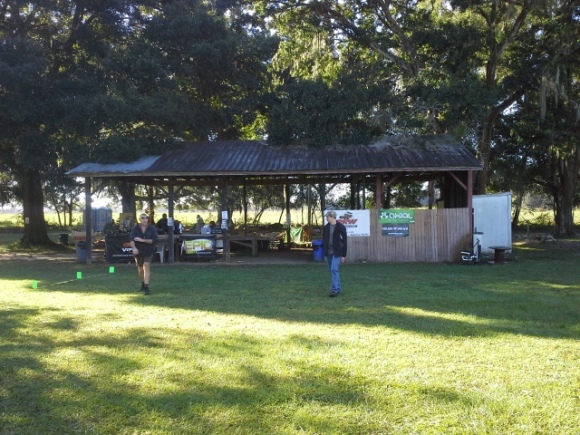 While I don't know the official total, I heard the number 100 tossed around as the total number of entries.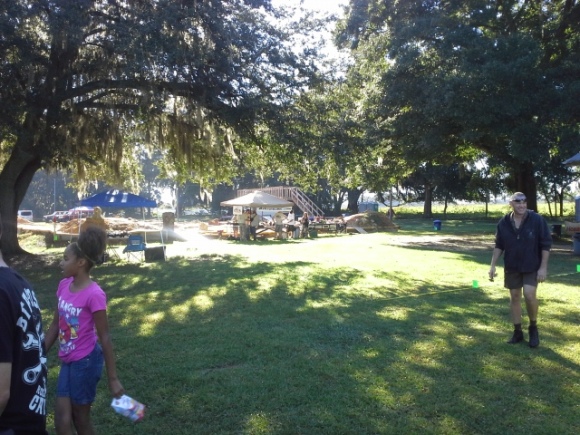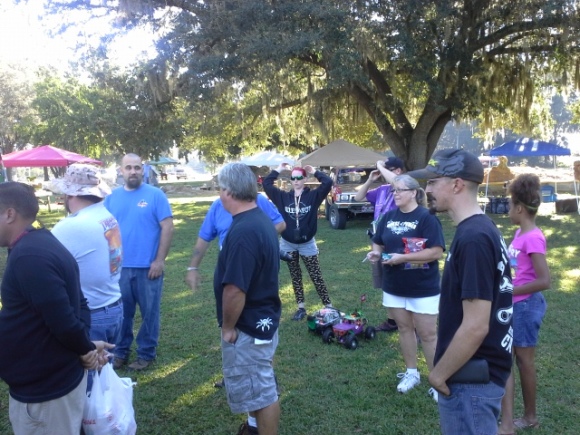 To start off the day, they held the Rivasconcepts Show & Shine. Everyone lined up their shiny rigs in front of the RRW hobby shop. This was also an opportunity to take group shots of all the entrants.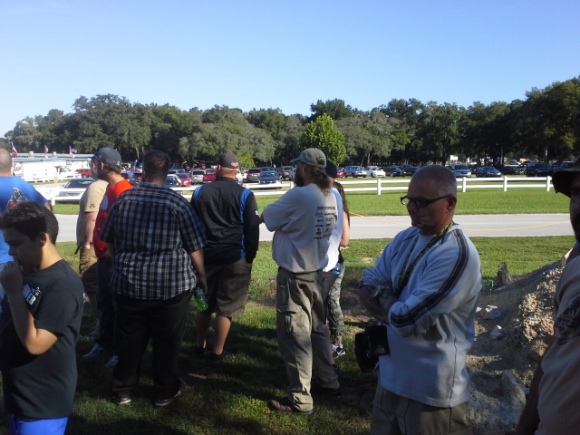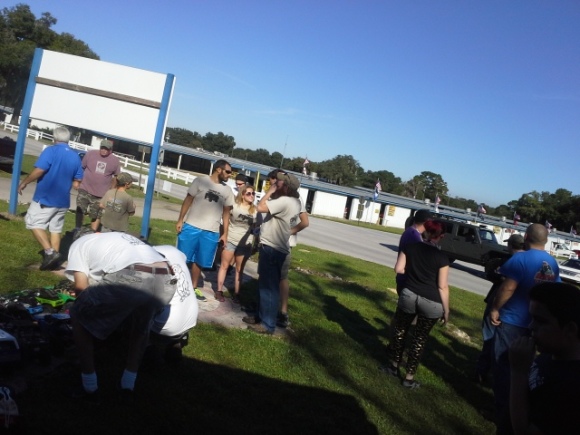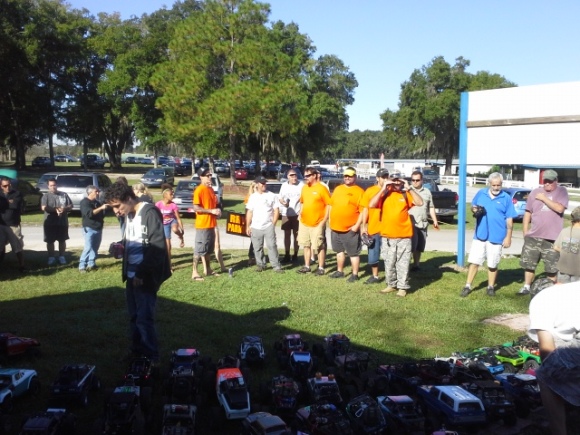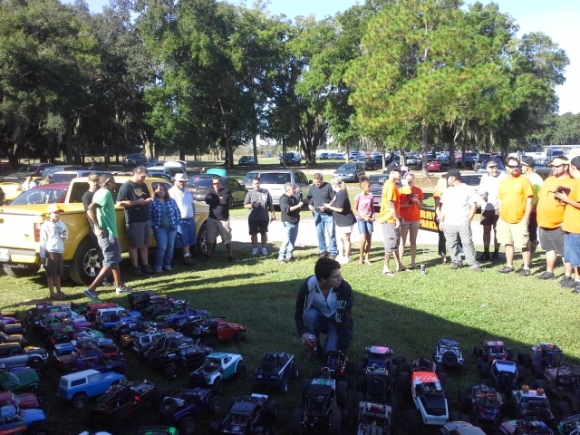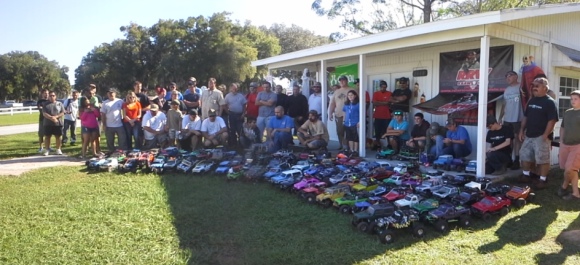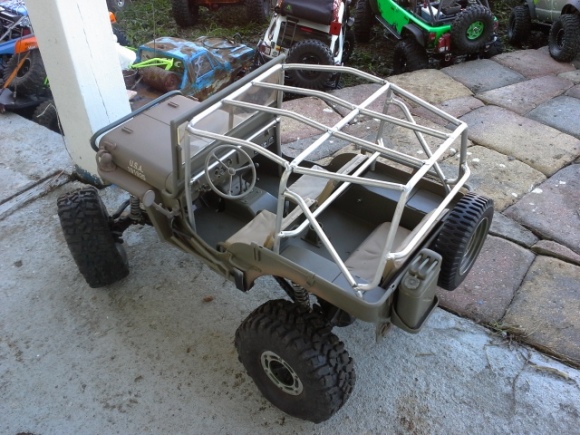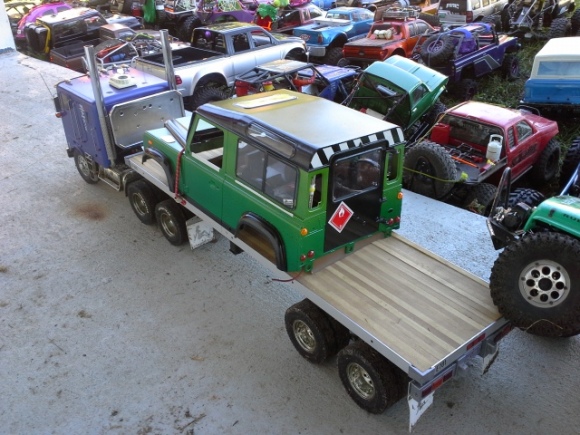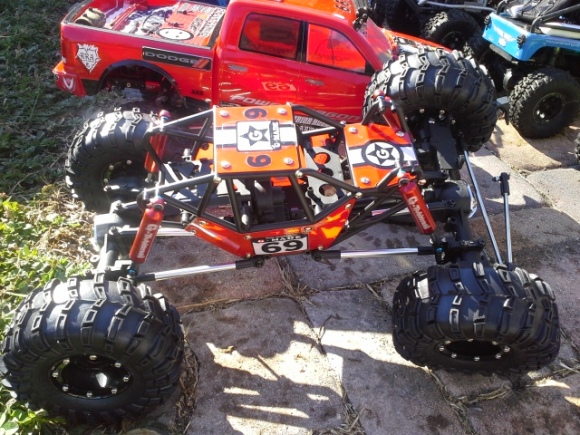 Having a Ram Power Wagon myself, I took a liking to this one.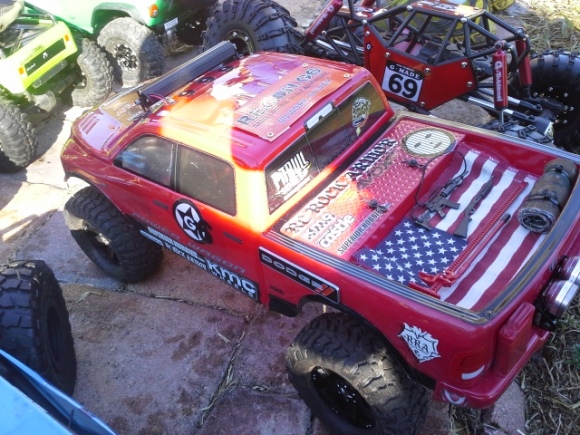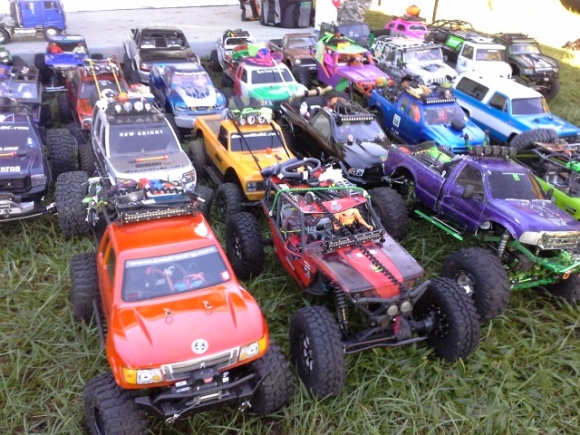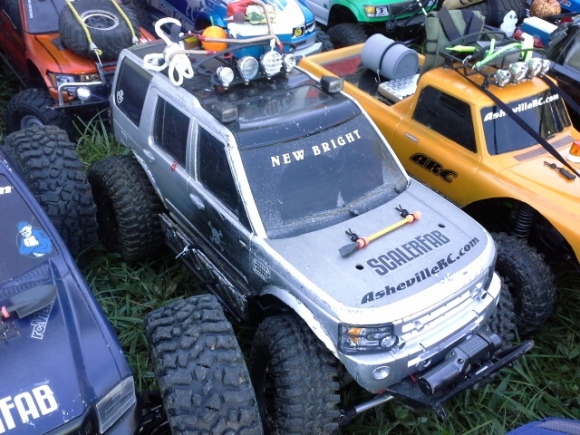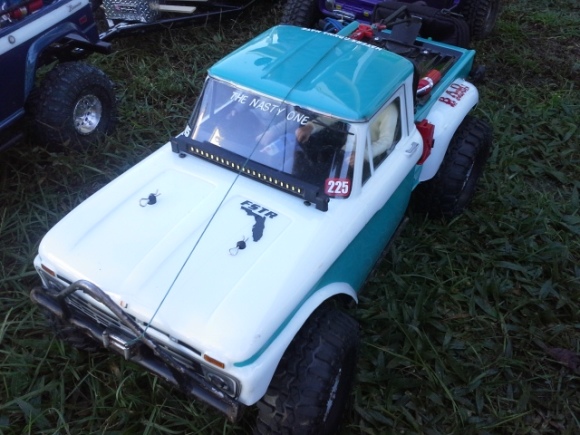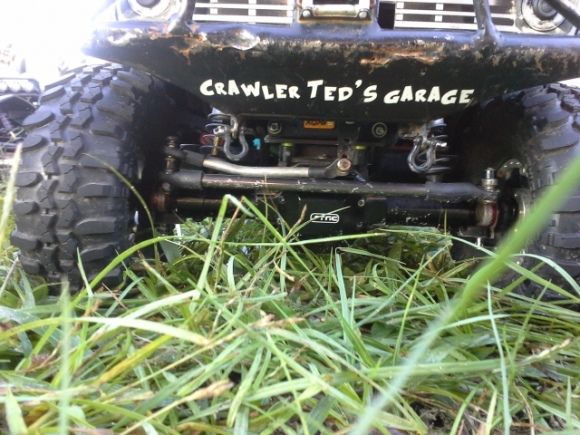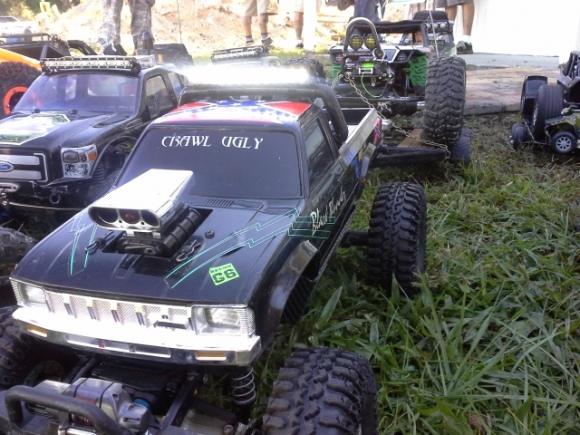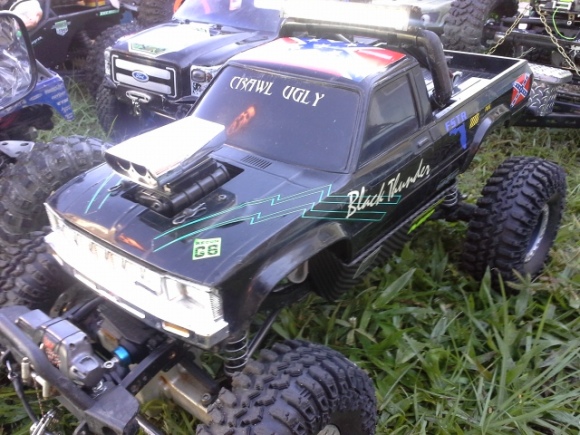 There were a few Yeti's in attendance.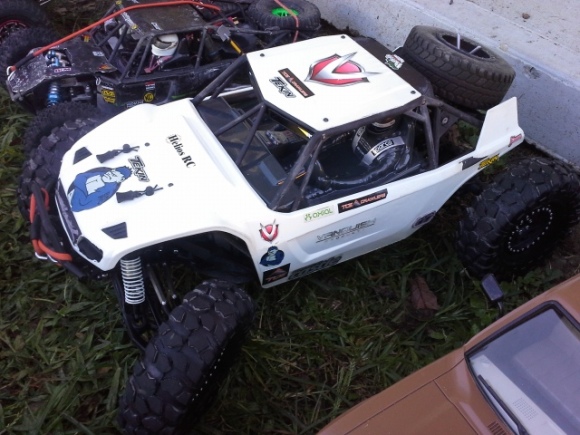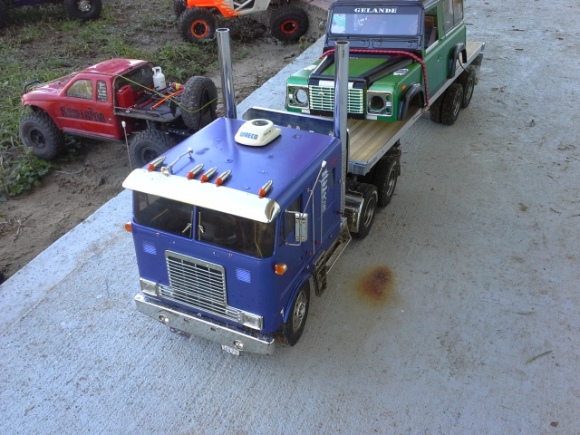 At the end of the Show & Shine, they announced the winners of "Best in Show" and "Most G6 Ready"
Most G6 Ready was Olen Price with his Unimog. Wait that's not Olen!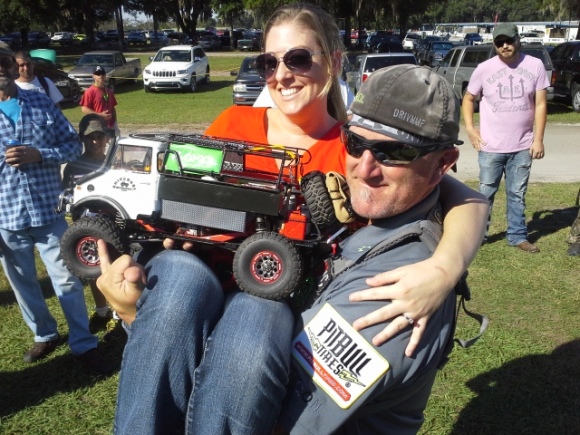 This is!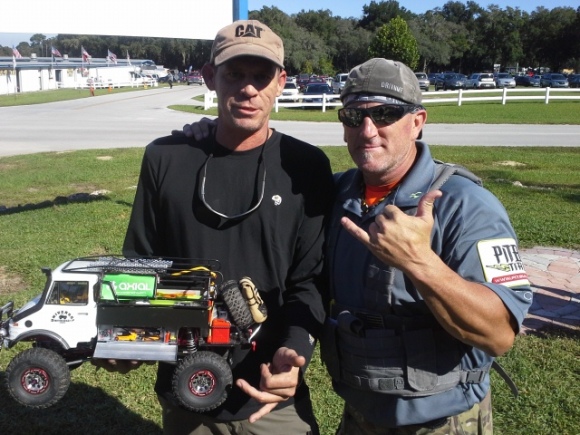 Here's a closer look at his Mog.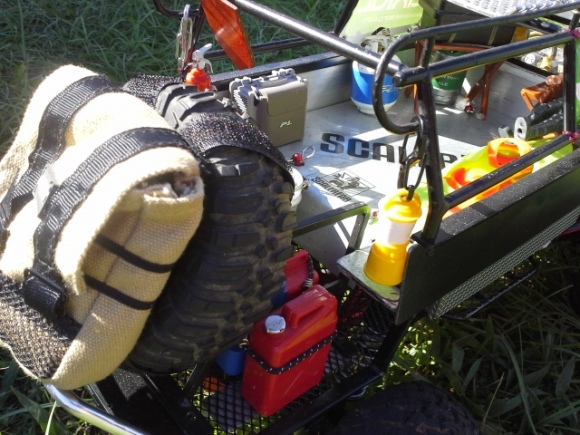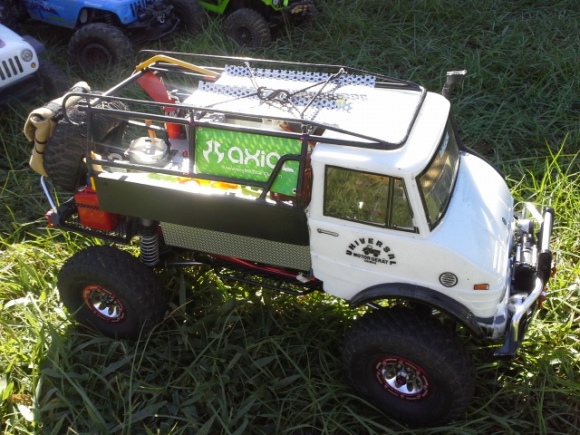 Best in Show was this completely custom built Ford Bronco of Rob Matthews.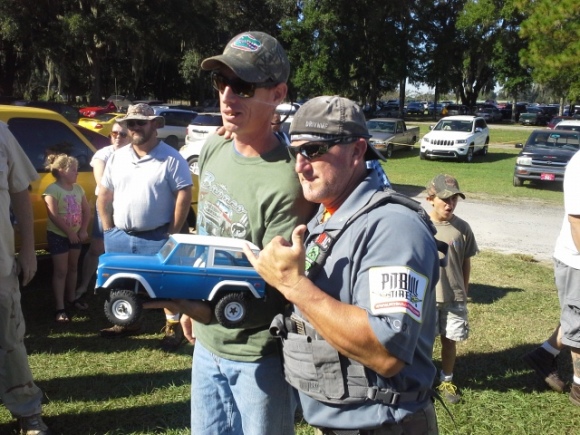 It was time to get the driver's meeting going, and get ready for the day stage to start!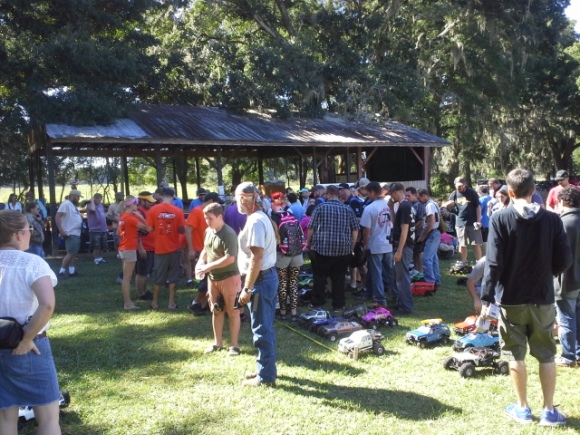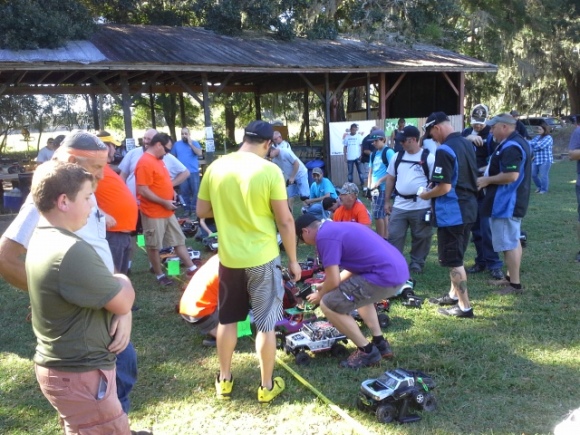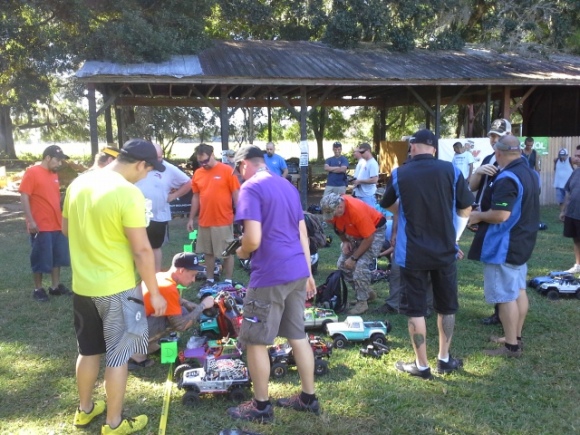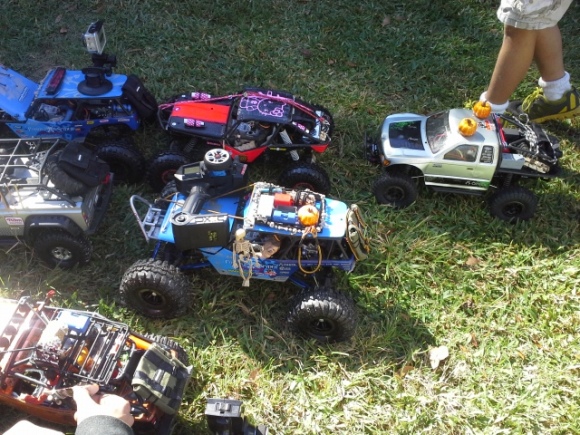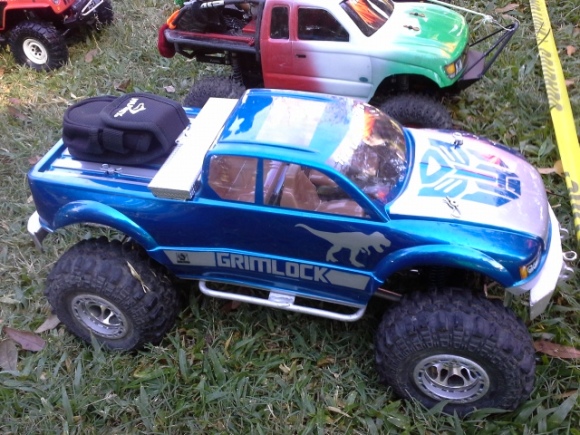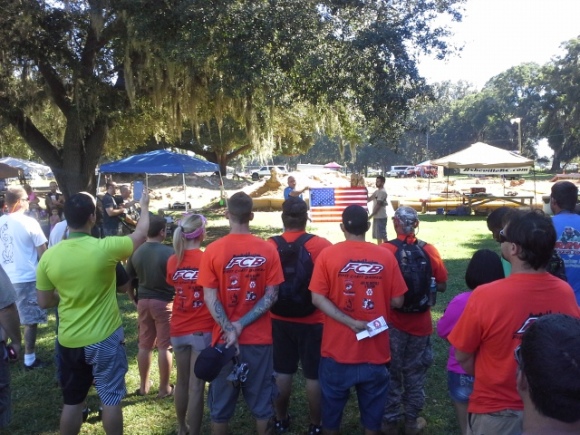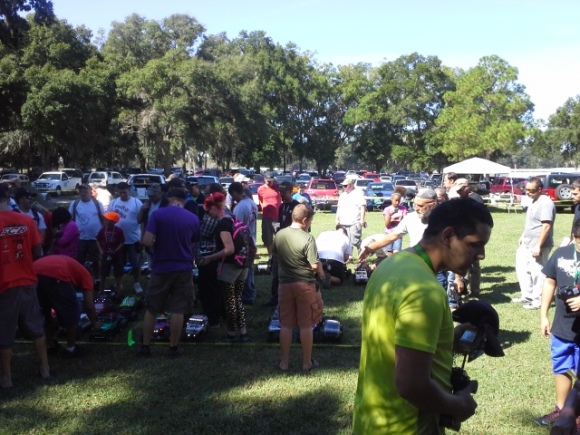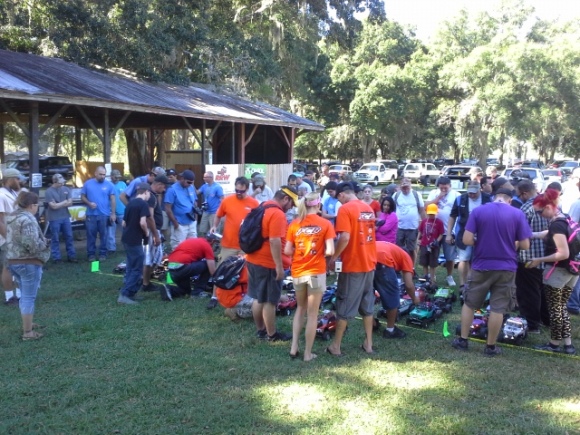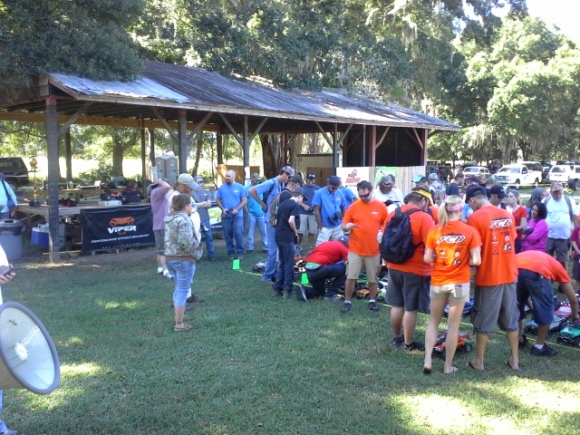 The day stage consisted of 4 sections. A, B, C, and D. Each section had it's own personality.
You'll see pictures from sections A and B when you get to the night stage. My first day section was C. C mostly consisted of gates on the new rock racing track at RRW. This is a U4RC style rock racing track that RRW built on their old 1/8th offroad track. Gates were set throughout the track, with the final 8 or so gates having to be navigated from up on the driver's stand. This was quite difficult to manage for me. It was hard to navigate through the rocks without tipping, all from 50-60 feet away. It surely was a challenge.
Only the beginning of Section C, and already people are helping each other out.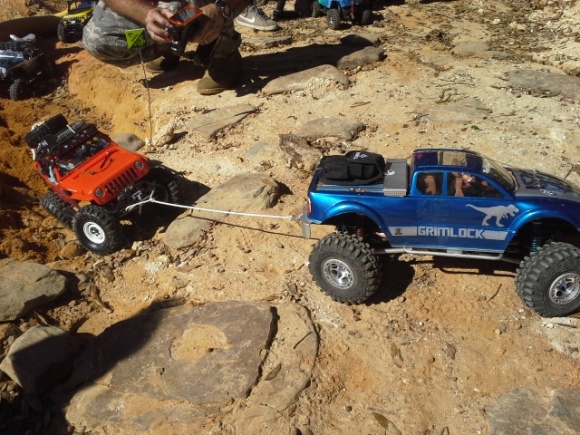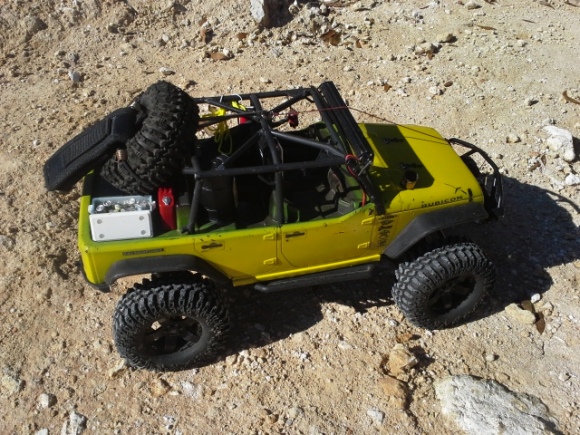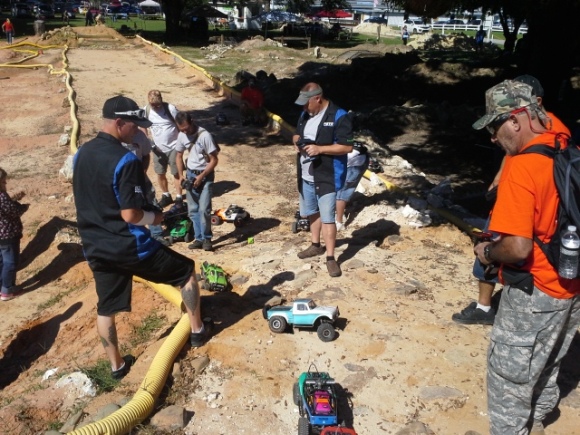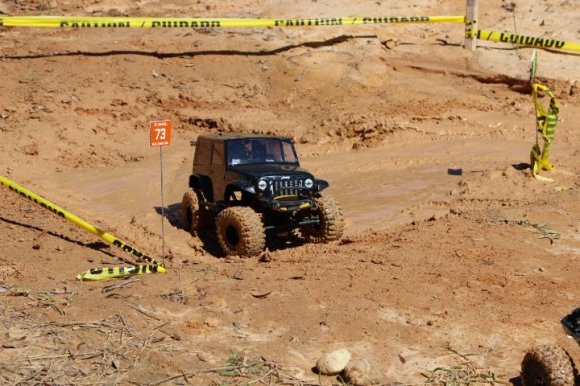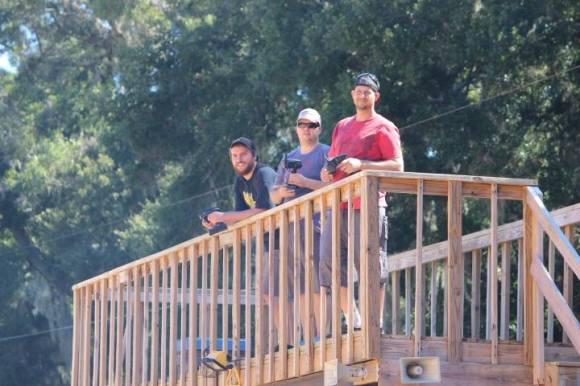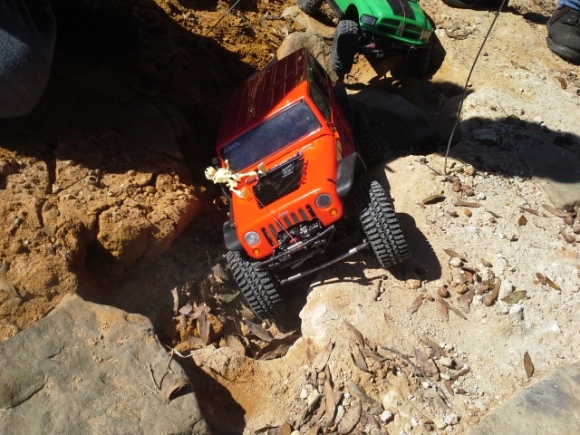 Section D had us jumping around a bit, starting by blowing up our balloon and tacking it to the wall.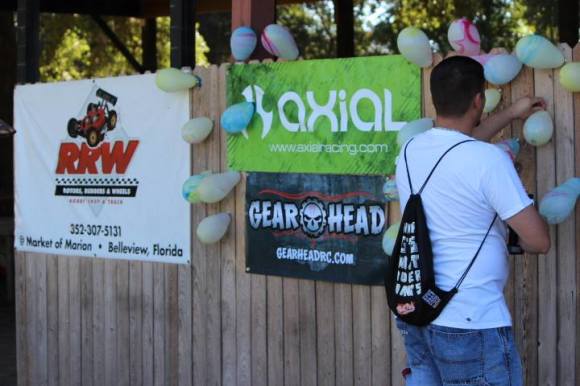 We had to try our luck at a sled pull, which I didn't do too badly at. I did not make a full pull though, so it was equal to a no pull.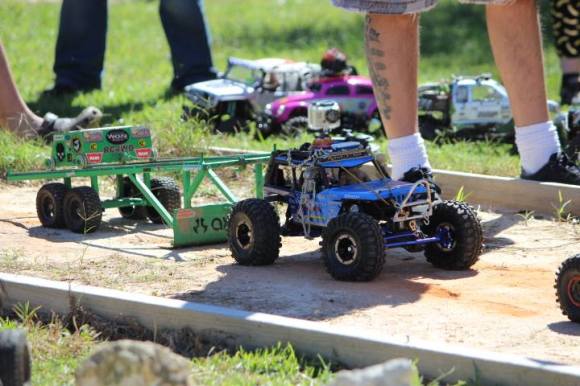 We had to climb this set of stairs in front of the hobby shop, but I found out later there was an easier path.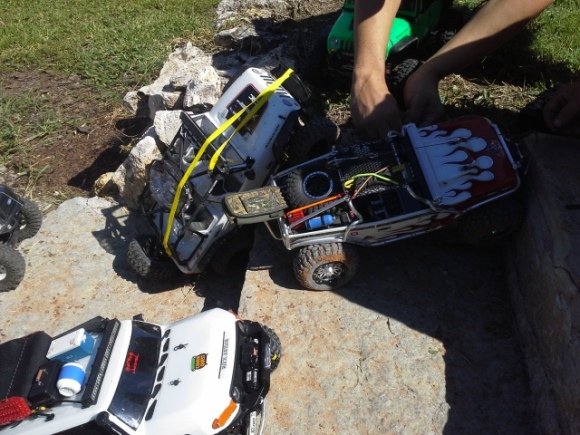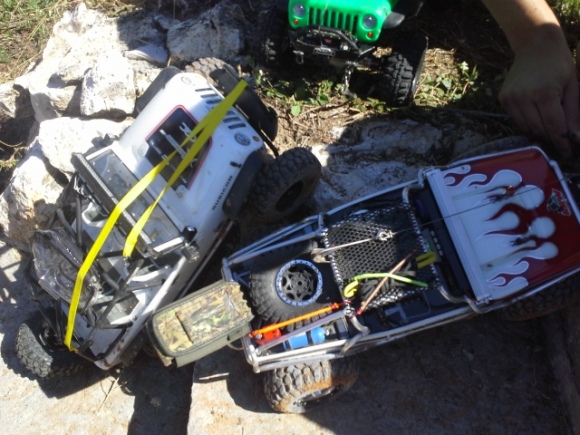 Then we would get into the meat of Section D. Section D turned out to be the most time consuming section for most people, being the most technical section of the course.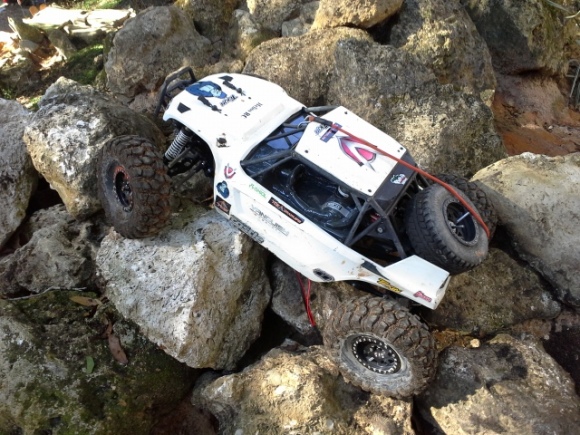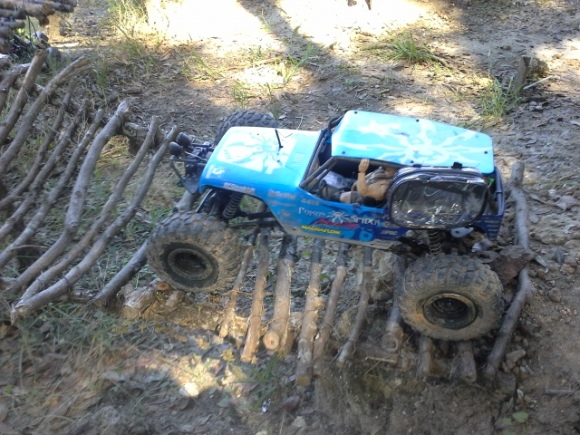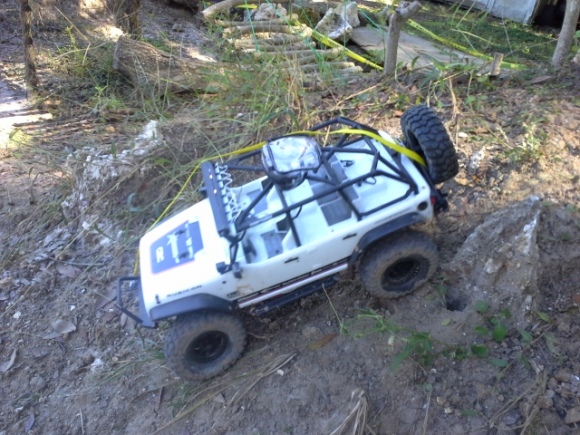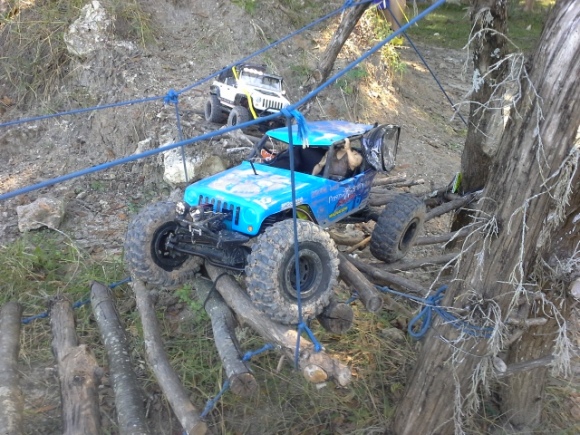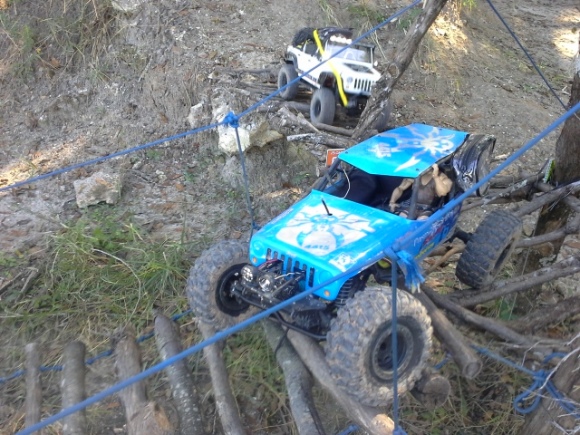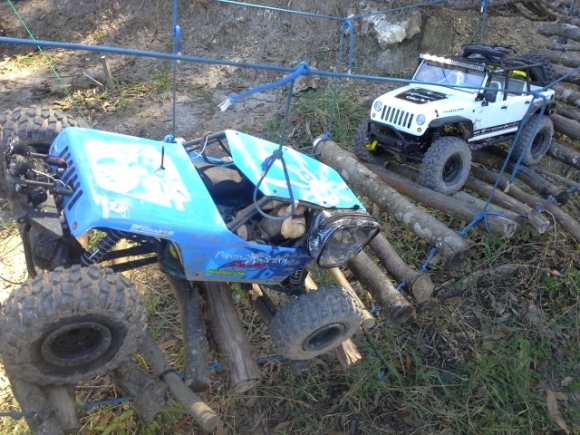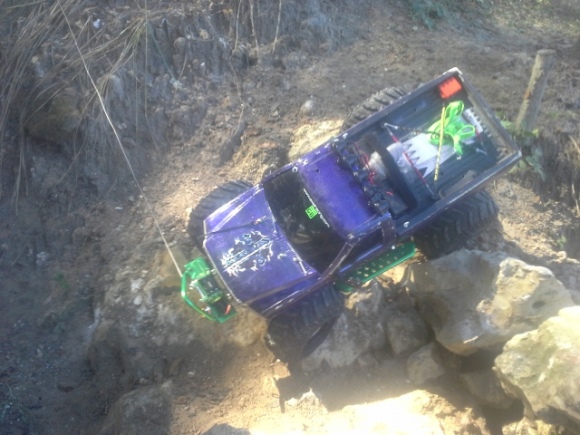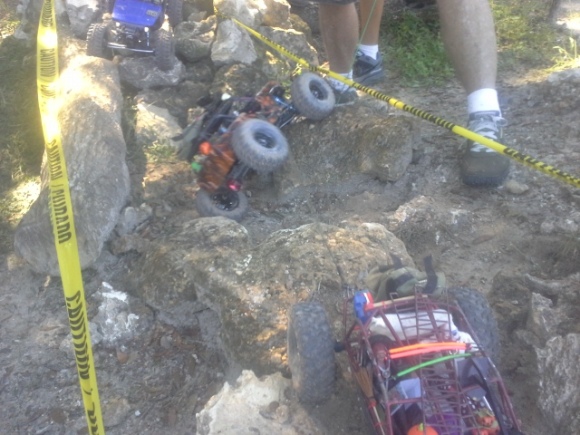 Before I could start section A or B, I stopped for some lunch. RRW had the onsite food booth open, and grillmaster Mike cooking some burgers and dogs.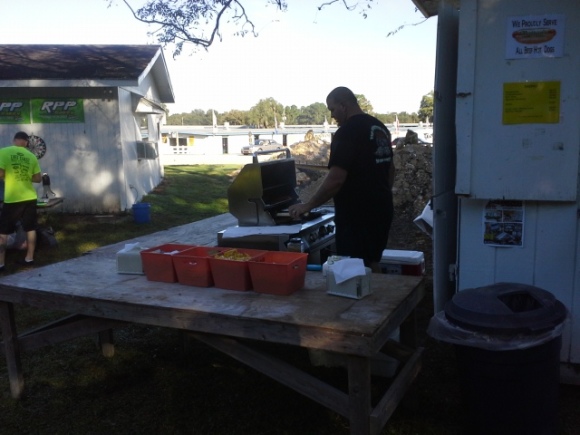 While I was eating, I didn't power off my car. I noticed the LEDs started flickering, like strobe lights. I turned off the car, not really thinking much of it at first. I finished lunch, and turned the car back on, determined to finish the last two sections. The strobe effect was still going on the LEDs, and I had no control over steering or throttle on the Wraith.
I tore it apart, and found that the issue was in the servo. I'm guessing there is a short inside the servo, because when I plug it into the receiver, I lose bind with the radio. I tore the truck down to replace the servo. But by the time I got it back together they had called time, and they were preparing to give out awards. I would have to turn in my card with a "DNF".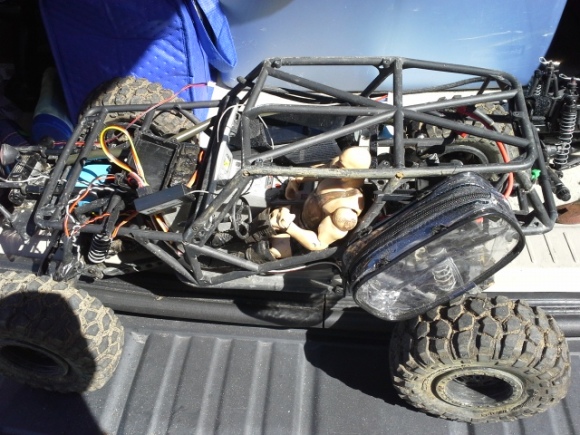 Recon G6 hands out awards for each of the classes. In this event, they had the 2.2 Adventurists (some call it Training wheels), 1.9 Adventurists, the G6 class which uses the Axial G6 kit as a base, Divas class for the ladies, and Drivin' Dirty for those 15 and under. They are "drivin' dirty" because they don't have a license.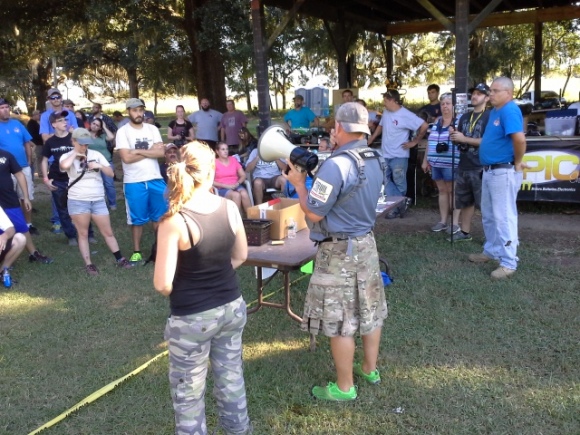 Time to announce the winners! First up, Trinity Durham in the Under 15 Drivin' Diva class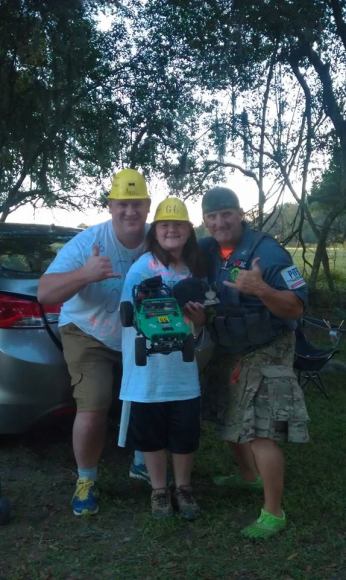 Here's the Drivin Dirty Winner, Riley!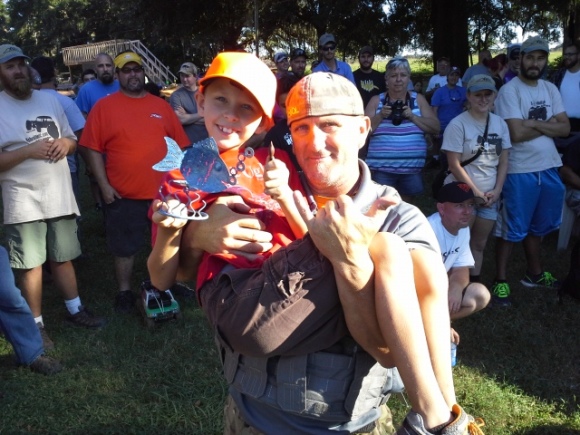 Our Divas winner Amanda Matthews!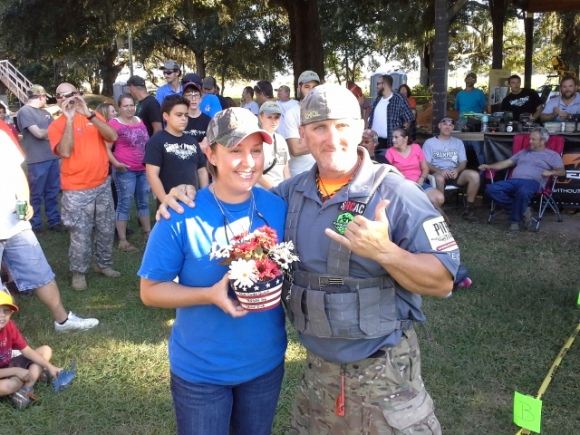 G6 Driver of the Day was Gilberto Perez
2.2 Adventurist class winner Todd Knopp.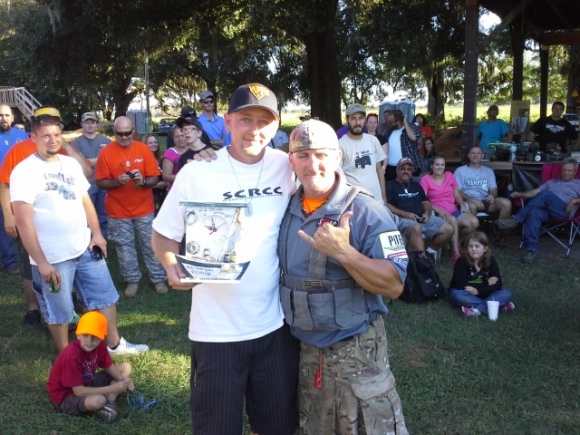 1.9 "Doin' Work" winner was Bill Joyce!
Kelly from the First Coast Bashers group found "Swamp Thing" out in the rocks of section B, which won her a G6 kit!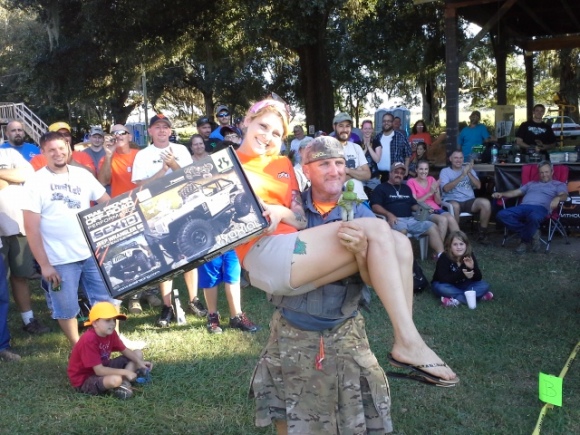 An SCX10 Power Wagon was given away to a random finishing driver! Awesome!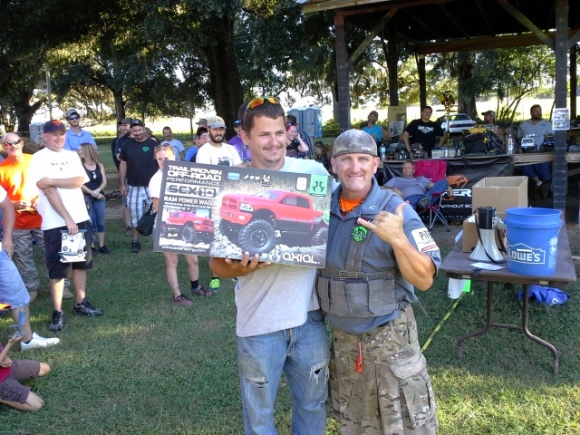 Being that October is breast cancer awareness month, they held a raffle for a set of Gearhead RC aluminum 1.9 wheels. It was $10 to get in on the drawing. Here's the lucky winner.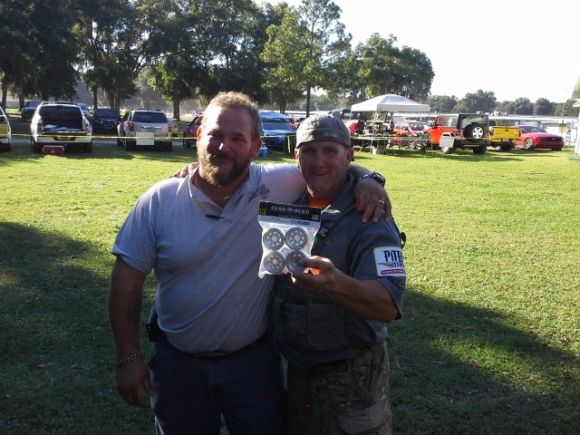 They also held a 50/50 raffle, the winner of which was Joe Collins.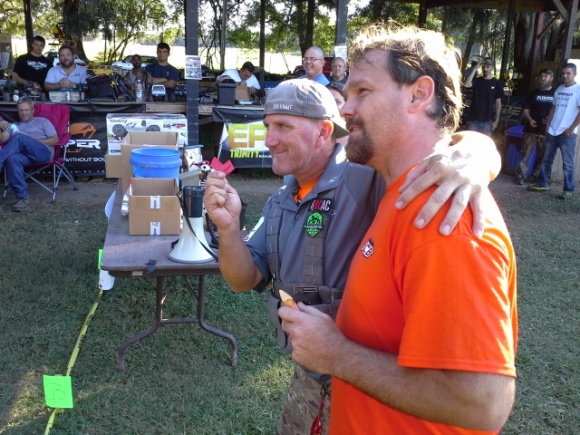 For the next couple of hours, people kinda milled about, waiting for the night stage to begin. Some kept playing on the immense crawling course. Others left to get some dinner. I kept wrenching on the Wraith with the hopes I could get it working with what I had in my parts box. It was not to be unfortunately. Lucky for me I had an SCX10 with me. This is a bit of a hybrid. What you see is the CRC edition Jeep body, but it is sitting on the Power Wagon chassis. I also swapped on the CRC edition's wheels and tires. The idea was I wanted to keep the Jeep's chassis clean since we will be raffling it off later this year, but I also needed the lights for this night stage; lights that the Power Wagon does not yet have. I had loaned this truck to a friend to run in the day stage, and during the event a wire got severed on one side of the lightbar. This only affected the driver's side of the light bar, I still had the other half and the two rock lights.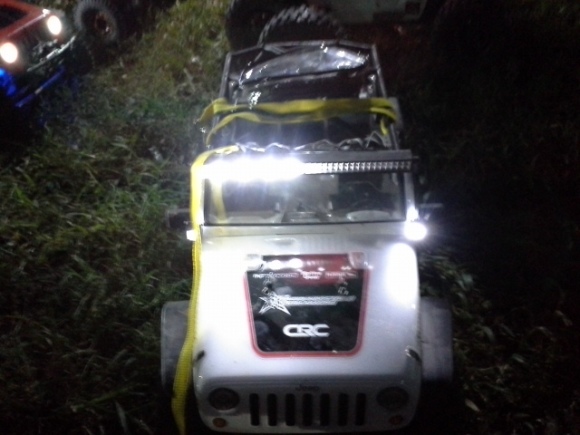 It turned out I wasn't going to miss the extra light. Some of these rigs made it seem like day time.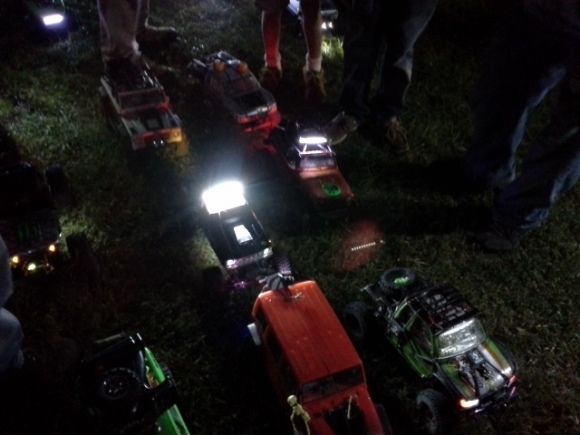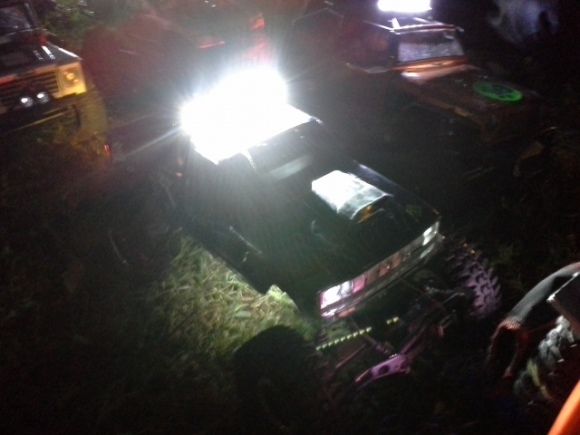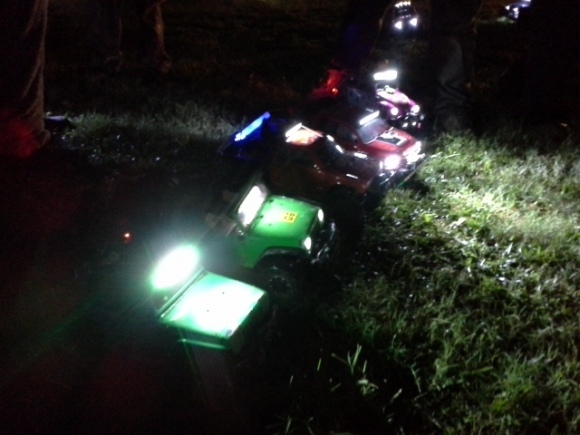 The Poison Spyder crew was there to cheer us on for the night stage.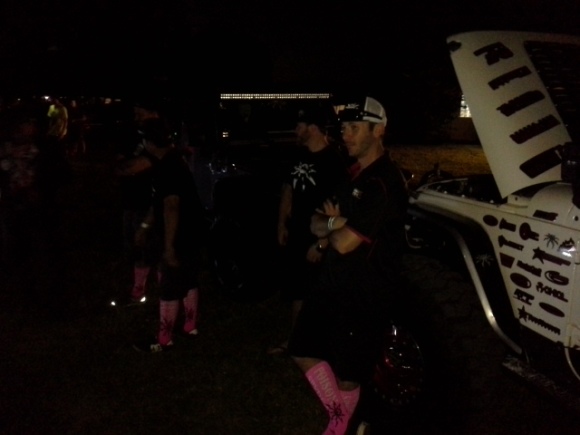 Parker held a quick driver's meeting to go over the rules, how there would be three sections for everyone. In the Coven Quest rules, there were ingredients listed that you needed to bring to gain access to a special 4th section. More on that later.
In order to get started, you approached Parker, said "Trick or Treat" to get some Halloween candy, and you were on your way.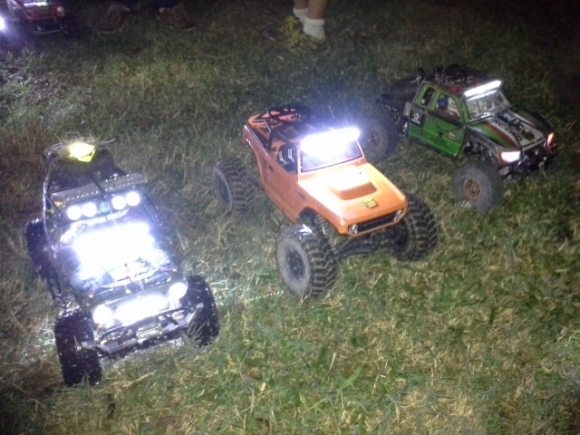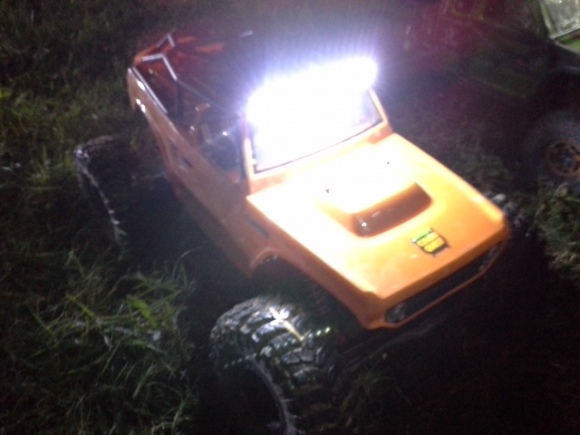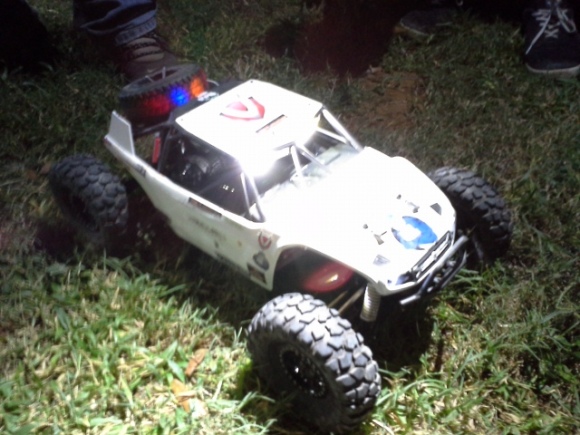 Some came out in Halloween costumes.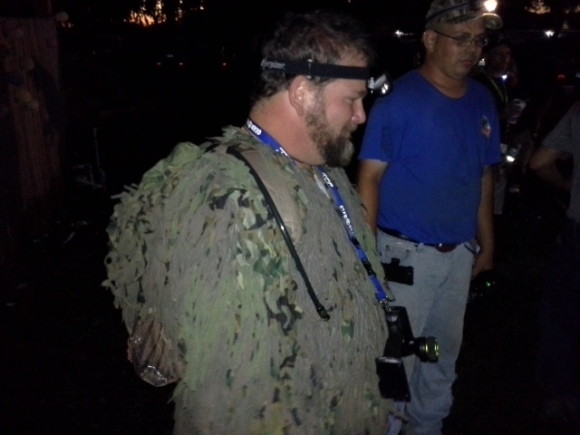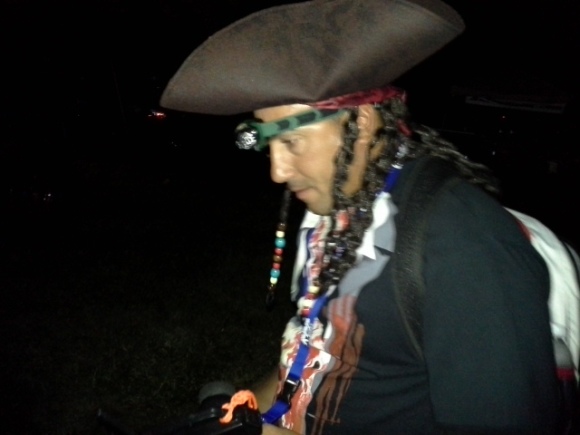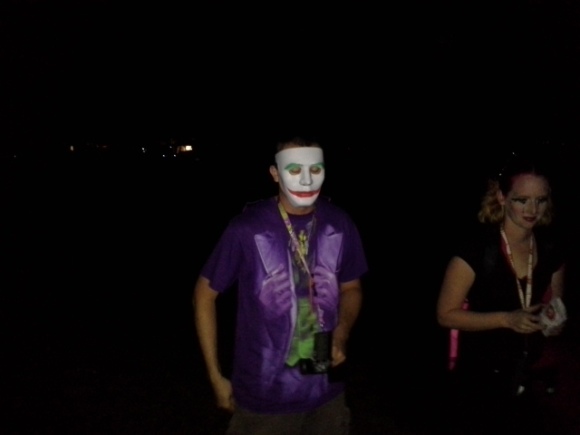 Something else we had to bring along with us was a Popsicle stick tombstone. When you turned in your card for the night stage, you had to make sure you also turned in your tombstone. They were in the "graveyard" out on the trail in section A.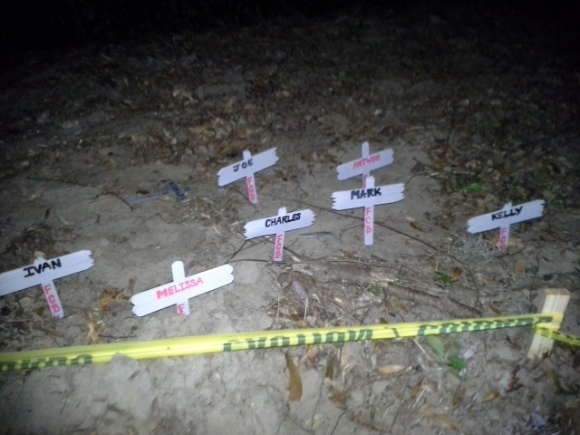 You had to strap your tombstone to your truck and finish the course with it.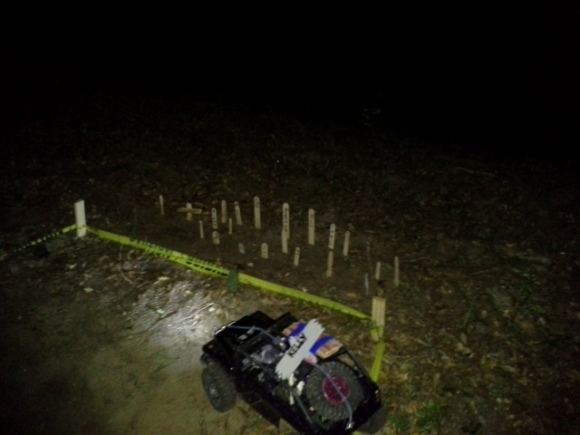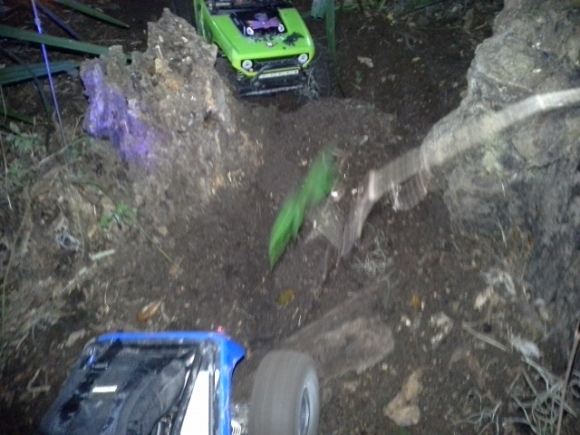 This little bugger moved when I shined the light his way. I won't lie…I hate spiders lol.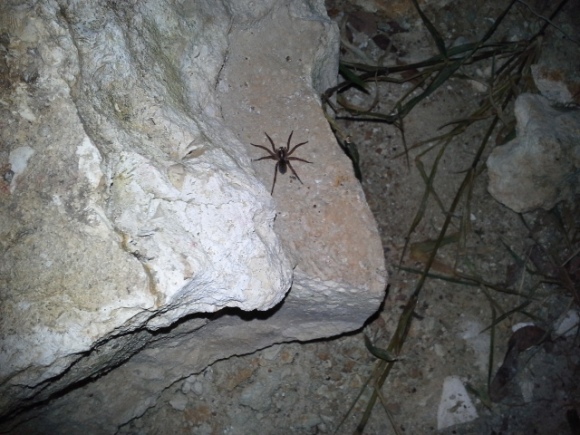 Getting clear shots at night turned out to be a bit tougher than I thought.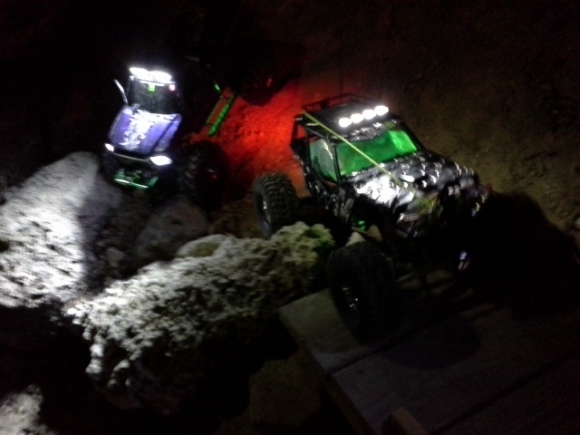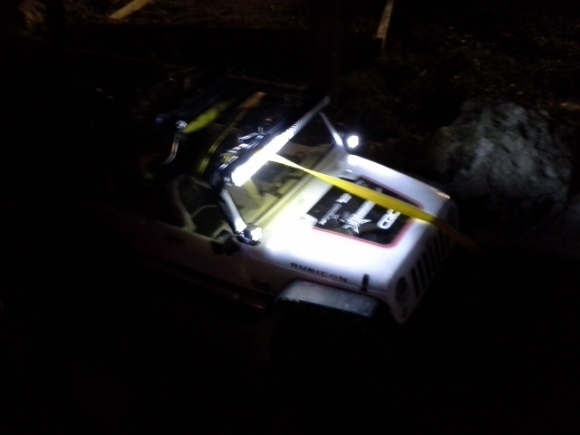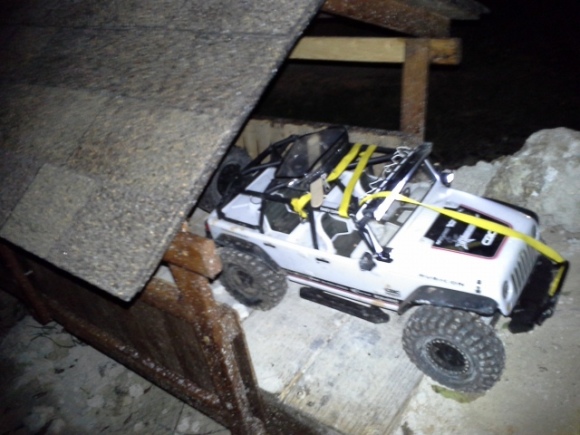 Here is your "Best in Show" winner again. He happened upon us on the trail. The little group I was trailing with had all flipped (there were three of us) so this gentleman came in to help get us back on track.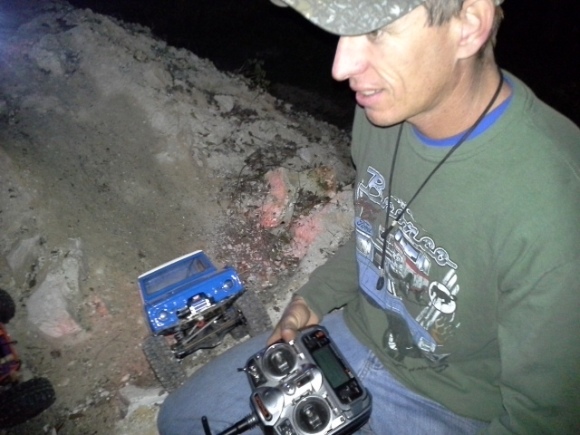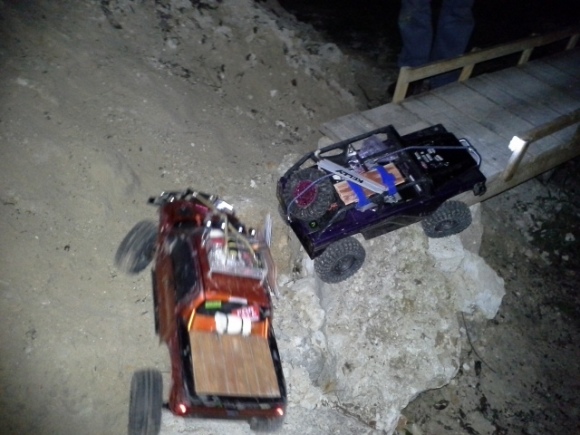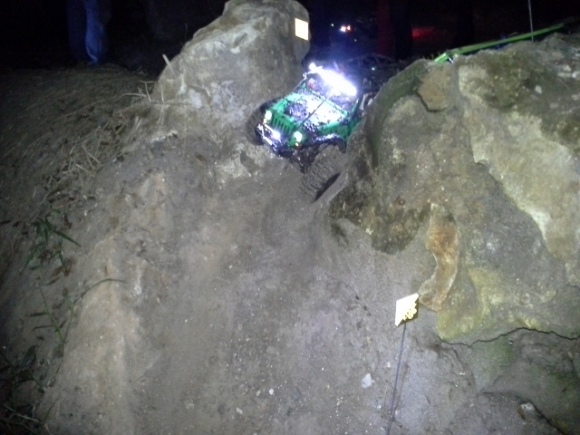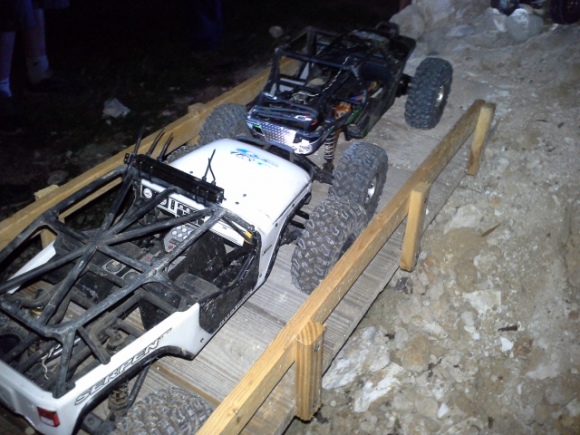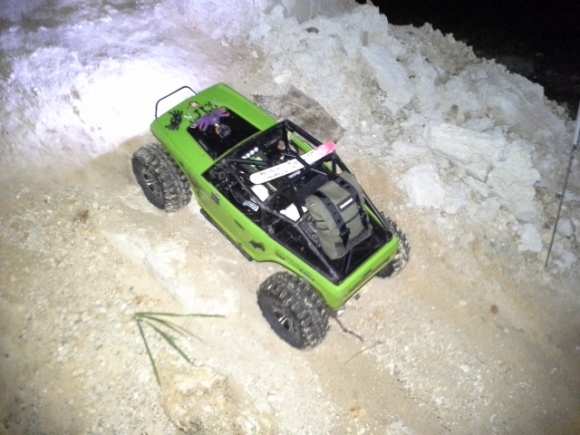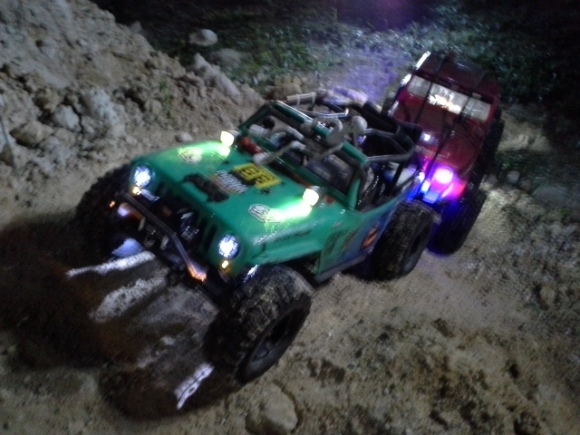 Troy from Scalerfab drove the Vaterra Ascender on the night stage.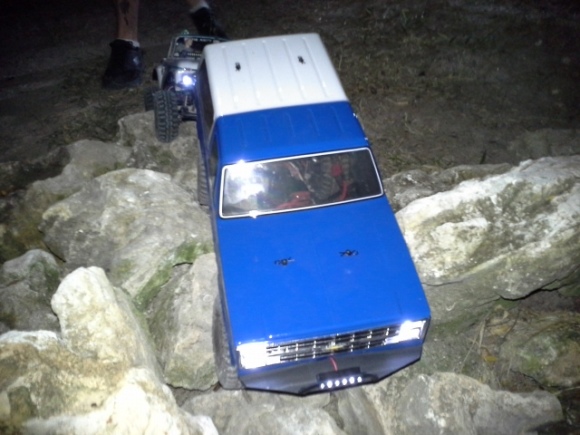 That bumper is sweet. He reports that the Ascender impressed the heck out of him.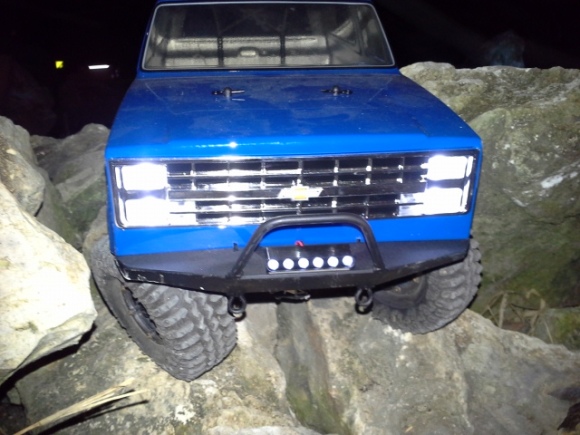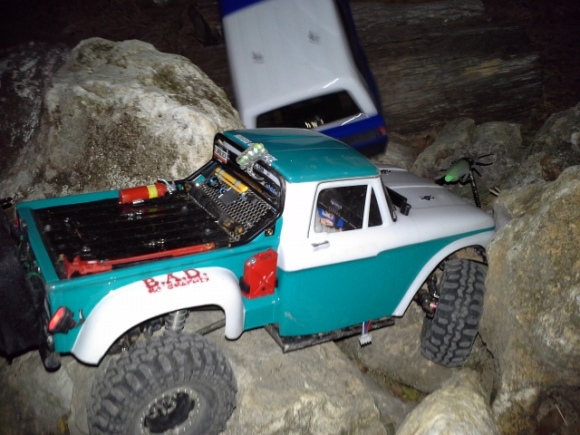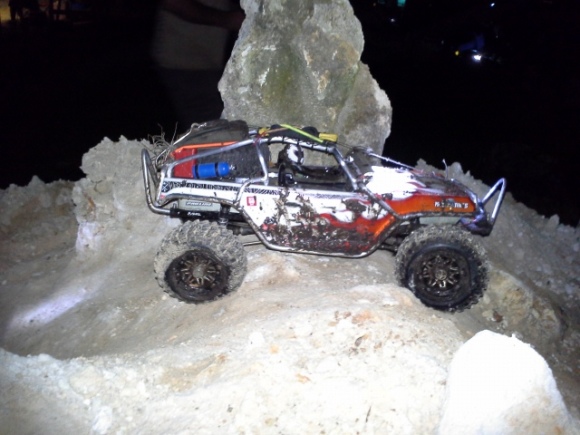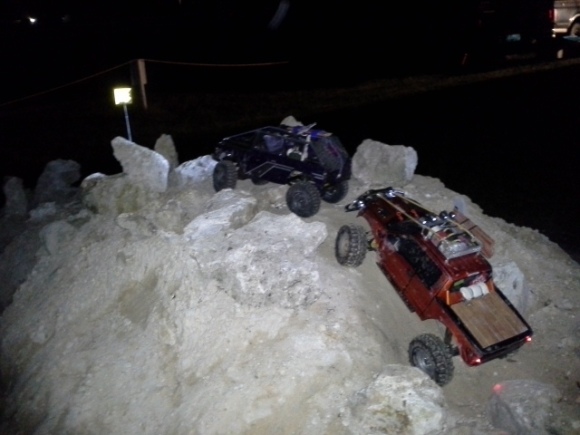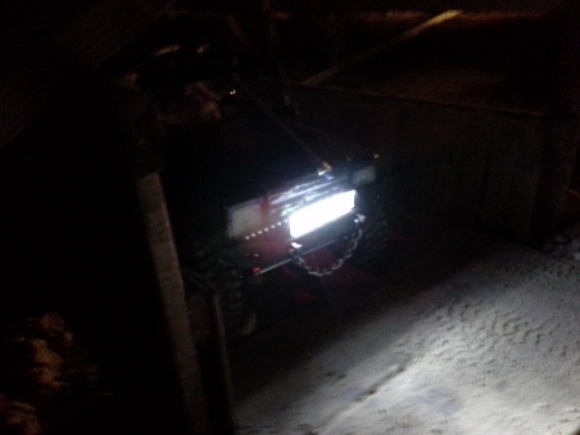 This part got a little interesting. The truck in the middle was stuck, her driver's side wheel jammed in between two boards. The idea here was the truck in front was going to try to pull her forward, and I would pull up along side, and pull her towards the outside of the track. Here's the catch. I don't have a winch on this truck, so I was going to have to yank on her truck using the motor's power alone. Or……I could attach my tow strap, and full throttle off the bridge, the weight of my truck pulling her out of the jam. Then if I was flipped on the ground, they could come flip me back over. It worked on paper…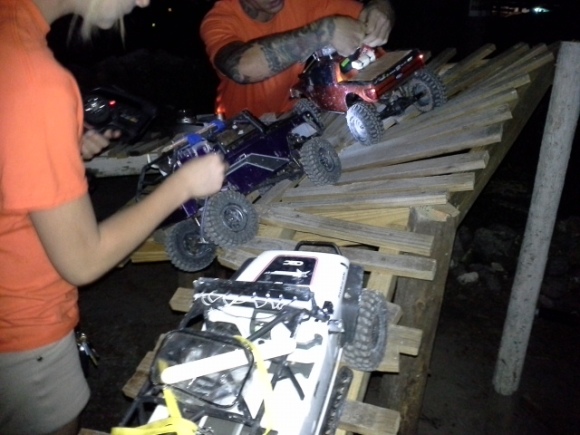 Here's what actually happened. I didn't build enough speed to clear the edge of the bridge, and my rear bumper got caught.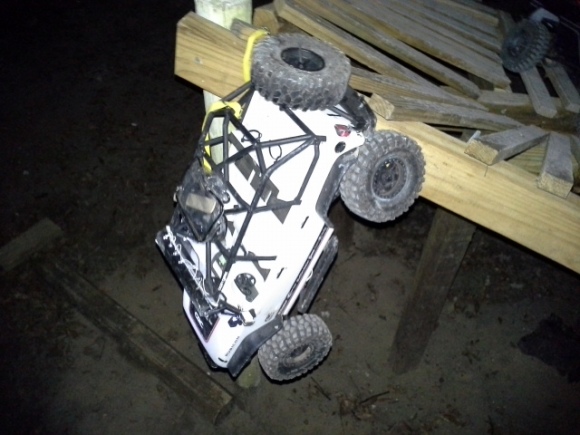 This also caused the rear tire to get stuck under the bridge, which twisted the plastic link into an interesting shape. I had to "Hand winch" this one, and the link pretty much straightened back out to the stock shape.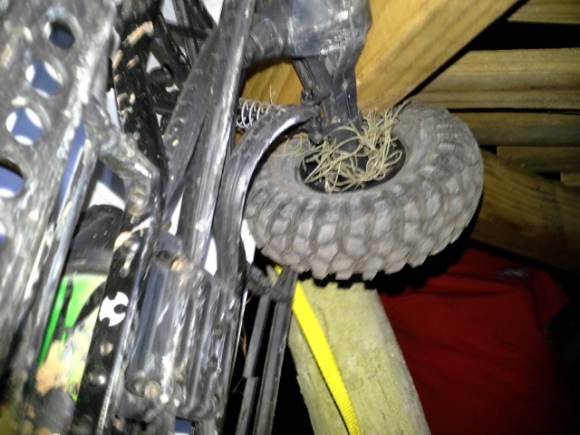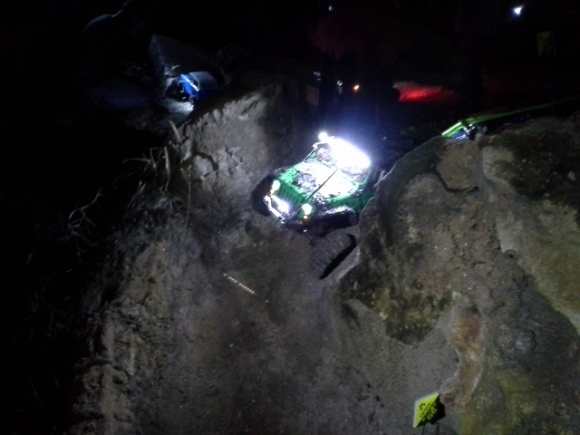 Another instance of my pulling someone up an obstacle. Only this time I didn't mean to go off the edge.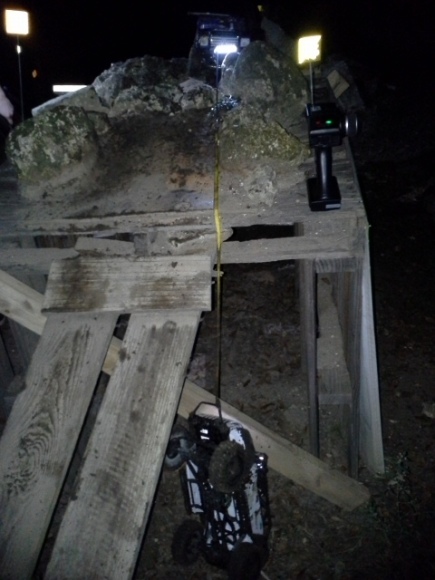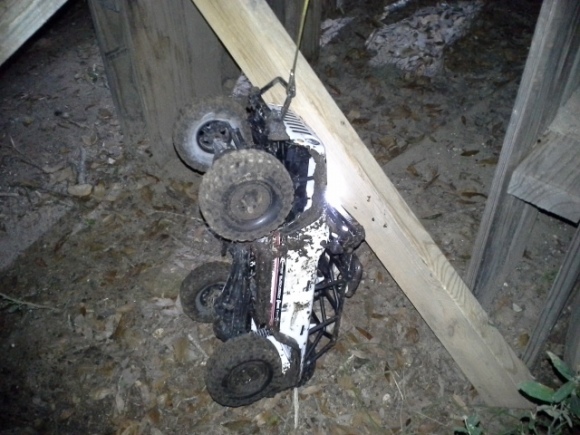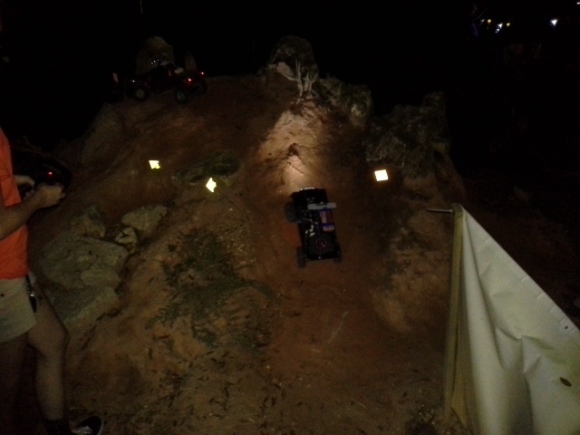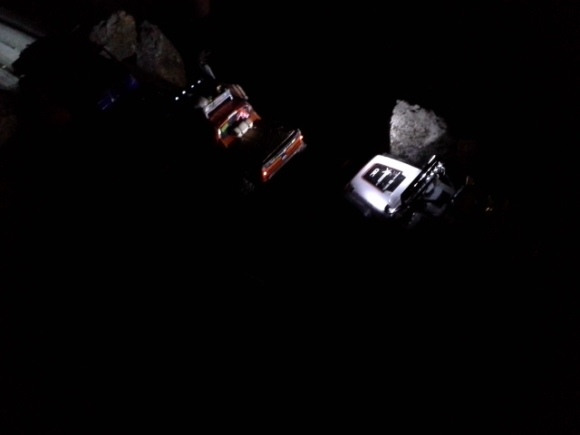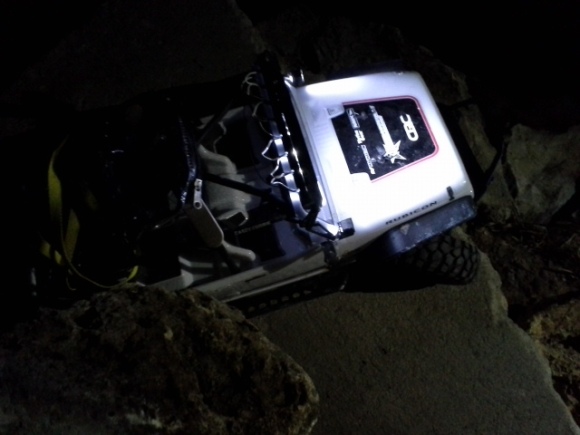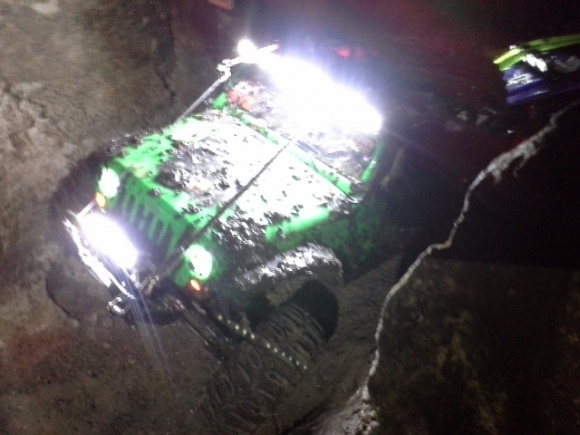 Now, about that special section. You had to bring a witches hat, radish, frog's eyes, hair from a skunk ape, and a water bottle cap. If you had all of those items, you could run a special 10 gate section. This 10 gate section had a couple of special rules though. The first rule was that you could not use any light source other than the lights on your truck. The second rule was that the water bottle cap would be taped to your hood. Parker placed a ping pong ball on the cap. If you dropped the ping pong ball, you were done. I don't know the final count, but a few people made it through, Troy Loftus being the first. Troy if you have a picture of your Ascender in this section send it along, and we'll post it.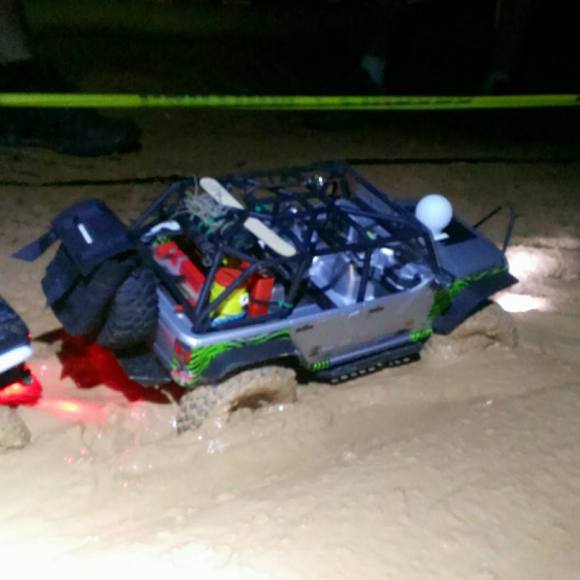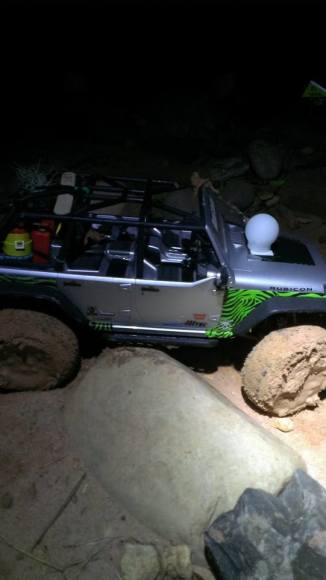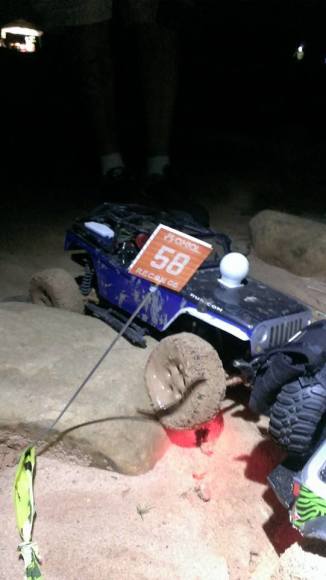 At the end of the day, I had two pretty dirty trucks, a fried servo, a Wraith in pieces, and my cheeks were hurt from smiling so much.
A BIG Thank you to everyone that made this possible; RRW, Jeff Campbell and the rest of the RRW crew, Parker and Recon G6, Josh from RolandRockShop, and all the sponsors!
I cannot wait until next year! I'll finish the day stage for sure!!