The Schelle Associated B5M Carbon Fiber Battery Strap works as good as it looks! The innovative design allows racers to remove the front battery foams, shedding additional weight and opening up the chassis for more ESC placement options while holding the cells secure. The second creative design feature is the narrow rear tongue which allows chassis flex through the entire range of motion without contacting the rear chassis brace.
B5M Carbon Battery Strap Features:
2.5 mm Carbon Fiber, CNC routed and pocketed.
Partially removes kit battery foams with slotted battery stop mount in front. Stainless steel screws and aluminum nuts included.
Lowers weight from 14g to 7g by changing from the kit plastic battery strap and foam.
Extra clearance for center mounting the ESC in front of the battery.
Wide stance holds batteries secure and pocketed upper ensures you'll never install it upside down and scuff the carbon on top.
Narrow rear tongue allows for chassis flex through full range of motion without hitting.
Schelle mini decal included.
Fits B5M only.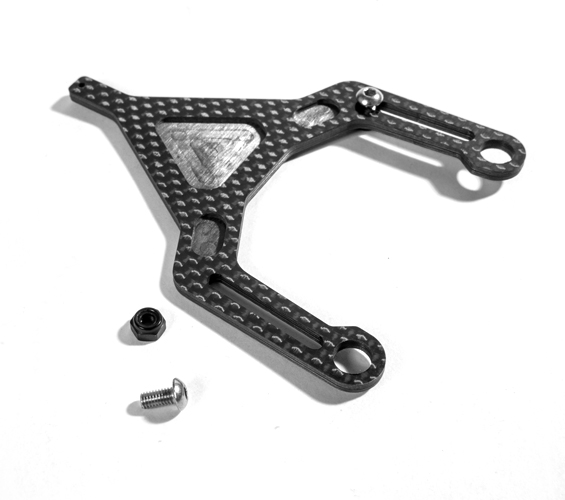 Product page:
http://www.schelleracing.com/B5M-Carbon-Battery-Strap-SCH1088
SCH1088 B5M Carbon Battery Strap  $16.00