While the craze of 1/10 buggies is on the rise, manufacturers are on the hunt for the ultimate machine. It has to do this, has to do that, convert this, gear that. Hobby Pro USA has provided a product that is universal to say the least.  While it is probably the slimmest buggy on the market, making electronic choices or paint schemes a tedious task, the end result is almost sweet perfection.
The following is a build up/hands on article highlighting all the amazing features of the new Hobby Pro USA PRS1 V2. I think you will be surprised by what this kit has to offer.
The ultra narrow body, painted by Garcia Graphix (yours truly) provided a difficult pallet to paint. But in the end, it came out pretty pimp. It's never a easy task to plan out a independent scheme, let alone one this narrow.  This buggy is conventional looking on the outside, but once your under it's skin you'll find it's time to take off the gloves.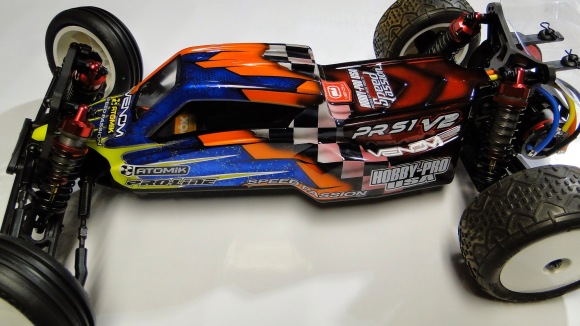 While the chassis is capable to being built in either rear or mid options, the parts are universal such as the suspension arms being drilled on both sides. All mid parts are supplied to convert to mid motor if the end user wishes to do so.
Speed Passion supplied their new powerhouse V4  8.5 motor for the build. It's a rocket. Also it looks stunning, matching the scheme of this buggy. A match made in heaven! It lifts the nose off the ground effortlessly.  Standard on the kit are alloy arm mounts front and rear for the rear suspension, and a very nice touch.  Rear toe is adjustable by changing the rear block.  The kit comes with extra shims for anti-squat adjustment.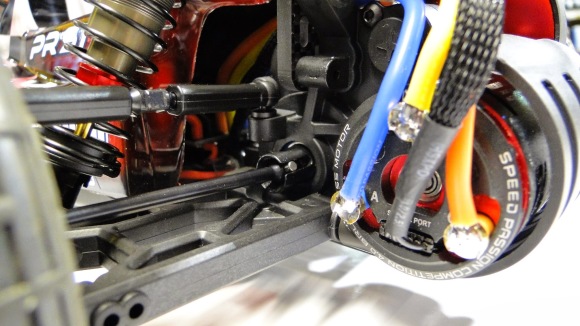 At almost 13mm, HP boast almost 1/8 size shocks on their 1/10 buggies, pretty killer, and super smooth. Threaded bodies, silicone o-rings, and gold nitride shock shafts top of the shock assembly. Mounted to what has to be the thickest shock towers known to man, with multiple holes(V2) offer enough adjustment for the worst surface. Beefy front suspension assembly, check. New top plate for the V2 also.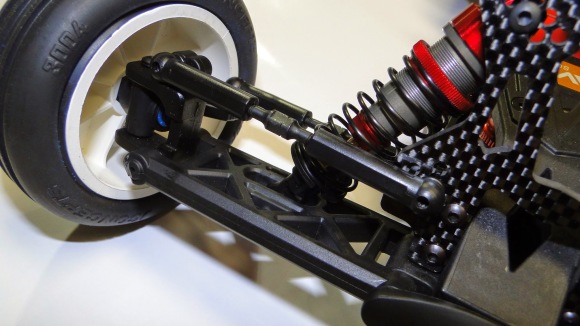 Oh look, another killer shock tower, mounted to another pair of amazing shocks.  The wing mount is even overkill. Vertical ball stud on the transmission case, and the rear hub carrier for ease of adjustment.  As you can see, almost no chassis space for electronics. Captured hinge pins on the outer arms front and rear, no e-clips to mess with..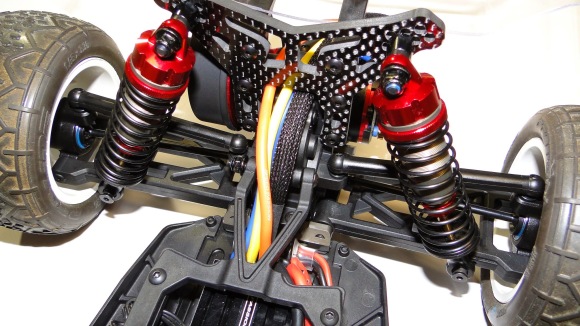 Thanks to the Speed Passion USA office for providing me with the electronics for the build. This is a brand new esc, the Reventon "R" black, and new "V4″ 8.5 motor. The esc fits the chassis like a pair of Isotoners.  The on/off switch has a separate port along with the fan, and receiver lead.  Airtronics RX-471 for my trusty M12, and Venom 4500 100c"Short" Li-Po, and Savox 1258 servo tops off the electronic package for the build.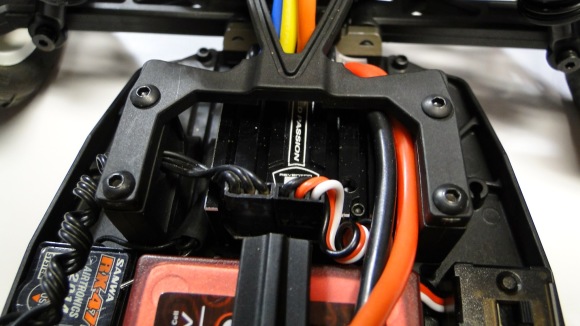 Evil looking isn't. Wait until all the racers lie in it's wake.  Multiple holes for adjustments here fellas.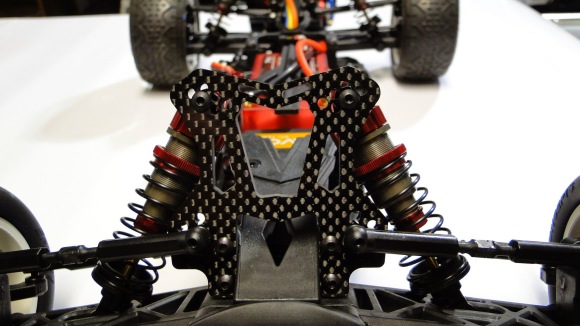 Just another view of the overall sex appeal..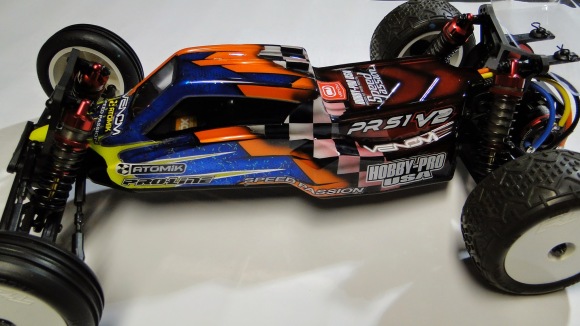 Which side do you like?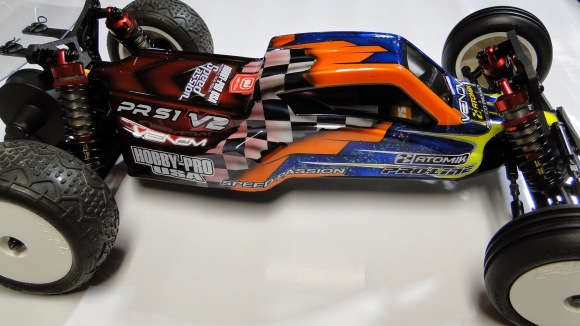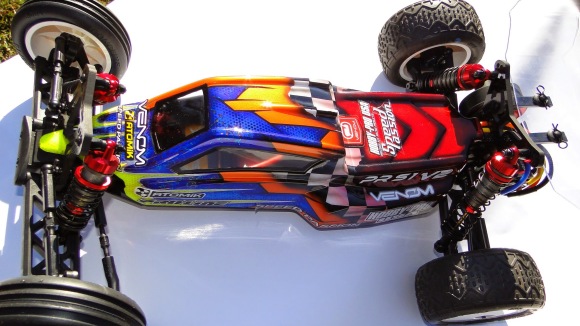 A ball diff is provided in the kit, but a gear diff is a optional part. The ball diff is welcome.  It sports Carbide balls, and thrust bearings.  A super smooth operation, which in turn means less down time for wrenching. CVD's with captured pins allow for a smooth and consistent operation to the wheels. 12mm hexes sported on all fours.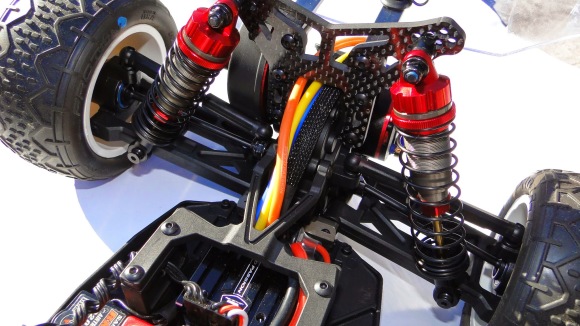 Multiple holes for the shock mounting location allow for ride height adjustments, and precise tuning.  The camber link is adjustable also allow roll centers to be easily adjusted.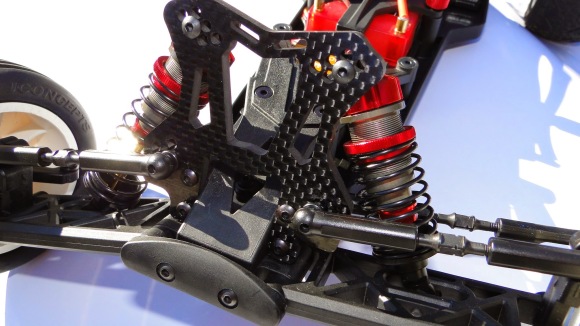 A exact picture of the real estate in this project., It was tight, but I managed to win.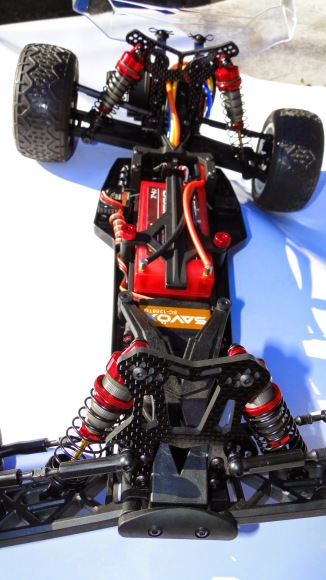 Speed Passion Reventon "R" Black commanding with authority.  All warm and cozy, fitted in the pocket on this chassis. This esc is completely adjustable via the programming box provided with the esc. Also it can be updated and programmed with a Android or Apple device for software update, or esc settings track side. No use carrying that laptop around anymore. Speed Passion has got to be some of the smoothest operating electronics out there. Check them out, you wont be disappointed.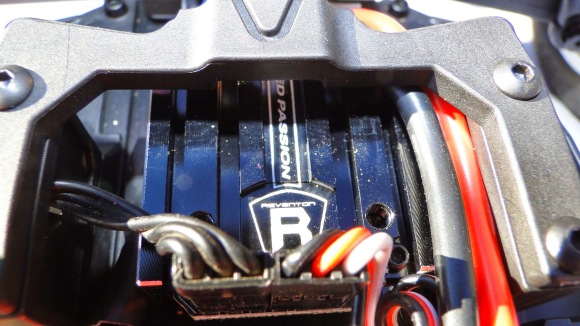 Venom 4500 100c Short Li-Po provided voltage for our project.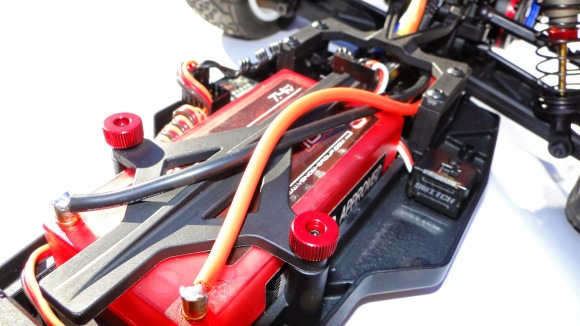 A ultra narrow chassis with additional holes for not only adjustment, but mid motor conversion.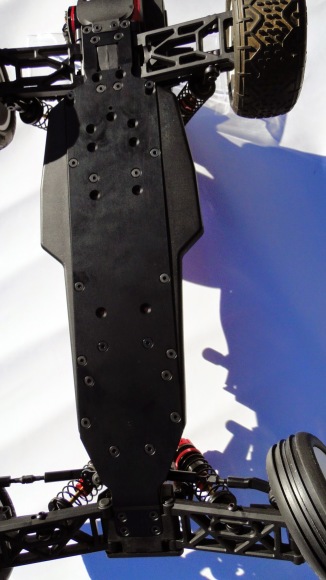 New V2 front kickup, adjustable ackerman, and super narrow front bulkhead.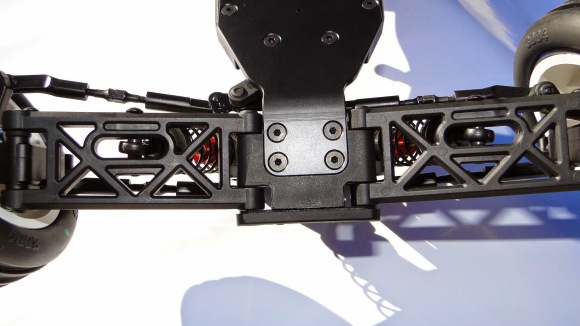 Everything on this kit is built like it's a 1/8 buggy. Overkill is a understatement. Durability is a key note here folks.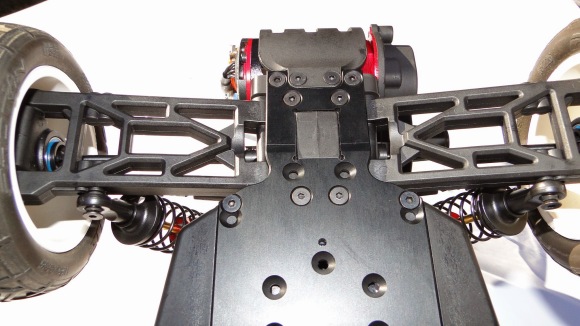 Built in servo saver, on a ultra compact bell crank assembly. New top deck to match new kick up for the V2.  Finally, ball cups that don't pop off while adjusting or driving.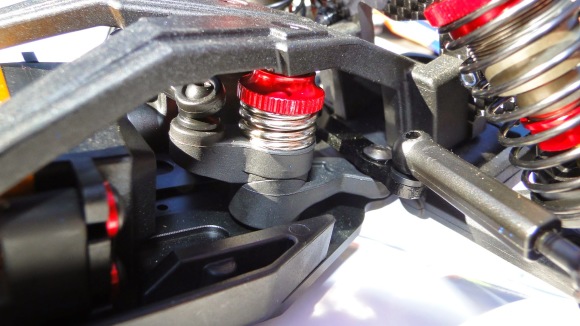 So what do you think?! That's a TON of awesomeness packed into one buggy. The real test though is when it hits the track. Look for a performance review coming VERY soon.