While this little buggy is built like a Sherman tank, it handles like a freshened pair of hockey skates. It's nimble, light feeling, and very responsive to all of your adjustment's inputs. I will try and explain the overall view of the buggies performance.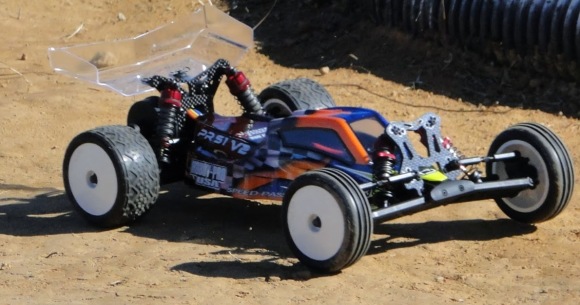 I decided to participate in our season closer on our red clay outdoor track, here at Ron Ayer's Motorsports. It was a cool day for Greenville, N.C., a full field of participants had shown up to compete. 2wd 1/10 buggy has made a resurgence here and it is a welcome sight. There are AE, Kyosho , TLR, TD, and now Hobby Pro entering the game. I have driven just about every manufacture's car out there, and let me tell you this, Hobby Pro PRS1 V2, is a top notch product.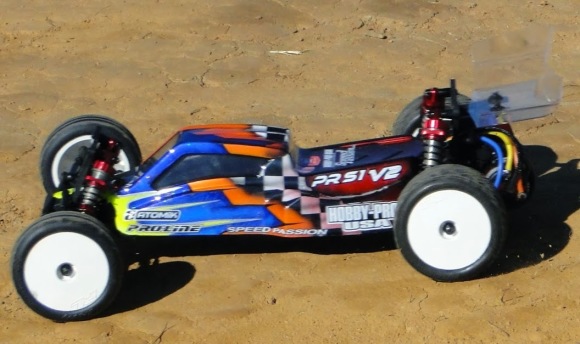 I've built the car with the electronics package of choice, using Speed Passion's new Reventon "R" Black series, along with their new V4 8.5t 540 motor (read more about it here). This combo was no slouch, quickly lifting the nose of this land rocket with the stab of the throttle, which with some pit tuning via their Bluetooth wireless module and my Galaxy Note 2, I was not only able to adjust my speed control settings, I was able to update the software level trackside. That is one of the coolest things I've seen yet. The performance level of the ESC/motor combo left no desire in power or efficiency. I was easily the fastest 2wd buggy, on the track, I was equally giving the 1/8 E buggies a run for their money too during practice.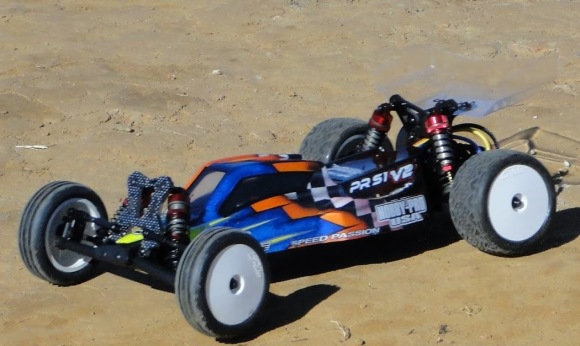 The buggies suspension required almost no setting change from a box setup, standard springs, pistons, and oils provided, were a tried and true setup. The PRS1 showed it's true colors straight from the box to the track.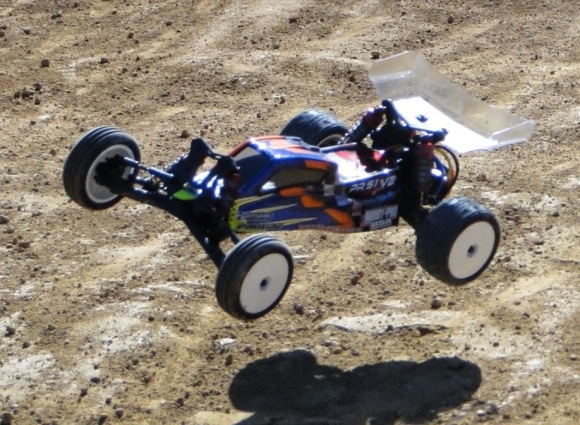 Steering on this buggy is insane, allowing for under cutting inside the most aggressive buggy out there. It stays planted and controlled, making the user most confident in there ability to push harder. The car just begged for more.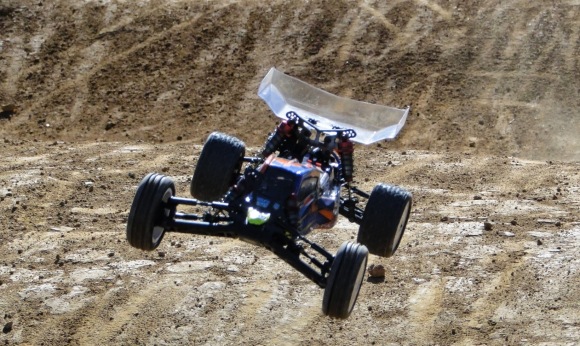 Durability, like anything that is smaller must be more fragile, right? Not in this case. HP has gone the extra step in providing not just a lightweight race buggy, but one that pales all others in comparison for build quality and size. Some parts can be mistaken for a Super-lite 1/8 buggy. Their suspension arms are insane, along with almost 13mm shocks, and ultra thick carbon towers.  Down time is a big negative on this one.
Chassis space is my only gripe on this one, although it is one of my favorite at the same time. I have used standard size servo, semi small ESC, micro receiver, and short Li-Po and it is a tight fit. This scenario doesn't allow for chassis balance adjustment, but it really didn't need it. Level jumping, great handling, what more can you ask for.
At the end of the race day, I not only had TQ, took the win, but was in the same lap time pace with 1/10 4wd buggies on the track. So for a box to track car, I am a believer.
Between the handling, and the unique look of this buggy you not only will stand out in all of the "other" car field, you times will show the difference. Go to WWW.HOBBYPROUSA.COM  for further details on how to get yours today!.