The Schelle B5M Aluminum Rear Arm Mount D replaces the kit plastic part on a B5M and T5M. The design improves durability, ground clearance, and also ease of use to disassemble the rear suspension. The added strength of aluminum allows for a minimalist design using machined Delrin (TM) pivot balls to allow for perfect suspension alignment. The compact design keeps the mount high off of the chassis bottom to avoid dragging on jumps and landings. With the addition of a rear carbon fiber cap, Schelle is planning new inner hinge pins that allow for rear-pull in dis-assembling the rear end and changing anti-squat. Available in both black blue anodize with laser etched Schelle logo.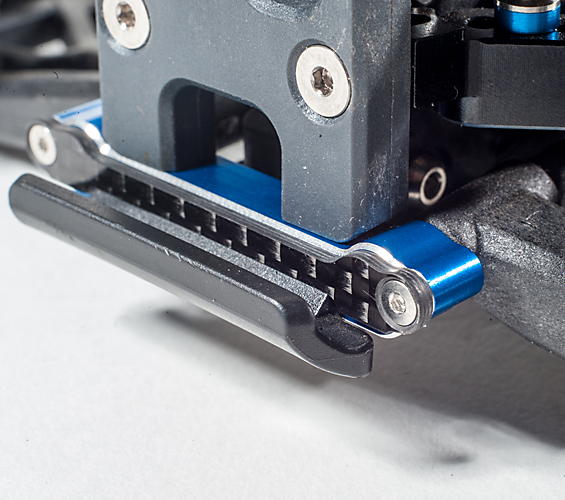 B5M Aluminum Arm Mount D Features:
Increased durability at only 4.5 g total weight.
Minimalist design increases ground clearance, won't drag on the jumps, won't wear off the anodizing.
Added carbon fiber rear cap for rear-pull hinge pins (coming soon, new pins req'd).
Machined pivot bushings for perfect alignment and reduced bending forces on hinge pins.
Precision CNC machined, black anodized, laser-etched logo and machined with silver edges for a premium look and fit. Schelle mini decal included.
Pre-Assembled, screws use 1.3mm or 0.050″ hex wrench.
Fits B5M and T5M.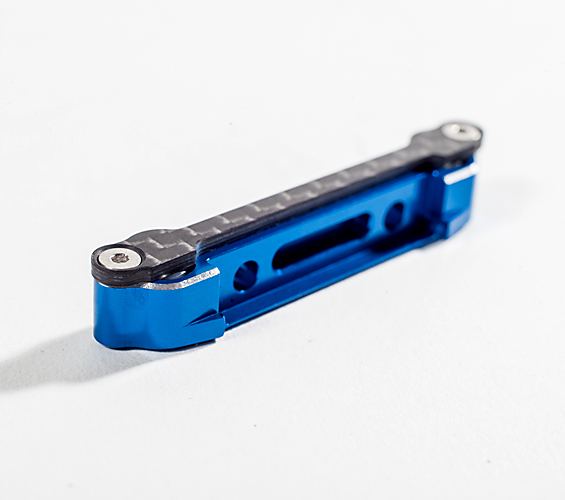 Product Page Links:
http://www.schelleracing.com/Schelle-B5M-T5M-Aluminum-Arm-Mount-D-Blue-SCH1090
http://www.schelleracing.com/Schelle-B5M-T5M-Aluminum-Arm-Mount-D-Black-SCH1089
SCH1089 B5M Arm Mount D, Black 730699130114 $20.00 now
SCH1090 B5M Arm Mount D, Blue 730699130121 $20.00 now