The AJS MACHINE 360 5.5″ Universal Stand is specifically designed for the racer on the go who needs a compact stand that fits easily in their tote. It's designed for flat bottomed vehicles such as Buggies, Truggies, Touring Cars, and Short Course Trucks. Below is my Team Associated SC104x4 on the 5.5″ stand. (Actually, I am using the 5.5″ base, 4″ post, and the 4″ cradle).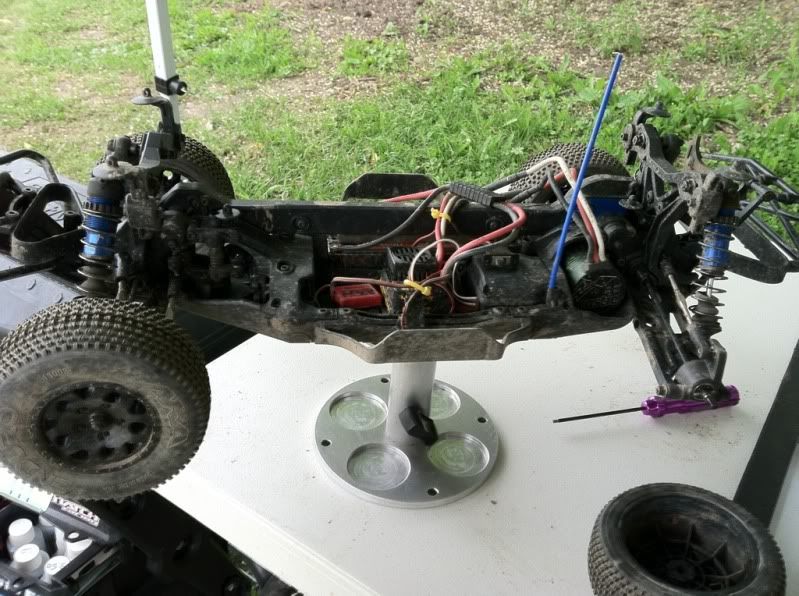 The stand features all CNC aluminum and steel construction. The 360 Stand Cradle spins on a steel pin and a nylon bushing allowing a smooth 360 degrees of rotation. This stand comes with the 4" long Post and works perfectly for everthing from touring cars to truggies. A thumb screw in the aluminum 360 Post locks the cradle in place for heavy wrenching.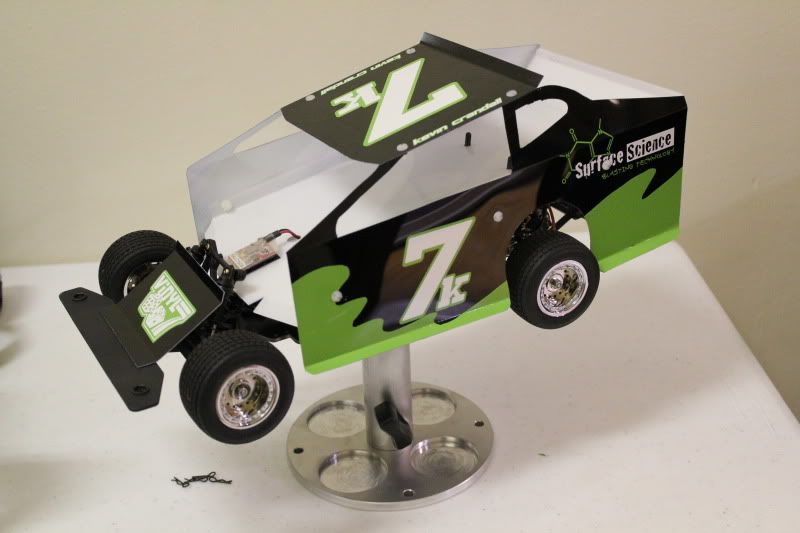 The stand I use is not the standard 5.5″ 360, but rather a custom made-to-order version with the 4″ cradle. All of AJS Machine's stand parts are interchangeable. I chose the 4″ version over the 5.5″ because it worked best on my Losi Mini Late Model EDM (all I was racing at the time). The 5.5″ would be better for the bigger 1/10 stuff like Short Course, but the 4″ still works just fine, it just requires an extra second to find the balance point of the truck so it doesn't fall off or become tipsy.
All that said, I have to say that this is one solid product. There is no way you'd ever break it.. It spins smooth as silk.. and the little recessions in the base are useful for keeping screws and nuts from falling off your pit table. The stand even has holes where you can bolt it to your bench if you wanted to.
AJS Machine is a local company to RC Soup writers, and it's always exciting so see what they come up with for new products. Besides stands, they also make a pretty cool collection of crawler parts.
I have had their full size stand, and while those are great for if you have an HPI Savage or Traxxas T-Maxx (or any other custom cradle/truck combo), I prefer this "mini" stand for racing. It easily fits in my Stanley Fatmax Toolbox. As the description on the website says, the stand is more than stable enough for the bigger Short Course trucks and even buggies.. It is also much cheaper than the full size stand.
It's still quite expensive (~$50) compared to say something like the Duratrax pit stand.. but when you compare them side by side.. it's obvious why the AJS costs more. The AJS Machine 360 is smoother, taller, more stable, and it's ALL ALUMINUM! It's some serious pit table bling.
Given the price, it's not for everyone.. but a stand is something often overlooked. If you've never had one, then you have no idea what you are missing. Stands are almost invaluable when it comes to nitro powered vehicles, but they still come in quite handy for electrics as well. They are great for tuning, working on non-chassis parts (suspension etc), perfecting radio trims/EPAs, programming speed controls, and who knows what else..
Overall we give the stand 4.5/5 Stars
The only drawback is perhaps the price, but you know that old saying.. "You get what you pay for".