One of the greatest things about a show like Motorama is that there are usually a lot of manufacturers represented. You can check out all the cool stuff they have to offer. Most have a large booth, with all of their gear spread out for the public to see. But then there are the guys that are there to test new products. They want to put the finishing touches on some new hotness before it sees the light of day.
Paul Sinclair of X Factory RC fits into this category. We were privileged to talk to Paul and his father about what's new at X Factory, and ask him a few questions of our own.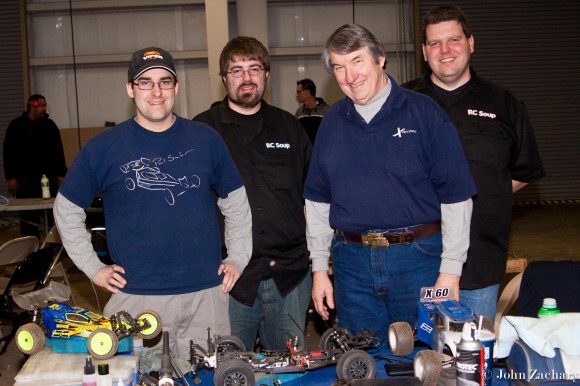 Name: Paul Sinclair
Hometown: Maumee, OH
Sponsors: X Factory RC, Viper, Protek, JConcepts, Lunsford, A Main Hobbies, B-Fast Diff Parts
Day Job: Paul is the CEO of X Factory RC
How did you get started in RC Racing: Paul was into Model Rockets, and in early 1996 he picked up an RC car Magazine. His first hobby grade RC was a Losi XX4.
Do you prefer Nitro or Electric: Electric
Any tips for new RC Racers: Ask questions. RC is the friendliest community there is, everyone wants to help. Just have fun.
What is your favorite class: 2wd Mod Buggy for the technical aspects of it. If you can drive a 2wd mod buggy, you can drive anything. For the pure fun of it, I also enjoy 4wd Mod Buggy.