Mugen Seiki had their young guns at Motorama this year. Both Taylor Petersen and Barry Pettit were there to try to take one home for Mugen Seiki. Taylor won 1/8 Expert Electric Buggy, with Barry taking second. Barry broke early in the 1/8 Electric Truggy Expert main, with Taylor taking second place, fighting electrical gremlins from about the half way point of the race.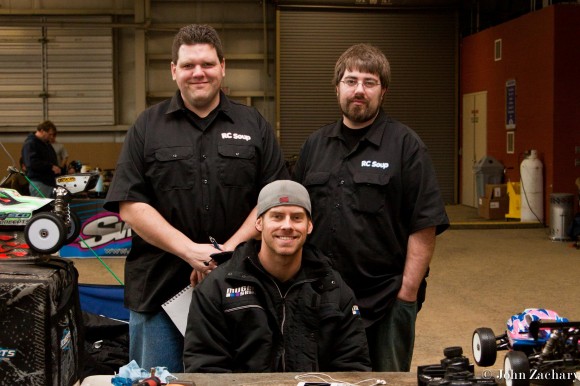 Name: Taylor Petersen
Hometown: Spokane, WA
Sponsors: Mugen Sekei, AKA, KO Propo, Tekin, Lucky 7, Alpha RC, Nitrotane, Zig Racing, Sticket 1 Graphics
Day Job: Taylor owns his own construction business, mostly doing roofing, siding, and other home related jobs.
How did you get started in racing: Taylor saved up when he was 13, and bought his first RC car. He never looked back after that.
Do you prefer Nitro or Electric: Nitro, definitely.
Are you bummed that there is no Nitro at Motorama this year: Absolutely, I love Nitro cars.
Do you have any tips for new RC Racers: Ask questions
What is your favorite class: 1/8 Nitro Buggy