Buckle your seat belts, we're about to hit the road! The Road to Clodapalooza that is! For those that don't know what Clodapalooza is, it is a part of the upcoming High Voltage R/C Monster Truck Championships, held at the iHobby Expo in Cleveland, Ohio on October 13-14, 2012. This year is the 25th anniversary of Tamiya's Clod Buster monster truck, and this event is shaping up to be possibly the biggest gathering of Modified Clod Busters ever. We knew we had to be a part of it!
Road to Clodapalooza is the title of this segment that will document our journey of preparing for this event. There will be plenty more Clodapalooza news in the coming months. You'll have to read below about all the stuff we are doing with this event. First I will give a little background to the High Voltage R/C Monster Truck Championships.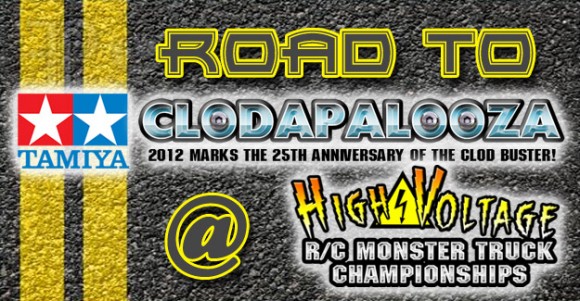 We originally posted the announcement for this event back in November. You can find it HERE.
The High Voltage event features 5 classes of racing (each is linked to the Official Rules for their class):
For our purposes, we'll be covering primarily the Clodapalooza class. RC Soup is partnering with Tamiya USA again this year to bring you some really awesome content! Here's what we have planned!
Modified Clod Buster Build Up!
Retro Challenge Clod Buster Build Up!
Clod Buster Reviews!
Giveaways and Charity Raffle prizes!
Let's go through those plans one by one shall we:
Modified Clod Buster Build Up!
This is the main event of this segment, the mod clod. We'll be scratch building this truck from the axles up. For this Tamiya USA is giving us 2 Super Clod Axle Parts Sets (84027) to start. We'll be doing a full build up article once we have all the parts here. This truck will later become a main part of our 2012 raffle benefiting Children's Miracle Network (we raffled a CR01 last year if you missed it). If you are a club/individual/manufacturer and would like to donate something to this build, please don't hesitate to email me at info@rcsoup.com. It ALL ends up going towards a good cause.
Here is our current list of parts that we have and still need to acquire. We'll update it as it progresses. Normally I would wait until we had more items to make this announcement (of the whole segment), but we couldn't contain our excitement any longer!
Axles: Tamiya Super Clod Buster
Chassis: ZRP Diabo
Shocks: Pro-Line Power Stroke 3.5″ (Slash Front)
Wheels: Tamiya White Clod Wheels
Tires: RC4WD Rumble tires
Motors: Reedy 4900kv Brushless
ESC(s): Associated XP SC700-BL's
Servo: Savox SC1258TG
Radio: Futaba 4PL
Body: Surprise theme, donated by Michigan Monsters of RC Club
Paint Work: Slipstream Graphics
Misc: Wheel Wideners from RC4WD
Needless to say, we are PUMPED about this build up. It should be an awesome build and we can't wait to run it at Clodapalooza!

Retro Challenge Clod Buster Build Up!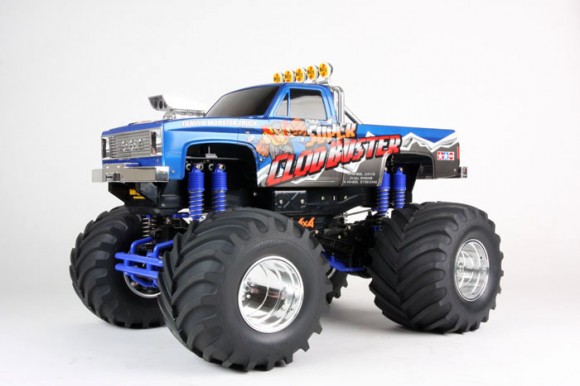 For this, Tamiya USA is sending us the recently announced Super Clod Buster rerelease! The Retro rules forbid 3 or 4 link suspension systems, so for now the plan is to build this truck up in basically stock form to run the Retro class. The kit now comes with a ESC (TEU-103BK), so we really only need a few things to get it into shape for the retro class. We'll still post up a list of parts we need and will be trying to acquire to complete it:
Kit: Tamiya USA Super Clod Buster
Servo: TBD
Radio: TBD
1S Lipo or 4 Cell Nimh: TBD
Pulling Hitch: TBD
This truck will be given away/raffled in a separate promotion from the 2012 CMN raffle. The details on this are still being worked out, but we'll announce something soon.
Clod Buster Reviews!
Both of these Clod Buster builds will get their own YouTube video review with footage of the trucks running around the park/yard/wherever. There is no local Monster Truck club that I am aware of, so we won't be able to do realistic practice runs for what we'll be doing at iHobby/Clodapalooza.
Giveaways and Charity Raffle prizes!
Yes, that's right. After all of this coverage is said and done, we'll be giving away and/or raffling off these trucks! The Mod Clod will go into this year's Charity Raffle for CMN. The Stock Clod, we're not sure yet.. but we'll let you know when we do!
Be sure to follow us on Facebook or Twitter to keep up with the latest news and updates. If you don't have those social media platforms, then simply bookmark us and check back often. To learn more about the event itself, join in the conversation over at RCMT.net.