Ok guys, this is it. Today was the big drawing for the Tamiya CR-01 and all the goodies. To refresh everyone's memory, a few months ago Tamiya USA contributed a sweet CR-01 crawler for us to build, review, and donate.  The build article can be found here. We followed that up with the review. When word got out that we were building this truck for Children's Miracle Network, many sponsors came to the table with additional contributions for the raffle. Here is the full list.
Once again many thanks to all the sponsors, we couldn't have done this without you.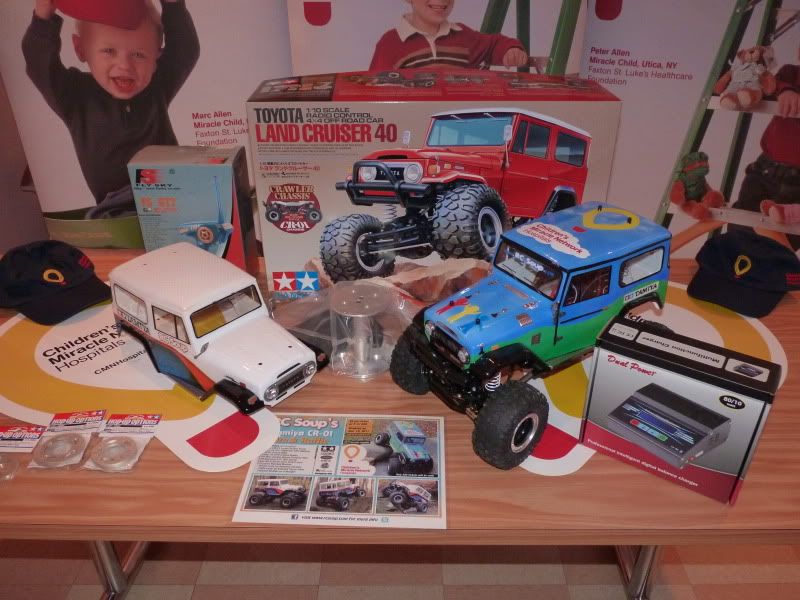 In addition to the sponsors, we had a lot of support.
Supporting Forums:
RCMT.net
RCCrawler.com
Scale4x4rc.org
RCTech.net
socal-rc.com
Raceways/Venues:
Buddyboys R/C
CRC Raceway
Walt's Hobby
The Hanger
We gave ourselves a goal of $1500. Once we hit that goal, we had this check printed.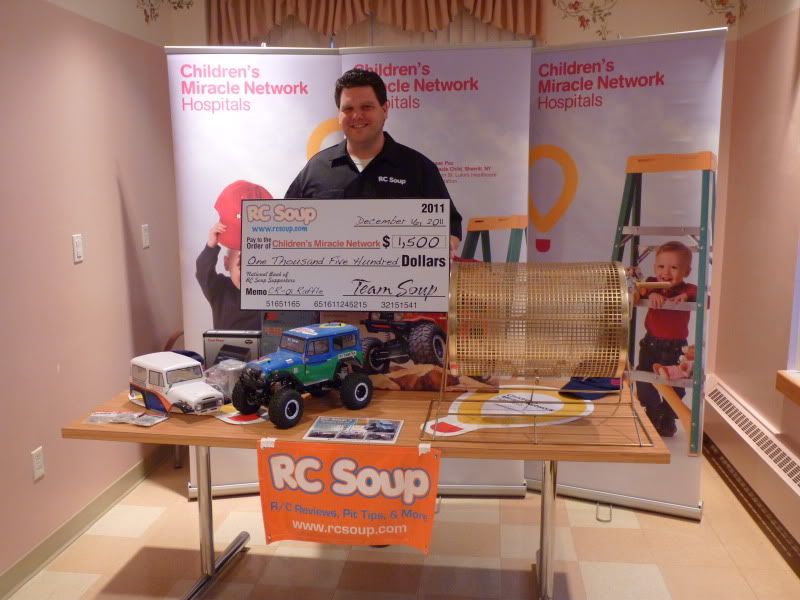 But, you guys weren't done yet. When it was all said and done, we sold 374 tickets. Total money raised for this great charity was $1585.
The drawing was held this afternoon (12/16/2011) at Faxton-St Lukes Hospital in Utica NY. The check presentation was made to Michele Adams,  Childrens Miracle Network Coordinator at Faxton-St Lukes Hospital.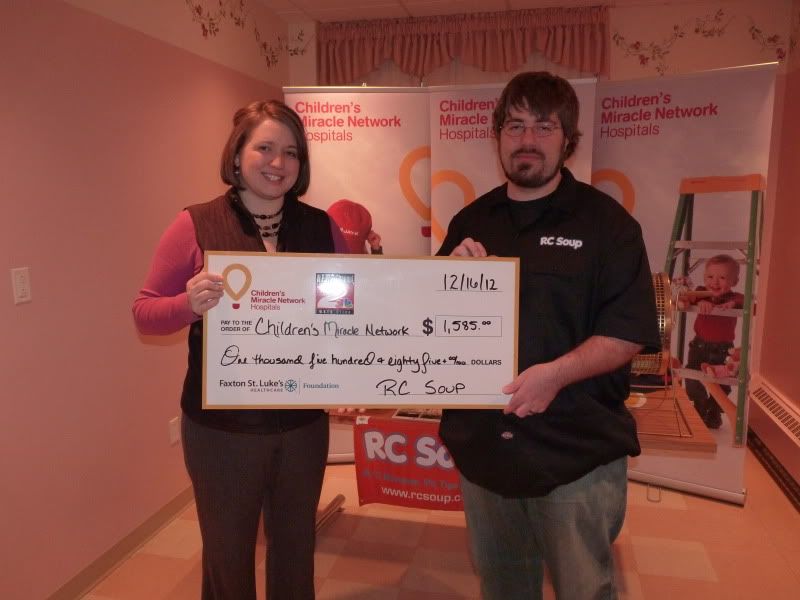 For this very special drawing, we needed a very special person. A huge thank you goes out to Kathryn for helping us draw the winner.

Tickets were numbered 1 through 500. For those of you who purchased tickets in person, you were given one half of the ticket to keep. On the side of the ticket that we kept, and that went in the drum, was the purchaser's name, address, telephone number, and email address. When we draw the winning ticket, we will be able to see the winner's name.
To those who purchased tickets online, you were given numbers that were assigned to the tickets filled out in your name. These numbers were only to prevent us from selling duplicates. If you got a number over 374 (the number of tickets we sold overall), it's because we had several hobbyshops who had unsold tickets, and we had to skip those numbers until the end when the unsold tickets were returned to us.
We filmed the occasion for posterity, check it out below to see if you are the lucky winner!!!
Congratulations to the winner!!!! We will be contacting you directly to congratulate you, and to coordinate delivery of your prizes!
We want to thank everyone who bought tickets. Because of you we were able to give some much needed money to a great charity that is all about helping kids. If you didn't win, don't be sad. We are already looking at how we can make the next one bigger and better! So stay tuned!