UPDATE: WINNER HAS BEEN DRAWN! SEE THAT HERE!
The post you've all been waiting for! Our CR01 that was generously given to us by Tamiya is up for grabs. Check out the Build and the Review of this truck as well. All proceeds go direct to Children's Miracle Network! We've gotten several other companies on board besides Tamiya to make this one spectacular truck, with great pit items to help you wrench on it! Check out the list below!
Grand Prize ($800 value)
Here is a "web optimized" version of our flyer we will be posting around at the local hobby shops.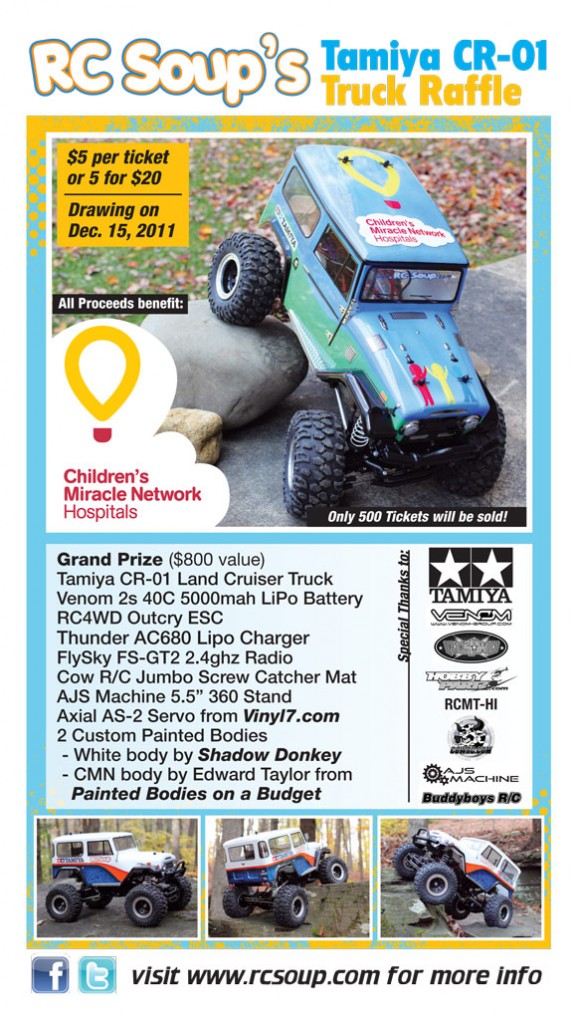 Raffle Details:
As the flyer states, tickets are $5 each, or 5 tickets for $20. Only 500 tickets will be sold! We will be selling tickets online, as well as working with local hobbyshops, and selling in person. Get your order in quick before we sell out! With this big  of a prize pot, and so much cool stuff, $5 for a chance is a no brainer… and it all goes to help kids!
Winning ticket will be drawn on December 16th, 2011 at the Children's Miracle Network office in Faxton-St. Luke's of Utica, NY. We will record the event and post the drawing online in a Winner Announcement post. Winning ticket will be drawn by one of CMN's "Miracle Children". Once a winner is chosen, Children's Miracle Network will mail the truck and extras to our winner. The Jumbo Cow Mat will be drop shipped to the winner from Cow R/C.
Raffle Eligibility:
We'd like this to be US only to help CMNH & Cow R/C with shipping costs; however we know we have at least a few international readers. If you would like to participate and are outside the US, please consider shipping costs. We'd like to ask that the winner be responsible for any shipping costs over $40USD on the truck package if you are outside the United States. If winner is outside US, they will be contacted after the raffle to arrange additional shipping payment once shipping is quoted. Also if winner is outside US, COW RC Jumbo Pit Mat will be substituted for their new rollable flat mat, due to shipping costs. If you are local (within 30 miles of Utica, NY), we'd ask if you could pick up the truck package in person from CMNH. All arrangements will be made via email or phone after raffle ends.
Ticket Info:
Children's Miracle Network has requested that people pay us for these tickets with Checks or Money Orders made out to "Children's Miracle Network". We will also accept cash, however we do not recommend sending cash in the mail. If you send cash, be aware there is some risk involved and we will not be responsible for lost/stolen mail. Online payments such as Paypal will not be accepted unless absolutely necessary. Paypal has terms in place against raffles. Contact us at rcsoupdotcom@gmail.com if you have specific questions regarding this.
If you wish to buy tickets in person, please visit one of the following:
Buddyboys Toys & Trains, 6268 State Highway 23, South New Berlin, NY; (607) 859-2777
Right now, for every $100 you spend here, they're going to GIVE you a FREE TICKET!!
or come visit our Pit Table @ Buddyboys Indoor Racing on Sundays. Call them for details.
Jim's R/C, 70 Chenango Bridge Road, Binghamton, NY 13901; (607) 648-2560
Klinger Power Sports, 33 West Street  Walton, NY 13856; (607) 865-6326
To purchase tickets online:
Here's how this will work. You can buy tickets online using the form below. Once the form is submitted, we will reply to the email we receive with the physical address that you should mail payment to. We are doing it this way so tickets are "reserved" on a first come, first served basis. We cannot have random checks coming in the mail and hope to have tickets left. This way we can "hold" the ticket for you until your payment arrives via snail mail. If payment is not received within 14 days of us sending you our address, your "hold" will be forfeited and released to someone else, and any payment received after this has happened will be returned. Please be prompt in mailing your payment so we can keep things going at a fast pace. Upon receiving payment, we will mark your reservation "paid" in our records and email you your ticket number. Cut-off date for online ticket sales is November 30th, 2011. This gives us ample time to receive your payment.
TICKET SALES ARE NOW CLOSED. THANKS TO EVERYONE WHO ENTERED! LOOK FOR THE DRAWING POST SOON!
*Donations to Children's Miracle Network will go to our local CMNH office in Faxton-St. Luke's of Utica, NY. We'd also like to thank Sherburne News for printing up the paper raffle tickets. They turned out great!