Get ready to hit the trails now with the new SCX10™ DINGO™ Builders-Kit™ as it features a realistic look and true functional steel C-channel ladder frame with bolt on shock hoops, molded skid plate, and dual spring oil filled shocks. These are just a few of the items that make this one capable off-road truck. The Dingo™ truck body is also specifically designed for the trail because it incorporates a realistic molded roll cage and fender flares which are molded in tough durable composite plastics that will withstand the abuse of some of the toughest trail runs. Also, when the sun sets, the outings don't stop either because a total of 6 LED's brightly illuminate the trail, so there's no trail too treacherous for the SCX10™ DINGO™ Builders-Kit™. (LED lights not included)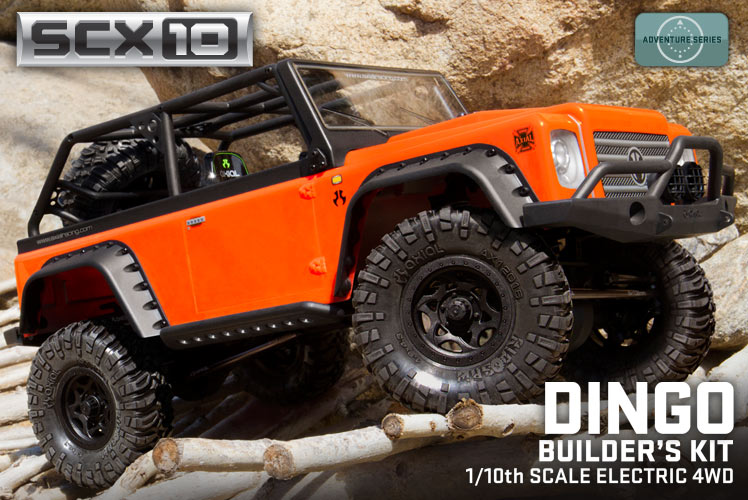 For those who like to build kits, this is a true builders kit as Axial's pursuit of Scale Realism matched with vast amounts of available options on the market, the SCX10™ is a blank canvas to build upon! With the full size looks the SCX10™ also delivers true function as drivability is what makes driving an SCX10™ so fun! Which ever you decide; rock crawling or adventure trailing on a long hike, the SCX10™ is driven just like the full size truck. All the basic 4X4 off-road skills come into play; approach angles to large objects, traversing hill-sides, straddling rocks and boulders – all treated in the same manor as a full-size rig. The SCX10™ 1/10 truck delivers full size fun!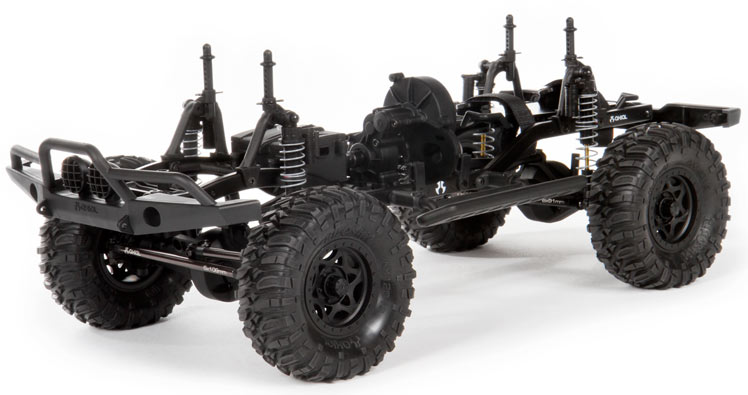 We dare you to think differently about R/C! If you can hike there, your SCX10™ will drive there! With today's efficient motor and long lasting batteries, you are only limited by your imagination and or your physical readiness to adventure out onto a hike while driving your SCX10™. What better way to get in touch with nature, spend time with your friends and family and having a ton of fun while doing so! And because this is a Builders-Kit™ your off-road preparation and readiness skills will give you the piece of mind and that every nut and bolt has been touched by your hands.
The SCX10 Dingo kit has some upgrades/changes versus the kit and RTR that were previously available.
WB8 WILD BOAR™ DRIVESHAFTS
Metal to metal universal joint driveshaft system with splined plastic slider. This design provides more durability than traditional driveshaft designs because it uses a screw shaft for a more positive lock to the output shaft.
– Constant Velocity Joint Design [CVJ]
– Full Metal-To-Metal Construction for the CVJ-Housing
– Friction Free Movement / Smooth Articulation
– Metal Ring Protection & Capture for the CVJ-Pin
– "Tough-as-Tusk" Durability
– Easy Assembly & Maintenance.
LICENSED WALKER EVANS RACING WHEELS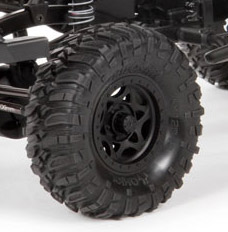 Officially licensed Walker Evans Racing wheels are molded from a blend of high quality nylon   materials for strength and durability with a solid 12mm hex mount and dressed in black for the stealthy race look.
1.9 RIPSAW TIRES STICKY R35 COMPOUND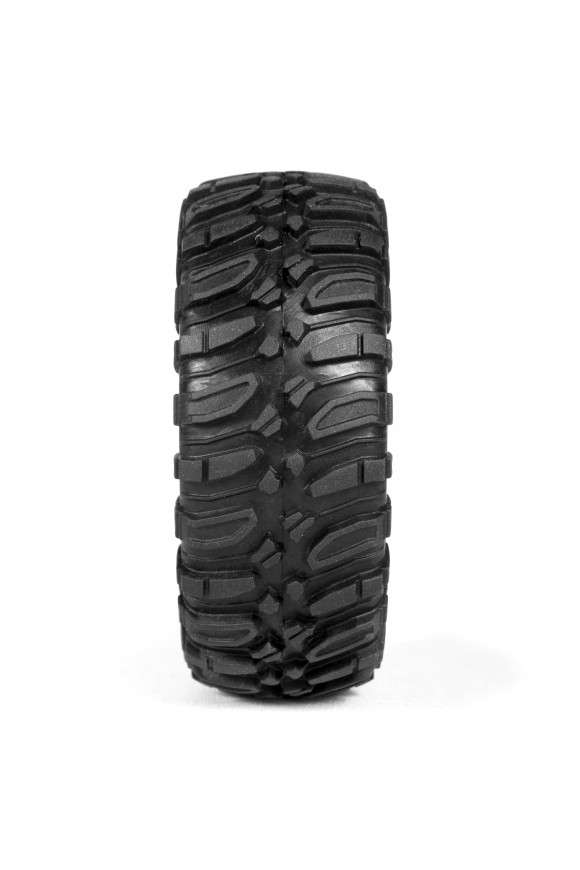 The aggressive tread design and impressive ground clearance offer a realistic look for the image-conscious scale crawler who is also looking to improve their performance game.
– Realistic and aggressive tread design for the ultimate scale appearance and maximum grip provided by our sticky R35 compound
– 4.3″ (109mm) tall for extreme ground clearance
– Molded ribbing between the lugs help keep mud and snow from packing into the tire tread
– Recessed lugs for additional traction
SPUR GEAR COVER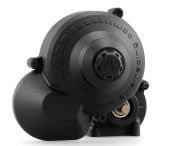 The protective transmission spur gear cover helps keep dirt and debris out of your pinion and spur gear for a quiet and efficient drivetrain.