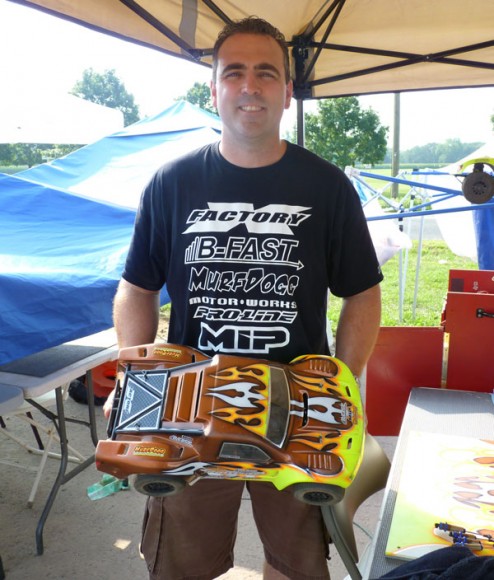 We got a chance to talk to Chris Cristo of X Factory while we were at the Short Course Nationals. He's a factory driver for X Factory. He runs the SCX – 60CF and that truck looked AWESOME out on the track! Thanks for taking the time to talk to us Chris!
Name: Chris Cristo
Hometown: Millbury, MA
Sponsors: X Factory, B-Fast R/C, Murfdogg, Pro-Line, MIP
Day Job: IC Mask Designer (designs computer chips)
Have your been to the Short Course Nationals before? Yes, I was here 2 years ago.
How do you like this year's layout? It's awesome. I was a little intimidated at first (big jumps) but it's a lot of fun, especially with the 4 wheel drive.
How did he get involved in RC Racing?  When I was around 9 years old my friend had an r/c car. I thought it was the coolest thing.
Do you prefer Electric or Nitro? Electric definitely. I run nitro a couple times a year, but def. prefer electric.
Any tips for new RC racers? Practice. Practice. Practice. Don't be afraid to ask the faster guys for tips.
What is your favorite racing class? 2 Wheel Modified Buggy
Do you do any R/C besides Off-Road Racing? Sometimes will do some backyard bashing with the kid.
What is your favorite type of soup? Italian Wedding Soup.