The ECX line of vehicles is Horizon Hobby's answer to the entry level market. The Torment came out last year and is a great way to get into Short Course racing on the cheap. It's especially good to get for someone who is a newcomer to the hobby (think your 5 year old, so you can bring him to the track with you). Most tracks run a sportsman class for beginners, and for that type of class, this would almost be perfect. It would also be a decent backyard car since it has decent ground clearance.
Horizon Hobby sent us this truck to review, and it will also be included in our 2012 Charity Raffle. We will be doing one more article on it before then though. Keep an eye out for that ;).
The nice thing about the ECX line, is it is completely Ready to Run (RTR) out of the box. This means it includes a nimh battery for the truck, wall charger, radio, even AA batteries for the transmitter. Most kits make you buy at least those separate.. so this all-in-one package makes a perfect gift.
The Torment comes with basic electronics:
Dynamite 20T motor and 12T ESC
Spektrum DX2E transmitter and SR200 receiver
Speedpack 1800mAh Ni-MH 6-cell battery
These are enough to get a beginner by, but if you are an avid r/c'er you might want to consider and upgrade right off the bat. A lot of the things I said about the ECX Smash will probably ring true here as well (that is would be great for beginners). Anyways.. let's dig into this thing. We did this whole review track-side @ CRC Raceway.
Here's the box, brand new (well sort of – I ripped it open the night before to charge the nimh pack).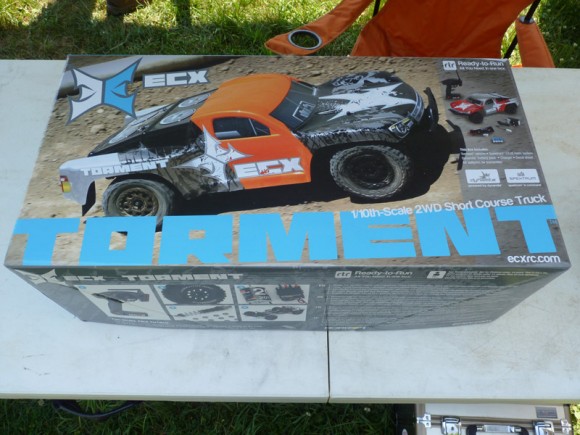 This is how it's packed. Not the most careful, but nothing was damaged, and stuff wasn't flying all over. The cardboard insert holds the truck in place by clamping over the bumper.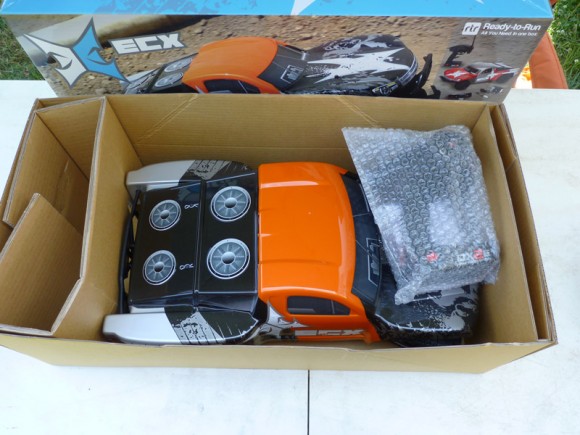 New for the Torment is the Spektrum DX2E 2.4ghz radio. This is a huge upgrade from the AM system that the previous ECX models used to include. Those were known to be horribly glitchy and have range issues after not much use. I expect this radio to be a lot better. It still only has basic trim and dual rate adjustments, but for a beginner, they don't really need much more.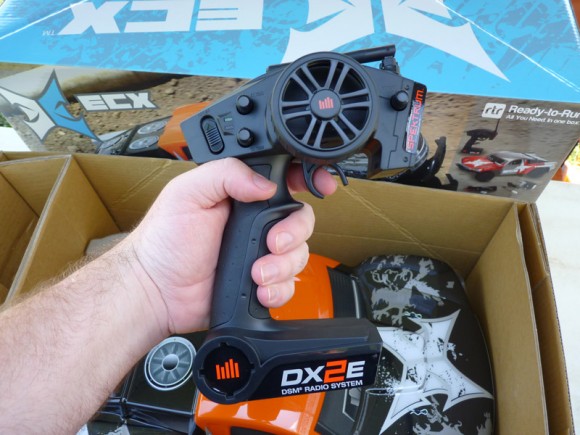 The Henwei Super Heavy Duty AA's that came in the box installed into the DX2E. If there's anything I've learned having run Spektrum, is that they are great on battery life. Even dollar store AA's seemed to last forever when I was running my DX3R.