Ah, the T-RCE slash from the Slash 4×4 LCG Shootout. With stock shocks and electronics, this chassis was a bit of a let down. I had high hopes for it. The build below is my Stage II upgrades in my bid to build the Ultimate Race Slash 4×4. I'll tell you up front that the shocks were a HUGE noticeable difference after running it in this configuration. The chassis was def. designed to be run with better-than-Traxxas shocks.
Let's get started.. as you know from Matt's SSC updates, we are all going in different directions with the modifications of these Slash 4×4's. There won't be another head to head competition due to time restraints and scheduling conflicts, but we will report after each Stage upgrade on how the changes affected our performance. I'll also warn that my Stage upgrades are considerably more severe than perhaps the other 2, mainly because T-RCE makes so many option parts for this truck, and I have to see what all these sweet things do!
My Stage 2 parts:
Castle Mamba Max Pro ESC
Castle Creations 1410 3800kv 4 pole motor
Savox 1258TG Servo
Racer's Edge Servo Horn
Atomik Glitch Buster
New Spektrum SR3000 receiver (not an upgrade, but the new one is cleaner :))
T-RCE Magnesium arms (front/rear)
T-RCE Magnesium shock towers (front/rear)
Associated SC10 4×4 Factory Team Shocks
Associated SC10 4×4 Spring Kits (front/rear)
As you can see.. that's a TON of stuff to do at once. Good thing I have our Revolve RC Stand handy. During this whole thing I didn't have to remove the truck from the stand once. Please excuse the dirty truck, this was fresh off of the Shootout.
Below are all my parts laid out.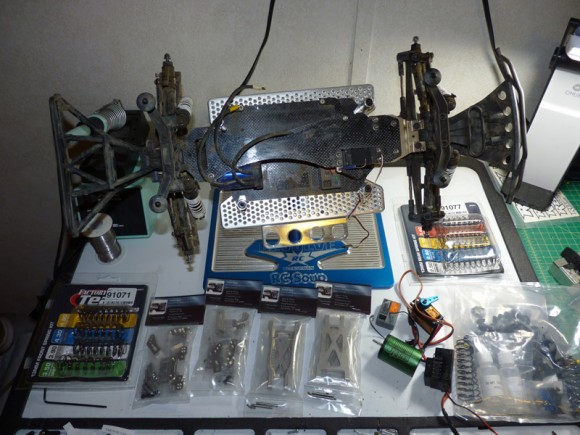 Close up of the T-RCE suspension arms. These are a direct replacement for the stock arms. Their benefits are they are stiffer and will hold a setup better, they won't break, and they have more adjustment holes than the stock arms for more tuning options.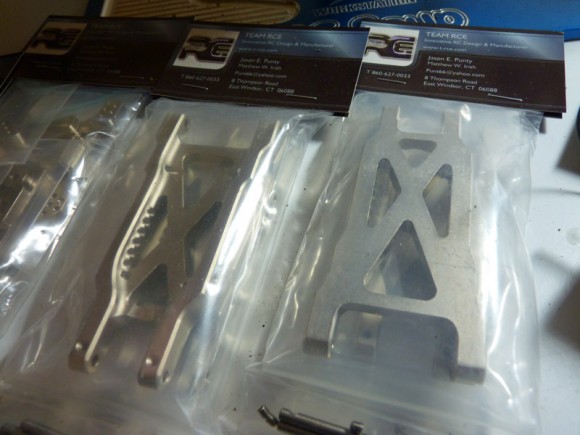 Here's the T-RCE front and rear magnesium shock towers. These are the coolest thing I've seen in a long time. SOOO much adjustability.