Did someone say "Shootout"? Are we doing this again?? Really???
You guessed it guys. You know how we love our shootouts here at RCSoup.com. I'm sure you've seen our first one, the 2WD Short Course Truck Shootout, and the one that followed.. the 2WD Traxxas Slash LCG Chassis Shootout. With each one we learn a little more and try to do our best to improve the formatting as well as find ways to be more thorough and accurate with our results. This shootout is by far our most thorough.. we've got 2 pro drivers instead of one, we've got temps, weights, measurements, lap times, control tires (though we had those for the 2wd slash), control battery, etc, etc.
I'd like to thank all those that helped make this possible right up front. Brian "Dumper" Wynn for being part of the Soup Shootout Staff for this. Jarodd Goedel for continuing to lend his great setup advice, driving, and having his Pro-Shop (Canalside Racing Products) glue up ALL 3 SETS of our control tires. Mark Pavidis & AKA Racing for their donation of said control tires (AKA Gridirons (Supersoft) and Cyclone wheels). Frank Calandra of Team CRC/CRC Raceway for their donation of their stellar Lipo batteries to use as the control, as well as use of their track during "off-hours". The RC Soup staff for being amazing with all their builds. Jason Punty of Team RC Engineering for letting us test their chassis. Mark Solliman of Shining Star Chassis for letting us test their chassis. Last, but definitely not least, Chuck Ellis from Chuckworks RC for letting us test their chassis! Thanks guys, you are amazing!
Alright, back to business… so this is what we set out to do. Basically, we wanted to use 3 stock Traxxas Slash 4×4's, and simply do a chassis swap to note the performance gains of each. Think of it as if you were a "Slash Racer on a budget". This was both a good, and a bad idea looking back. On one hand, you will see there is definite performance gains from the chassis alone, right off the bat. On the other hand, some major issues come to light with adding a performance chassis.
The main issue is the stock electronics. The waterproof VXL system is a great backyard basher system, but a race system it is not. Precise throttle control is almost unattainable with this system, making holding a line on the track, timing jumps, etc, somewhat difficult compared to if you were using a higher end, adjustable ESC, and possibly even turning to a sensored system, such as the Tekin Pro-4 or the locally favored HobbyWing 4-Pole.
The other issue, is the stock suspension. Traxxas shocks are shorter, with a smaller bore than what most manufacturers run on their respective 4×4's. This doesn't allow for ample dampening, or response time that could be gained by running better, larger diameter/length shocks. We've been told by both the T-RCE and the SSC guys about how they are running SC10 4×4 or Losi SCTE shocks or something similar on their trucks to help solve this issue. It is our assumption that these trucks would be even better than they were during this shootout, once we add better shocks, and replace the electronics. We may do a Part 2 to this shootout doing just those things. As it is though, you can take this shootout for what it is, running the truck stock, with a simple chassis swap. Obviously your mileage may vary depending on what other upgrades you have installed.
The Drivers:
Kevin Crandall is our fearless leader here at RC Soup. His interests in RC are eclectic, ranging from crawling to RC tractor pulling.
Matt Peterson is Team Soup's Co-Founder and a fan of all things Short Course. He loves 2WD and 4WD. Matt recently got into 1/8 E-Buggy. He's also known to throw down some fast laps on the carpet oval.
Jim Decker is a fan of just about anything RC. He has a propensity to try anything once, most recently jumping into the new Short Course Buggy class.
Jarodd Goedel is a driver for Team Caster Racing and Team Soup. He made the A Main of 2wd Stock SCT at Motorama this year, and is looking for a good showing at the Intergalactic Short Course Championships in late August. Checkout his Meet the Pros.
Brian "Dumper" Wynn is a pro driver for Team CRC, dominating all over the country on carpet oval and onroad tracks. He is a formidable offroad racer as well, having won 2wd stock SCT at the 2010 Short Course Nationals at RC Madness. Here is his Meet the Pros.
The Contenders: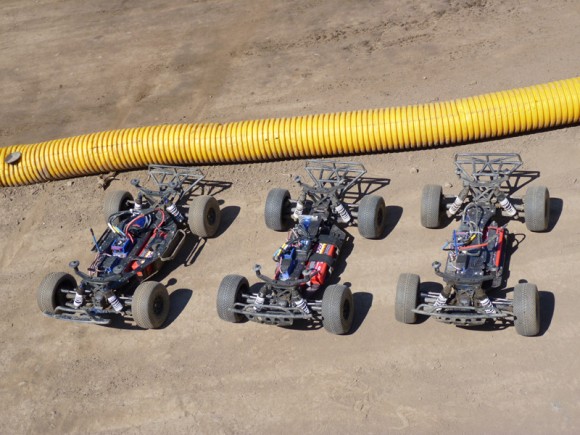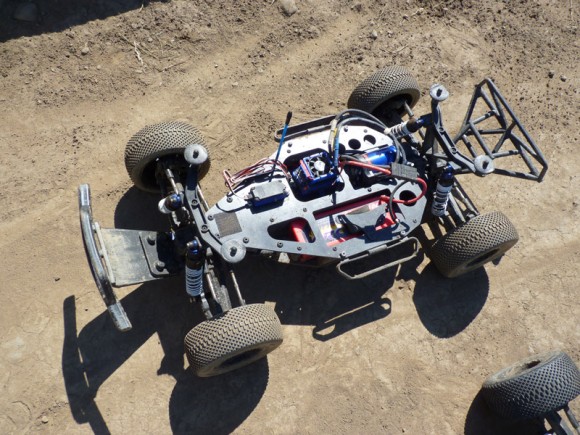 The Chuckworks RC Slice 4X is constructed of G10 Fiberglass and high strength plastic, just like the Slice A3 for the 2wd Slash. It arrived in several pieces, click here to see us build this chassis. It retails for $70 (at time of writing), and can be found HERE.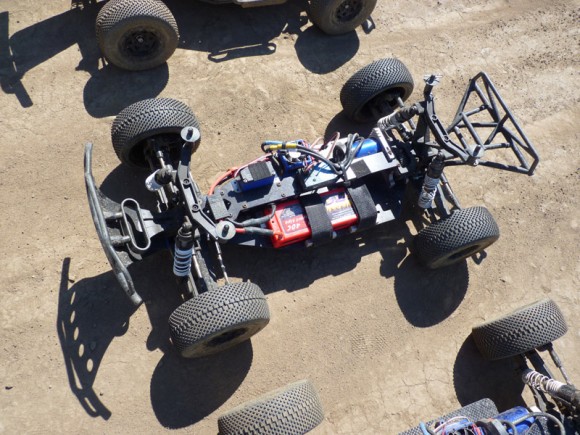 The SSC Chassis consists of a T6061 aluminum bottom and top plate. It also features a custom two piece  motor/diff mount that is claimed to lower motor temps. The chassis comes mostly assembled, with the majority of the work pertaining to swapping parts over from your donor Slash. Here's a link to our build of the SSC. This being the "Black Finish" model, it retails for $175 (at time of writing). They also offer a version that is brushed aluminum (no protective teflon coating), which could save you $20. The chassis can be bought HERE.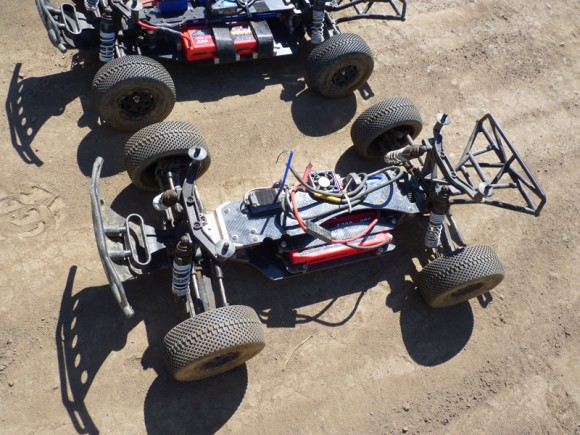 The Team RCE chassis is definitely the "bling" of the bunch. It is constructed of Carbon Fiber and Magnesium. It looks sick. It comes as a bag of parts and hardware. Here's the build. This kit retails for $189 (at time of writing) and can be found HERE. They also offer an extended wheelbase version for $10 more.
The Venue:
We chose CRC Raceway for this battle. It is a big track at 180'x90′. It features a good mix of high speed sweepers, tight technical corners, and big air jumps. It is challenging enough for the seasoned pro, but not too difficult as to make a new racer uncomfortable. CRC is what we consider to be our home track. They host a leg of the RC Pro Series here, and soon will host the Intergalactic Short Course Championships! This is not some random dude's backyard. We wanted to do the shootout at one of the best off-road tracks in Central New York.
Our tents were graced with the addition of these huge Traxxas banners to show our support for them during the shootout!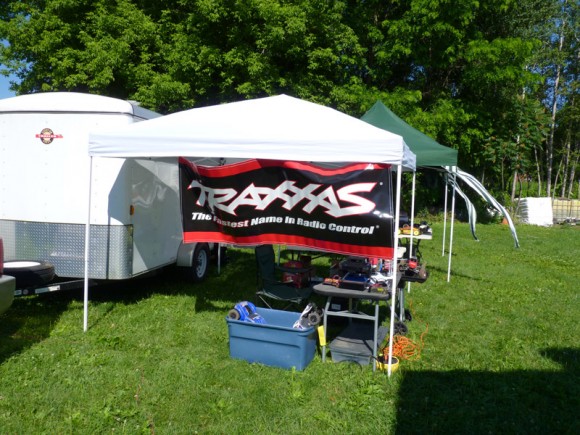 Here is a panorama of the track.