Here is something truly special for you readers. Our first shop tour! Joel Winnicki of Pemberton Raceworks hooked us up with an idea to tour their operation, see what makes them tick, and check out what PRW has in store for the future.
For those unaware, Pemberton Raceworks is a company founded by Steve Pemberton (President) & Joel Winnicki (VP). They primarily make top end oval car chassis (Pan car, EDM (Eastern Dirt Modified), and Sprint cars). They make some other things too, but their chassis are known to some as one of the fastest in the "Go Fast-Turn Left" community.
Pemberton Raceworks (PRW from here on out), is based in Whitesboro, NY at Steve Pemberton's home. When I first arrived, we chatted a little about what we'd both been up to in R/C. The PRW guys are local, and I've seen them at the track over the years. They're always super friendly and approachable. We then went inside and sat down in their office. We talked a little about their product line and what they offer today, but first.. I wanted to see what makes PRW tick.
My first question of Steve Pemberton was, "How do you come up with new ideas/concepts for new products (like chassis)?".
Steve replies (and I'm paraphrasing):
There was a saying my dad used to say… "Necessity is the Mother of Invention, and I'm the Father". So, I guess that makes me the Son of the Father of Invention. Really though we look at what things can be improved on a car, and try to tackle those things. For instance, (he pulls out their new SJ27 EDM slider chassis), we took a hard look at battery mounting in this 1/10 EDM car. When you get to the track there isn't a whole lot of adjustment you can do to your car besides messing with shock setup. Weight distribution of the battery can make a big difference in how the car handles, but since these are heavily taped in, it makes it difficult to change fast.
The solution we came up with is to make a slider chassis where the battery tray slides left to right, and front to back. We do this using delrin plates on the chassis, and standoffs by the battery. The battery is actually mounted to the top plate/standoffs so it allows us full movement without having to re-tape anything. Basically now we have full battery adjustment with 1 wrench and it can be moved in seconds, trackside. It should prove to be an amazing tuning aid.
That said.. here is a look at that new SJ27 EDM chassis.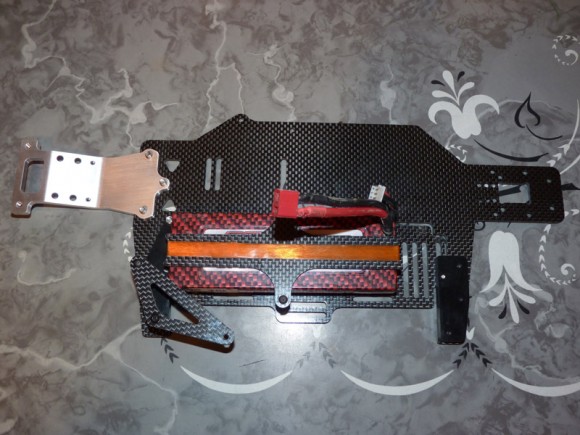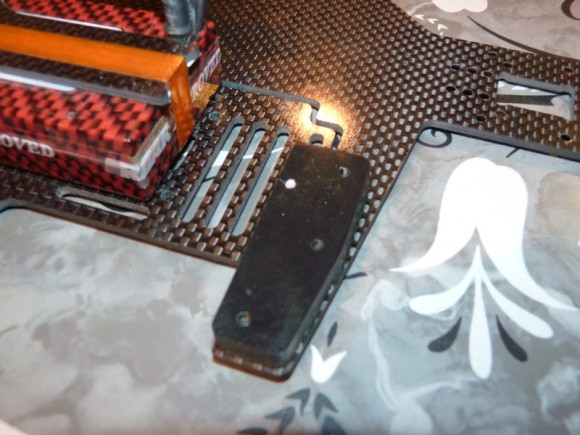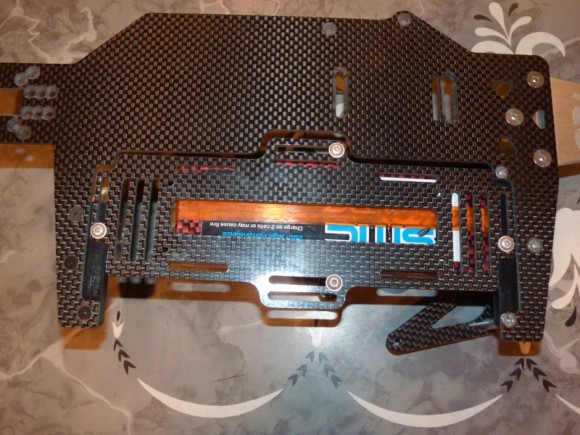 Pretty slick huh? Having raced EDM like 12 years ago, I have a fondness for these cars, and appreciate how far they've come in development. This is leaps and bounds beyond what my Kranzel's Terminator was.
Continue on the next page to see a product development walk through!