Victory RC Speedway is located in Fairdale, near Hannibal, NY… just minutes from Fulton and Oswego. I didn't really know much about this track, as I have not run dirt oval since around 2001 @ Walt's Hobby in Syracuse, NY. It happened to be one of those instances where the stars aligned, and gave me the opportunity to run here last weekend.
Fellow Soup contributor, Jim Decker, had built up 2 dirt oval cars to get in some clay oval racing over the summer at various races. He told me he'd heard of this track but had never been there himself. Then, it came up again in conversation while I was touring Pemberton Raceworks. Steve and Joel have been running there lately with their new dirt oval cars. Joel offered to let me drive his personal SJ27 EDM car for the night if we were to go. I jumped at the offer, and Jim and I headed North up to Victory.
Our GPS got us a little lost, but we called Scott Victory (owner) and he straightened us out on the directions. Apparently this has happened a lot. We got there while the track was still covered and setup our stuff. Jim was running 17.5 SPEC EDM and 17.5 Late Model. I was running Joel's car, which was setup for the slightly faster, 17.5 Outlaw EDM class (open ESC). I was a bit intimidated at first, having been over 10 years since being on a clay oval, and running someone else's expensive gear.
One thing I was told, was to pay no attention to how terrible the car handles in the first round, that the track only gets better as the night progresses. This is because the dew sets, and the sun goes down, allowing more moisture into the clay surface. They finish the race night well into the night, using large bright lights.
They were right, my first round was terrible, mostly me, but I think a lot of cars were a bit loose. Thankfully I was in a heat with only 2 other cars. I believe due to the relatively small size of the track, they limit the car count to 4-6 cars. This is a good thing because it can get hairy when watching cars go 3 wide on this track.
The second round was a huge difference. The car felt glued to the track. So much traction if felt stuck to the ground. I don't think I've experienced anything quite like that. I still did terrible, mostly due to trying to get back into oval from so much offroad the last few years.. but I felt much more comfortable with the car.
The mains (I was in the B main), we started with 6 cars I think? This for me got a little out of hand. I sometimes felt I had nowhere to go in traffic, and still getting used to it, I wasn't quite on pace with the field. I did the best to stay out of everyone's way. At one point I tried to let a driver by and got loose, making me tag the wall with my right front tire. I kept going, but the handling was never right again after that. Eventually it was so bad, I had the PRW crew pull the car off the track. Apparently I'd bent a hinge pin in the front, which wasn't allowing full rebound of that arm, and drastically affected my handling.
Even though I didn't finish, I had a great time. I may actually try to make it back this season if I can muster up a car somewhere. The facility was great, as were the fellow racers, track crew, and everyone involved. This is a class act facility and I highly recommend checking it out if you are into dirt oval, and in Central New York.
Here are some pics from the night: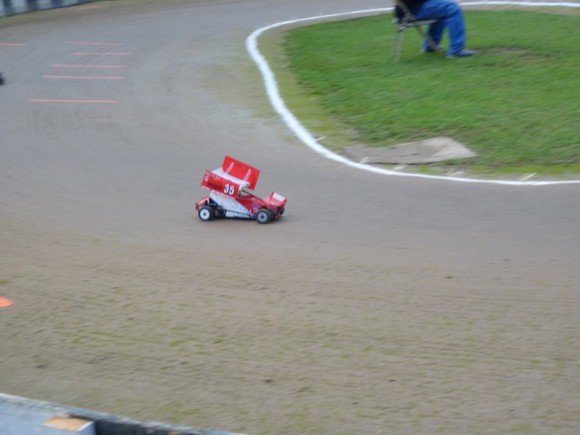 Also, a quick note about the level of professionalism, and wanting to go the extra mile.. check out how awesomely organized Victory's heat board and result boards are setup!
I sat down with owner Scott Victory and got the scoop on his track. Turn to page 2 for the interview!